Instant and Free Mic Test
Figuring out if your microphone works can be hard. Luckily, all you have to do is click the button above and allow your microphone to be accessed and we will immediately show you if it works. If it's working you will see changes to the screen based on your voice.
This is what will happen when you click the button:

Make sure you press allow.
We never store your audio. Everything is run in your browser and we never see it. We can't hear what you say.
This microphone test works best with Chrome, Firefox, and Opera. We recommend you install any of these if you are using Safari, Internet Explorer, or Edge. That's because these legacy browsers don't support the code used to test your mic.
If you ran the test and you are having problems then you should do the following:
Make sure your microphone is plugged-in if it's external.
Check to see if your microphone is turned on. Look for a button on it to power it on.
Some microphones have a volume switch on them. Make sure that the volume level is not set to zero.
Did you allow us access to the microphone to see if it's working?
Google the model number of your microphone with "driver". You need to make sure your computer has the software needed to connect with your mic.
If you accidentally blocked the microphone from the site, you can click this icon to reallow it: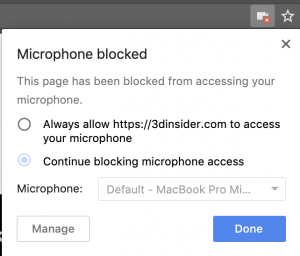 You should refresh the page after making any changes.
If you have tried these and you are still having problems, then it's possible that you need a new microphone. You can try plugging-in a pair of headphones with a built-in mic to see if that works. Make sure you go to settings and select your mic as the audio output.