6 Best Micro ATX Case Picks for 2020
3D Insider is ad supported and earns money from clicks, commissions from sales, and other ways.
Cases designed around micro ATX motherboards are smaller than medium towers. They're lighter, more portable, and take up noticeably less desk space. They're perfect for PC builders with nowhere to put their system or undemanding users who don't plan on overclocking their system or using bulky GPUs and CPU coolers.
Constructing an optimal micro ATX case is a challenge. Cramped conditions create lots of heat, so they need to be built with a robust cooling system in mind. A smaller form factor makes installing new components and cable management more challenging, so the case should come with zip ties and be built so that cables don't clutter it up.
Here are the six micro ATX case picks we believe you should take a look at when putting together a compact PC. Most of them aren't expensive, and each either offers diverse cooling options or has a surprisingly spacious interior. Pick a favorite and get the most out of the limited space at your disposal.
Budget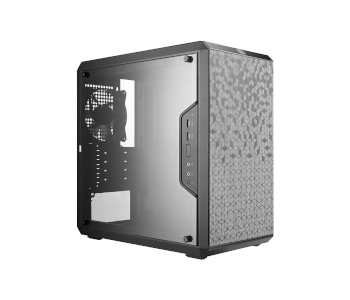 Cooler Master MasterBox Q300L
4.3/5.0
Dimensions: 15.2 x 9.1 x 15 in.
Weight: 8.2 lbs.
Excellent cable management.
Check Amazon
Best Value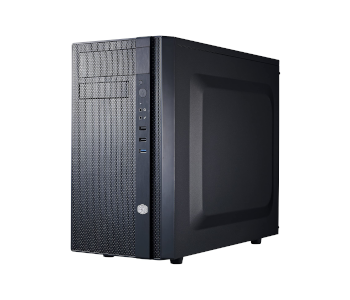 Cooler Master N200
4.5/5.0
Dimensions: 17.5 x 8 x 14.9 in.
Weight: 9.5 lbs.
Solid ventilation for such a small case.
Check Amazon
Top Pick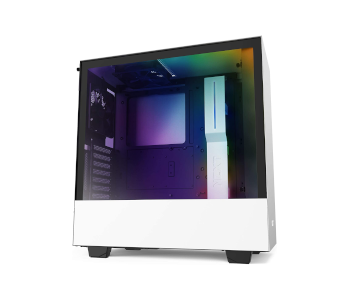 NZXT H510i
4.7/5.0
Dimensions: 18.1 x 8.3 x 16.9 in.
Weight: 15 lbs.
Has a multipurpose CAM controller.
Check Amazon
Micro ATX Cases Comparison Table
1. Best Overall – NZXT H510i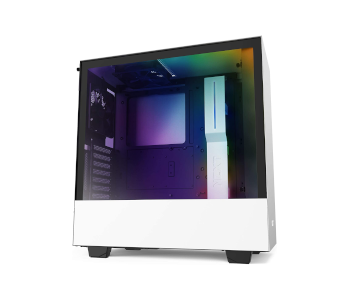 View on Amazon
Editor's Rating: 4.7/5
The H510i is an incremental upgrade to the H500, one of NZXT's most successful case designs. It expands upon an already excellent chassis by offering a versatile CAM module, solid construction, and improved cable management. It's more expensive than other cases on review, but the added utility is well worth it.
Overview of Features
NZXT has made minimal changes to the H510i's outward appearance. It's an understated case made from metal with a solid front face that bends at a 90-degree angle to form the top. Tempered glass covers two-thirds of the left side panel and is completely transparent. The right one is solid metal, save for a vent running along the front so optional front intake fans can access air.
Getting to the H510i's innards is simple as the sides are held in place with thumbscrews. There's a large hole in the back for inserting the PSU, which you can fasten with screws threaded through one of two locations. The PSU shroud is also home to the 3.5mm drive bay. In front of it is an area reserved for either a 280mm radiator or two 120 or 140mm fans. Speaking of fans, you get one on top and one in the back.
Removing the right panel reveals space for two 2.5" SSDs and two trenches. Combined with the zip ties you get, they should make cable management much cleaner. This is also where you'll find the CAM controller. Installing its software allows you to check up on your system's specs, control RGB & fan speeds, and even set overclocking options if your build is equipped to handle it.
You'd think that having only exhaust fans would be bad for thermals, but the H510i performs well. It's quiet and never gets warm enough under load for GPU throttling. You'll want to invest in liquid cooling for a high-end system, which the H510i accommodates without problems.
What We Didn't Like
Putting a new system into the H510i is straightforward until you reach storage. SSDs need to be screwed into their brackets, and you have to remove the bays from under the shroud when you want to swap out 3.5" drives. Having a solid front panels means air intake won't be optimal.
Tech Specs
Dimensions: 18.1 x 8.3 x 16.9 in.
Weight: 15 lbs.
Supported motherboards: Mini ITX – ATX
Expansion slots: 7+2
Front connections: 2x USB 3.0, 1x USB Type-C, 3.5 mm combo
Max. CPU cooler height: 6.5 in.
Max. GPU length: 15 in.
Internal bays: 3x 3.5", 2x 2.5"
Installed fans: 1x 120 mm top and rear
Pros
Excellent cable management
Easy to build in
Multipurpose CAM controller
Understated design
Cons
Installing or swapping disk drives can be complicated
Optional front fans won't be used to their max potential
2. Best Value – Cooler Master N200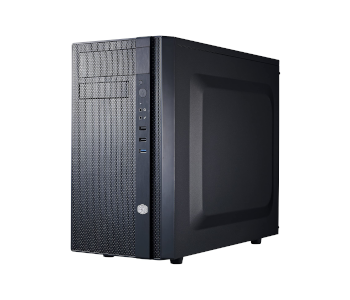 View on Amazon
Editor's Rating: 4.5/5
Do you need a compact case that can still comfortably hold a beastly system with room left over for a liquid cooling solution? In that case, you should turn to Cooler Master and the excellent N200. This unimposing case offers optimized airflow, plenty of interior customization options, and effective cable management. Best of all, it won't even set you back $50.
Overview of Features
The N200 is a straightforward tower that comfortably fits a mini ITX build or has just enough room for a mini ATX board with a moderately-sized cooler. It's mostly made from steel, except the plastic front panel. The right-most fifth of the panel is solid and contains the I/O while the rest is a dense mesh that covers a pre-installed 120mm fan. You get one more in the back and have the option of mounting one on the top, front, and side.
Speaking of sides, the left and right panels are solid steel with ventilation holes for more fans. Both have a chamfer that adds valuable space and is especially useful on the right panel for cable management purposes. The back contains a central hole for the PSU along with four expansion slots and markings for AIO cutouts. There's a padded area on the bottom that protects the PSU from vibrations under which you'll find a dust filter.
The N200 has enough room in the top front for an optical drive and a 3.5" disk. You can also use the space to mount a liquid cooling pump instead. A removable drive bay offers space for two more 3.5" drives, while the back of the case contains slots for 2.5" SSDs.
A micro ATX board will be a tight fit, but the N200 remains tidy thanks to excellent cable management. You'll find lots of places to tie or run wires through on the motherboard mount. Cooling is decent considering how little space is at your disposal and is helped by the top vent. Maxing out the CPU cooler will make mounting a top fan tricky, but installing one on the side is easy if your GPU gives off a lot of heat.
What's Bad About It?
The N200 is an older case, so there's a USB 2.0 šprton its I/O panel. To make things worse, you might get a model with one or more defective USB ports and will need to exchange it. Installing a system can be frustrating due to the confined space, and the confusing instruction manual doesn't help either.
Tech Specs
Dimensions: 17.5 x 8 x 14.9 in.
Weight: 9.5 lbs.
Supported motherboards: Mini ITX, micro ATX
Expansion slots: 4
Front connections: 1x USB 3.0, 2x USB 2.0, 3.5 mm audio & mic
Max. CPU cooler height: 6.3 in.
Max. GPU length: 14 in.
Internal bays: 3x 3.5", 4x 2.5", 1x 5.25"
Installed fans: 1x 120 mm front and rear
Pros
Excellent value for the money
Solid ventilation for such a small case
Removable drive bays
Good cable management
Cons
Single USB 3.0 port
Confusing instruction manual
3. Thermaltake Core V21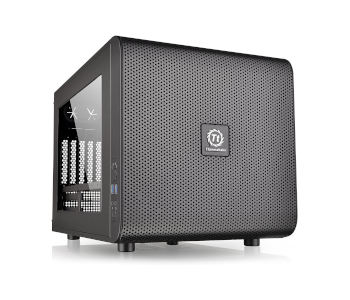 View on Amazon
Editor's Rating: 4.6/5
Did you ever dream of building a computer case your way? The engineers at Thermaltake must have, because that's the main selling point behind the Core V21. This exceptionally versatile case has interchangeable side panels, and you can combine two or more of them to create a unique build. However, the case is worth a buy even without the novelty aspect as it's well built and offers a wealth of cooling options.
Overview of Features
We like the Core V21's cube-like design, especially the front with its large mesh cover and pronounced top & bottom bevels. You'll find the standard I/O on the left side, right next to an acrylic panel surrounded by thick bezels. The top & right panels look identical and have a large vent area that supports several combinations.
The back of the Core V21 has a hole in the left for the PSU and room for the motherboard along with five expansion slots above it. A grommet on top protects a large opening you can use to run cooling tubes or extra cables into the system. There's a place for a fan on the bottom next to ventilation holes for the PSU.
The inside is divided into two sections. The bottom one is roomy enough to easily accommodate a large GPU with space left over for a radiator. The bottom part is smaller. It houses the PSU and 3.5" drive bays. There's also room behind the PSU mount for three 2.5" drive trays you'll have to remove during its installation. They're secured with thumbscrews, so the task isn't complicated.
Modularity is the Core V21's standout feature. All accept the front and side panels are interchangeable. Better yet, you can combine two Core V21s to form a larger case either horizontally or vertically! This doubles the amount of space at your disposal and opens up lots of creative configurations. For example, you could stack two cases on top of each other and use the acrylic panels to make one of them transparent. The other one can store more drives or an elaborate water cooling system.
Are There Drawbacks?
The Core V21 is a big case compared to other micro ATX chassis on review. Its cube shape makes it unsuitable for cramped desks. The build quality could be better too as the steel sides are thin and warp easily if mishandled.
Tech Specs
Dimensions: 16.7 x 12.6 x 13.2 in.
Weight: 14.3 lbs.
Supported motherboards: Mini ITX, micro ATX
Expansion slots: 5
Front connections: 2x USB 3.0, 3.5 mm audio & mic
Max. CPU cooler height: 7.3 in.
Max. GPU length: 13.8 in.
Internal bays: 3x 3.5", 2x 2.5"
Installed fans: 1x 200mm front
Pros
Remarkable versatility thanks to modular design
Exceptional airflow and water cooling potential
Large top area with space for long GPUs and radiators
Straightforward installation
Cons
Mediocre build quality
Large footprint
4. Fractal Design Focus G Mini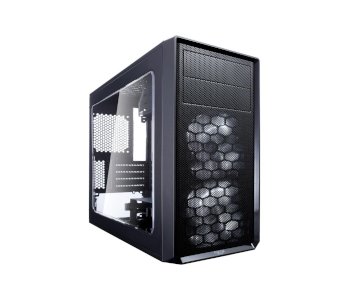 View on Newegg
Editor's Rating: 4.4/5
Fractal Design's Focus G Mini Is a no-frills case designed for users who don't want to invest in a price case yet need a transparent side panel that shows off the internals. Its traditional look and ease of installation will attract many users looking for a hassle-free PC building experience.
Overview of Features
The Focus G Mini's appearance makes it ideal as either a home or office computer. The front is made up of a honeycomb pattern mesh and dust filter with a standard set of I/O controls at the very top. You'll find the top panel behind these, complete with a set of holes for installing two 120mm fans. The case's back has a traditional layout and features four expansion slots with reusable protective insets.
The left side panel is transparent and protrudes outwards, which gives it an interesting look. The acrylic isn't tinted, so make sure that cables are arranged neatly. The right panel is identical to the left, except it's made from steel. There's little room between it and the motherboard tray, but the protruding middle opens up enough cable routing space.
The Focus G Mini isn't old, so it's surprising to find two 5.25″ DVD slots above the drive rack. Installing ODDs into them is a breeze since you slide them in and secure them with thumbscrews. Disk installation is even easier as 3.5″ models fit the toolless bay perfectly. You'll have to screw 2.5" drives in, but that shouldn't be a problem. There's room for one more small SSD behind the motherboard cover.
The Focus G Mini is a thin case, but its 18 inches of length means you can cram many components inside and do so comfortably. You get two front fans and the option of installing one 120 mm fan on the bottom and back along with two 120 or 140mm fans on top. Alternately, you could go for a shorter GPU and wouldn't have trouble fitting a comprehensive water cooling system inside.
What's Bad About It?
The Focus G Mini is strapped for storage space. You can install a maximum of three drives, which might not be enough for people with extensive media collections or lots of files. Cleaning the magnetic filters can be a pain since they're hard to remove, and you have to tip the case on its side to do so.
Tech Specs
Dimensions: 18.3 x 8 x 15.1 in.
Weight: 9.9 lbs.
Supported motherboards: Mini ITX, micro ATX
Expansion slots: 7
Front connections: 1x USB 3.0, 1x USB 2.0, 3.5 mm audio & mic
Max. CPU cooler height: 6.5 in.
Max. GPU length: 15 in.
Internal bays: 2x 3.5", 1x 2.5", 2x 5.25"
Installed fans: 2x 120mm front
Pros
Spacious enough for easy system assembly
Comes with two front fans and supports four more
Great build quality for the price
Cons
Filters are hard to remove
Room for only three disk drives
5. InWin 301
View on Amazon
Editor's Rating: 4.2/5
Tempered glass is a must if you're going to show off your build, but it makes the case more expensive. In Win's 301 is the exception as you can get it for less than $70 and still impress your friends. It's compact, built from quality materials, and has ample room for large graphics cards or CPU coolers. In Win did have to cut costs, though, which is why you'll have to invest more into the case if you also want proper cooling.
Overview of Features
The 301 is a stylish SECC steel case with solid top and front panels. You can get it in either black or white with blue and red LED trim, respectively. The I/O runs along the front's right side and has two USB 3.0 ports along with headphone and microphone jacks.
Thin metal edges frame the tempered glass panel. It is supported by a series of latches and can be removed by pressing a button on the top, just like an oven door. The glass is tinted and speckled with a dot pattern on the top and front to obscure the PSU cover ad drive bays. The 301's right side is solid except for a series of honeycomb-shaped exhausts responsible for the front fans' air intake.
The case sits on four broad feet. They're shock-proof and proved stability while also lifting the bottom from the ground so air can pass through the honeycomb filter. You'll find another honeycomb pattern on the back where a 120mm fan goes. Underneath it are four expansion slots accessible from the outside, while the PSU hole is on top.
The top-mounted PSU slides into a slot with lots of room on its bottom for cooling and cables. The motherboard tray is underneath with four standoffs for mini-ITX boards already in place. You'll need four more for a micro ATX board and will find them in the accessories.
The drive bay is in front of the PSU. It holds either two 2.5″ or a single 3.5″ drive and comes with a plate at the bottom that lets you mount another 2.5″ drive vertically. Underneath that, you'll find space for two 120mm fans and the main area for cable management. The GPU sits close to the 301's bottom panel and can be 14 inches in length.
What We Didn't Like
The 301 has room for five 120mm fans but doesn't come with any. You'll want at least two for adequate airflow, one on the back, and one on the bottom since it will have unimpeded access to air. The case is built without room behind the motherboard tray, forcing you to route cables through the space below the drive bay instead. This can make cable management complicated.
Tech Specs
Dimensions: 14.6 x 7.4 x 14.3 in.
Weight: 14.4 lbs.
Supported motherboards: Mini ITX, micro ATX
Expansion slots: 4
Front connections: 2x USB 3.0, 3.5 mm audio & mic
Max. CPU cooler height: 6.3 in.
Max. GPU length: 13 in.
Internal bays: 1x 3.5", 2x 2.5"
Installed fans: None
Pros
Excellent tempered glass panel at an affordable price
Sturdy build
External access to expansion slots
Accommodates long graphics cards
Cons
No fans included
Complicated cable management
6. Best Budget Option – Cooler Master MasterBox Q300L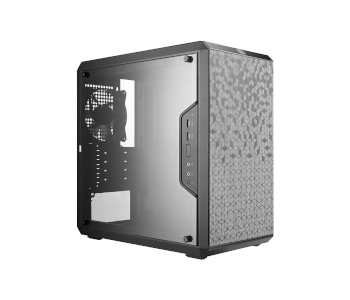 View on Amazon
Editor's Rating: 4.3/5
Our budget pick is a more recent Cooler Master case, the MasterBox Q300L. We were impressed that you could get a case with such good airflow and seamless management options at this price, but these are just some of the MasterBox Q300L's pros. Add the ability to lay it on its side and large dust filters, and you've got a versatile chassis that's worth every penny.
Overview of Features
The MasterBox Q300L is a mini tower that looks much more attractive than its affordable price would suggest. The two dust covers that cover the front and top panels give the illusion of being covered with three-dimensional cubes and are very attractive. They're also attached with magnets, so removing and cleaning them is a breeze. A transparent plastic panel completes the look. It houses the I/O panel, which can be rotated to one of four positions.
The right panel is solid and held in place with four rubberized thumb screws. They act as a second set of feet, allowing you to place the Q300L on its side during installation or leave it in a horizontal position. The bottom panel becomes the left one in that case. A dust filter runs along its length and is straightforward to remove.
The Q300L's interior reveals ample room for cable management. You can fit most of them behind the motherboard mount and route them through several cutouts with the help of ties. You'll find a single 3.5″ drive bay in the back, while two 2.5″ SSDs fit in a separate one in front. Feel free to install long graphics cards as 15 inches is the Q300L's limit.
Systems built inside the Q300L should run cool and silent thanks to a wealth of cooling options. A single 120mm fan comes pre-installed in the back, and you'll want to augment it with sets of two more in the front and on top. Liquid cooling is viable since the Q300L supports three radiators with a diameter of 240, 140, and 120mm each.
Are There Drawbacks?
The Q300L has cheap PCIe slot covers that pop out and can't be reattached. They may even leave sharp edge when removed, so it's best to do so right away and plug their holes with screw-in replacements. This is another case with support for only three storage drives.
Tech Specs
Dimensions: 15.2 x 9.1 x 15 in.
Weight: 8.2 lbs.
Supported motherboards: Mini ITX, micro ATX
Expansion slots: 4
Front connections: 2x USB 3.0, 3.5 mm audio & mic
Max. CPU cooler height: 6.2 in.
Max. GPU length: 14.2 in.
Internal bays: 1x 3.5", 2x 2.5"
Installed fans: 1x 120mm rear
Pros
Can be used on its side
Large filters keep dust at bay
Excellent cable management
Enough room for large CPU coolers and graphics cards
Cons
Supports only three disk drives
Expansion slot covers can't be reattached