Microphone Patterns Explained in Plain English
3D Insider is ad supported and earns money from clicks, commissions from sales, and other ways.
The job of a microphone—any mic—is to convert mechanical (sound) energy into electrical signals. Dynamic and condenser mics do this in different ways, but the principle is the same. The focus of my guide is to demonstrate how mics pick up or hear sound using polar patterns. Pickup patterns are invisible, so that makes them a little hard to grasp for first-time users.
The technical definition of a polarity pattern is a mic's directional frequency response. In layperson terms, it's the direction a microphone is most sensitive to sound pressure.
The Point of Polar Patterns
Polar patterns are vital as they help to control what gets heard and what doesn't. Sometimes, you may want to hear the person speak along with a little background ambiance for atmosphere. Other times, it may be necessary to isolate the sound source so that there are zero distractions.
Some mics have polar patterns that only hear sound from the front and rear but not the sides. Interviews and singing duets are two benefits of this. Or, it may be necessary to hear all speakers around a table in a business conference call. In that case, the mic must be able to pick up on all sides. That's why polar patterns matter and why it's a top consideration when buying a new microphone.
Seeing Is Believing
The best way to understand a mic's polar pickup is to make the invisible visible. The rest of this guide walks you through the various options. I also give examples of what type of applications are best suited to each one. There are links to sample mics at the end of each section to illustrate the points. First, let's put a name to the most common microphone pickup patterns.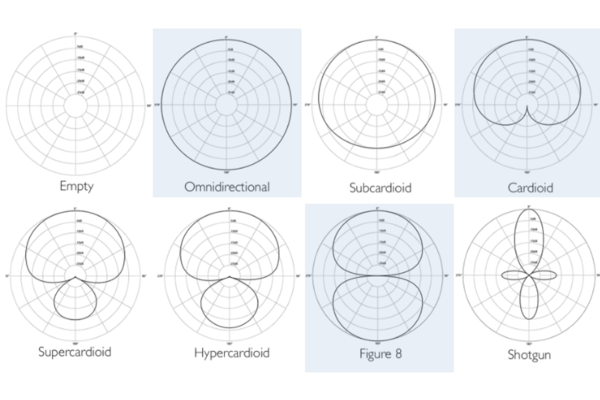 Polar Patterns for Newbies
There are three basic polar patterns and many variations for each of the main types. Two have names to describe their shapes and names that depict their directionality. I put the latter in parentheses for convenience. Each pattern responds differently to sounds that come at it from different directions. When you understand polarity patterns, you then know where to place the mic for the best effect.
Here are the three patterns that you're most likely to come across:
Cardioid polar pattern (unidirectional)
Figure-of-8 (bidirectional)
Omnidirectional or omni for short
The next section goes over each of the above and any variations to them.
#1 Cardioid Polar Pattern
The cardioid polar pattern is so-called because of its heart shape, as seen in the diagram above. It also has three subcategories, i.e., subcardioid, supercardioid, and hypercardioid. More on those soon. A cardioid polar pattern has most of its sound sensitivity at the front and the least at the back.
The pickup angle is typically 131°, which makes it quite wide. That's useful as it can accommodate two people using the same device. Backing singers who share a single mic are singing into a cardioid pattern. Another highlight of this pick up is its feedback rejection.
Broadcasters and singers who move their heads around benefit from 131° cardioid mics.
Cardioid Polar Pattern Cons
Mics with the cardiod pickup can suffer from something known as the proximity effect. The nearer the sound source gets to the mic, the more emphasis there is in the low frequencies. A bigger bass boost can cause problems in some situations, but others may use it to exploit a preferred effect. Some cardioid pickups are disposed to wind noise and popping or plosive sounds.
Next are two sub-categories of a cardioid polar pattern:
Subcardioid Pickup
The subcardioid also goes by the name of wide-cardioid. This pattern is less directional than a cardioid pickup, but a little more directional than omni mics (see below). The rear (back of mic) sensitivity is lower than the front. This pattern is useful for miking a group of instruments or for a small group of singers. Another advantage of the subcardioid is its minimal proximity effect.
The most significant downside of the subcardioid polar pattern is that it's susceptible to feedback.
Supercardioid Pickup
The supercardioid is like the cardioid above, with the difference being more side rejection. It also has a slightly tighter pickup angle at the front. One of the key advantages is its ability to isolate the polar area from unwanted room noise. That applies to nearby instruments as well, thus resulting in superb feedback rejection.
There is a downside to the supercardioid. The sound source (person) must remain directly in front of the mic. Even a little wandering can see the voice taper by a significant amount.
Hypercardioid Pickup
Hypercardioid mics have similar traits to the bidirectional polar pattern with some variation to shape. They're also effective at rejecting sound from the sides and feedback, like the supercardioid above. Extreme ambient noise rejection is another characteristic. The tight directional pattern means there's little room for wandering. That's why it's not always ideal for some speech and vocal uses.
Below is an excellent example of a cardioid-only pattern dynamic microphone: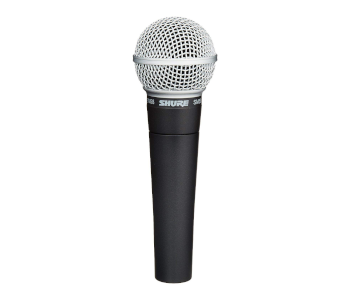 Editor's Rating: 4.9/5
Affordable dynamic cardioid mics don't get much better than Shure's SM58 series. It's a real workhorse that can take some serious abuse and still function as a new microphone. Its uniform cardioid polar pickup separates the primary sound source while minimizing background noise. And a pneumatic built-in shock-mount system and pop filter keep the audio clean and consistent.
Figure-of-8 (Bidirectional) Polar Pattern
The bidirectional figure-8 microphone picks up sound evenly from the front and back. It rejects any noise that comes from the sides. The arrangement is two cardioid patterns facing in opposite directions. The figure-of-eight is the perfect mic for two-people interviews. The interviewer and interviewee sit on opposite sides of a table and get heard with equal audio by the audience.
Figure-8 mics are often used in music to record two instruments. Duets also benefit from this pickup arrangement. It gives the singers a separate space to perform while sharing the same mic. There are a few stereo techniques that use the figure-8 pickup as well. The downside to this pattern is when you only need the front of the mic as the back may record unwanted noise.
Next, are two sub-categories of a Figure-8 polar pattern:
Short Lobar Pickup
There's no polar pattern more directional than the short lobar. The ultra-narrow pickup makes it incredibly difficult to use with shotgun mics, so it's not a popular choice. It must point with high precision at its non-moving sound source. In film, it would most likely be mounted onto an extendable boom pole. Most people who need a tight pattern opt for the more forgiving supercardioid instead.
Long lobar Pickup
The long lobar pickup pattern is used in outdoor situations where the sound source is distant. It's also ideal for wide and dolly shots. The latter is a tracking method where the mic and camera follow and record a moving subject on a device called a dolly.
Below is an example of a bidirectional condenser microphone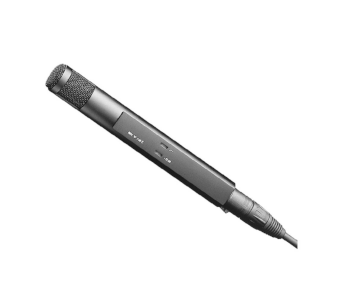 Editor's Rating: 4.7/5
The all-metal Sennheiser MKH-30 is an excellent example of a bidirectional condenser mic. It's a favorite among solo vocalists and musicians that perform in small groups. Another use is as a side (S) microphone to record stereo applications. A few tech highlights include the mic's transformerless low-noise and low-distortion output. There's also a switchable bass roll-off and attenuation PAD.
Omnidirectional (Omni) Polar Pattern
Omnidirectional microphones are quite common but have their advantages and disadvantages. The omni 360° pattern picks up sound from all around the mic with equal gain. That means the sound source doesn't have to be directly in front of the mic to be heard. This type of pattern is ideal if you want to hear surrounding noise or record ambiance as well as the primary sound source.
Another advantage of the omnidirectional pickup is that it's less sensitive to plosives. There's also no or very minimal proximity effect. Wind doesn't cause as much interference as with other patterns, either. Lastly, omnidirectional microphones can be tiny and are thus often used in lavalier or lapel type mics.
Below is an example of a budget-friendly omnidirectional lavalier microphone.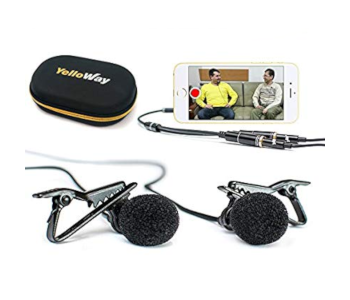 Editor's Rating: 4.6/5
The 360° omni polar pattern is often used for interviews. This package is a dual lavalier set with two mics, one for the questioner, the other for their guest. The best thing about these tiny discrete mics is that you can hook them up then forget about them. Wearers can move heads and shuffle around with total confidence. The omni pickup always hears them with equal gain from any position.
——————————————————————————————————————-
Multi-Pattern Microphones
Below are 5 prime examples of microphones with multiple polar pattern switches. These are all high-quality products in their class and favorites among users. I've included models for all budgets. This way, you can see what's available within the various price categories. Some mics offer dual (two) patterns, though the ones here are typically three or four.
HyperX QuadCast USB 4 Polar Pattern Condenser Gaming Mic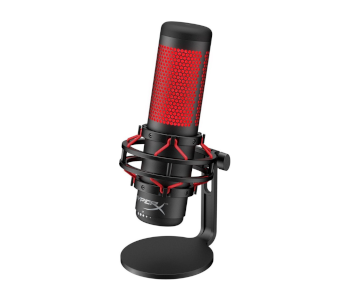 View on Amazon
Editor's Rating: 4.8/5
The HyperX QuadCast is a quality USB condenser aimed at gamers. It comes equipped with its own anti-vibration shock mount, pop filter, four pickup patterns, and on-body controls.
QuadCast Multi-Polar Pattern Mic Highlights
HyperX's QuadCast microphone is so easy to set up with its plug-n-play (PnP) simplicity. It has a sleek design with a stunning red and black finish. The former lights up as a bright LED. This is a versatile mic that works well for applications other than gaming. The sound quality is one of its strongest points, enhanced further by its built-in shockmount and pop filter.
The mic has onboard switches and dials to make control easy for the user. There's a headphone jack, gain knob, LED indicators, and a four-pattern selector switch. It includes stereo, bi-directional, omnidirectional, and cardioid pickups. Follow the link to watch the QuadCast video.
Tech Specs
Brand: HyperX
Mic Type: Condenser
Connection: USB
Polar Pattern: Four
Power Supply: Plug-in device
Mic Support: Multiple support
Frequency Response: 20 Hz–20 kHz
Sensitivity: -36dB 1V/Pa, 1kHz
Dimensions: 5.05 x 4 x 9.8"
Item Weight: 9 oz.
Warranty: 2 years limited
The Pros
Plug-n-play (PnP) mic
Striking design
Versatile application use
Clear, crisp sound quality
Built-in shockmount & pop filter
Headphone jack
4 polar pattern selector switch
Gain control dial
Excellent value
The Cons
Only available in red & black
No control over the red LED
No volume control for headphones
Blue Yeti Multi-Pattern USB Platinum Microphone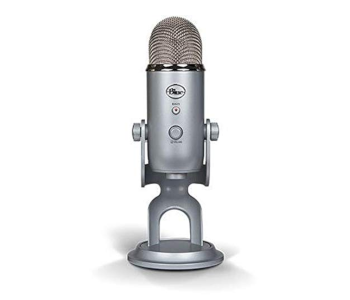 View on Amazon
Editor's Rating: 4.6/5
The much-loved Blue Yeti is another bestselling microphone. It's been around for a while and gets better with each update. This mic has 4 pickup patterns that include:
| | |
| --- | --- |
| Cardioid: | Ideal for speech applications, vocals, and musical instruments |
| Omnidirectional: | Best for field recordings, live vents, conference calls, etc. |
| Bidirectional: | 2-person interviews, instruments, and singing duets |
| Stereo: | Group vocals, choirs, and instruments |
Blue Yeti Multi-Pattern Platinum Highlights
The above applications for the various polar patterns are suggestions by the makers of the Yeti. How you use them is down to personal preference and desired results. People like the Yeti series for more than just its 4 pickup patterns. It's another USB, plug-n-play type mic with exceptional build quality. The audio is close to pro-level. Users also appreciate the on-body controls (see pros below).
Tech Specs
Brand: Blue
Microphone Type: Condenser (studio)
Connection: USB
Polar Pattern: Multiple
Power Supply: Plug-in device
Frequency Response: 20Hz to 20kHz
Max SPL: 120 dB
Bit Rate: 16-bit
Max Sample Rate: 48 kHz
Dimensions: 4.9 x 4.7 x 11.6"
Weight W/O Stand: 19.2 oz.
Weight (Stand Only): 35.2 oz.
Warranty: 2 years limited
The Pros
Rugged, built-to-last
Versatile usage
Switchable pickup patterns
Plug-n-play USB simplicity
Multi-device compatibility
Ultra-clear, crisp audio
Handy mute buttons
Headphone volume dial
Gain knob
Excellent value
The Cons
Tacky feel to gain/volume knobs
Heft (also a pro for a permanent home studio setup)
CAD Audio Equitek M179 Adjustable Polar Pattern Mic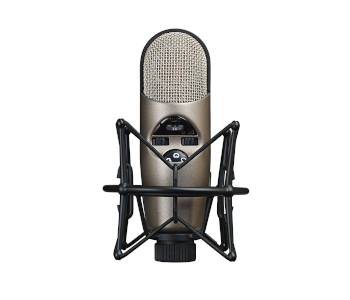 View on Amazon
Editor's Rating: 4.5/5
This mic is the CAD Audio Equitek M179. It's a beautiful large diaphragm product that has an infinitely adjustable pickup selector. That means there are no limits as to what pattern a user needs.
CAD Audio Equitek M179 Mic Highlights
The M179 by CAD Audio is a versatile mic suitable for a whole range of applications. They include solo speech, vocals, on stage, and in the studio. For musical tools, the mic is perfect for acoustic, wind, and some amplified instruments. The variable polar pattern control dial lets users lock the pickup to suit the recording session. Extras include a shock mount and a mic clip for use with regular stands.
Tech Specs
Brand: CAD Audio
Mic Type: Large-diaphragm condenser
Connection: 3-pin XLR
Polar Pattern: Variable
Power Supply: Phantom
SPL Capability: 143db
Dimensions: 10 x 7 x 4"
Product Weight: 64 oz.
Warranty: 1 year limited
The Pros
Beautiful looking microphone
Suited for many applications
Gold sputtered large diaphragms
Rugged metal construction
Built-in stainless steel pop filter
Polar pattern control knob
Uncolored sonic characteristics
Affordable for its class
The Cons
It's heavy (also a pro) so needs a stand that can take its weight
Aston Microphones Spirit, Multi-Pattern Condenser Mic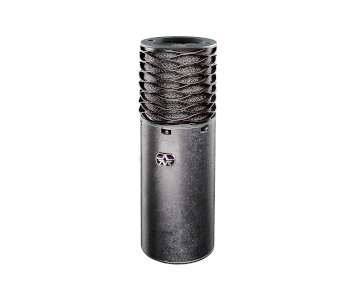 View on Amazon
Editor's Rating: 4.7/5
This is not the best-looking microphone out there, though some are sure to find it beautiful. The Aston Microphones Spirit is a large-diaphragm condenser with multi-pattern capability.
Aston Microphones Spirit Mic Highlights
Consider the Aston Microphones Spirit if you're a fan of UK engineering. The design and characteristics of this mic are the results of a combined effort. It had input from professional artists, producers, and engineers. The mic sounds fantastic with vocals and instruments. The standout features are its build, vibrant harmonics, built-in pop filter, and multi-pattern selector for Cardioid, Omni, and Figure-8.
Tech Specs
Brand: Aston Microphones
Mic Type: Condenser studio mic
Polar Pattern: Multi
Connector: 3-pin XLR
Power Supply: Phantom 48V
S/N Ratio: 94dB
Dimensions: 20 x 10 x 10"
Weight: 22.08 oz.
Warranty: 2 years
The Pros
Rugged, all-metal construction
UK designed & manufactured
Switchable pickup patterns
Wave-form mesh head
Ideal for vocals & instruments
Ultra-clear, warm sounding
Integrated mesh-knit pop filter
Custom end caps
Recyclable packaging
The Cons
XLR cable not included
Pop filter okay, not exceptional
Shure Multi-Pattern KSM44A/SL Large Dual-Diaphragm Mic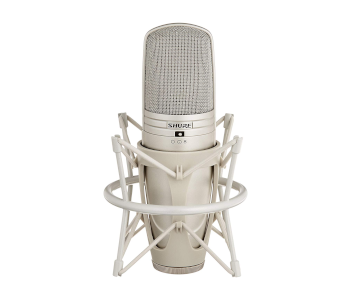 View on Amazon
Editor's Rating: 4.8/5
Last up is the Shure KSM44A/SL. It's another good-looking multi-polar-pattern studio microphone. This one is a side-address condenser mic that sports a large dual-diaphragm.
Shure Multi-Pattern KSM44A/SL Highlights
Shure's Multi-Pattern KSM44A/SL is a premium condenser mic with a premium price tag to match. It has an exceptional build with unmistakable precision engineering and superior parts. Shure claims that it's the quietest condenser mic in the world right now. It also boasts an ultra-wide dynamic range. Other significant features include its built-in pop filter and 3-pattern selector switch.
The polar pickup options are omnidirectional, cardioid, and bidirectional. They give users plenty of flexibility over a wide range of recording applications. Product extras include a quality aluminum storage case, a velvet dust pouch, and a ShureLock suspension mount.
Tech Specs
Brand: Shure
Mic Type: Side-address condenser
Connection: XLR
Polar Pattern: Multi (3)
Power Supply: 48V Phantom
Switchable Pad: 15dB
Max SPL: 131dB
Dynamic Range Cardioid: 130 dB
Dynamic Range Omni: 134 dB
Dynamic Range Figure-8: 131 dB
Impedance: 50 Ohms
Dimensions: 14.5 x 10.5 x 6.5"
Product Weight: 4.2 oz.
Warranty: 1 year limited
The Pros
Immaculate audio reproduction
Exceptional manufacturing
Built-in 3-stage pop filter
Shurelock suspension mount
Superior components throughout
Prethos advanced preamplifier
Switchable 15 dB pad
Quietest condenser mic going
3-pattern selector switch
3-position low-frequency filter