6 Best Microphones for Smartphones in 2020
3D Insider is ad supported and earns money from clicks, commissions from sales, and other ways.
Smartphones are catching up to cameras in terms of video and picture quality, but both still suffer from a significant drawback – lackluster audio. The issue is more pronounced for phones because of their design constraints and exposure to radio waves that negatively impact sound clarity. Fortunately for mobile content creators, microphone manufacturers have started to meet the demand for superior audio quality on the go.
In this article, we're having a listen to the six best microphones for smartphones currently available. They might be smaller than their camera and desktop counterparts, but mobile mics bring superior audio quality to your podcasts, interviews, and lecture recordings. We've included models of various types at different price points, so you're sure to find the perfect one, whether you're a pro podcaster or student. Check out what our picks have to offer and make garbled, muffled audio recorded with your smartphone a thing of the past.
Budget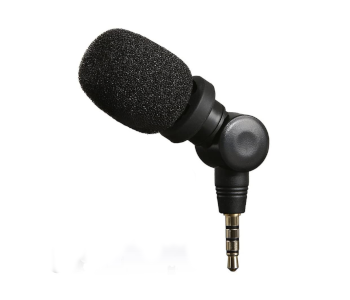 Saramonic Mini SmartMic
4.0/5.0
Type: Condenser mic
Frequency range: 35 – 18,000Hz
Shock mount improves noise cancellation.
Check Amazon
Best Value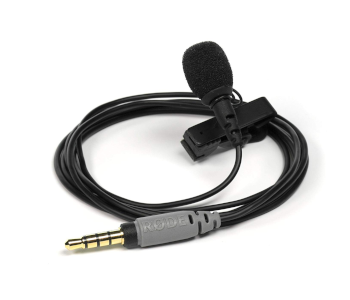 Rode smartLav+
4.4/5.0
Type: Lavalier mic
Frequency range: 60 – 18,000Hz
This has clean audio free from hissing.
Check B&H
Top Pick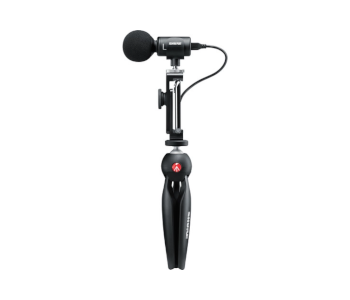 Shure MV88
4.7/5.0
Type: Condenser mic
Frequency range: 20 – 20,000Hz
Exceptional level of sound customization.
Check B&H
Microphones for Smartphones Comparison Table
1. Best Overall – Shure MV88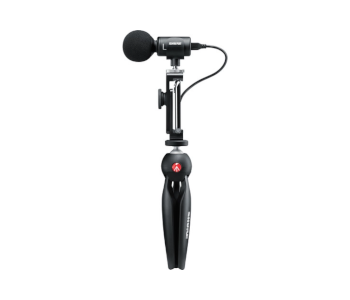 View on B&H
Editor's Rating: 4.7/5
Shure's MV88+ is the most versatile mobile microphone system out there. It has two polar patterns, adapts to different situations with the help of an excellent app, and arrives with a robust tripod. It's the mobile mic to get whatever you're recording and well worth the considerable investment.
Overview of Features
The MV8+ is the updated version of the Shure MV88. Its predecessor featured outstanding audio quality but was limited by its Apple exclusivity and the fact that it had to be plugged into an iPhone directly. These limitations are now gone since the MV88+ has MicroUSB and 3.5mm jacks on the back for connecting to any kind of smartphone and headphone monitoring. You get cables for Android and iPhone alike.
The microphone and your smartphone are held in place by Manfrotto's excellent Pixi Mini Tripod. You can use it as a simple stand for the MV88+ or add your phone in either front-or back-facing positions. This increases the setup's functionality since you get to either angle the mic away and concentrate on filming someone else or align it with the phone and monitor yourself while vlogging.
The MV88+ has two polar patterns and can record in either mono or stereo. Cardioid is your go-to podcast and singing option since it concentrates on sound coming from in front of the mic. Bit-directional is more useful for interviews and jam sessions as it records audio from the sides.
The microphone is backed up by Shure's outstanding Motiv Video and Audio app. The former lets you capture video and audio together while the latter has more options for audio tweaking and sharing. Both apps have an equalizer and several compression settings that help transform the MV88+'s sound.
Playing around with Digital Signal Processing helps you optimize the MV88+ for various situations. It performs equally well for recording live bands and podcasts, sermons, or sing-alongs. It can be bright and clean or muddy and dark to add character and authenticity to your recordings.
What We Didn't Like
The ShureMV88+ is the most expensive microphone on review. Manfrotto's mount accounts for much of its cost, so get the non-plus version if you have an iPhone and don't use a case as audio quality is the same. The cables that connect to your phone are short. This is an intentional decision since Shure assumes you'll be attaching your phone to the tripod. You'll need longer cables when using the tripod in stand-alone mode.
Tech Specs
Dimensions: 1.7 x 1.7 x 2.9 in.
Weight: 1.4 oz.
Type: Condenser mic
Bit and sample rate: 24-bit, 48 kHz
Polar patterns: Cardioid, Bi-directional
Frequency range: 20 – 20,000Hz
The Pros
Outstanding audio quality
Exceptional level of sound customization
Comprehensive companion apps
Comes with quality tripod
The Cons
Expensive
Short cables
2. Best Value – Rode smartLav+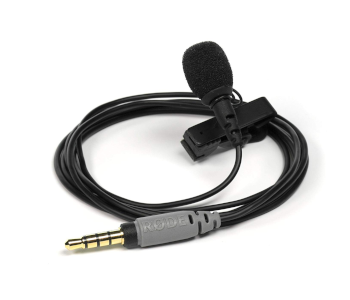 View on B&H
Editor's Rating: 4.4/5
If the MV88+'s cable length is giving you pause, why not get a microphone that's always at the ideal speaking distance no matter where you are? You need a lavalier microphone in that case, and there's none better than Rode's smartLav+. The microphone attaches safely to your shirt or jacket and delivers crisp sound quality straight to your smartphone.
Overview of Features
The smartLav+ is a small circular microphone with an omnidirectional capsule and a long 3.5mm cable. It works with Android devices and iPhones, but you'll have to purchase a separate Lightning adapter for newer models. The microphone arrives in a well-made pouch and comes with a clip and a small wind guard. You'll want to stock up on several of these as both pieces are small and easy to lose.
Portability is the best thing about the smartLav+. You set it up so that your or a guest's voice can be heard clearly and can forget about it afterward. That helps the conversation become more spontaneous while also allowing you to walk around and take in the atmosphere. You can go to conventions, lectures, and other events and record your voice and the ambient sounds thanks to the smartLav+'s omnidirectional capsule.
The smartLav+ works with any sound recording app to markedly improve your smartphone's input quality. The original smartLav had pronounced hissing that has since been corrected by upping the plus version's minimum frequency to 60Hz. You'll lose out on deep, rumbling base but gain cleaner sound as a tradeoff. Rode also supported their lav mic with a recording app that lets you specify file types and bitrates as well as share the files online. It's currently undergoing an overhaul and isn't available, though.
What's Bad About It?
The smartLav+'s build quality could be better. The mic itself is delicate, and its cable is prone to fraying if twisted too sharply. Rode normally covers the smartLav+ with a 1-year warranty but will not honor it if you purchase the mic through certain online retailers.
Tech Specs
Dimensions: 0.2 x 0.2 x 46.5 in.
Weight: 0.2 oz.
Type: Lavalier mic
Maximum sound pressure level: 110dB
Signal to noise ratio: 67dB
Polar pattern: Omnidirectional
Frequency range: 60 – 18,000Hz
The Pros
Compact and versatile
Easy to attach and forget
Emphasizes voice recording but picks ambient sounds up too
Clean audio free from hissing
The Cons
Mediocre build quality
Warranty issues
3. Blue Raspberry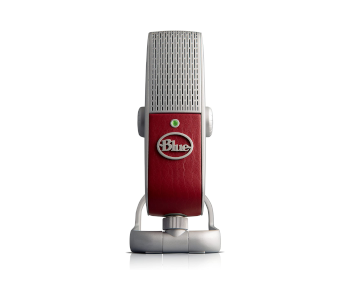 View on Amazon
Editor's Rating: 4.6/5
Blue's Raspberry brings the company's trademark retro look and top-notch sound quality into the mobile space. It's a portable and compact yet finely-tuned recording instrument that captures clean sound without Digital Signal Processing or DSP. It's built to last, simple to use, and sure to elevate your on-the-go recording quality dramatically.
Overview of Features
The Raspberry is hands-down the best-looking mobile mic on review. Its look mimics the legendary microphones of the 50s and 60s in a small frame that's perfect for travel. The body and grille are made from aluminum with an attractive red leather strip that houses the Blue logo and an indicator LED. Knobs on either side adjust the gain and headphone volume, while MicroUSB and headphone ports are in the back. The Raspberry ships with a USB to Lightning cable and effortlessly connects to iPhones.
You also get a stand and an adapter. The stand lets you rotate the Raspberry 360 degrees while also allowing for backward and forward tilting. This wide motion range makes setting the grille up so that the condenser capsule is clearly receiving your voice convenient. The adapter attaches to the Raspberry on one end and screws into traditional stands on the other if you're recording in a studio setting.
Audio recorded with the Raspberry is clear, bright, and particularly suited to bring out the best in vocals. Lack of DSP means you're getting the original, "raw" signal, while its cardioid polar pattern ensures only your voice gets recorded. On the other hand, the pattern is flexible enough for you to speak directly into the grille or to the microphone's side without issue. The bright output makes the Raspberry more susceptible to plosives, but moving your mouth slightly to the side goes a long way in getting rid of them.
Are There Drawbacks?
The Raspberry's stand is versatile but small and too close to the flat surface it rests on. You'll either need to move in close or lift the stand up to sound your best, neither of which is an ideal solution. Do your research before buying the Raspberry if you're an iPhone user as it has trouble connecting to some models.
Tech Specs
Dimensions: 3.6 x 2.3 x 5.5 in.
Weight: 1 oz.
Type: Condenser mic
Bit and sample rate: 24-bit, 48 kHz
Polar pattern: Cardioid
Frequency range: 20 – 20,000Hz
The Pros
Excellent audio quality
Attractive design and premium build quality
No DSP
Versatile stand
The Cons
Connection issues with several iPhone models
Small stand makes assuming a comfortable recording position difficult
4. Shure MV5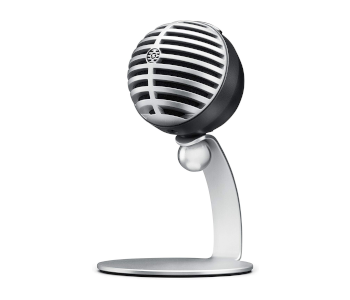 View on B&H
Editor's Rating: 4.3/5
Shure offers a larger, less expensive microphone as part of the Motive lineup that's almost as capable as the MV88+ at a fraction of its price. The MV5 is a sphere-shaped retro condenser mic with several DSP presets and a simple yet useful app. It produces wonderful recordings of music and vocals, comes with a fine stand, and works with a broad range of devices.
Overview of Features
The MV5 resembles a cross between a ball and an old-school microphone thanks to its spherical shape and pronounced plastic grille. You can get it in either silver or black. USB and 3.5mm jacks, as well as a DSP preset toggle and its indicator LEDs, are found in the back.
There's a mute button, but you'll have to adjust gain through your phone. Speaking of which, the MH5 comes with a MicroUSB to regular USB or Lightning cables, meaning it doesn't work with Android phones out of the box. This is easy to fix by purchasing an adapter, though.
The condenser microphone comes with a metal stand that lifts it 5.5 inches from the ground and lets you angle it forward or back. Doing so is useful since you can position the MV5 to pick your voice up without having to stoop to be heard.
There are three digital signal processing settings to choose from, the most useful of which is turning DSP off completely. This leaves you with a clean signal you can apply equalizer and compression settings to in your audio editor of choice. The two other presets, Voice and Music, do an admirable job if you just want to optimize the MV5's performance. Music applies slight EQ improvements to deliver a crisp, punchy sound, while Voice ups lows to deliver fuller, richer vocals.
The microphone uses a simplified version of the MV88+'s app. It's easy to use and contains important features like an equalizer, recording to 48 kHz WAV, and sharing your files in various ways.
What We Didn't Like
The MV5's stand is made from light metal and easy to topple if you accidentally pull too hard on a connected cable. The mic's audio quality may drop with use as hissing and static make their way into recordings. This doesn't always happen, so the problem lies in Shure's quality control.
Tech Specs
Dimensions: 2.6 x 2.6 x 2.6 in.
Weight: 3.2 oz.
Type: Condenser mic
Bit and sample rate: 24-bit, 48 kHz
Polar patterns: Cardioid, Unidirectional
Frequency range: 20 – 20,000Hz
The Pros
Shure audio quality at a reasonable price
Choice between no DSP and two useful DSP settings
Simple and intuitive app
Fun design
The Cons
Quality control issues
Thin stand is easy to knock over
5. Rode VideoMic Me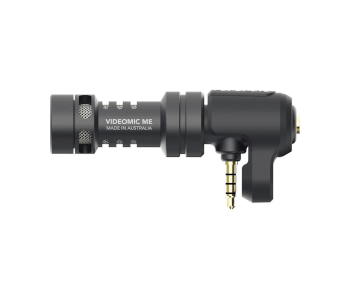 View on Amazon
Editor's Rating: 4.2/5
Do you often record outside in noisy environments or during windy weather? A shotgun mic is your best bet for these conditions, and Rode's VideoMic Me is the closest thing you'll get to a proper one for mobile use. It's easy to attach and record with, comes with a useful wind-muffling accessory, and sounds much better than any built-in phone mic.
Overview of Features
The VideoMic Me is a tiny yet well-made shotgun mic that plugs into your smartphone's 3.5mm TRRS port. It has a flexible clamp that easily adapts to phones of varying thicknesses and can be used with cases. Any device with a headphone jack is supported, but make sure yours doesn't have a camera close by so the microphone doesn't enter the picture.
The bump in quality you get when switching to the VideoMic Me is noticeable and immediate. Its aluminum body helps block radio waves, which are a source of interference that often degrades regular smartphone recording quality. The microphone has the same excellent cardioid capsule as the slightly larger Rode VideoMicro but is optimized for smartphone use.
Its shotgun mic design helps the VideoMic Me put out great-sounding audio in challenging conditions. On the one hand, the cardioid capsule hones in on sounds in front of it while excluding everything else. It will also pick up sounds coming directly from the back, so you can interview someone while monitoring your phone's screen. On the other, the deadcat negates or reduces wind noise to a low rumble where your phone's mic would only record blown-out noise.
What's Bad About It?
The VideoMic Me's most obvious drawback is its uncertain usability in the future. Apple has abandoned 3.5mm jacks, and some Android phone manufacturers have either followed in its footsteps or plan to do so in the future. There's no Lightning or USB-C version of the microphone, yet that would address this. The microphone is great for vocals but isn't suitable for recording concerts and other performances due to its capsule's narrow capture angle.
Tech Specs
Dimensions: 1.5 x 0.8 x 3.1 in.
Weight: 1.2 oz.
Type: Shotgun mic
Bit and sample rate: 24-bit, 48 kHz
Polar patterns: Cardioid
Frequency range: 100 – 20,000Hz
The Pros
Excellent for outdoor use
Handles ambient and wind noise well
Sturdy build and flexible clamp
affordable
The Cons
Only useful for voice recording
No Lightning or USB-C version
6. Best Budget Option – Saramonic Mini SmartMic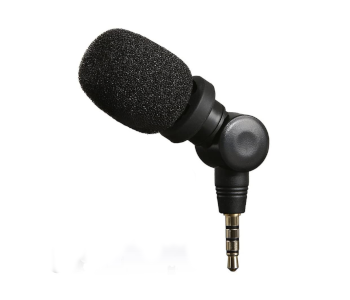 View on Amazon
Editor's Rating: 4/5
The Mini SmartMic by Saramonic is proof that not all mobile recording devices have to be expensive or be from a well-known brand. It excels at recording business meetings, interviews, or lectures as it cuts down on outside interference while honing in on the speaker. This is the microphone to get if you want to get better-sounding mobile audio without spending much.
Overview of Features
The Mini SmartMic holds up to its name as it's the smallest mobile microphone we've tested. Its body is made from aluminum to cut down on interference, and the mic plugs into smartphones via 3.5mm TRRS. There's no monitoring headphone pass-through, which isn't surprising considering the size and price. Keep in mind you'll have to remove the device before playing audio back since your phone will mistake it for headphones and refuse to play.
Audio recorded with the Mini SmartMic is substantially better than your smartphone's equivalent. The shock mount plays a large part in this as it reduces handling noise, allowing you to pick the phone up and adjust the SmartMic's position without the associated thuds. An aluminum body deals with radio wave interference while the cover brings mild wind noise down to zero.
The SmartMic's frequency response ranges from 35 to 18 kHz. While this might sound restrictive, it's a clever move by Saramonic to eliminate unwelcome noise at either frequency extreme. Expect less interference from rumbling trains or planes and no hissing as a result.
Are There Drawbacks?
The SmartMic's aluminum body and small size make it fragile. It doesn't come with any kind of protective case or pouch, and it is easy to misplace or break if dinged. Saramonic's quality control is questionable, as well. A common complaint is that the microphone doesn't get recognized, so smartphones revert to their original devices. You can ask for a replacement if this happens to you, but do it quickly since the SmartMic's warranty only lasts a couple of months.
Tech Specs
Dimensions: 2.8 x 0.6 x 0.5 in.
Weight: 0.7 oz.
Type: Condenser mic
Polar pattern: Cardioid
Frequency range: 35 – 18,000Hz
The Pros
Solid audio quality at an amazing price
Shock mount improves noise cancellation
Plug and play
Works with any recording app
The Cons
Fragile build
Your phone might not recognize it