6 Best Mirrorless Cameras of 2019
3D Insider is ad supported and earns money from clicks, commissions from sales, and other ways.
Mirrorless cameras lack the prism or mirror system used to deliver light from the shutter to an SLR camera's optical viewfinder. Light hits the sensor directly instead and is then translated into a digital signal that turns into a live feed on the camera's electronic viewfinder and rear display. Mirrorless cameras were a novelty at first but quickly started gaining on and even surpassing their DSLR rivals.
The lack of a light transition system means mirrorless cameras can be smaller and lighter than DSLRs. They're cheaper too across the board. A mirrorless camera's viewfinder lets you preview changes like exposure or color balance settings and helps you determine the focus point. Mirrorless cameras make less noise and are more stable than DSLRs since there are fewer mechanical parts involved. Finally, mirrorless models support interchangeable lenses and don't restrict your creativity.
We've assembled the six best mirrorless cameras on offer in this thorough guide. You'll find models at varying price points for users of different skill levels, so you can get on board whether you're a pro or beginner. Check out their stats, read the reviews, and add a superb mirrorless camera to your creative arsenal.
Budget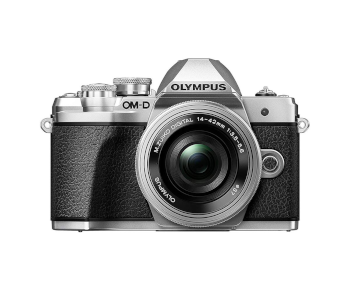 Olympus OM-D E-M10 Mark III
4.1/5.0
Sensor: APS-C
Burst: 11fps
Built-in image stabilization and lots of creative filters.
Check Amazon
Best Value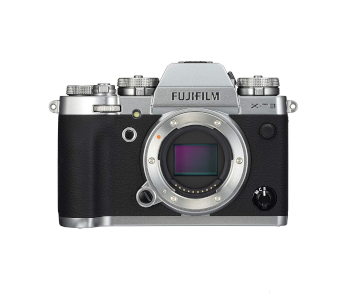 Fujifilm X-T3
4.8/5.0
Sensor: APS-C
Burst: 11fps
Great JPEG quality and accurate subject tracking.
Check Amazon
Top Pick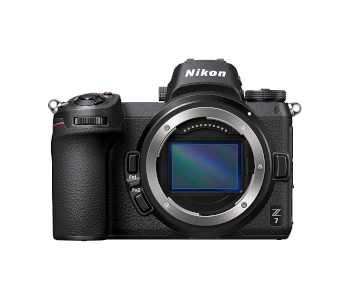 Nikon Z7
4.9/5.0
Sensor: 35mm
Burst: 9fps
This has a lightning-fast autofocus.
Check Amazon
Mirrorless Cameras Comparison Table
1. Best Overall – Nikon Z7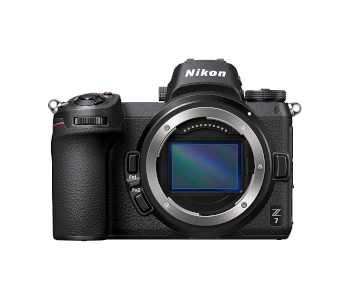 View on Amazon
Editor's Rating: 4.9/5
The Z7 is Nikon's first foray into 35mm mirrorless cameras, and it exceeds expectations at every level! The camera features superb 5-axis image stabilization, has legacy support for a wide array of F-lenses, and boasts a fantastic viewfinder. The images it produces are remarkably clear, and its low-light performance is among the best we've ever seen.
Overview of Features
The Z7 is not an attractive camera. That being said, it is both hardy and comfortable to hold. Its magnesium alloy body can take a beating while the rubberized thumb grip provides enough purchase even for people with large hands. The physical controls are clearly labeled and have a logical layout Nikon veterans will find familiar. The camera is intuitive to handle with similar controls being grouped together. Unlike many mirrorless models, it powers on and is ready to shoot instantly.
The viewfinder is the Z7's standout physical feature. It features a 0.8x zoom and a resolution of 3.7 million pixels. It has a refresh rate of 60Hz and a series of glass panels which make the output look almost identical to a premium DSLR's optical viewfinder. Finding the right focusing point through it is a breeze, as is previewing what photos will look like when you apply different exposure levels, color balance, etc. There's also a responsive tillable touchscreen LCD perfect for overhead shots.
The Z7's picture quality is superb. Its maximum resolution of 45MP ensures that your photos can be blown up to billboard size without loss of clarity. Then there's the full-frame 35mm sensor. It is backlit, meaning the camera has exceptional low-light capabilities. You can take photos at any of its ISO stops, even 25,600, and get usable, noise-free images under harsh lighting conditions!
Image clarity is ensured by class-leading image stabilization and fast autofocus. The Z7 has 5-axis image stabilization that you can use when shooting photos and videos alike. It eliminates camera shake and allows for smooth movement. There are 493 autofocus points which enable the Z7 to find its target nigh instantly. It's not slowed down much by low light either!
Lastly, there's video. The camera is capable of shooting in UHD 4K at 30, 25, and 24fps for a cinematic feel. Drop the resolution down to 1080p, and you can ramp that up to 120fps and shoot videos in 4x slow-motion. Video quality is excellent thanks to oversampling – the sensor records footage in 5K and downsamples it, resulting in better quality and crispness.
What We Didn't Like
The Z7's battery is rated at 3300 shots, which is below average for a camera of this quality. You can charge it inside the Z7 through a MicroUSB port, so that's a plus. The Z7 has an impressive burst shooting speed of 9 frames per second. However, this is somewhat negated by its small image buffer. Expect the burst to be sustained for 14-18 images before the buffer fills up.
Tech Specs
Dimensions: 5.3 x 4.0 x 2.7 in.
Weight: 41.4 oz.
Sensor: 35mm
ISO range: 64 – 25,600
Burst: 9fps
Battery capacity: 330 shots
Max still resolution: 45.7 MP
Max video resolution: 4K, 30fps
The Pros
Exceptional image and video quality
Lightning-fast autofocus
Class-leading viewfinder
Fantastic low-light performance
The Cons
Battery has low capacity
Small image buffer
2. Best Value – Fujifilm X-T3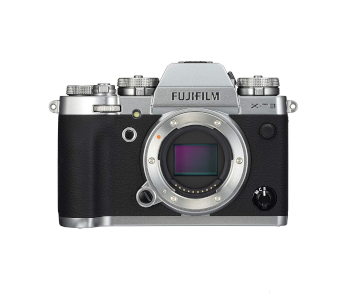 View on Amazon
Editor's Rating: 4.8/5
Are you a photographer who dabbles in video making? Do you shift from shooting portraits to food, nature, or sports themes? If you answered yes to any of these, you need a mirrorless camera that excels at pretty much everything, and the X-T3 is that camera! It has speedy autofocus, absurdly fast burst modes, produces beautiful JPEGs, and puts competitors to shame with its video quality. This is not a cheap camera, but it's a steal for what it offers!
Overview of Features
Do you like dials? You'd better, because they're the X-T3's defining physical feature. There are dials for exposure, ISO, shutter speed, drive control, and a host of other settings. The camera has an old-school, tactile vibe that some photographers might not appreciate at first. However, the control scheme quickly grows on you, as does the optimized workflow it brings.
Other notable physical features include a 100Hz electronic viewfinder and a tiltable touchscreen LCD. You can't flip the screen out, but it does tilt upwards and downwards along with moving to the side. There are two SD card slots along with a battery compartment with a removable door. The battery is better than the Z7s and able to shoot 400 images per charge.
You'll want to pick this camera for its excellent autofocus. It can immediately pick out your subject's facial features or eyes thanks to a new quad-core processor. Thatlets you keep a subject in focus whether they're standing still or making sudden movements. Manually focusing is an option as well and easy to pull off.
Fast burst speeds are another thing to consider. You can achieve mechanical burst speeds of 11fps, or a massive 30fps if you go digital. The latter comes at the cost of cropping the image by 1.25x, but this shouldn't be a concern considering the X-T3's 26.1MP resolution.
The X-T3's image quality is superb. It is noteworthy for producing warm, high-quality JPEGs that need no post-processing. There's also the F.Log profile that lets you get a remarkable level of detail even out of seemingly flat photos when switching to RAW. White balance is good if a bit conservative, and the dynamic range is broad enough for lots of detail to remain intact during high-contrast scenes.
Video has seen the most improvements compared to the X-T2. Now you get to shoot either in UHD or DCI at a smooth 60fps. Footage shot with the X-T3 looks crisp and balanced. You can turn on the F.Log profile for videos too. The camera has both mic and headphone inputs, which makes it a great choice for professional videographers.
What's Bad About It?
This camera might be uncomfortable to hold for people with large hands. Its thumb grip is small and slippery in spite of a layer of faux leather. You'll want to hold the X-T3 with both hands to be on the safe side. Keep in mind that shooting 4K at 60fps crops the image slightly, forcing you to frame scenes accordingly.
Tech Specs
Dimensions: 5.2 x 3.7 x 2.3 in.
Weight: 30.7 oz.
Sensor: APS-C
Burst: 11fps
Battery capacity: 390 shots
ISO range: 160 – 12,800
Max still resolution: 26.1 MP
Max video resolution: 4K, 60fps
The Pros
Excellent all-around mirrorless camera at a reasonable price
Fast burst modes
Great JPEG quality
Accurate subject tracking
The Cons
Not suitable for people with large hands
Applies crop to 4K 60fps footage
3. Sony a7 III
View on Amazon
Editor's Rating: 4.6/5
Sony's a7 II was a fine full-frame camera, but it lacked the sophistication and versatility of the company's more expensive models. Its successor is a much better buy, sporting many of the features you'll find on the flagship Sony a9. These include an outstanding autofocus system, exceptional battery life, oversampled videos, and in-body image stabilization. Add to that a great viewfinder and 15 dynamic range stops, and you've got a camera pros and enthusiasts will love.
Overview of Features
The a7 III is a robust mirrorless camera with a magnesium alloy body and an accessible control scheme. The highlights include a selection joystick and an AF On button. The joystick lets you access different options easily and speeds up manual focusing. AF On enables the camera's various autofocus modes and is conveniently positioned at the back. The a7 III has a sharp viewfinder that turns off if you tilt its touchscreen upwards to conserve the battery.
The third Sony a7 is another camera with superb focusing capabilities. Its autofocus system covers 93 percent of the viewfinder and lets you choose among a whopping 693 focus points. That means you can customize the focus in any way you like or quickly access a single point by tapping the touchscreen. The a7 III locks on with exact precision and delivers sharp results even when shooting at its maximum 10fps burst speed.
The backlit 35mm sensor and an improved BIONZ x processor deserve special mention. The sensor offers remarkable low-light performance – base ISO levels produce interference-free photos while noise remains tolerable up to ISO 12,800! The new processor allows for double the a7 II's burst speed and ups the dynamic range to 15 stops.
We love the a7 III's battery! It has double the power of its predecessor and can shoot more than 700 images before running dry. The camera's buffer has also received an upgrade. It's now capable of storing 40 RAW files, 80 if they're compressed!
Videographers will find the a7 III a capable tool. While it achieves only 30fps at 4K, the camera oversamples footage recorded at 24fpss to 6k. Not only does this give you a signature cinematic feel – it improves video quality dramatically. Superior white balance makes videos look true to life, while the Hybrid Log Gamma profile lets you record and playback videos in HDR.
Are There Drawbacks?
The camera's body and controls are weather-sealed, so slight dust and moisture aren't a concern. Its battery and connection ports aren't of the same quality, so you'll need to keep them from harm's way. Only one of the camera's two SD card slots supports the UHS-II format. This means you'll have to either buy a large USH-II SD card or put up with slower transfer speeds once the first card is full.
Tech Specs
Dimensions: 5.0 x 3.8 x 2.9 in.
Weight: 33.3 oz.
Sensor: 35mm
ISO range: 100 – 51,200
Burst: 10fps
Battery capacity: 710 shots
Max still resolution: 24.2 MP
Max video resolution: 4K, 30fps
The Pros
Great autofocus
High-capacity battery
Excellent photo & video quality
Fantastic low-light performance
Ergonomic and easy to handle
The Cons
Only one card slot supports UHS-II
Incomplete weather sealing
4. Panasonic LUMIX G95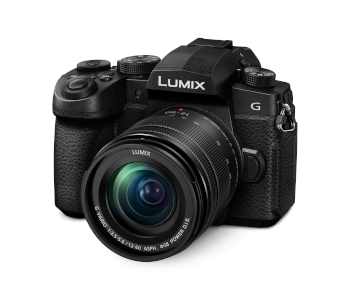 View on Amazon
Editor's Rating: 4.5/5
All the cameras we've discussed so far excel at both photo and video, but none of them have fully articulating screens. Such a screen is a must for vloggers and present on the Panasonic Lumix G95. Even though it has a Micro Four Thirds sensor, the G95 manages to impress with its snappy autofocus, excellent video quality, and optimal auto balance. This is the model to get whether you're an enthusiast photographer or a serious vlogger.
Overview of Features
The G95 has a DSLR-like format but is very light thanks to its sensor and correspondingly smaller lenses. The camera is entirely weather-sealed, rugged, and easy to handle thanks to good texturing and an ergonomic grip. This is the most customizable camera on review, offering eleven programmable function buttons as well as multiple ways to access important features like ISO selection and shutter speeds.
You can take advantage of the G95's capable viewfinder, but its touchscreen is the real star of the show. It has an OLED display, meaning it's sharp & bright enough to be used outdoors. More importantly, it articulates fully and extends 180 degrees to the front. This means you can either use it for selfies and vlogs or rotate the screen inwards when storing the camera for extra protection.
The small sensor doesn't impact picture quality as much as you might think. Max resolution is only 20MP, but the G95 does well enough in low light and produces high-fidelity shots regardless of the environment. You'll love its wide dynamic range outdoors when capturing the interplay of light and shadow. Step back inside, and its white balance will deal with the inconsistencies of artificial lighting to produce natural-looking results.
Videos shot with the G95 look smooth and true to life thanks largely to its 5-axis image stabilization. That gives you more leeway when shooting without a tripod as the combination of lens and in-camera image stabilization can smooth out even rough camera shake. Whether you're aiming for high-quality vlogs or are interested in making movies, the G95 will not disappoint.
What We Didn't Like
There's noticeable rolling shutter when recording 4K footage. Also, the battery has an even weaker capacity than the Nikon Z7's. Panasonic claims you can get as many as 900 shots from it, but these require energy-saving features that reduce overall quality.
Tech Specs
Dimensions: 5.1 x 3.7 x 3.05.2 x 3.7 x 2.3 in.
Weight: 26.3 oz.
Sensor: Micro Four Thirds
Burst: 9fps
Battery capacity: 290 shots
ISO range: 200 – 25,600
Max still resolution: 20.3 MP
Max video resolution: 4K, 30fps
The Pros
Excellent articulating touchscreen
Intuitive control layout
Superb dynamic range and white balance
Hybrid image stabilization makes for smooth footage
The Cons
Poor battery life
Rolling shutter present in 4K videos
5. Sony Alpha a6400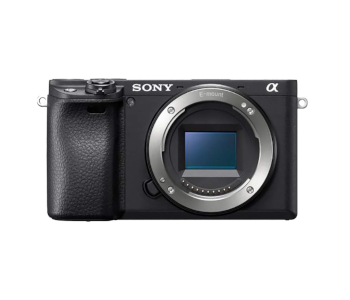 View on Amazon
Editor's Rating: 4.3/5
Are you into wildlife or sports photography? A mirrorless camera to satisfy your needs should have quick autofocus, good burst, and a reliable buffer. Sony's Alpha a6400 has all three and then some! It's a reasonably-priced camera for photographers and vloggers alike that stays glued to its subject no matter what. Buy it if you're looking to transition from a cellphone or need a dependable backup to one of Sony's more expensive models.
Overview of Features
The A6400 is another camera with in-depth customization options. Its menu system is convoluted, yet you can customize both it and the control dial through the My Menu and My Dial features. My Menu is particularly useful since it lets you map thirty settings you use the most for easier access. The touchscreen can be tilted upwards 180 degrees as well as 90 degrees downwards. The former is a staple for vloggers, while the latter is helpful when recording events over crowds.
Like the a7 III, the a6400 has superb autofocus. It intelligently focuses on objects but excels at tracking people's eyes. Either eye works, as does their face if the eyes are hidden. This ensures your subject remains the center of attention regardless of movement. Don't want to leave focusing to the BIONZ X processor? Use the touchscreen and select any of the 400+ focus points yourself.
The a6400's image quality is decent both for JPEGs and RAW files. Sony took a similar approach to Fujifilm and upgraded the camera's JPEG quality. Images shot in this format are now more vibrant and feature warmer colors, letting you forego post-processing altogether. Regardless of the format, photos are detailed, balanced, and always correctly exposed thanks to the Auto ISO feature.
Videos made with the a6400 are downsampled and take up the entire APS-C sensor if shot at 25p. Autofocus remains responsive and snappy in video mode and can track the subject effectively with one tap. Helpful tools like zebra stripes and focus peaking are available too. These ensure optimum picture quality and let you capture more detail.
Many cameras have a maximum recording time of 30 minutes. The a6400 can record until either the memory card or battery run out, which makes it great for continuous recordings of sports, lectures, and events.
What's Bad About It?
The camera has a tilting touchscreen, but there are some issues. The main is it can only tilt upwards and not to the side, which wouldn't be a problem if the viewfinder housing didn't cover up part of it. There's no image stabilization, so you're forced to either use lenses that have it or mount the camera on a tripod.
Tech Specs
Dimensions: 4.7 x 2.6 x 2.4 in.
Weight: 18.3 oz.
Sensor: Micro Four Thirds
Burst: 8.6fps
Battery capacity: 410 shots
ISO range: 100 – 32,000
Max still resolution: 24.2 MP
Max video resolution: 4K, 30fps
The Pros
Customizable controls
Great autofocus
Shoots vivid JPEGs
Records high-quality 4K videos
The Cons
Screen is partially blocked off when tilted upward
No image stabilization
6. Best Budget Option – Olympus OM-D E-M10 Mark III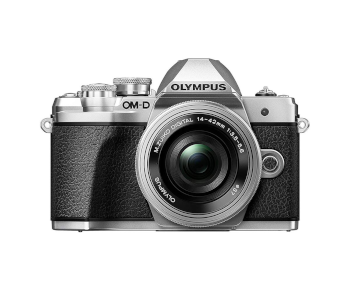 View on Amazon
Editor's Rating: 4.1/5
Our budget pick is a lightweight, retro-styled mirrorless camera from Olympus. The OM-D E-M10 Mark III has a lot going for it. In-body image stabilization, a responsive touchscreen, and a price that will convince anyone with a passion for photography to ditch their smartphone. It will be interesting to see whether Olympus' model can stack up against Sony's a6100, which will be releasing shortly. For now, it's your best bet if you're looking for an inexpensive yet capable mirrorless camera.
Overview of Features
We love the OM-D E-M10 Mark III's retro feel. It has a black & silver body that's lightweight thanks to the materials used and a Micro Four Thirds sensor. The kit lens you get with it is decent, and there's a wide variety of upgrades to consider since Olympus and Panasonic lenses are interchangeable.
Even though the camera is aimed at novices, its control scheme might look scary at first. There are two command wheels along with a mode dial, and you can customize two function buttons with whichever settings you need to access quickly. The menu system is easy to grasp, so beginners catch on fast regardless. The camera has a quality viewfinder as well as a 3-inch touch-operated LCD with limited tilt.
The OM-D E-M10 Mark III has 5-axis image stabilization that does much to compensate for camera shake and in-hand shooting. It performs admirably when there's enough light and your subjects are stationary. Olympus cameras do well when it comes to white balance, and this model is no exception. Metering takes care of preventing overexposure, while fifteen artistic filters help you create unique images.
The Mark III has made the transition to 4K and records videos at a maximum of 30fps. Image stabilization helps maintain smoothness. On the other hand, the Auto mode does a good job of keeping parameters like color saturation and exposure levels in line with a balanced look. 1080p bumps the framerate up to 60 and results in crisp footage great for vlogs or family vacation vids.
Are There Drawbacks?
The OM-D E-M10 Mark III is no sports camera. It has a burst speed of 8.6 fps, but this drops to 4 fps with the autofocus on and can't keep up with moving targets. Its small sensor isn't suited for low-light situations, and noise becomes noticeable on ISO values as low as 800.
Tech Specs
Dimensions: 4.8 x 3.3 x 1.9 in.
Weight: 17.7 oz.
Sensor: APS-C
Burst: 11fps
Battery capacity: 330 shots
ISO range: 200 – 25,600
Max still resolution: 16.1 MP
Max video resolution: 4K, 30fps
The Pros
Great value for the money
Intelligent autofocus keeps good track of stationary subjects
Built-in image stabilization
Lots of creative filters
The Cons
Poor low-light performance
Autofocus is bad at tracking moving subjects