6 Best MMO Mouse Picks in 2020
3D Insider is ad supported and earns money from clicks, commissions from sales, and other ways.
After what seemed like a permanent slump, MMOs are returning into the limelight in a big way. The launch of WoW Classic and FFXIV's Shadowbringers expansion last year showed that the genre still has a lot to offer, while New World and other upcoming titles promise a resurgence. If you want to explore these fantasy worlds with an edge, you need an MMO mouse.
The most significant difference between MMO and other mice is the number of buttons at your disposal. They regularly have a dozen or more to help you with everything from toggling autorun through mapping frequently-used skills away from the keyboard to orchestrating complex macros. MMO mice offer an unparalleled level of customization while retaining gaming mouse staples like comfort, great build quality, and a stylish appearance.
Here are the six best MMO mouse picks for your gaming pleasure. You'll find both wired and wireless models as well as ones who mix versatility and innovation to deliver a gaming experience you can make your own. Check out what each is capable of and never go down in a raid again because a key was too far to reach.
Budget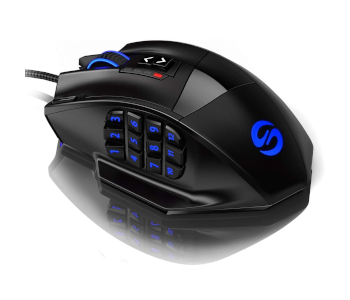 UtechSmart Venus
4.3/5.0
DPI range: 100-16,400
Wireless: No
Five profiles and abundance of buttons.
Check Amazon
Best Value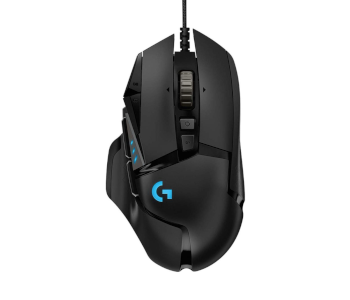 Logitech G502 HERO
4.5/5.0
DPI range: 200-16,000
Wireless: No
Its HERO sensor makes for smooth movement.
Check Amazon
Top Pick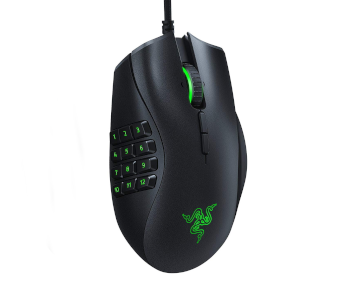 Razer Naga Trinity
4.7/5.0
DPI range: 100-16,000
Wireless: No
Three excellent mouse variants in one.
Check Amazon
MMO Mouse Picks Comparison Table
1. Best Overall – Razer Naga Trinity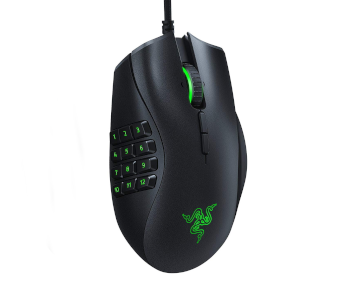 View on Amazon
Editor's Rating: 4.7/5
MMOs are a fun way to spend an hour or five, but sooner or later, you'll want to either do something productive or change to a different genre. All those buttons that were vital to your DPS a few minutes ago suddenly become a burden, but not for the Razer Nga Trinity. This innovative mouse features three interchangeable side panels you can easily switch between on-the-fly. It's comfortable, comes with excellent customization software, and doesn't cost an arm and a leg either.
Overview of Features
The Trinity is a beefy mouse, so people with large hands won't feel cramped. Its ergonomics are sound as the design follows your hand seamlessly and even offers a rest for the pinky. All buttons, even the interchangeable ones, are satisfyingly clicky. Razer has also outfitted the Trinity with tasteful RGB that shines through the logo, scroll wheel, and side panel.
The most innovative thing about the Trinity is its ability to adapt to your current needs. The Naga line has traditionally been centered around MMOs, and the first panel with its twelve keypad-style buttons is its purest form. Then there's one with seven buttons laid out in a circle with room in the middle for your thumb. It's great for games that could benefit from more right-hand input like MOBAS and real-time strategies. Finally, there's a standard two-button panel that feels closest to a traditional mouse and is great for shooters and office work.
The panels are attached to the Trinity by magnets and easy to remove. You will need to do it purposefully, though, as the magnets keep them from sliding. Best of all, you don't have to quit a game or enter Razer Synapse to make changes. Replacing a panel is enough for the Trinity to start using its assigned control scheme. You could also use the mouse without any panels, but where's the fun in that?
Razer Synapse is powerful companion software that lets you set the Trinity up to suit any playstyle. You can customize its color profile, save button layouts for different games, and bind complex macros to any button. If the maximum 19 buttons aren't enough, you can even activate Hypershift and switch to an alternative set of binds for each.
What We Didn't Like
The biggest gripe we have with the Naga is its lack of portability. The mouse is both large and heavy, which isn't good for its LAN party prospects. The size also means that people with smaller hands might find it uncomfortable. The twelve-button panel takes some getting used to if this is your first Naga.
Tech Specs
Dimensions: 4.7 x 2.9 x 1.7 in
Weight: 4.2 oz.
Buttons: Up to 19
DPI range: 100-16,000
Wireless: No
The Pros
Three excellent mouse variants in one
Interchangeable panels are well-made and easy to swap
Quality ergonomic build
Excellent companion software
The Cons
Large and bulky
MMO side panel takes getting used to
2. Best Value – Logitech G502 HERO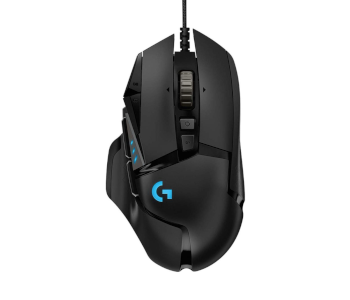 View on Amazon
Editor's Rating: 4.5/5
Logitech's G502 has been a gaming staple for years now, and as even the most widely-sold mouse on the planet for a time. Superb ergonomics, weight & button customization, and a great tactile feel are just a few of the reasons why. The HERO refresh is every bit as delightful to use while bringing noticeable improvements to the sensor. Best of all, you won't even need to fork over $50 for it.
Overview of Features
Previous G502 users will be glad that Logitech has made minimal changes to the mouse's exterior. The most overt one is a new logo that stays lit in one of sixteen million pre-configurable colors. The rest is a winning combination of matte and glossy plastic that comes together in a body Logitech would be crazy to change. This is one of the most comfortable mice ever made. Its thumb rest and bulging behind keep your hand relaxed while also allowing for easy access to all of its eleven buttons.
The buttons all have Omron switches that respond instantly to user input but have enough resistance not to mistake resting your fingers on a button for a click. Apart from the standard two buttons and a scroll wheel, you get a DPI adjustment button, three on the left side, two on the edge of the left button, and one that adjusts the way the scroll wheel behaves. You can set it to spin freely and smoothly or switch to notched scrolling for more precision.
A new HWERO sensor is the biggest improvement for the G502. Its DPI ranges from 100 to 16,000, but that stat isn't as impressive as the smoothness with which the cursor traverses your screen. Lots of buttons may help with your rotation, but a precise cursor is a life-saver when you want to quickly rearrange your skill bars or select a target that would take too long to get to by toggling.
Weight adjustment is another interesting feature. Opening the G502 up reveals grooves on the underside designed to support weights. You can make the mouse heavier by 0.6 ounces and distribute the weight either evenly or favored an axis.
What's Bad About It?
The G502 is elongated and thin. That might be a problem for people with large hands used to laying their palm on top of the mouse rather than gripping it in a claw-like manner. The two upper side buttons protrude slightly and are easy to either snag on or misclick accidentally.
Tech Specs
Dimensions: 1.6 x 3 x 5.2 in.
Weight: 4.3 oz.
Buttons: 11
DPI range: 200-16,000
Wireless: No
The Pros
Excellent value for money
Superbly comfortable
HERO sensor makes for smooth movement
Weight adjustment system
The Cons
Might not be a good fit for people with large hands
Some buttons are easy to misclick
3. SteelSeries Rival 500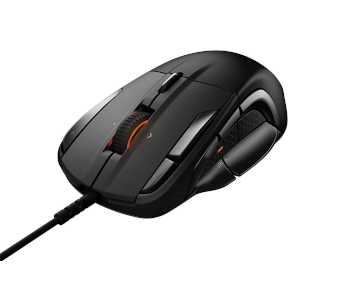 View on Amazon
Editor's Rating: 4.6/5
Keeping track of cooldowns and mana levels is essential if you want to maintain an optimum skill rotation. You could install add-ons to clutter your screen up even more. However, it's a better idea to get the SteelSeries 500, a streamlined gaming mouse with lots of buttons and a unique approach to tactile feedback. It's easier to get used to than the Trinity's keypad, has a comfortable thumb rest, and is supported by one of the better peripheral customization programs out there.
Overview of Features
The Rival 500 looks nothing like an MMO mouse. It's sleek and long, lending itself well to rapid movements you'd expect from an FPS mouse you'd use in tournaments. That's because SteelSeries went with an ingenious button placement scheme. You'll notice that the left button has two smaller ones, and there's another one on the right. You can click the scroll wheel in three different ways too.
The side buttons are what sets the rival 500 apart. There are six of them, and the buttons are positioned radially so that clicking them is a matter of intuitive thumb movement rather than clunky memorization. Five are easy to press without much wiggling, while the sixth requires a backward rocking motion that doesn't interfere with play. The two bottom buttons are textured for better grip and activated by flicking downward. Better yet, you can lock them down and turn them into a comfortable, inactive resting area.
This is the first mouse we've seen that features nuanced tactile feedback. Each button has a vibrating motor that buzzes in different patterns. These can simulate a heartbeat as well as buzz with varying levels of frequency and intensity. The sensation is weird at first but will prove invaluable once you're accustomed to it. The applications are endless – you could map one button to vibrate once a skill is off cooldown while another could start pulsing with a heartbeat once your health falls below a certain percentage.
Engine 3 is your mouse control hub and also useful in syncing up other peripherals by SteelSeries. It lets you create custom lighting and control programs for both games and software. It's also where you set up the DPI assign vibration patterns to various buttons. The software is straightforward and gets you up to speed in no time.
Are There Drawbacks?
The three-way scroll wheel sometimes has trouble doing its primary job and will register a backward or forward press rather than a scrolling motion. The button that requires you to rock your thumb back is massive. Not splitting it in two seems like a wasted opportunity.
Tech Specs
Dimensions: 4.7 x 3.1 x 1.7 in.
Weight: 4.6 oz.
Buttons: 15
DPI range: 100-16,000
Wireless: No
The Pros
Sleek, industrial build
Intuitive placement without compromising on the number of buttons
Tactile feedback is an excellent innovation
Two buttons turn into thumb rest
The Cons
Wheel has trouble distinguishing clicks from scrolls
Large back button on the left side
4. ROCCAT Leadr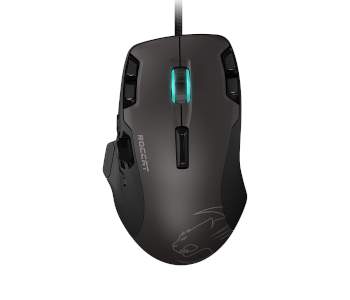 View on Amazon
Editor's Rating: 4.5/5
SteelSeries isn't the only company that strives to bring innovation into the gaming mouse space. Roccat's Leadr takes things into a different direction with its unusual single-axis analog stick and dorsal fin button. It packs a lot of features into a durable and comfortable frame and is a mouse that you'll be as comfortable using in an MMO as in other game genres.
Overview of Features
The Leadr is a large wireless mouse with an industrial aesthetic and a plethora of controls. It feels solid in hand, and all the buttons are both grippy and easy to reach for folks of varying hand sizes. We also liked the RGB placement. There's the Roccat mascot and a light that illuminates the scroll wheel. You can assign separate colors to each.
Three distinct controls make the Leadr stand out. The first is the so-called dorsal fin switch. It sits below the scroll wheel and reacts differently when you press its upper or lower part. It's meant to be pressed with your middle finger and is a refreshing attempt at making more use of a mouse's back. Then there's the X-Celerator, an analog stick that you can shift up or down which springs back to the middle when released. You won't get much more use out of it than two more buttons for MMOs, but you'll love the X-Celerator for shooters and simulation games.
The last novel button is called Easy Shift + and is a dedicated variant of the Trinity's Hypershift. The button is placed under the thumb rest. Pressing it enables a second set of controls not only on the Leadr, but on a compatible Roccat keyboard too. It's an intuitive way of gaining access to hundreds of commands without having to try and locate the Fn key. The Leadr uses Roccat Swarm, a configuration program that's much-improved over its criticized predecessor.
The Leadr's wireless capabilities are impressive. There's no perceptible lag, so you don't need to worry about messing up rotations. A full charge of its 1,000 mAh battery lasts for 20 hours of intense use. The receiver is advertised as having a 10-foot range limit, but you can stretch that to 15 feet or more without issue.
What We Didn't Like
The Leadr is by far the most expensive mouse on the list, so you'll have to decide whether excellent wireless is enough of a reason to pay a premium. Wireless use requires batteries, and the Leadr doesn't have a low battery indicator.
Tech Specs
Dimensions: 4 x 3 x 2 in.
Weight: 4.5 oz.
Buttons: 14
DPI range: 100-12,000
Wireless: Yes
The Pros
Intuitive button placement
Three special controls are a welcome addition
In-depth button and RGB customization through Roccat Swarm
Good battery life and lag-free wireless performance
The Cons
Expensive
No way to tell when batteries are low
5. Logitech G600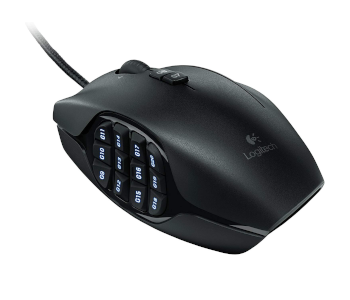 View on Amazon
Editor's Rating: 4.3/5
Players who juggle multiple characters, complex macros, and hundreds of skills may find that even mice with a dozen buttons can't cut it. How about one with sixty at your fingertips, then? Logitech's G600 sports twenty physical buttons and an easy way of switching between three onboard or local profiles. It's comfy in spite of the large button amount, programming it takes no time at all, and the price is appealing since it is an older model.
Overview of Features
It's hard not to become awe-struck once you see how many buttons Logitech has managed to pack into the G600's small frame. On the one hand, you've got clever solutions like the scroll wheel that registers side clicks as separate inputs. On the other, there's a 12-button pad on the G60's side. These buttons also have RGB lighting adjustable from your computer.
Logitech's configuration software is the star of the show as it complements the mouse perfectly. You can change the setting for every button except the left and right ones. These can be reversed, though, making the G600 an optional pick for southpaws that don't mind using the button pad with their pinky. The function changes are stored either on the mouse or the PC, and six are accessible in total. You toggle between sets of three by holding down the scroll wheel.
While you could map all of the buttons yourself, it's smarter to have the program search the system for compatible games and apply its suggestions. MMOs like World of Warcraft and Final Fantasy XIV are supported as a matter of course, and the chosen presets make a lot of sense. Tweaking them isn't hard either since you can assign controls to buttons from a drop-down menu.
What's Bad About It?
The G600's carapace is broad, flat, and best-suited for players who rest their palms on their mice. You'll find it less comfortable if you're of the claw or pinch persuasion. The cable is stiff and tends to snag on the keyboard tray. Fixing this involves lifting the mouse up and using a flicking motion. Lifting the G600 doesn't immediately halt cursor movement, so be prepared to look for the pointer once you set it back down.
Tech Specs
Dimensions: 4 x 3 x 2 in.
Weight: 4.5 oz.
Buttons: 20
DPI range: 100-8,200
Wireless: No
The Pros
Twenty programmable buttons with three layouts
Excellent companion software
Flexible scroll wheel
Side buttons have LEDs
The Cons
Rigid cable prone to snagging
More comfortable for some grabbing styles than others
6. Best Budget Option – UtechSmart Venus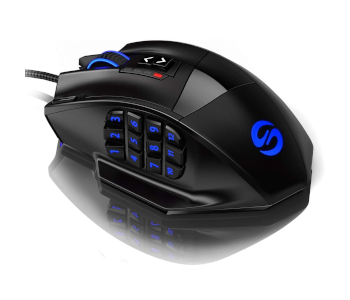 View on Amazon
Editor's Rating: 4.3/5
Last up is UtechSmart's Venus, proof that you don't have to be a world-renowned peripheral manufacturer to make some of the best mice out there. For less than $40, you're getting a dozen side buttons, customizable RGB, along with nuanced polling and DPI settings. Add one of the most user-friendly configuration utilities around, and you've got a mouse that should belong in every MMO fan's budget build.
Overview of Features
The Venus looks a lot like Logitech's G600 but has enough distinct features of its own. The most distinct difference is in its RGB logo and four LED notches next to two DPI sensitivity buttons. The notches light up as the DPI increases for a total of four at your maximum chosen setting. The scroll wheel is lit up too and changes color based on the currently-used profile.
We love the contour of the panel buttons; the upper and lower rows protrude outward and dip towards the middle row that stands like a valley between two mountains. This makes finding your way by thumb alone come much more naturally and speeds up the learning process. Also of note is a rapid-fire button located on the top left. Pressing it fires off a burst of three clicks followed by a short delay and is useful when stacking up on items at vendors.
The amount and diversity of settings is staggering. Luckily, each category has a separate tab to make tweaking more accessible. You can remap each button except the dedicated profile switch. That includes the left and right buttons too, not that you'd want to set those to any outlandish commands. Buttons can correspond to keyboard keys, their combinations, or macros. There are five profiles to alter, and you'll always know which one is active thanks to the color-changing scroll wheel.
Customization runs much deeper than altering the control scheme, though. Each profile has separate settings for cursor speed, mouse acceleration, and dpi thresholds. There's even an option to change double click speed. RGB customization is limited but fun. You may choose single colors or cycle through them as well as have them flash.
This is another mouse with adjustable weight. It comes with a revolver-shaped compartment filled with eight weights. Playing around with them can make the Venus lighter or heavier by 0.7 oz. You can experiment with weight distribution too since they're arranged in a circle.
Are There Drawbacks?
The chamber that holds the weights is hard to open. You'll have to balance between applying enough force to pry it open and not damaging the mouse. UtechSmart skimped out on button quality. They feel good to press but are prone to developing double click action over time.
Tech Specs
Dimensions: 4.6 x 3 x 1.5 in.
Weight: 5.3 oz.
Buttons: 18
DPI range: 100-16,400
Wireless: No
The Pros
Versatile MMO mouse at an excellent price
Intricate customization options
Five profiles
Abundance of buttons
The Cons
Buttons eventually start to double click
Weight chamber is hard to reach