Moti Smart Motors Designed For Robotics & 3D Printing Hits Kickstarter
3D Insider is ad supported and earns money from clicks, commissions from sales, and other ways.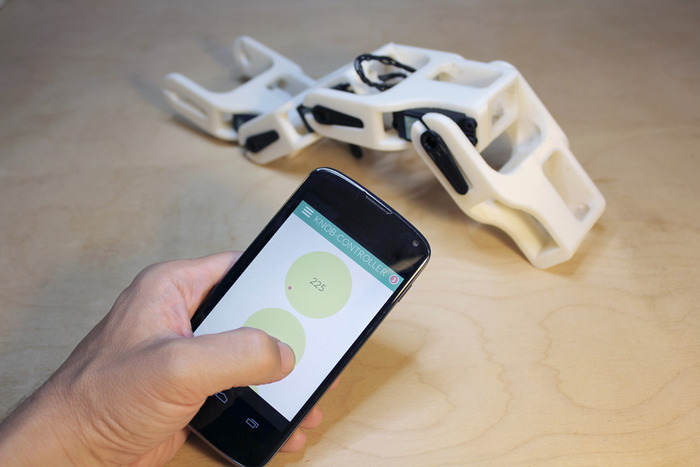 Motiph Robotics, a small team from Toronto has launched a Kickstarter campaign for their Moti smart motors that can be controlled via a browser. The smart motors can attach to almost anything and make it move.
Building robots can be a tricky, painful business but Motiph Robotics' Moti motors are set to change all that. The motors themselves contain an in built Arduino-compatible microcontroller, a bunch of on-board sensors, continuous rotation and encoding, io pins for adding electronics, a web-API, instant networking with each other, and control over bluetooth.
For people who want something that can just plug and play, the Moti motors can be controlled via a specially built app that automatically recognizes the motors and can control as many as you want.
More experienced users can play around with the sensors and a programmable microcontroller on the motors. Moti motors unique motion capabilities remove the annoyance of angle limits on servo's.
Nick Stedman of Motiph Robotics said "Our goal is to build the perfect complement to 3D printing. Users should be able to design, share & print different machines, slot in their Motis, and visit a webpage to bring their new device to life. No coding, no electronics. At present, we are focused on building the technology to allow this scenario to play out."
Features:
Continuous Rotation & Encoding – RC servos are stuck at half a rotation, whereas steppers have no feedback. Moti doesn't have these limitations. It spins continuously while giving precise position feedback, saving you a lot of time and planning.
Current, Voltage & Temperature Sensing Built-In – Is the battery getting too low? Is the motor running too hot? How much weight is it lifting? Moti has the sensors built-in to answer these questions. It can even auto-shutdown if it's unhappy.
IO Pins for Sensors & Shields – Need to add features to your robot? No more running wires all over. Just attach stuff right to the smart motor.
Control over Serial – Already have Arduino, perhaps an ftdi cable, how about a WiFi shield? You can control a Moti smart motor directly from a serial port.
Bluetooth Shield Available – Set your robot free with wireless control.
Open-Source Hardware – What if you want to make a product using Moti? What if you want to understand what's happening under the hood? What if you want to make your own variation, or create your own firmware?With Moti you can do any of these, because the hardware designs will be open-sourced for you to do with as you like.
Daisy-Chaining – Simply connect as many Motis together as you need. They are all auto-recognized by our app, where you can control them and access their features. For the curious, it's an i2c bus.
High-Torque & All Metal Gears – At 12kg-cm of torque Moti has the power to lift much more than your average servo.
Posable (Position Sampling) – Pose your robot, sample the position, move it and sample again. Then play back your poses. Perfect for animatronics. ( In Progress ).
Preliminary Characteristics – 6 to 9 Volts, 2 Amps Peak Current, 12kg.cm torque at 6 Volts.
Motiph Robotics is looking for $165,000 in funding to fully develop their Moti motors. You can grab yourself a Moti starter pack for $115. This includes everything you need to get going, such as One Moti Smart Motor, Bluetooth Shield, 7.4V LiPo battery and battery charger. Take a look at their Kickstarter campaign and their website.
About Motiph Robotics:
We're a small group of makers and creative technologist in Toronto. Individually we're experienced in robotics, app-development and front-end development, as well as art and design. We've come together to figure out how to make robotics more accessible, so that everyone can start applying it to their world.
http://www.youtube.com/watch?v=hVPr0qp0qT8
Warning; 3D printers should never be left unattended. They can pose a firesafety hazard.