6 Best Motion Sensor Light Switches of 2019
3D Insider is ad supported and earns money from clicks and other ways.
If you've got kids, there's probably a light in your house on right now that's needlessly wasting electricity. This might not seem like a big deal but can contribute noticeably to the power bill if left unchecked. You could start giving out additional chores every time your kids forget to turn a light off or make everyone's life easier by getting a couple of motion sensor light switches instead.
Light switches equipped with a motion sensor ensure that a room is lit only when someone is actually in it. They use infrared or ultrasound technology to detect movement from across the room and illuminate it faster than you could flip a conventional switch. Advanced models also react to ambient light levels while the smartest of switches use their motion sensors as triggers for home automation rules.
Budget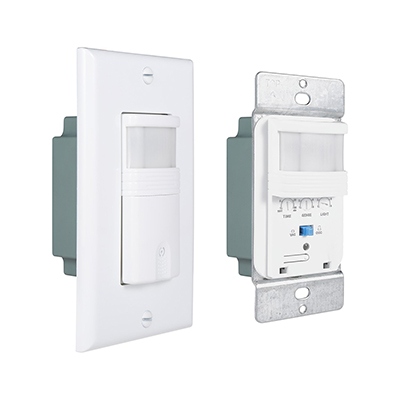 Dependable Direct Motion Sensor Light Switch
4.1/5.0
Weight: 5.4 oz.
Detection range: 15 feet
Detection angle: 180°
In-depth sensitivity & timer controls, available in different quantities.
Check Amazon
Best Value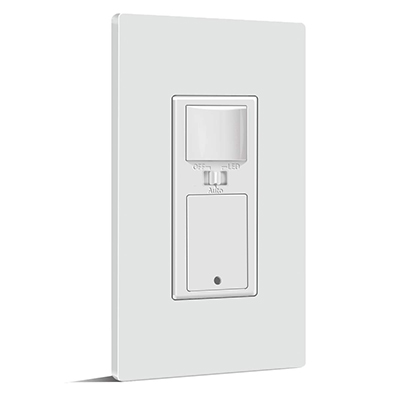 Eoce Smart Light Switch
4.7/5.0
Weight: 5.6 oz.
Detection range: 15 feet
Detection angle: 180°
Wide detection angle, excellent companion app, supports voice commands and three operation modes.
Check Amazon
Top Pick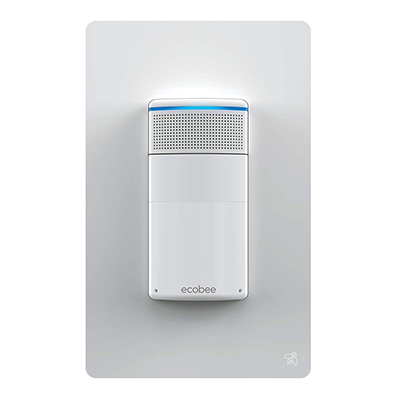 Ecobee Switch+
4.9/5.0
Weight: 9.3 oz.
Detection range: 15 feet
Detection angle: 120°
Acts as Alexa speaker and supports other major home automation ecosystems, great app with in-depth controls.
Check Amazon
Which motion sensor light switch should you buy? We've tried out various models and showcase six best ones through comprehensive reviews. Our top picks vary by price, versatility, and the number of advanced features they have. Read up on all of them and never worry about spending too much money on lighting again.
6 Best Motion Sensor Light Switches Comparison Table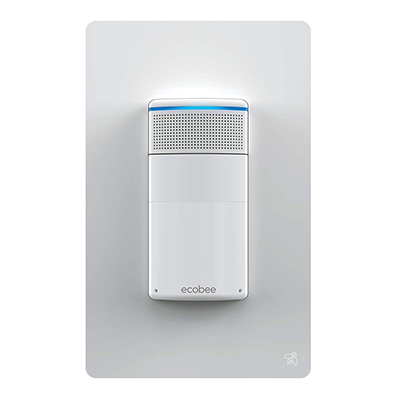 View on Amazon
Editor's Rating: 4.9/5.0
You might know Ecobee as a company that makes world-class smart thermostats, but they've ventured into the field of light switches too. Switch+ is their first smart light switch and a resounding success! It comes with a refined motion sensor, an integrated Alexa speaker, and acts as another Ecobee temperature sensor. There's also support for the most popular home automation ecosystems like SmartThings, Google Home, and Apple HomeKit. The Switch+ is hands down the most versatile motion sensor light switch out there, and its price reflects this.
Overview of Features
This is one of the most strange-looking switches we've tested. One doesn't usually expect a light switch to protrude outward much, but it's understandable in the case of the Switch+ since room had to be made for an Alexa speaker. The non-standard form is also minimalistic – there's an on/off switch, an LED strip which acts as both a nightlight and the Alexa light, and a set of controls on top that manually activate Alexa and mute her microphones.
Physically installing the Switch+ takes some DIY knowledge but is made easier thanks to its design's flexibility and the companion app. The line and load wires are interchangeable, so there's less clutter. If you're unsure what to do, the Ecobee app gives you step-by-step illustrated instructions which explain the process well. Once all the wires are hooked up, you need to pair the switch with its app and scan a QR code if you plan to use it with HomeKit.
Versatility is the Switch+'s greatest strength. Thanks to the motion sensor and a clever app, you can set it up so that no further input is required. Smart on and off regulate lights based on occupancy. They'll turn on the moment the sensitive motion sensor is triggered and off again a set amount of time after the room is vacated. You can set them to work on a schedule, to sync with the sun's movement, or the ambient light level. There's even vacation mode which will activate the light a few times each day to give the illusion of someone being home.
That's just the beginning though. Switch+ works with automated scenes from SmartThings and HomeKit while also supporting IFTTT. This allows you to use a change in your lights' state as a trigger for other smart devices. Ecobee smart thermostats are supported natively too! The Switch+ acts as an additional temperature sensor and helps the thermostat control the HVAC by supplying data on occupancy and current temperature.
Last but not least, the Switch+ is a full-fledged Alexa speaker! This means you can use it to access all of the voice assistant's actions including music playback, news, scheduling, and giving voice commands to other smart devices. The switch supports ESP and will be triggered by an Alexa command if it is the closest Alexa speaker.
What We Didn't Like
The Switch+ is expensive. It also doesn't support dimming, which is disappointing considering all the work that has been put into polishing all of its other features.

Tech Specs
Dimensions: 3.4 x 3.3 x 5.3 in
Weight: 9.3 oz.
Detection range: 15 feet
Detection angle: 120°
The Pros
Exceptionally versatile and programmable
Easy guided installation
Great companion app with in-depth controls
Acts as Alexa speaker and supports other major home automation ecosystems
The Cons
Expensive
Can't dim lights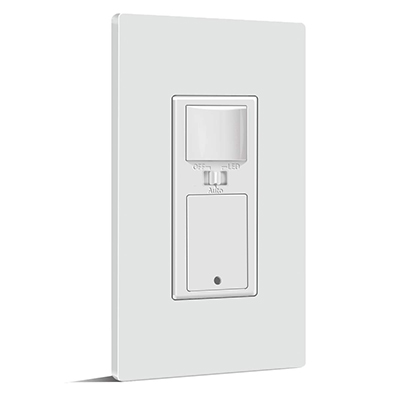 View on Amazon
Editor's Rating: 4.7/5.0
Why settle for just a motion sensor light switch when there's one with smarts too? Eoce's Smart Light Switch combines hands-free operation with a great app and support for Amazon Alexa. It has three operation modes, is straightforward to install, and comes at a reasonable price. This is the model to get if you don't mind giving up a few of the Switch+'s features while paying three times less.
Overview of Features
The light switch's face is packed with controls, but it remains elegant and compatible with the décor of any room. It has an LED light on top, a switch in the middle, and a physical button with a motion sensor on the bottom. Its light acts as a nightlight in LED mode and also has smaller indicator lights in its top corners that tell you the switch is working or establishing a wireless connection. You install the light switch like any other, meaning some electrical knowledge as well as a neutral wire are required.
You can use the switch in three modes. In off mode, it behaves like a standard light switch with the addition of remote control via app and voice commands through Alexa. Auto mode engages the motion sensor which has a range of 15 feet and detects movement at 180 degrees. The wide angle allows it to turn the lights on as soon as you walk into the room. LED mode turns on the nightlight while disabling the sensor so you can find your way around in the dark without turning the light on.
The Smart Life app connects to the switch through Wi-Fi. It lets you remotely control the lights from anywhere, set them up to work on a schedule, or based on sunrise & sunset. You can also integrate the switch into scenes with other home automation programs. More than one switch can be controlled this way, and you get to give permissions to other family members as well so each has control over it from their smartphone.
What's Bad About It?
The switch's innards barely fit into a standard-sized electrical box, so you'll need to be careful not to force it in and damage its components. You can schedule the lights to turn on or off at specific times, but there's no timer option, i.e. you need to set two commands instead of turning the lights on and specifying how long they should remain on in one action.

Tech Specs
Dimensions: 2.8 x 1.6 x 1.4 in
Weight: 5.6 oz.
Detection range: 15 feet
Detection angle: 180°
The Pros
Three operation modes
Wide detection angle
Excellent companion app
Supports voice commands
The Cons
Large build requires a careful installation
No countdown timer option for light scheduling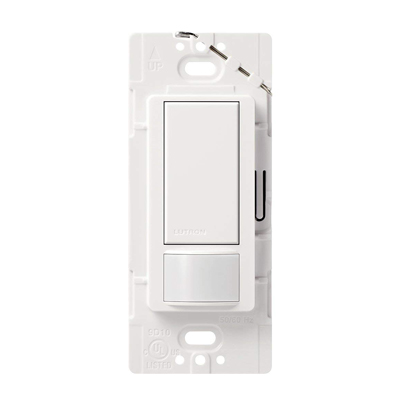 View on Amazon
Editor's Rating: 4.6/5.0
Lutron is one of the world's foremost companies when it comes to modern lighting. They're best known for their Casetta smart light switches but have much to offer in the motion sensor department too. The Lutron Maestro is a straightforward switch equipped with a highly sensitive PIR sensor. It is adaptable, comes in any color you can imagine and is sure to save you a lot of cash come the next electricity bill.
Overview of Features
We've chosen MS-OPS2, the most basic form of the Lutron Maestro switch because of its price, convenience, and universal application. Lutron also offers three-way switches, dimmers, and other models if this doesn't suit you. All of their switches have a basic yet pleasant design with the on/off button on top and the motion sensor casing underneath it. There are literally dozens of colors to choose from, so it's a snap to find one suitable for any room.
Installing the MS-OPS2 is straightforward since you don't even need a neutral wire. Once that's done, you can use the switch in two modes. Auto mode will turn the lights on based on the time of day and ambient light levels. You can teach the switch to turn the lights on later by tapping the off button, so energy isn't wasted. Off mode relies on the motion sensor and won't turn the lights off while the room is occupied.
The sensor responds quickly to larger movements at its 15-foot threshold. You'll need to move in closer for it to start detecting more subtle gestures, but just walking through the door is enough to trigger it. The last thing you can customize is how long the light should stay on once everyone leaves a room. This involves pressing and holding the on/off switch and waiting for the IR lens to start blinking. Two to five flashes correspond with different shutoff times that range from 1 to 30 minutes.
Are There Drawbacks?
The switch turns lights on based on movement and will turn them off when no motion is detected, even if you're still in the room. This makes it a lousy choice for offices, reading nooks, and other rooms you can spend a lot of time in without moving. Auto shutoff tends to revert to its default settings regardless of what duration you select.

Tech Specs
Dimensions: 1.8 x 2 x 4.2 in
Weight: 3.2 oz.
Detection range: 15 feet
Detection angle: 180°
The Pros
Easy to install
Many color choices
Accurate motion sensor
Adjustable shutoff timer
The Cons
May turn lights off while you're still in the room
Shutoff returns to factory settings without user input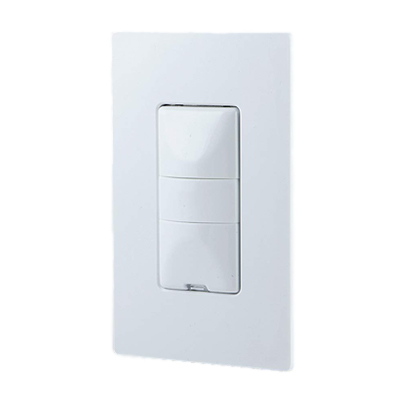 View on Amazon
Editor's Rating: 4.3/5.0
So far we've only talked about switches that work with bulbs that have a fixed brightness. What if you want a motion-activated dimmer switch though? In that case, GE's Enbrighten is the way to go! This dimmer switch works through Z-wave, meaning its connection to a compatible hub is excellent and won't break. It also has a maximum detection range of 45 feet and three sensitivity settings. Best of all, it serves as a trigger for other smart devices.
Overview of Features
The Enbrighten dimmer switch is the most traditional-looking model on review. It has an on/off button as well as buttons that dim or brighten the lights manually. The only thing that sets it apart from ordinary dimmer switches is a small recess for its motion sensor at the bottom. A neutral wire is required for the dimmer's installation, but you get instructions with a diagram which guides you through the process.
The dimmer supports dimmable and incandescent bulbs as well as fixed LEDs and fluorescent bulbs. It works in three modes. Auto mode turns the lights on when the sensor is triggered and back off when you leave. The shutoff timer can be programmed. Vacancy mode is perfect for families with kids who keep forgetting to turn the lights off. It requires a manual button press to activate the lights and will deactivate them the same as auto mode. Manual mode disables the sensor and lets you control the switch by hand.
The motion sensor works flawlessly, even at its 45-foot range maximum. This can be reduced by lowering its sensitivity setting, but it makes the dimmer versatile and suitable for different room sizes.
The dimmer connects to other smart devices through Z-wave and requires a hub like Samsung SmartThings. Its connection range is 150 feet, but any Z-wave device between it and the hub acts as a repeater and extends it. The hubs are able to send push notifications to your phone when it is triggered. The dimmer can also set off other smart devices and be part of scenes you activate remotely or through voice commands given to an AI assistant like Alexa.
What We Didn't Like
Although GE says that the dimmer works with Wink, getting it to connect to the hub is impossible. Establishing a connection is a chore in general since it takes multiple tries for SmartThings to recognize the dimmer. Even then, the motion sensor will sometimes fail to trigger connected devices.

Tech Specs
Dimensions: 1.5 x 1.5 x 3in
Weight: 8 oz.
Detection range: 45 feet
Detection angle: 180°
The Pros
Works with all kinds of bulbs including dimmable ones
Long sensor range
Stable connection
Vacancy mode
The Cons
Doesn't work with Wink even though it is supposed to
Connecting it to a hub for the first time is a hassle
View on Amazon
Editor's Rating: 4.0/5.0
Need a reliable motion sensor light switch which doesn't break the bank? Topgreener's TSOS5-W may just be what you're looking for then! It has an advanced PIR lens that's great at distinguishing even subtle movements. There's also the ability to turn the sensor off completely or adjust how the switch behaves through a set of cleverly concealed dials. It might not be a looker, but the TSOS5-W certainly delivers.
Overview of Features
The first thing you'll notice about the TSOS5-W is its prominent sensor casing. It sticks out from the switch to a degree that some people might find distasteful, but it also gives the switch a space-age look. Aesthetics are offset by TSOS5-W's build quality and performance though. Its face is made from quality plastic while internal components are protected by a fire-resistant shell. Even though you'll need a neutral wire, getting the switch to work is straightforward.
The TSOS5-W's controls appear basic on the surface. There's a single switch that toggles between on, off, and auto. The first two function like a standard switch and don't make use of the motion sensor. Auto does, but you need to configure it first, Access to advanced features is gained by removing a protective toggle that surrounds the switch. Underneath you'll find a series of dials that control various aspects of the TSOS5-W's automatic operation.
The timer dial lets you specify automatic shutoff times. It has a 1-second test setting while normal times range from 30 seconds to 30 minutes. The middle dual controls motion sensor sensitivity. This can be set from 30 to 100 percent in four intervals. The right-most dial controls the light level necessary to trigger the switch. The lower the setting, the darker it needs to be before a room is lit.
What's Bad About It?
The TSOS5-W isn't suitable for use in garages, basements, and other areas with high heat fluctuations. Low temperatures cause it to become overly sensitive while high ones have the opposite effect. Regardless of temperature, the motion sensor is very sensitive, so much so that you'll want to keep it at a low setting so that slight breezes or far-away movement don't trigger it.

Tech Specs
Dimensions: 5.1 x 3 x 2.1 in
Weight: 5.6 oz.
Detection range: 15 feet
Detection angle: 180°
The Pros
Works with all kinds of bulbs including dimmable ones
Long sensor range
Stable connection
Vacancy mode
The Cons
Doesn't work with Wink even though it is supposed to
Connecting it to a hub for the first time is a hassle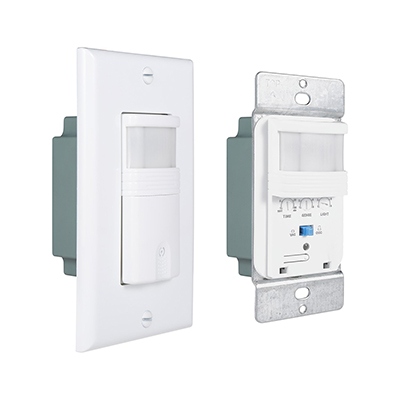 View on Amazon
Editor's Rating: 4.1/5.0
Are steep prices the only thing that's stopping you from buying more than one of our other picks? How about a four pack of great motion sensor light switches which cost less than a single Switch+? True to their name, Dependable direct have created a simple yet effective switch anyone can use to lower electricity costs. The switches have adjustable sensors come in two finishing options, and are surprisingly affordable given their performance. What else could a budget-conscious buyer want?
Overview of Features
Dependable Direct switches are among the more plain-looking on our list. They consist of a sensor housing and on/off switch and come in either white or ivory. Ground, line, lead, and neutral wires need to be connected for the switches to work as intended. Replacing an old one won't take long if you've ever installed a light switch before.
The on/off button can be flipped open to reveal a set of controls. There are three dials which regulate the sensor's sensitivity, how much time should pass before the lights shut off, and the light level needed to trigger them. A toggle underneath the dials sets the switch to either occupancy or vacancy mode. Occupancy mode will detect when there are people in the room and keep the lights on according to the time delay setting once the room is empty. Vacancy mode works the same as with GE's motion sensor dimmer.
The sensors can be precisely calibrated based on how you set each of the three dials. Sensor and light sensitivity dials have five levels. The delay from when occupancy is no longer detected to turning lights off can be set at 1, 5, 10, 20, and 30 minutes.
Are There Drawbacks?
Since these switches are so affordable, their overall build quality isn't the best. The on/off button, in particular, is cheap and will break quickly if you fiddle with the advanced settings often. Some units come with a defective light level dial which makes the switch behave the same regardless of your specified setting.

Tech Specs
Dimensions: 5.4 x 3 x 2.2 in
Weight: 5.4 oz.
Detection range: 15 feet
Detection angle: 180°
The Pros
Excellent value for the money
In-depth sensitivity& timer controls
Simple yet elegant design
Available in different quantities
The Cons
On/off button is prone to breaking
Might come with a faulty light level sensor