6 Best Motion Sensor Night Lights of 2019
3D Insider is ad supported and earns money from clicks, commissions from sales, and other ways.
The humble night light has been protecting children from monsters and keeping parents from stubbing their toes for decades. Technology never sleeps though, and today's night lights are a far cry from what they were a mere decade ago. Now a night light may have multiple colors or even an app, but its most important new feature is a motion sensor.
Motion sensor night lights are equipped with sensors which trigger the light when movement is detected. They're more energy-efficient than standard night lights because they work only when your child is tossing & turning or when you're heading off to the kitchen for a midnight snack. LEDs have long since replaced incandescent bulbs in such lights. Coupled with sharp sensors, this makes motion-activated night lights efficient enough to run off of batteries for months without needing a replacement.
Below are the six best motion sensor night lights you can buy today. All of them will help your child sleep soundly or make your nightly bathroom visits safer. Even so, some are more expensive or have more color options and other features than others. That's why you should take a peek at the handy comparison table and read the reviews. Get a motion sensor night light today and ensure restful sleep for your entire family for years to follow.
Budget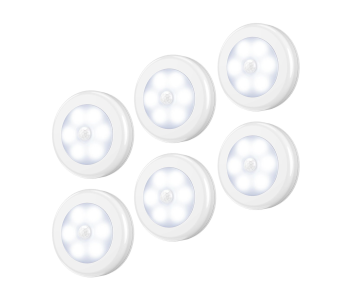 AMIR Motion Sensor Light Six Pack
4.3/5.0
Color: White
Power: AAA batteries
Six handy night lights at an excellent price.
Check Amazon
Best Value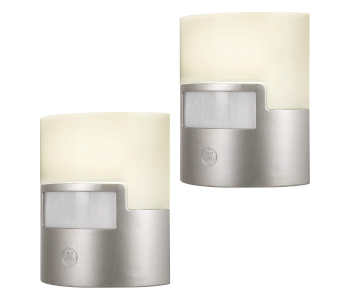 GE 46633 Ultra Brite Motion-Activated LED
4.5/5.0
Color: White
Power source: Plug
Has a long sensor range ans soft white glow.
Check Amazon
Top Pick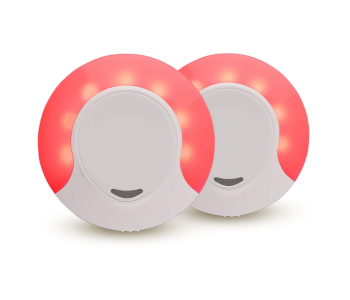 Emagine A Sleep Aid Red LED Night Light
4.7/5.0
Color: Red or amber
Power source: Plug
Has manual and auto modes and uses real red LEDs.
Check Amazon
Motion Sensor Night Lights Comparison Table
1. Best Overall – Emagine A Sleep Aid Red LED Night Light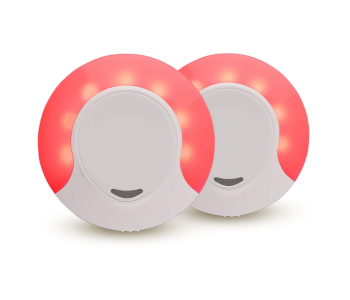 View on Amazon
Editor's Rating: 4.7/5
The trouble with many of today's night lights is that their LEDs emit light in the blue spectrum even though they don't appear blue at all. This light can be disruptive to your sleeping patterns and actually prolong the time it takes to fall asleep. The solution? A night light with red LEDs which operate on a higher wavelength and help you fall asleep quicker & more relaxed.
Overview of Features
The Sleep Aid Red Night Light is disc-shaped and completely white when not in use. It has 7 LEDs that are spaced in a half circle and glow with a bright red light. It's important to emphasize that the LEDs themselves are red, as opposed to a red plastic shroud which would change the emitted color without affecting the harmful wavelength of the source light. There's also an amber version which isn't as soothing but emits more light.
You plug the Sleep Aid light into a standard outlet. It is small enough not to occupy the other slot. There are two modes to choose from – manual and auto. Manual mode lets you turn the light on and off on your own. It will glow the entire time but uses so little electricity that it will barely register on your power bill. Auto mode relies on motion and light sensors. The light will stay on as long as it detects movement and turn itself off when you fall asleep. Bright light sources like a lamp or daylight will trigger the light sensor and cause the night light to stop glowing.
This night light strikes the right balance of brightness and functionality. You can easily fall asleep to it in a large bedroom or find your way around in its soft glow. The auto mode is ideal for situational use and for when you want to save power. On the other hand, you can keep the light on all night and not worry about fire as the LEDs remain cool to the touch regardless of how long they stay on.
What We Didn't Like
The Sleep Aid Night Light is great for bedrooms or hallways, but it glows too brightly for small spaces. Its brightness is further enhanced by mirrors, so putting the light in a bathroom will wake you up rather than put you to sleep.
Tech Specs
Dimensions: 3.9 x 3.9 x 2.5 in.
Color: Red or amber
Power source: Plug
The Pros
Promotes better sleep
Doesn't obstruct adjacent plug
Has manual and auto modes
Uses real red LEDs
The Cons
Too bright for small rooms
Not a good fit for bathrooms
2. Best Value – GE 46633 Ultra Brite Motion-Activated LED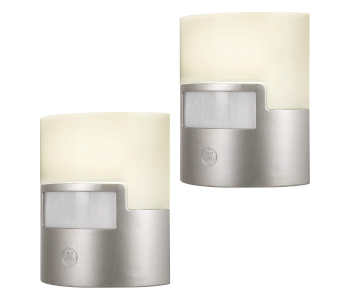 View on Amazon
Editor's Rating: 4.5/5
Are you looking for an affordable, durable, and dependable night light by a brand you can trust? Then look no further than GE's Ultra Brite Motion-Activated LEDs! This simple yet sophisticated night light is ideal for bedroom, kitchens, or hallways. It glows with warm light and is just bright enough to illuminate the room without straining your eyes. Best of all, a two-pack costs less than $15.
Overview of Features
The Ultra Brite is a small rounded night light you plug into an outlet. Its shape and size leave enough room for the 2nd outlet to be used without obstruction. The light fits in perfectly with any décor as you can choose one of four finishes – white, silver, bronze, or brushed nickel.
GE's night light glows with a brightness of 40 lumens. This is enough to help you get your bearings when you wake up but not so bright that your eyes would be irritated. It's too little light to read by but enough to go to the bathroom without stubbing your toe. The sensitivity of its motion sensor is excellent as movement is picked up from 25 feet away. This is particularly useful for a hallway as the Ultra Brite will turn on long before you enter it.
Once activated, the light will stay on for as long as there's motion; it will turn back off once no movement is detected for 90 seconds. There's also a built-in light sensor that keeps the Ultra Brite from wasting energy during the day. The sensor needs a lot of light to stop the Ultra Brite from coming on though, so expect the light to still come on in dim hallways.
What's Bad About It?
The motion sensor has narrow coverage. This means you'll need to be in front of it for motion to register and have to place the night light strategically for best results. There's a small chance that the light's sensors might stop working, causing it to stay on all the time. Luckily, the Ultra Brite is covered by a limited lifetime warranty, and GE will send you a replacement.
Tech Specs
Dimensions: 4.5 x 4.2 x 3.3 in.
Color: White
Power source: Plug
The Pros
Great value for the money
Comes in multiple finishes
Long sensor range
Soft white glow
The Cons
Works best when motion happens directly in front of it
Sensors might malfunction after a while
3. MIPOW PLAYBULB Sphere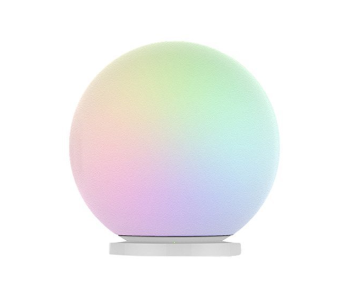 View on Amazon
Editor's Rating: 4.4/5
The night lights we've discussed so far all have a plug & play approach. That's great when you're looking for a simple way of lighting your path at night, but what if you want something more hi-tech? That's where Mipow's Playbulb Sphere comes in! This smart light comes on with a tap of your finger, can be customized to emit light in one of 16 million colors, and has an app that lets you adjust its behavior. It's the perfect décor and night light in one.
Overview of Features
True to its name, the Playbulb Sphere is a large, round light that fits well in hand. It has a rechargeable battery so you can place the sphere anywhere and enjoy its soft light for 5 hours. You also get a recharging base that you place the Sphere onto, and it begins charging right away without the need for cables! This also means the Sphere can double as an emergency light in case of a power outage.
Unlike cheaper alternatives, the Sphere is made from glass. This gives it an air of quality while also adding some heft. The glass makes the Sphere water and dust-resistant as well. It has an IP rating of 65 and can be freely used in the bathroom since splashback won't do it any harm.
You control the Sphere either with motion or through the companion app. Place the Sphere on your nightstand and tap it to turn the light on. Its maximum brightness is 140 lumens, but you can dim the light if that is too bright for nightly use. Repeatedly tapping the Sphere cycles through preset colors and changes the lighting mode.
Using the app opens up more in-depth customization options and lets you group multiple spheres for easier control. There you can set the color and brightness or choose between glow modes. The Sphere can glow in a single color or like a rainbow, pulsate, and flash. The timer is the app's most useful function, however. It lets you set a time at which the Sphere should turn off. As the time approaches, the Sphere begins to fade so you can fall asleep more naturally.
Are There Drawbacks?
While the Sphere is motion-activated, it doesn't have a long-range motion sensor. This means that you have to keep it close by if you want to use it as a night light, which limits placement options. The charging base has red & green LEDs that tell you when the Sphere reaches full charge. The red LED is very bright and stays on even when the Sphere isn't charging, so you'll either want to tape something over it or unplug the base while not in use.
Tech Specs
Dimensions: 6 x 6 x 5 in.
Color: RGB
Power source: Rechargeable battery
The Pros
Soft, pleasant glow in 16 million colors
Recharges wirelessly
Has multiple glow options
Has timer and dimmer
The Cons
Needs to be within reach to use manually
Constantly glowing bright LED on charging base
4. WILLED Dimmable Motion Activated Bed Light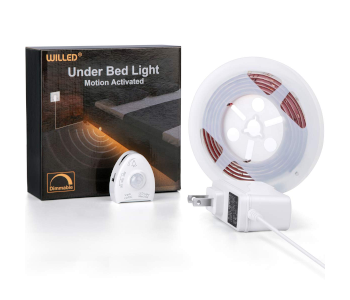 View on Amazon
Editor's Rating: 4.2/5
Are your kids at an age when they're frightened of monsters under the bed? You can put their fears to rest once and for all if you buy Willed's Bed Light! The strip emits a warm yellow glow that bathes the underside of the bed as soon as motion is detected. It's easy to install, has multiple brightness settings, and you can use it for much more than scaring off monsters.
Overview of Features
Willed's Bed Light is a 6-foot long LED light strip that attaches to a bed frame with provided 3M tape. Like most light strips, you can cut it down if the original size is too big. There are cut-off points every 3 inches, so it's easy to achieve the perfect fit. One end of the strip ends with 3 feet of power cable you plug into an adjacent outlet.
You get to choose between three brightness settings. Low is best-suited as a night light while medium and high turn the strip into an accent light. Willed markets this product as a bed light, but you can also use it under kitchen or bathroom cabinets, on stair railings, or in a hallway to provide a safe journey to the toilet at night.
The motion sensor's range is 12 feet. Unlike GE's lights, the Bed Light's sensor has a working angle of 100 degrees, meaning it will register movement even if it comes from the sides. A built-in light sensor is there as well and goes off when there's enough artificial or natural ambient light. The Bed Light glows on a timer. You can set the timer for 30 seconds, 3 minutes, or 6 minutes so you'll have ample time to find your way or put a child back to sleep.
What We Didn't Like
There's no way to power the bed Light continuously since it only relies on motion activation. The tape you get with the light is of poor quality. It's barely sticky and starts peeling off with minimal use. You'll want to buy some adhesive tape before installing to avoid the hassle.
Tech Specs
Dimensions: 60 x 1.9 x 1.2in.
Color: Yellow
Power source: Plug
The Pros
Acts as night and accent light
Has three brightness and timer settings
Motion sensor has wide detection angle
Can be tailored to any smaller length
The Cons
Comes with poor-quality adhesive tape
No continuous on mode
5. Sunbeam Color Changing LED Power Failure / Night Light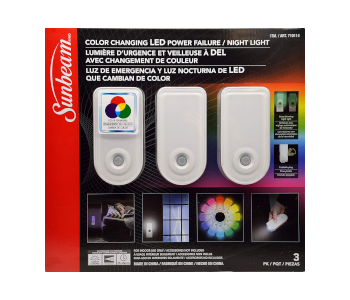 View on Amazon
Editor's Rating: 4/5
Do you like the Playbulb Sphere's many colors but want a more traditional night light? Sunbeam has got you covered with their color-changing night light 3-pack. These versatile night lights have battery power and a flashlight for emergencies, can operate in two night light modes, and are easy to adjust even though they don't come with an app. This is a great deal considering you're getting three lights in one, and your kids are sure to love them.
Overview of Features
Sunbeam's night lights look like long rectangles with one rounded side that's close to the motion sensor. The entire night light glows in either a single color or transitions from one hue to another in a rainbow effect. You control the various modes by pressing a button on its right side. A short press locks the current color in or changes to another one while a long press enables rainbow mode.
There are two night light modes, and both of them take advantage of the motion sensor. Auto mode acts like any other night light, i.e., the light stays off until triggered by motion. Continuous mode is different in that the light is always on but dims when there's been no movement for 25 seconds. This mode is just right for kids who have trouble falling asleep without a night light and parents who want to keep costs low.
Another great thing about Sunbeam's lights are their rechargeable batteries. Plugging them in recharges the battery but also acts as a power outage alarm. The lights will turn on automatically when the power goes out and help prevent accidents. Each light has an LED flashlight at the bottom too! The flashlight is bright and sure to help out in an emergency.
What's Bad About It?
Sunbeam's night lights are big, so much so that they block off the other plug. They also don't remember your settings. The lights turn white during a power outage and have to be reset to your preferred settings manually each time they're plugged into a working outlet.
Tech Specs
Dimensions: 4.6 x 2.3 x 0.9 in.
Color: RGB
Power source: Plug or rechargeable battery
The Pros
Has rechargeable battery backup power
Easy to switch to desired color
Power outage and always on dimming modes
Three lights for an excellent price
The Cons
Doesn't remember settings after power failure
Takes up second outlet
6. Best Budget Option – AMIR Motion Sensor Light Six Pack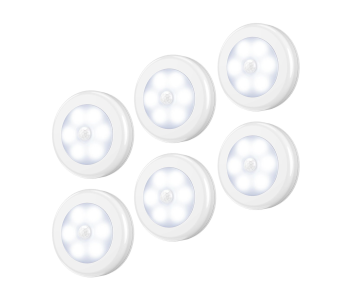 View on Amazon
Editor's Rating: 4.3/5
Amir's motion-activated night lights are affordable, yet their quality is good enough to warrant a spot on our list. Plus, these lights have an advantage over many more expensive competitors – they're battery powered. You get six lights for less than $20 and can strategically place them throughout your home. These are the lights to get if you need an inexpensive way to light a large house at night or want more light in hard-to-reach places
Overview of Features
Amir's sensor night lights are puck-shaped and each has six LEDs in the center. You can choose between two color temperatures and get the lights in either a silver or white trim.
We were pleasantly surprised by the number of mounting options. You can hang the lights onto a small nail if you need a permanent solution, but they also have magnets for effortless mounting onto metal surfaces. You get adhesive tabs which are great for renters and people who don't want to damage their property. However, keep in mind that the pads are sticky and take some force to remove.
Each light requires 3 AAA batteries to run. Their brightness is 20 lumens, so the batteries can last for more than six months before you need to replace them. The lights are very energy-efficient and can be placed in spots with a lot of traffic and still work for months! 20 lumens is less bright than GE's night lights but more than bright enough to find your way around the house.
The lights' motion sensors respond when you get within 10 feet, and they cover a radius of 120 degrees for optimum responsiveness. A quick auto-shutoff timer adds to the lights' energy efficiency – they will stop glowing after 15 seconds of inactivity but shine without interruption as long as you're moving.
Are There Drawbacks?
Keep in mind that these are night, not ambient lights. Their light sensors are sensitive, and one light won't turn on if placed too close to another. The motion sensors are inconsistent – some of the lights in your pack might have a sensor that's either more or less sensitive than the rest. This isn't a problem on its own but may mean that some lights in the batch won't perform as well as others.
Tech Specs
Dimensions: 3.2 x 3.2 x 1.2 in.
Color: White
Power source: AAA batteries
The Pros
Six handy night lights at an excellent price
Multiple mounting options
Very energy efficient
Wide sensor coverage
The Cons
Need dark conditions to work
Not all sensors have the same sensitivity