5 Best VR headsets for Watching Movies
3D Insider is ad supported and earns money from clicks, commissions from sales, and other ways.
We love movies, and we also love VR technology. Combining these two makes perfect sense, allowing you to enjoy a cinema-quality 3D movie experience in the comforts of your own home. Watching movies using VR headsets is one of the earliest applications of VR technology and one that is still fairly popular nowadays.
If you want in on the action, then the first thing you need to do is to get a good quality pair of VR goggles. The good news is that there are a lot of perfectly capable VR headsets for viewing movies. Based on your priorities, you'll be sure to pick the right headset in our list of recommendations below.
What to look for in VR headsets for watching movies
Watching movies through a VR headset is a lot less demanding than VR gaming or many other more interactive experiences. This means that you don't necessarily have to opt for a top-of-the-line product. Your choice of headset also depends on how discerning you are when it comes to video resolution and overall quality.
1. Display resolution
We need to make the distinction between two types of headsets: those that come with a built-in screen display, and those that rely on using your smartphone as a screen. Naturally, headsets with built-in screen displays are more expensive. These built-in displays usually also have higher resolutions than a standard smartphone screen.
Everyone has a smartphone nowadays, so choosing a smartphone-based headset could potentially save you hundreds of dollars. However, the display resolution you're going to get isn't going to be any better than when you're watching movies on your phone.
2. Mobility
Many top-of-the-line VR headsets don't come with their own graphical processing capabilities but, instead, rely on the hardware of a gaming PC. This means that they need to be hooked up to a gaming PC to work. This could be bad news if you were planning on watching VR movies on the couch, on the bed, or away from home.
The advantage of tethered VR headsets is that they so much more content available for them on account of how powerful gaming PCs are and how they are well-equipped to handle the hardware demands of different VR games and experiences.
On the other hand, there are also standalone VR headsets that either have a built-in graphical processor or rely on your smartphone's processing power. While these are not as powerful, and therefore only have access to a limited content library, you can readily use them anywhere around the house or even when you're on the road or on vacation.
If kicking back on the couch and watching VR movies sounds like a good time to you, then you might want to consider taking a close look at our wireless recommendations.
3. Focal distance and IPD adjustment
Not all eyes are made equal, and you need to get a VR headset from a manufacturer that understands this. Specifically, a headset with an adjustable interpupillary distance (IPD) will ensure that you get maximum enjoyment out of your VR movies.
An adjustable focal distance isn't much of an issue for headsets with built-in screens because the distance separating the screen and the lenses is fixed. However, focal distance adjustment is pretty much par for the course for headsets that use a smartphone as a screen as these smartphones can come in a variety of sizes.
4. Versatility
You may be buying a VR headset for the intention of watching 3D movies in your home, but how about games and other interactive experiences? There are literally thousands of them out there. If you end up getting a cheap headset that cannot play all these popular VR games, then there's a good chance that you're going to end up with a serious case of buyer's remorse.
If you're not sure about spending a few additional hundred dollars for a VR headset that can do more than just play movies, then we highly recommend checking out the type of VR content that's available right now and discovering if they appeal to you. Our list of the best free and paid VR games for the Oculus Quest is a good place to start.
5. Cost
VR headsets are some of the most variably priced products we have ever seen in the technology market. You can get a smartphone-based VR headset that barely costs $10 or a top-of-the-line headset that sells for close to $1000. Watching movies isn't all that demanding on VR headsets, so you wouldn't need to spend a lot if that's all you intend to use a headset for. There's still merit in getting a headset that's more sophisticated (and more expensive) if you intend to use it for more interactive experiences.
The top 5 best VR headsets for movies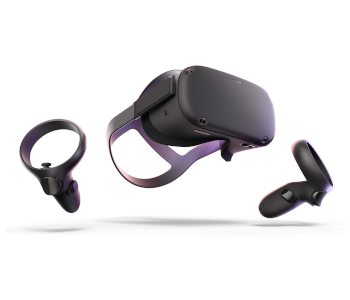 Editor's Rating: 4.8/5.0
The Oculus Quest is the latest wireless VR headset released by the Oculus brand. It is a completely standalone product – it has a built-in screen, graphical processor, and local storage. The content for the Quest can be downloaded from an Android-based marketplace that was specifically created for the headset.
Everything the Oculus Quest needs to provide a stellar VR experience has been built into the headset. It features a Snapdragon 835 graphics processor and a high-resolution 2880 x 1660 OLED display. The screen is very bright and has vibrant colors. The 72-Hz refresh rate isn't anything impressive but works perfectly fine, given the limited graphical load of the VR content available to the Quest.
The integrated positional audio is a useful feature in case you forget your headphones or audio jack. We still recommend using a third-party device via the 3.5-mm jack since the positional audio doesn't quite do as good a job in terms of creating an immersive environment.
If you're only going to use the Oculus Quest for watching movies, then there is no doubt that it will perform beautifully. However, at almost $400, it's a bit too expensive to be used for just 3D movies.
The thing about the Quest is that it's one of the most capable VR headsets to be ever produced by Oculus. Not only is it a standalone headset, but the newly introduced Oculus Link also allows it to be hooked up to a PC. This gives it access to the massive PC-based Oculus Rift library. It also comes with the Oculus Touch handheld controllers that you can use for the thousands of interactive VR experiences that the Quest can offer.
As a movie VR headset, the Quest may be impractically expensive. However, if you can afford to splurge for the Quest, then you better brace yourself for some of the best experiences that the current generation of VR technology has in store.
Tech Specs
Type: Wireless standalone
Screen resolution: 2880 x 1660
Refresh rate: 72 Hz
The Pros
Wireless and standalone
High-resolution display
Dedicated content library
Oculus Link-compatible
Integrated audio
Adjustable IPD
The Cons
Limited content
Expensive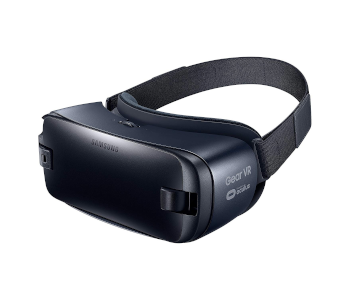 Editor's Rating: 4.5/5.0
The Samsung Gear VR may have been a revolutionary product back when it was first launched, but its age and old technology has relegated it to a budget option nowadays. The version we have listed here is the SM-323, the last release that did not come with a handheld controller. This model was released alongside the infamous Samsung Galaxy Note 7.
Being a smartphone-based VR headset, the display quality you're going to get wit the Gear VR depends on which phone you use as a screen. In that regard, the Gear VR is only a budget option provided that you already own the requisite Samsung smartphone. The list compatible phones for the Gear VR is limited, which is perhaps the biggest flaw of this VR headset.
Where the Samsung Gear VR shines is in content. As the headset was developed by Samsung in collaboration with Oculus, the default content library for the Gear VR is Oculus Home. This portal gives you access to thousands of VR games and experience. Despite the simple design of the Gear VR, it actually comes with an interaction panel that gives you more control over what happens in the VR environment that you enter.
It's even possible to watch your favorite Netflix shows in the Samsung Gear VR, so you're never going to run out of VR shows and movies to watch.
There are a few inherent limitations to a smartphone-based VR headset such low graphics processing power and a low-resolution screen. Still, the Samsung Gear VR is an excellent deal for less than $50.
Tech Specs
Type: Wireless smartphone-based
Screen resolution: Variable
Refresh rate: Variable
The Pros
Wireless and standalone
Adjustable focus and IPD
Extensive content library
Cheap
The Cons
Limited compatibility
No central thong on strap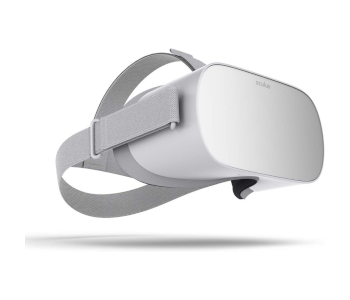 Editor's Rating: 4.6/5.0
The Oculus Go is the predecessor of the Quest – a truly standalone VR headset that can be used without any additional devices or accessories. As it was released a whole year before the headset, its hardware is considerably less powerful. However, it also costs only half as much as a Quest, making the Oculus Go a compelling value-for-money option.
The Oculus Go is equipped with a Snapdragon 821 processor and a 1280 x 1440 display resolution. Although these numbers weren't exactly impressive even back at the time when the Go was launched, they were enough to inspire the creation of a massive library of content developed by both indie and famous developers alike.
With Oculus Go, you have access to a wide range of compatible entertainment apps, including Netflix, Hulu, and Facebook Video. There's also Oculus Video, a more all-around portal for accessing a host of other VR videos. On top of movies and TV shows, Oculus Go is compatible with thousands of other VR games and experiences
The Oculus Go was a very popular product when it was first launched, although it has now been overshadowed by the more powerful Oculus Quest. It says a lot about how fast technology evolves when a product that has only been in the market for about a year starts to feel "dated."
Still, the Oculus Go is a more budget-friendly option to go into VR entertainment, which offers not just a great movie-viewing experience, but also all-around access to more VR content.
Tech Specs
Type: Wireless standalone
Screen resolution: 1280 x 1440
Refresh rate: 72 Hz
The Pros
Wireless and standalone
Adjustable IPD
Extensive content library
The Cons
Limited compatibility
No central thong on strap
Editor's Rating: 4.4/5.0
The Rift S is the latest product launched under the Oculus Rift line of tethered VR headsets. The Oculus Rift line is virtually synonymous with VR, so this was one of the new products we most eagerly looked forward to. In many ways, it does not disappoint.
One of the first things you'll notice with the Oculus Rift S is that it does not come with the usual T-shaped strap that hugs the back of your head and presses the headset to your face. Instead, it has an adjustable halo that sits on the top of your head. This is so much more comfortable for prolonged use and is a design that we hope to see more of in the future.
The integrated display of the Rift S has a combined resolution of 2560 x 1440 and a refresh rate of 80 Hz. The screen resolution is just a notch lower than what the Oculus Quest and the HTC Vive Pro. The LCD screen feels like a downgrade in an era when most VR headsets come with brighter OLED screens.
A huge advantage of getting any Rift headset is that you gain instant access to the Oculus Rift marketplace for VR content. Games, videos, and experiences for the Oculus Rift headsets have been developed for years, and there are literally thousands of them available online. You are never going to run out of things to do with the Oculus Rift S.
The major drawback of getting the Oculus Rift S is that it's only a good deal if you already have a PC with the required specs. Fortunately, the Rift S doesn't require much. If you have a GeForce GTX 1060 or a Radeon RX 480 graphics card in your rig, then you're all set.
The Oculus Rift S is an excellent tethered VR headset, but it's swimming against the tides in an age where wireless technology always tends to come out on top. It also costs just as much as an Oculus Quest, so the Rift S is really only a good choice if you already have the PC hardware on hand.
Tech Specs
Type: Wired PC-based
Screen resolution: 2560 x 1440
Refresh rate: 72 Hz
The Pros
More comfortable design
Comes with handheld controllers
Adjustable IPD
Extensive content library
The Cons
Expensive
Needs to be tethered to a PC
LCD screens – not OLED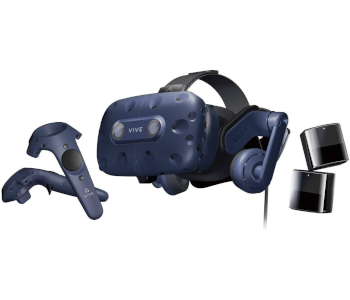 Editor's Rating: 4.2/5.0
The Vive Pro was the flagship VR headset from the HTC brand for almost two years before the Vive Cosmos was launched. With its dimpled design and the prominent Vive logo, the Vive Pro is easily one of the most stylish VR headsets we have ever seen and sure stands out in a crowded market.
Despite being a little long in the tooth, the hardware of the HTC Vive Pro still puts up a good fight with more recently released VR headsets. The super-bright OLED screens have a resolution of 2880 x 1600 and a very high refresh rate of 90 Hz. The extra-wide 110-degree field of view, coupled with head tracking technology, means that you are free to explore any VR environment, whether while you are watching a movie or playing a game.
Further enhancing the immersive experience is a pair of high-impedance headphones that deliver 3D spatial sound. The headphones even come with dual microphones to provide noise-canceling – a rare feature in VR headsets, even today.
The HTC Vive Pro does not come with its own graphical processor but, instead, needs to be connected to a PC to work. This limits when or where you can use the Vive Pro, as setting up the PC so you can watch VR movies on your bed or couch may be more trouble than it's worth. The Vive Pro is the type of VR headset that you'll leave at home, and this might be disappointing for those who want to bring around their VR entertainment on the go.
If you're just buying a VR headset for watching movies, then the HTC Vive Pro might cost way more than what you're willing to spend. Despite being in the market for almost two years, the HTC Vive Pro still costs almost $800. There might be a price drop on this soon as HTC has just launched the Vive Cosmos recently, so we suggest keeping your eyes peeled.
Tech Specs
Type: Wired PC-based
Screen resolution: 2880 x 1600
Refresh rate: 90 Hz
The Pros
High-resolution LCD screen
Integrated audio with noise-canceling
Adjustable IPD
The Cons
Very expensive
Needs to be tethered to a PC
Final thoughts
Watching movies in VR feels like actually stepping into the screen with those characters. Short of interacting with them, this is probably the highest level of immersion that you can get if you absolutely love movies. Luckily for you, there are a lot of VR headsets at varying prices that you buy for the ultimate movie viewing experience.
It bears mentioning that many of the modern VR headsets are made for more than just watching movies. You can play games with them or go into any number of interactive experiences. You might need to pay more for these more sophisticated headsets, but we highly recommend them.