The Best Hoverboards with Music Speakers
3D Insider is ad supported and earns money from clicks, commissions from sales, and other ways.
Hoverboards have proven themselves to be handy transport devices. There's just a lot you can do with it. The most popular one being a commuting alternative that enables you to shed meaningful time from your daily trips to work or school.
Of course, owning an electric self-balancing board is not just for sedate activities like commuting to work. There is also the fun factor of owning one. Breeze through your neighborhood on a relaxing afternoon ride and feel the wind blowing on your face. Head to the park and practice a few cool tricks to wow everyone that sees you.
Hoverboards today are more than just your average moving platform on wheels. To compete, different manufacturers come up with their own sets of bells and whistles to entice their customers. There are a lot of distinct boards with varying features. However, the most sought after are Bluetooth speakers.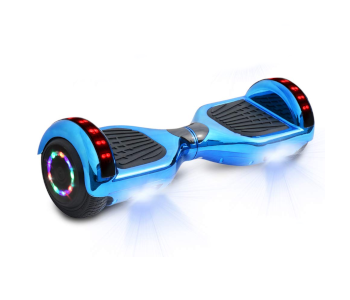 Retail Price: $135
The Cho Chrome hoverboard is an entry-level option that comes with wireless Bluetooth speakers. They are built into the board and can easily be connected to other portable devices that can store your favorite music. You can listen to your favorite music, audiobooks, or podcasts without using any headphones.
This hoverboard is great for kids and beginners alike. The wireless speakers ensure that you'll be able to hear other sound cues while listening to your favorite songs. A board that doubles as a speaker is definitely going to be a popular attraction at the park. The sound quality is decent, it's not remarkable, but it definitely does the job.
As a hoverboard that's marketed mainly to beginners and kids, safety is paramount. It comes with a UL 2272 certified battery, which means that its electrical components have been considered safe for consumers. It also has self-balancing technology that helps kids and beginners learn how to ride hoverboards. The technology makes it easy to learn, master, and especially avoid any balancing related accidents.
As an entry-level board, its performance is not that remarkable. It has a top speed of 6 miles per hour and batteries that have a range of about 7.5 miles. It's a little slow, but for its intended users, it's enough so that kids and beginners can get the hang of riding on a hoverboard. Charing the hoverboard to full power takes about 3 to 5 hours, so it's generally slower compared to other similar devices.
The Cho Chrome hoverboard is designed to be more of a weekend at the park type of board rather than a regular commuter. One thing that has it going for it though is its Bluetooth speakers that can play back music and other things that you might want to listen to.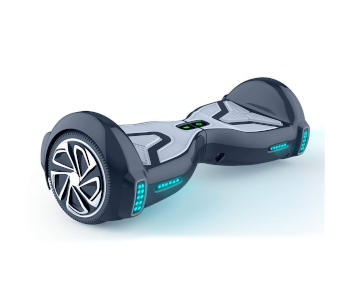 Retail Price: $259
The Tomoloo K1 hoverboard is one of the brand's premier options. The main focus of this device is safety and rider experience. One of the factors that improve rider experience is its built-in stereo surround Bluetooth speakers. You can connect your board to your smartphone to listen to your favorite music or podcasts while cruising down the street. The speaker's sound quality is top notch and using the latest Bluetooth technology allows it to play any audio file without any noticeable delay so you can truly enjoy what you're listening to.
Rider safety is the primary focus of the K1 board, apart from the Bluetooth speakers, it also comes with LED headlights to help keep you visible to other motorists and pedestrians when riding at night. It also comes with tail lights and turning signal lights for optimum visibility.
Its dedication to safety does not end there. The hoverboard uses Samsung cells that are certified, and the entire battery assembly is wrapped in a fire-retardant shell, giving an additional layer of security to the rider. Apart from that, it also uses Tomoloo's own Smart Battery Management System, which regularly checks for overcharges, overheating, short circuits, and overcurrent to keep you safe at all times.
When it comes to performance, the K1 is a stand-out. It is equipped with two 350W motors that can take it to maximum speeds of up to 9.3 miles per hour and able to climb hills up to 15 degrees. It's superior battery technology also gives it a range of up to 9 miles on a single charge. The build quality is stable as it can support a rider up to 265 pounds.
The K1 is a great commuter board as it is waterproof design so you can pass through shallow puddles with ease. You can also use it under light rain since it has a sealed charging port design that keeps dust and water out.
The Tomoloo K1 is a hoverboard that couples rider safety and reliable driving performance without compromising on the overall look and usability of the board. You can use it for fun at home, in the park, or as a commuter tool that will take you to your destination quickly.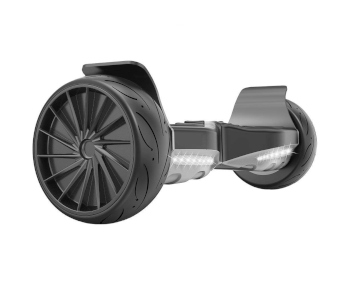 Retail Price: $249
The Hyper Gogo 8.5" Sport hoverboard is a durable all-terrain vehicle that offers superior stability to riders. The larger size gives it enough space to carry a wireless Bluetooth speaker that you can connect to your smartphone to play music or your favorite podcasts. The sound quality is excellent, and that's due to the larger speakers installed. You can definitely rock as you roll down the road to your destination.
With all hoverboards, the focus is on safety. The Hyper Gogo is UL 2272 certified, which means that all its internal components have been thoroughly tested for electrical stability. You can be sure that your hoverboard will not spontaneously go up in flames as you are cruising down the street.
One of the fundamental features of this hoverboard is its high-capacity LG batteries. Most hoverboards can provide you with a ride time of about an hour. The Hyper Gogo, on the other hand, can give you an extended range of up to an hour and a half.
All that battery power needs somewhere to provide that power to, and the hoverboard has two massive 400W units that can push it to speeds of up to 10 miles per hour. That's three times faster than a brisk walk and will surely make a dent in your commute time.
The build quality of the board is surprisingly good, and that manifests with the maximum load it's able to carry at 264 pounds. It is unmistakably larger as it has 8.5-inch wheels, which makes it more comfortable to ride with broader platforms and a much more stable base.
The Hyper Gogo Sport hoverboard is as safe as it is fun to ride. It's meant for everyone from kids to teens, to adults. It can also make for a reliable commuting hoverboard with its size, speed, and range. LED lights also add another layer of safety so you can ride the board at any time of the day.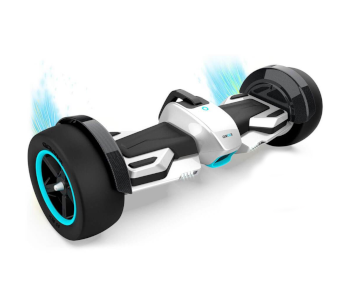 Retail Price: $369
The Gyroor G-F1 racing hoverboard is a beast of a board. It looks fast, and most importantly, it is quick. Due to the fast speeds, the makers paid extra attention to the various safety features of the board.
One of the more overlooked features of the G-F1 is its built-in wireless Bluetooth speakers. It is undoubtedly overshadowed by its sheer power and speed. The speakers used on the board are of high quality, which plays outstanding clean and crisp sound. This is important, especially when you're traveling at significantly faster speeds in the open so you can truly enjoy what you're listening to. Since it's Bluetooth, you can easily connect it to your phone and play your favorite jam from there.
The design of the G-F1 is mainly inspired by Formula 1 cars, and there is definitely a resemblance. Not only does it look like a race car, but it is also one of the fastest boards out there, so it clearly lives up to its name. A neat trick that this board has is its brilliant sound and speed synchronization system, which is a background racing sound that you can turn on, so you also sound like an actual race car.
The G-F1 comes with two 350W motors that allow it to reach maximum speeds of up to 12 miles per hour. Hoverboards ordinarily have top speeds of up to 8 to 10 miles per hour, so this is significantly faster. It may not have the most powerful motor compared to other boards. However, it has been designed intelligently and uses 85% aluminum, which is both lightweight and sturdy. The material used shaves off some of the weight to give it that extra boost in speed. The motors also help it climb hills up to 30 degrees so you can use it to just about any destination within its range.
Since it is capable of going fast, the makers have installed speed modes controlled via the smartphone app to make it kid and beginner friendly. These modes limit the maximum speeds and are particularly useful to help beginners get the hang of riding the hoverboard. After you have adjusted, you can always unleash the speed of the G-F1.
The board comes with its own self-balancing technology to give you an enjoyable riding experience at all times. Riding at high speeds can cause you to lose your balance quickly, and the self-balancing tech ensures that you stay on the board.
The speed and power are definitely exceptional. However, the utility does trump those features, especially when you're looking for a reliable commuting option. The G-F1 is precisely that, designed with a portable handle that makes it easier to carry than other boards. That alone makes it a dependable commuting board since you can take it onto trains and buses without packing it on a case.
The Gyroor G-F1 is definitely a speed beast. It is also a very serviceable commuter board that you can use every day. The slick 8.5-inch tires have some off-road capabilities, and you can definitely use them on dirt paths or bumpy roads with ease.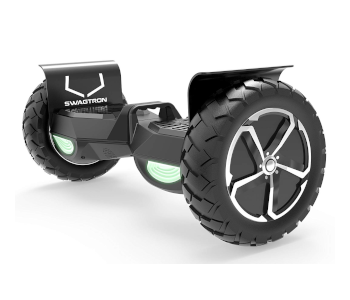 Retail Price: $379
The Swagtron Swagboard Outlaw T6 is a 10-inch hoverboard with off-road capabilities. It's built tough and able to withstand the pounding of riding the board in an off-road environment. Its tires deliver superior traction and keep you stable at all times, on different surfaces including mud, grass, gravel, and sand.
One of the exciting things about the Outlaw T6 is its size and its capability to accommodate riders of up to 420 pounds. This hoverboard is the best choice for riders of different sizes. It's stable and durable so that you can ride it on any surface at any time.
One feature that's not easily showcased for the T6 is its built-in Bluetooth speakers. It allows you to rock while you ride, whether it's cruising down the neighborhood street, riding through the park, or when you're on an exciting outdoor adventure. Use your smartphone and connect to your board via Bluetooth and listen to your favorite music. You can even carry it and use it as a boom box of sorts.
The Outlaw T6 has excellent connectivity features apart from the speakers. You can download the Swagtron app and check your speed, battery life, travel distance, and a lot more riding statistics in real time. You won't have a reason to leave your phone at home when you're out on the board.
Safety has always been Swagtron's primary concern, and they definitely didn't miss out on the Outlaw T6. It comes with the same SentryShield technology that encloses the batteries in case of a malfunction, so the board does not go up in flames. Couple that with a UL 2272 design that ensures the safety of the rider from the electrical components underneath the shell.
Two 300W motors enable you to reach top speeds of up to 12 miles per hour on a flat surface. Of course, that is significantly reduced when running on other types of surfaces. However, you can still feel the power of the motors while traveling at a decent speed on off-road terrains like dirt or grass. It is also capable of climbing steep hills up to 30 degrees, so you can use your board just about anywhere.
On a device like the Outlaw T6, you can guess that it comes with a massive battery, and it does. Able to reach up to 12 miles on a single charge on two or three hours plugged in.
The Swagtron Swagboard Outlaw T6 is a hoverboard that can give you tons of hours of fun while being stylish at the same time. It also comes with built-in easy-grip handles so you can just pick it up when you're using it to commute to school or work.
Hoverboard Entertainment
It seems everyone has converged to like hoverboards that play music. Boards that come with Bluetooth speakers instantly command attention. It announces your arrival, and that's why almost everyone is drawn to the allure of getting one. Whether it's in the park during the weekends or as you're traveling down a busy sidewalk, music blaring from your hoverboard is something that's going to catch people's attention.
Hopping on a ride on your board to work or school can sometimes take quite a bit of time. Commuting with hundreds of people in your immediate vicinity does not help either. A little music can spice up your travels and give you ample entertainment as you head to your destination.
Why Get a Hoverboard that Plays Music
Who doesn't look cool when you're with friends? But seriously, getting a hoverboard with a Bluetooth speaker means that you can play music any time you want. All the music on your phone will be readily accessible. Imagine cruising around your neighborhood, and listening to your favorite jam, that would be awesome.
Even without Wi-Fi, you can play your favorite music just by linking your smartphone and hoverboard. You also don't have to worry about connectivity since you and the board are traveling together. Your Bluetooth link will always stay on allowing you to listen to your favorite music until you reach your destination.
The added weight of the speakers will definitely make your board heavier, but it is small enough that it won't affect the overall performance of your ride. Bluetooth speakers are also superior to any headsets or headphones, giving you better quality playback.
Your favorite music playing in the background as you're riding will definitely take away any stress you will feel when commuting. Whether you're headed to work, school, or running an errand, riding on a hoverboard that plays music will surely lighten up your mood.
Rider Safety
Hoverboards equipped with Bluetooth speakers considerably improve rider safety. One of the principal causes of pedestrian accidents is, surprisingly, walking with headphones on. Riding on a motorized board can definitely increase the consequences of those accidents. When you're on a hoverboard, you're significantly faster, and you certainly need to keep your balance. If you get into an accident because you have your headphones on your injuries might be worse.
Wearing headphones can severely limit your hearing, so you can see why accidents can happen more often with them on. Having a Bluetooth speaker on your hoverboard means that you don't have to wear headphones or a headset and you will be able to hear more of your surrounding sounds. You will be able to hear cars honking their horns at you or other pedestrians yelling at you to alert you of something.
Hoverboards that can play music via Bluetooth speakers are more than just a fad. It may feel like one, but it surprisingly improves the safety of the rider and everyone around you. As a rider, you'll be able to hear everything, including oncoming obstacles so you can avoid them.
Finding the Right Hoverboards for You
If you're looking for a hoverboard that plays music, then the first feature you need to look for is the Bluetooth speakers. Now, all of the boards that are included will have those, so you don't have to worry about that.
Your next concern now would be the performance of a particular hoverboard. What's the primary purpose of your hoverboard? Is it mostly for fun and weekends at the park or will it be your daily driver for your commute? Are you looking for a particularly fast one, or will you save time if you pass through the park's unpaved paths?
There are hoverboards for your needs, and we have compiled different types of hoverboards that will surely meet your needs.
Wrap Up
Hoverboards are mostly known for their speed, range, and off-road capabilities. Seldom are they referred to when it comes to sound quality. However, the use of these boards calls on product designers and manufacturers to incorporate audio systems into the devices, first for safety reasons. Nowadays, it's not enough to simply have built-in wireless Bluetooth speakers on your board, but they have to sound great, too.
Having speakers on hoverboards means reducing the number of riders who like to wear headphones when they travel. This significantly reduces accidents due to headphone use since you'll be able to hear your surroundings clearly.
Getting a hoverboard that plays music is much more than just the coolness factor. It's also about keeping yourself safe, especially when you're using the board for your commute to work or school where there are a lot of obstacles that you will come across.