6 Best Cameras for Music Videos in 2020
3D Insider is ad supported and earns money from clicks, commissions from sales, and other ways.
MTV has long since stopped being relevant, but the music video is still alive and very much in demand. It's the best means of getting an artist noticed and can make an average-sounding track memorable. While creating a plot and deciding on the art direction for the video is crucial, you shouldn't underestimate the impact your camera will have on the result.
Finding a good camera for music video production isn't easy. The video quality needs to be on point, but so does the camera's capability to shoot in any environment. That means being able to record a moody ballad in a poorly-lit studio as effortlessly as a pop song on the beach at noon. The camera needs to keep up with the antics of band members while always keeping them in focus. Its audio isn't important, but having a dedicated microphone input is essential.
Here are our picks for the best camera for music videos you can buy today. All six excel at making dynamic videos in unforgiving conditions. There are differences to consider, however, so check their reviews out for an in-depth look at what each camera offers. See which model lines up best with your budget and needs, and pick the camera that will immortalize the next chart-topping hit.
Budget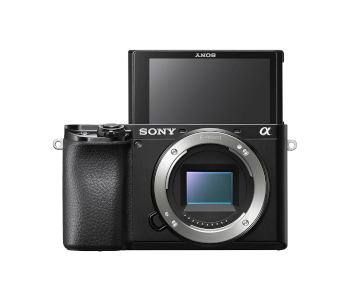 Sony Alpha A6100
4.4/5.0
Type: Mirrorless
Sensor: APS-C
Fantastic autofocus for photos and videos alike.
Check Amazon
Best Value
Panasonic Lumix GH5
4.4/5.0
Type: Mirrorless
Sensor: 4/3
XLR input along with audio in & out jacks.
Check Amazon
Top Pick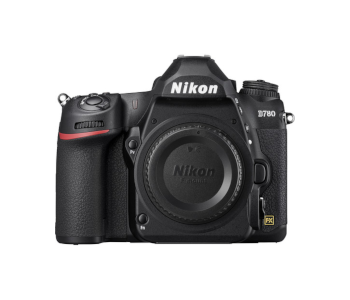 Nikon D780
4.8/5.0
Type: DSLR
Sensor: 35mm
10-bit video output and a choice of log profiles.
Check BH
Cameras for Music Videos Comparison Table
1. Best Overall – Nikon D780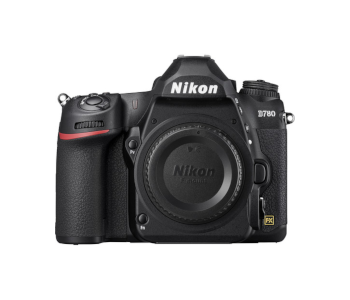 View on BH
Editor's Rating: 4.8/5
The D780 is the newest in Nikon's lineup of professional cameras for videographers. It succeeds the D750 and brings notable improvements like a touchscreen, uncropped 4K video, and autofocus ripped from Nikon's top-tier mirrorless cameras. It's a wonderful performer in all kinds of light and offers numerous settings that will make your music videos look fantastic.
Overview of Features
The D750 is a medium-sized DSLR that's lighter than much of its competition. It looks similar to the D750, but some buttons like the one for switching from photo to video were moved to make them more easily accessible. Lack of an internal flash is the greatest physical difference. The sacrifice was worth it, though, as the D780 has a tighter weather seal.
Internally, the camera has received a more significant overhaul. Its 35mm sensor sports the newest advances, including backlighting and dual-gain pixels that reduce noise at high ISO. The new processor can handle supersampled 4K at 30fps. Autofocus has seen the most significant improvements. It can now reliably track faces in video mode, even when the performer is giving it her all on a dimly-lit stage.
The new 3.2-inch screen is touch-sensitive and can be tilted for more convenient video capture from difficult angles. There are almost 300 AF points you can tap on it if face detection doesn't suit the scene. The menu system is logically laid out and helped by an I-menu button for hard-to-reach favorites. The D780 lets you keep separate settings for photos and videos. These include auto ISO, color balance, and even the entire layout of the i-menu.
The D750's video quality is outstanding. It takes advantage of the35mm sensor's entire diagonal to deliver 6K footage in 4K format. This preserves more detail and makes the result much sharper. 1080p footage is a cut above most competitors too and can be shot at 120fps for slow-motion segments. The D780 offers many filmmaker tools like zebra stripes, focus peaking, timecodes, and a wind noise filter.
The camera supports 10-bit output to an external recorder through HDMI. You can capture footage either in Hybrid Log Gama or leave it in a flat profile and do the color grading in post. There are jacks for headphones and a mic, so you can monitor and record high-quality audio if you don't want to pair the video with the song's studio version.
What We Didn't Like
The D780's video drawbacks are negligible. It doesn't come with optical image stabilization. Still, electronic IS does an excellent job of minimizing shake at the cost of a slight crop. Shooting in 4K results in noticeable rolling shutter. Lowering the resolution to 1080p or applying a DX crop helps, though.
Tech Specs
Dimensions: 5.6 x 4.5 x 3 in.
Weight: 29.6 oz.
Type: DSLR
Sensor: 35mm
ISO range: 100 – 51,200
Max still resolution: 24.5 MP
Max video resolution: 4K, 30fps
The Pros
Fantastic video quality
Separate control settings for photos and video
Accurate subject tracking
10-bit video output and a choice of log profiles
The Cons
Some rolling shutter when in 4K mode
No in-body image stabilization
2. Best Value – Panasonic Lumix GH5
View on Amazon
Editor's Rating: 4.4/5
Lopsided isn't a term you'd normally use to describe a camera, but that's just what the GH5 is. There are cheaper options that offer much more for photographers, but the GH5 far outclasses similarly priced competitors when it comes to video quality. It's supremely comfortable and customizable, offers a slew of video modes, and lets you enhance audio by providing XLR input.
Overview of Features
The GH5 is a compact but bulky camera with an abundance of physical controls. There are dials for settings like mode and drive, six customizable buttons, a focus joystick, and a directional pad that doubles as an audio level adjuster. Control placement is superb, as is the responsiveness of the GH5's vari-angle touchscreen. Expect it to instantly acquire focus or zoom into part of an image with a pinch you'd use on your smartphone.
Autofocus is almost as flexible as the D780's. There are 225 points to choose from with nearly 100-percent coverage. You can either select a single point, clusters of adjacent ones, or several points that resemble a crosshair when honing in on a subject. There's also face detection AF that enables the GH5 to keep pace with complex dance moves and headbanging alike. This is another camera with excellent in-body image stabilization that gets rid of jitters and imparts a more personal feel to the music videos you make.
The GH5 makes some of the best-looking videos you'll ever see on a mirrorless. It can capture 4K footage at 60fps in 16:9 or 30fps a t4:3. The bitrate reaches a staggering 400Mbps, which is why the GH5 has two UHS-II card slots. There's no recording limit either since the camera doesn't overheat. It records 10-bit color natively and also puts it out to recorders that support ProRes. Compared to the GH4, noise reduction and especially rolling shutter are much improved.
Three color profiles are at your disposal. One is meant for usable footage straight out of the GH5 while the other two allow for varying dynamic range in your editing program of choice. A camera like the GH5 wouldn't be complete without audio in & out jacks, but it ups the ante by also being compatible with an XLR input adapter for the best audio quality and most minute level adjustment.
What's Bad About It?
The GH5 has a four-thirds sensor, which puts it at a disadvantage in low light. It performs better than the GH4, but noise starts to become a problem at higher ISO levels. Slow-motion shots at 1080p have a maximum framerate of 180fps. While impressively slow, this kind of footage loses on quality when compared to 1080p at more common speeds.
Tech Specs
Dimensions: 5.5 x 3.9 x 3.4 in.
Weight: 25.6 oz.
Type: Mirrorless
Sensor: 4/3
ISO range: 200 – 25,600
Max still resolution: 20.3 MP
Max video resolution: 4096×2160, 24fps
4K, 60fps
The Pros
Impressive set of video features at a reasonable price
XLR input along with audio in & out jacks
Achieves high frame-and bitrates at various resolutions
Supports two UHS-II cards
The Cons
Low-light performance not on par with full-frame rivals
Drop in quality when shooting in super slow-motion
3. Sony a7 III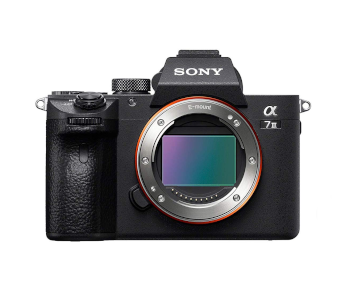 View on Amazon
Editor's Rating: 4.6/5
The a7 III is Sony's least expensive full-frame DSLR. As such, it appeals to enthusiasts and professional videographers alike. A large battery, two memory card slots, excellent low-light performance, and image stabilizations are at the top of its feature list. The camera is so good that we'll even forgive Sony for their convoluted menus as customizable buttons and the My Menu make them more manageable.
Overview of Features
The a7 III is another large and well-designed DSLR. It's heavier than the D780 but equally easy to grip, plus it has more room for controls. The camera's real-estate has been used up cleverly. There are dials on the top, in the back, and above the handgrip. They're accompanied by buttons for the shutter release and delete along with a D-pad that adjusts the ISO, drive, and display. You can customize three buttons and populate My Menu with settings you often use.
The Dual Pixel system is at the heart of the a7 III's autofocus. It is renowned for quickness and accuracy and able to lock on to subjects in less than a tenth of a second. Lowering the light doesn't slow it down considerably either since the AF can recognize your star singer in terrible lighting in less than half a second. Conversely, the tiltable touchscreen does very well in bright light, so you can use it to shift focus points in any situation quickly.
The a7 III's maximum video resolution is 4K at either 30 or 24p with a bitrate of 60 or 100Mnps. Low-light performance is outstanding – you can shoot at any of the camera's supported ISO settings and get usable results, while noiseless videos are a matter of course at values as high as 6,400! Wind noise isn't handled as well as the visual kind, so your best bet is to plug in an external microphone and some monitoring headphones.
This camera is an excellent choice if you're into in-depth adjustment of a music video's final look. It has a serviceable Standard profile that makes for vivid and lifelike footage. However, the a7 III also offers S-Log 2 and 3 along with several cinematic profiles that wonderfully set the scene and convey emotion. Ditching the tripod and making dynamic pans or tilts is also an option since the camera has outstanding image stabilization.
Are There Drawbacks?
Sony needs to rethink its menu design philosophy. Segmentation for photos and videos helps, as do the custom buttons and My Menu. Even so, getting to certain options can be an unintuitive slog. There are two memory card slots, but only one is UHS-II compatible.
Tech Specs
Dimensions: 5 x 3.8 x 2.9 in.
Weight: 33.3 oz.
Type: DSLR
Sensor: 35mm
ISO range: 100 – 51,200
Max still resolution: 24.2 MP
Max video resolution: 4K, 30fps
The Pros
Outstanding low-light performance
Abundance of natural and cinematic video profiles
Quick autofocus
Great handling and build quality
The Cons
Menus are confusing and vast
Only one SD card slot supports the quickest transfer speeds
4. Nikon Z6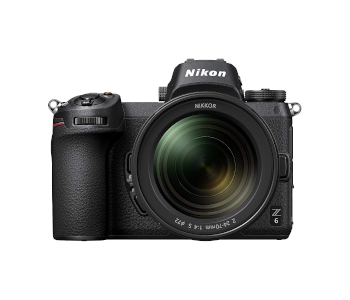 View on Amazon
Editor's Rating: 4.5/5
The Z6 came out in 2018 and is a hybrid still & video camera whose video features the D780 borrowed from and refined. It goes toe-to-toe with the a7III, meaning it's a superb video camera with versatile autofocus, great image output, and a slew of features aimed at the discerning videographer. It's the camera to get if you're impressed with the D780 but don't want to spend more than $2,000.
Overview of Features
The Z6 might be a year and a half old, but it's still among the best-built mirrorless cameras out there. You'll be glad you took it when filming on location as the Z6 is impervious to the elements. It doesn't have as many physical controls as the a7 III. Still, they're positioned to be within easy reach, and many pull double duty. The mode dial locks automatically and moves only when pressed. You may repurpose the focus ring on a lens to adjust other settings if you don't need to focus manually.
An abundance of screens is another intriguing physical feature. The viewfinder is one of the nest in the business, sporting 80-percent coverage and 3.7-million dots. Then there's the tiltable touchscreen along with a small OLED screen on top that lets you check out current settings, battery life, and other useful info. A proximity sensor tells the Z6 when your eye is close to the viewfinder. The touchscreen will then become completely inactive or go black while retaining its functionality, depending on which of the four settings you choose.
The Z6 uses a hybrid autofocus system with phase detection that was moved onto the sensor. It's able to gauge a subject's distance and adapt the focus to compensate for movement. AF does need to hunt in low light occasionally, but the issue isn't severe. Best of all, the Z6 has no trouble locking on to people who wear glasses, so there's no need to sacrifice your star's signature look for better video quality.
Speaking of which, the Z6 is among the finest video cameras in the sub-$2,000 range. It records 4K at 30, 25, and 24 fps while 1080p bumps the framerate to 120fps. Video and photo settings on the Z6 are saved to separate profiles, but you can have video match your photo presets. The Z6's video option menus include an assortment of basic and advanced settings. The most prominent are time codes, zebra stripes, adjustments to tracking sensitivity & AF speeds, and audio level adjustment.
What We Didn't Like
The Z format has a limited lens selection, which may have an impact on your artistic choices. Some controls are placed in a way that makes them easy to activate accidentally. For example, the focus joystick sits next to the thumb rest and might change your focus point if bumped accidentally.
Tech Specs
Dimensions: 5.3 x 4 x 2.7 in.
Weight: 41.4 oz.
Type: Mirrorless
Sensor: 35mm
ISO range: 100 – 51,200
Max still resolution: 24.5 MP
Max video resolution: 4K, 30fps
The Pros
Versatile autofocus
Excellent build quality
Advanced viewfinder and touchscreen
Abundance of advanced video options
The Cons
It's easy to activate some physical controls accidentally
Small lens selection might limit creativity
5. Panasonic LUMIX G95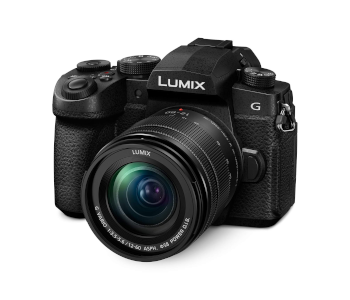 View on Amazon
Editor's Rating: 4.3/5
Is your budget not high enough for the D7800? How about a camera that shares many of its features yet costs less than $1,000? Its name is Panasonic Lumix G95, and it's a mid-range mirrorless model focused on giving you the best video quality in its price range. The camera is well-built, has excellent image stabilization, and can record as long as there's memory to spare.
Overview of Features
Even though it's mirrorless, the G95 adopts a DSLR style you'll recognize thanks to a central OLED viewfinder. It's a pleasure to hold and operate one-handed as there's a deep grip textured with leather. All the physical controls are spaced out well and big enough for clear labels. The dials are coarse yet responsive, perfect for a hands-on approach to recording. You won't be disappointed if you depend on the LCD either as it's a vari-angle touchscreen that flips to the side.
Panasonic uses tried & true depth-from-defocus to acquire subjects quickly and keep them sharp. There are numerous AF combinations at your disposal, including face & eye detection, single-point, or area AF. The G95 also comes with Dual IS II, a 5-axis optical image stabilization system that can compensate for an impressive five shutter speed stops.
Video is shot in UHD 4K at 30, 5, or 24 fps, so world-wide syndication isn't a problem. Slow-motion is supported in 1080p, albeit in a dedicated mode with few customization options. 4K footage is slightly cropped but retains great quality. The color balance is on point, and the G95 covers twelve stops of dynamic range for impressive detail recovery. It comes with the V-Log L profile that looks flat and dull but captures a broad range of detail that you can bring out during editing.
The G95 can put 4:2:2 8-bit video onto external recorders. It also has headphone & microphone jacks. Finally, the G90 has several 4K modes that add special effects to your music videos. We liked sequence composition the most as it takes several images and creates a composite with the subject occupying different positions at the same time.
What's Bad About It?
Face detection autofocus doesn't let you switch between faces. This could be a problem if you're filming a band and want to jump between members during the same shot. 4K video has a crop of 1.25x, which has an impact on lens selection. You'll have to use lenses with a focal length of 10-14mm if you want wide-angle shots.
Tech Specs
Dimensions: 5.1 x 3.7 x 3 in.
Weight: 26.3 oz.
Type: Mirrorless
Sensor: 4/3
ISO range: 200 – 25,600
Max still resolution: 20.3 MP
Max video resolution: 4K, 30fps
The Pros
Excellent value for the money
Great build quality and control scheme
Lots of AF options
Superb IBIS
The Cons
Can't switch focus between faces
4K crop limits use of wide-angle shots
6. Best Budget Option – Sony Alpha A6100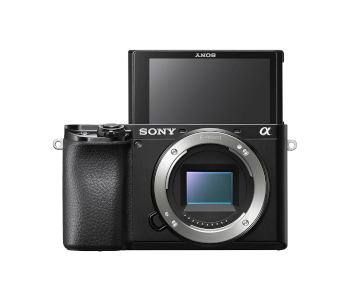 View on Amazon
Editor's Rating: 4.4/5
You don't need to pay top dollar to film your band's music video when some creativity and an affordable camera like the a6100 will do just fine. The successor to the best-selling a6000 is an improvement across the board, most notably adding 4K video support and upping autofocus to lightning-fast levels. Understandably, the a6100 doesn't perform on the level you'd get from more expensive models. Still, what you get for its asking price makes this the perfect entry camera for anyone interested in music video making.
Overview of Features
The a6100 is the smallest and lightest mirrorless camera on review. It is made from plastic with a rubberized grip and has a simplified control scheme that doesn't intimidate beginners. The viewfinder is positioned all the way to the right, so accidentally pressing the screen with your nose won't be an issue. Speaking of the screen, it is touch-operated and tilts forward 180 degrees. Perfect for vlogs, but also for artists who make their own music videos.
Sony's implementation of the newest generation BIONZ X processor and Exmor APS-C sensor sees the a6100 getting significant autofocus and video improvements over its predecessor. Lock-on speed is an impressive 0.02 seconds when shooting stills, while video mode AF isn't much slower. You can't focus on the eyes of people and animals when filming, but continuous and face detection AF works reliably in bright and dim light.
The a6100 received a bump in video quality and can now capture footage at 4K and up to 30fps. Reaching the maximum framerate incurs a crop, but the a6000 uses its sensor to the fullest if you're going for the cinematic look. Sony wants you to make detailed videos, which is why options like quality and a toggle between time-lapse and slow-motion are easily accessible. There are no editable log profiles, but you do get a microphone jack.
Are There Drawbacks?
This isn't a camera suitable for handheld video recording. On the one hand, it exhibits a pronounced rolling shutter when moved rapidly. On the other, filming in 4K makes the a6100 run hot. Unlike Panasonic's cameras, switching autofocus in video mode does the same in photo mode. Subject tracking for videos is so good that you'll want to keep it on all the time, meaning you'll have to switch back to your AF of choice for photography.
Tech Specs
Dimensions: 4.7 x 2.6 x 2.3 in.
Weight: 18.1 oz.
Type: Mirrorless
Sensor: APS-C
ISO range: 100 – 32,000
Max still resolution: 24.2 MP
Max video resolution: 4K, 30fps
The Pros
Fantastic autofocus for photos and videos alike
Tiltable touchscreen
Detailed, uncropped 4K video at 24fps
Beginner-friendly controls
The Cons
Video and photo settings aren't separate
Visible rolling shutter when not on a tripod