5 Best Nanny Cams of 2019
3D Insider is ad supported and earns money from clicks and other ways.
In a perfect world, parents would not have to entrust their young children to strangers while they go off to do their jobs. However, today's world is far from perfect, and households where both parents need to leave their children for work have become incredibly common.
If you can relate to this situation, the good news is that technology will allow you to keep an eye on your children even while you are away. With a wide range of nanny cams available on the market today, you can watch over how your nanny takes care of your children in real-time, or even talk to them when needed. Check out our buying guide for nanny cams below:
What should you look for in a nanny cam?
While most indoor security cameras can also double as a nanny cam, keeping an eye on your children may require a few special features. To make sure that you get exactly the type of nanny cam you need, then here are the specs you should consider.
1. Video (and audio) quality
What's the point of getting a nanny cam if you can't clearly see the details of the video? Fortunately, most security cams nowadays can record footage at a 1080p Full HD resolution. This should be good enough for you to recognizes faces and small details of any video captured in a reasonably sized room. Anything below this resolution is unacceptable while going as high as 4K might be unnecessarily expensive.
Some security cams also have two-way communication features which will allow you to talk to your children while you are away. This sounds great on paper, but we recommend that you give it a test before you buy that nanny cam, as you need to make sure that the audio is clear on both sides.
2. Streaming and storage
When it comes to keeping an eye on your kids, we're advocates of pulling out all the stops. Thus, we recommend getting a nanny cam that offers real-time streaming through your mobile phone and supports both cloud-based storage and local storage on an SD card.
This might set you back quite a bit, especially if you need to pay for a subscription-based cloud storage service. However, getting all these backup options also means that any footage that gets recorded by your nanny cam is safe and cannot be tampered with.
3. Size and design
Some parents might prefer keeping their nanny cams hidden or "disguised," which means integrating them into everyday objects. There are nanny cams that are deliberately designed for this purpose. You could also opt for super-small nanny cams that can be mounted on hidden corners, or under a pile of other objects. Of course, even your kids might not know that you have installed these types of nanny cams in your house, so use them with extreme caution.
4. Smart features
Advanced features are what sets different security cameras and nanny cams from each other. There are models which offer the option of triggering an alarm or a push notification to your phone if they detect the sounds of a baby crying, while some have facial recognition technology that can detect if a stranger has entered your house. You can even choose a model which has a feature that lets you call for emergency response, should the situation call for it. When it comes to this aspect, your preference will depend heavily on your circumstance and what kind of situation you'd like to be prepared for.
The top 5 best nanny cams in 2019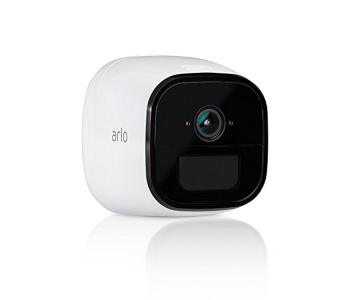 Although home security is a priority, keeping your family safe isn't just exclusive to your home. If you're going on a long trip with your kids, you might want to have the means to keep an eye on them all the time. That is the unique value of the Arlo Go Mobile Security Camera: it doesn't work with a Wi-Fi connection, but also with 4G-LTE and 3G wireless networks.
Since it's not limited by the need for a Wi-Fi network, the Arlo Go is the ultimate security camera in terms of mounting options. You can install it on some remote cabin, out in your front yard, or at a campsite. It has night vision up to 25 feet and water-resistant construction, making the Arlo Go especially suited for outdoor conditions.
Arlo also offers a free 7-day cloud connection which automatically rolls over when the capacity has been reached. Should the Internet connection somehow fail, the Arlo Go switches over to local storage on an equipped SD card.
What makes the Arlo Go an excellent choice for a nanny cam, aside from its excellent features, is how small it is. You can easily install this camera tucked between pieces of furniture or hidden behind books or picture frames. You can quickly check in on your kids with the real-time video streaming function or call their attention when absolutely necessary with two-way audio.
The richness of features of the Arlo Go comes at a steep price: it is easily the most expensive nanny cam out of all the cameras in this list. However, if you can foresee needing a security camera in a place where you won't have Wi-Fi service, you'll just have to swallow the pill and get this high-end model. In any case, we're sure you won't end up regretting the decision.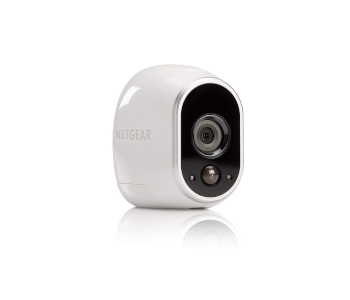 If you'd like a more budget-friendly nanny cam that doesn't skimp too much on the features, then you can opt for the standard Arlo Wireless Home Security Camera. Obviously, this camera doesn't feature the 4G-LTE connectivity that the Mobile version does, but it offers exactly the same experience with a Wi-Fi connection. It also has the option of storing videos locally on an SD card.
The wire-free design and the small size of the Arlo camera make it easy to install in hidden places. The requires base station comes included with this bundle, which opens up the possibility of adding more Arlo cameras for a more extensive security system at your home.
Arlo has a couple of smart features that you can access through the Arlo mobile app. You can enable facial recognition, adjust the sensitivity of motion detection, set specific motion zones, or contact emergency response if needed. The camera can also send alerts and notifications through the app, as well as stream real-time video.
The standard Arlo meets expectations as a security camera – nothing more. It does not have any audio capabilities, so you're not going to hear if your baby is crying or if your home's smoke alarm has been triggered. What's more inconvenient is that the Arlo camera only works with non-rechargeable CR123 Photo batteries. Not only does replacing batteries frequently get expensive over the long run, but it's definitely not an environmentally friendly practice.
The standard Arlo camera bundle with the base station is a very good option for a mid-priced security camera that can double as a nanny cam. There are a couple of glaring limitations to its features, but it works well enough as a standard security camera.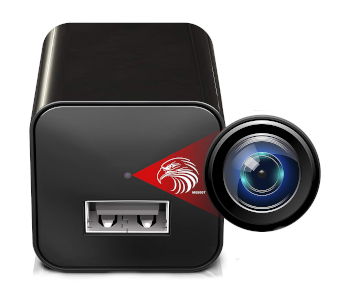 Aside from the fact that the DIVINEEAGLE is, by far, the cheapest security camera we have on this list, it's also incredibly easy to hide. The DIVINEEAGLE Spy Camera is essentially a camera that is disguised as a charging adapter. Since it can be plugged into an electrical outlet, this spy camera can record 24/7 without you having to worry about a battery running out.
The spy camera can record 1080p HD video and has a motion detector which can trigger the recording function. Of course, there's only so much tech that you can fit into a camera of this size. It records no audio, has no night vision, and cannot connect to the Internet. This means that it offers no real-time video streaming or cloud storage capabilities. Instead, all of the footage is saved in a microSD card that's cleverly hidden behind a sticker panel.
The 90-degree field of view of the camera is also quite limited, so you'll have to be very strategic about where you position this camera. To maintain the illusion, this is also a functioning power adapter for charging any device using a USB cable.
The DIVINEEAGLE spy camera isn't the most sophisticated security camera out there, but it's very discreet and really cheap. If you need to record videos around your house without anyone knowing, then you might want to give this product a shot.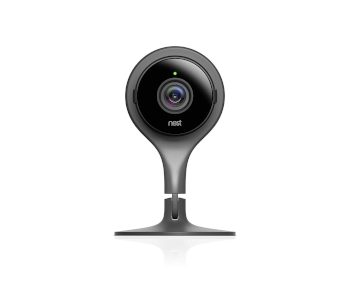 Nest is such a well-known brand in the field of security cameras that you might be wondering how this basic 1-camera bundle isn't ranked higher in this list. Based on features alone, it's a pretty impressive security camera. It's a small and light camera which be set up anywhere using the built-in magnet or the accompanying stand. It's easy to set up and pair with your phone through the Nest mobile app. It even has a two-way audio feature and industry-best night vision performance.
The major reason for why we are docking points from the Nest security camera is their forced-subscription scheme. Without an active Nest Aware subscription, most of the useful features of the Nest security camera are disabled. Since the subscription fee adds up for each Nest device in your home, having multiple Nest security cameras can get expensive pretty quickly.
If the monthly fees for the Nest Aware service are well within your budget, then this shouldn't be too much of a problem. Having a Nest security system is still one of the best decisions you could make for your household because of how sophisticated their Person Alerts and Activity Alerts are. They were also designed to be integrated easily into most smart home platforms.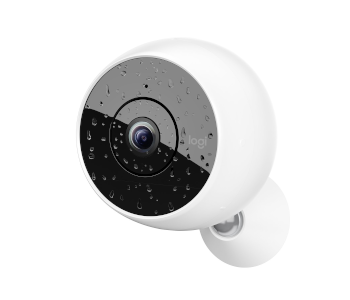 The last entry in this list comes from long-time tech trailblazer Logitech, who are offering a pretty affordable wireless security camera with a set of impressive features. Since it's completely wireless, you can install this security camera anywhere – screw it onto a wall, stick it to a window with the optional suction mount, or simply place it on top of a desk. The design isn't exactly discreet, but this security camera seems to be meant to stand out.
Logitech offers an optional paid service for their security camera that gives you access to more advanced features like a custom time-lapse video for each day, more cloud storage space, Person Detection, and custom motion zones. When you buy a camera, it comes with a 10-day trial for this service, just so you'll know if it works for you.
Even if you opt-out of the paid service, the Logitech security camera still holds up on its own. It has a motion-triggered recording function which extends the life of its rechargeable battery. You also have the option of having the camera send a 'snapshot' along with a push notification every time the motion detector is triggered.
The main reason for why the Logitech wireless security camera isn't ranked higher on this list is its sub-par battery performance. Even with motion-triggered recording, the battery of the Logitech Circle can only last between three to five days before it needs to be recharged. This can be problematic if you need to go on a long trip since it doesn't have any provision for plugging into an electrical outlet.
If all you need is a nanny cam that you can afford to recharge every few days, then the Logitech Circle is a good, middle-priced option. It's far from being the best, especially when compared side-to-side with Arlo and Nest products.
Final thoughts
Nanny cams provide invaluable help to modern-day parents who are compelled to leave their kids behind regularly because of work. Fortunately, there's a wide range of nanny cams in the market for all budgets and with varying sets of features. Whether you want to have a way to communicate with your kids, alert emergency services, or simply keep an eye on them, a good nanny cam is an investment that can give you priceless peace of mind.