Natural Machines Wants To Print Your Next Meal
3D Insider is ad supported and earns money from clicks and other ways.
We've already seen a 3D printer create a pizza and NASA is now funding 3D printed food, but a startup wants to bring those ideas straight to your kitchen. Natural Machines' Foodini 3D printer is currently in its prototype stage, but it can already produce a number of food products, including a cheeseburger, chocolate and ravioli.
Co-founder of Barcelona-Natural Machines, Lynette Kucsma, told smithsonianmag.com, "Its function is more like food assembly, so it's important to not confuse what it does with actual cooking," said the former Microsoft employee. "It's probably most ideal for deserts or dishes with a meat or cheese paste, like ravioli. But even then it can be useful with many different kinds of food."
The idea of Foodini stemmed from an event where Kucsma went to try out current Natural Machines' chief executive Emilio Sepulveda's cake and chocolate 3D printer. She thought she could develop the idea further and make an alternative that could produce healthy food. Foodini is designed to encourage more people to eat healthy and allows them to quickly produce meals.
"I'd say people would love a eat a home-cooked meal made with nothing but the freshest ingredients, but it's a lot of work," she says. "The dilemma is that many people feel its only worth the time and energy to whip up a big batch of something if they can continue eating the leftovers for days without getting tired of it. That's enough so that it can deter most people from doing it."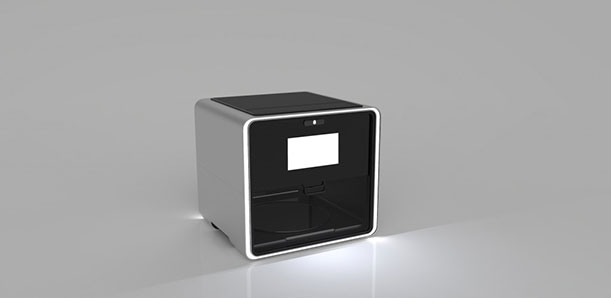 Rather than modifying a traditional 3D printer, Natural Machines has built the Foodini from the ground up to be a food 3D printer. Foodini contains six food capsules that hold different materials, these are then squeezed out onto a print bed at different pressure rates and temperatures. A heated bed will prevent the food from becoming cold and a sleek enclosure will make Foodini blend in with other kitchen appliances.
Wi-Fi will be included with the printer so that users can receive updates to Foodini. Natural Machines has also developed specialized software that is controlled via a touchscreen interface.  The team behind the software has designed it with ease of use in mind and they claim it is easy to use as your smartphone. An online community similar to Thingiverse will eventually be built up and it will allow users to share Recipes.
Foodini is currently in the process of being approved by the FDA. Natural Machines has started taking pre-orders for Foodini, which starts at $1,366 and the company hopes the printers will be ready by the middle of next year.
http://www.youtube.com/watch?v=Jft4TMC02ss
Source: smithsonianmag.com
Warning; 3D printers should never be left unattended. They can pose a firesafety hazard.