Nest 2nd Gen vs. 3rd Gen – Which Smart Thermostat Should You Buy?
3D Insider is ad supported and earns money from clicks and other ways.
For the longest time, the smart home was a technological fantasy reserved for the wealthy and tech-savvy. 2011 marked the release of the Nest Learning Thermostat, the first widely-accepted smart device that was to have a profound impact on how we view and use the Internet of Things in our home. Owners were happy with its straightforward installation process and being able to adjust its schedule from their smartphones effortlessly. However, its real potential was in connecting to other devices and becoming part of sophisticated home automation.
Nest continues to improve upon the original Learning Thermostat and has released two new generations since. Which version of the thermostat should you buy though? Is it worth it to upgrade to the 3rd-gen Nest thermostat if you already own the 2nd-gen model? This article gives concrete answers to these questions and highlights the similarities & differences between the two. The table below provides an overview of all the thermostats' features, and you can read up on each to make your choice easier.
| | Nest Learning Thermostat 2nd gen | Nest Learning Thermostat 3rd gen |
| --- | --- | --- |
| Dimensions | 3.27 x 3.27 x 1.26 in. | 3.3 x 3.3 x 1.21 in. |
| Sensors | Temperature, humidity, ambient light, near & far-field activity | Temperature, humidity, ambient light, near & far-field activity, Farsight |
| External temperature sensors | No | Yes |
| Supported Wi-Fi frequencies | 2.4GHz | 2.4GHz, 5GHz |
| Bluetooth | No | Yes, BLE |
| Screen resolution | 320 x 320 | 480 x 480 |
| Automatic scheduling | Yes | Yes |
| Energy history | Yes | Yes |
| Monthly reports | Yes | Yes |
| Amazon Alexa & Google Assistant support | Yes | Yes |
| Furnace heads-up | No | Yes |
| Time-to-temperature | No | Yes |
| Cool to dry | Yes | Yes |
| Safety alerts | Yes | Yes |
| Sunblock | Yes | Yes |
| Filter reminders | Yes | Yes |
| Auto-away | Yes | Yes |
| Check Price | Amazon | Amazon |
What do the two Nest thermostats have in common?
Ease of installation
Even though it supports more HVAC systems than the original, the 2nd-gen Nest is easier to install. The installation process remains the same for the 3rd-gen model – you need to remove the old thermostat, screw in the Nest base, connect the corresponding wires, and attach the display. You get everything you need for the installation including a screwdriver & screws as part of the package. A detailed instruction manual is also provided, and Nest has a video tutorial you can watch if you get stuck.
Automatic & manual scheduling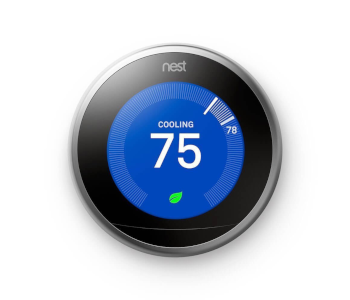 Nest's biggest advantage over the competition is its ability to observe your behavior and come up with an optimized schedule after a few days. The technology behind this process is called Nest Sense. It takes into account info gathered by the thermostat's sensors and external weather data through Wi-Fi.
You can use Nest thermostats like traditional programmable models too or switch off automatic scheduling altogether. This is particularly useful when there's an irregular circumstance like a vacation or if your family's habits change. Manual programming allows you to set cooling or heating start & end times for the whole week.
Early-on
Scheduling doesn't take pre-heating times into account. If you set the thermostat to start heating at 7 AM, you'll have to wait a while before it gets toasty. Enabling Early-on allows the thermostat to start the HVAC before its scheduled time and bring the temperature to your desired level before the schedule begins. Keep in mind that Early-on works only while there's someone at home and you haven't set the thermostat to operate in Eco mode.
Energy history
Nest keeps a detailed history of your energy usage habits over the last ten days. You can access the energy history report either in a simplified form on the thermostat's screen or view the standard version in the app. Energy history displays when heating or cooling is active and for how long.
Monthly reports
Monthly reports offer additional insight into your habits and expenses. They're part of Nest's monthly email and may be accompanied by other data if you have other Nest products. The section about thermostats shows how many hours the heating or cooling was on this month and compares it to last month's results. You also get an explanation of the changes that takes into account weather, the frequency with which you used the Away mode, and any manual changes you made to the schedule.
Amazon Alexa & Google Assistant support
Both Nest thermostats respond to verbal commands you give to Alexa or the Google Assistant. Setting the thermostats up for voice control involves adding them to the Google Assistant's list of devices or downloading the corresponding Alexa Skill. Both assistants will ask you to give the thermostat a name. You can then ask them to tell you the current temperature as well as change it to a set value and raise or lower the temperature incrementally.
Smart home integration
Nest thermostats are among the most diverse when it comes to smart home integration. Apart from working with voice assistants, they're compatible with leading smart home hubs like Samsung SmartThings and the Wink Hub. They accept commands through IFTTT as well. Apple's HomeKit is the only major smart home platform supported by neither thermostat.
Auto-away
Auto-away is Nest's most effective energy-saving tool. Both thermostats have motion sensors that detect people's presence in the house. They also connect to your phone to determine its location. When the thermostats don't detect any movement for a while and your phone isn't in range, they go into Eco mode. This taxes the HVAC system much less and leads to considerable annual savings. You can have the thermostats handle the minimum and maximum temperature for Auto-away mode or set it yourself from the Nest app.
Nest Leaf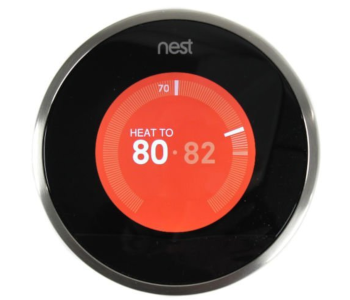 Nest Leaf is an icon that appears on the thermostat's screen when you're consciously saving energy. Once the thermostats learn your habits, it won't show up unless you decide you want to lower the temperature by a few degrees in winter or raise it in summer. When the leaf does appear after you've made manual adjustments, you know you can look forward to a lower power bill.
Airwave
Cold air is heavy and tends to stay at the bottom of your air vents & near the evaporator. This forces the AC to work harder while the cold air is going to waste. Nest thermostats recognize this problem and periodically shut off the AC. However, the ventilation fans keep running and delivering cold air where it's needed.
Cool to dry
Cool to dry tackles excess humidity by engaging your AC or heat pump. Both produce dry air which lowers overall humidity when introduced into your home. Cool to dry is useful for homes whose AC systems don't have dehumidifiers. Running it can get expensive though if you're forced to run the AC in winter or the heat pump in summer.
Filter reminders
Your HVAC's air filter needs changing every so often to keep working correctly. Standard thermostats have fixed filter reminder schedules and will tell you a change is necessary regardless of how much the system is actually in use. Nest thermostats track HVAC usage, so the frequency with which you receive filter reminders depends on your habits.
Sunblock
Your thermostat's sensors may register readings that are several degrees higher than the room's actual temperature if it's exposed to sunlight. That causes HVAC adjustments based on false readings, which leads to discomfort and needlessly high power bills. Nest thermostats come with ambient light sensors that react when exposed to sunlight. These along with sunrise & sunset information received through Wi-Fi allow the thermostats to compensate and keep the house temperate.
While both thermostats have the Sunblock feature, it is more reliable and responsive in the newer version.
Safety alerts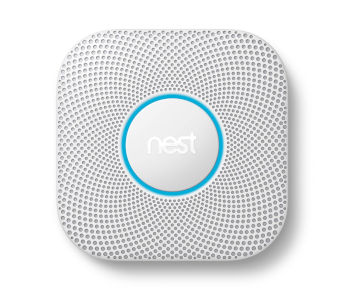 Your HVAC will do its best to maintain a comfortable temperature, but it may not be able to keep up in extreme conditions. You can set minimum and maximum temperatures and get notified when these are exceeded. Nest thermostats automatically turn the heating or AC on when the temperature starts approaching dangerous levels, even if this isn't part of the schedule. You also get notifications so you can take more aggressive measures if the HVAC can't handle the situation on its own.
Safety alerts get more versatile if you own a Nest Protect smoke alarm as smoke and carbon monoxide warnings show up on the thermostat's screen too. More importantly, connecting the Protect enables emergency shutoff, which turns off ventilation fans to help contain reported hazards.
Heat Link
Heat Link is an accessory that ships with Nest thermostats for European users and controls your heating system. A standard programmer sets your heating to a schedule without taking temperature into account. Heat Link communicates with the Nest Learning Thermostat and uses its readings to maintain the desired temperature.
What are the differences between Nest thermostats?
Appearance & screen size
The differences in appearance between the two thermostats are mostly cosmetic. The 2nd-gen model was 20 percent smaller than the original while the 3rd-gen Nest has a slightly bigger diameter because of its larger screen. You control both thermostats by rotating the dial. The 2nd-gen's dial is only available in silver. You get to choose between silver, copper, black, and white if you buy the 3r-gen model.
The biggest difference appearance-wise is the screen. The 3rd-gen Nest has a bigger screen with a resolution of 480 x 480 pixels. While the information both screens display is the same, reading the temperature or adjusting settings is much more comfortable on the newer thermostat.
Wireless connectivity
The 2nd-gen Nest only connects through 2.4GHz Wi-Fi. Its successor accepts 5GHz Wi-Fi too and uses Bluetooth Low Energy to communicate with external temperature sensors.
Farsight
Farsight is a 3rd-gen nest exclusive feature that changes the format of information displayed on the screen based on your proximity to it. The Farsight sensor has a range of 20 feet. The thermostat remains in sleep mode to save energy if you're farther away than that but starts to display information that's easy to read from afar once you're in range. You may turn Farsight off, in which case the thermostat will light up once you're within 3 feet from it.
You can choose to display the current or target temperature, an analog or digital clock, or the weather. Each screen provides additional information once you get closer. The temperature screens will turn into a general overview showing both temperatures and whether the system is in cooling or heating mode. The clocks start to display the current date, and the weather screen starts showing a 3-day forecast.
External temperature sensors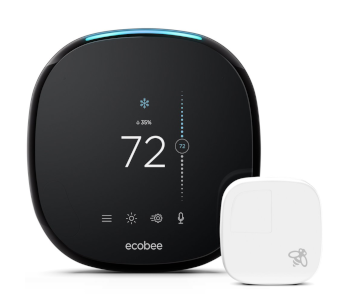 The introduction of the Nest Temperature Sensor was the most exciting reveal since the 3rd-gen's release as this addition finally put it on par with competition like ecobee. Having a separate sensor lets you adjust the temperature based on the readings from any room in the house, not just the hallway or kitchen where the thermostat resides.
The sensor is a white, puck-like device that's effortless to set up. All you need to do is remove a protective piece of tape from the battery compartment and pair the sensor with the Nest app. You can mount the sensor onto a wall thanks to a peg or place it horizontally. A single battery powers the sensor for two years.
Temperature is the only measured parameter, but this is enough to allow for in-depth scheduling customization. You can connect a maximum of six sensors per thermostat. Any of them can then be assigned as the primary sensor for a fixed time block.
Time-to-temperature
Time-to-temperature is a feature that supplements the 3rd-gen Nest's Early-on. It shows you how much time is left until the target temperature is reached.
Furnace heads-up
Your forced-air heating system has built-in safeguards that ensure the fuel shuts off and prevents overheating. These systems don't take into account intermittent power loss, though. Furnace heads-up analyzes your heating system to detect sudden power drops. A notification is sent to your phone and displayed on the thermostat's screen if this starts to happen. You can dismiss these notifications, check out Nest's troubleshooting guide, or get in contact with a certified professional who will help you resolve the issue.
Conclusion
Should you get a Nest Learning Thermostat? If you're upgrading from a traditional thermostat – definitely! The 3rd-gen thermostat is our model of choice for first-time buyers. It has a larger screen, additional safety & notification features, and can be controlled with more precision thanks to portable sensors. That being said, owners of the 2nd-gen model shouldn't feel the need to upgrade. The features introduced with the 3rd-gen thermostat are nice to have but don't make it considerably more useful than its predecessor.
Would you like a Nest thermostat but find the flagship model too expensive? In that case, consider the Nest Thermostat E. Nest's newest thermostat is a less expensive model with a lower quality screen and reduced HVAC system compatibility. Nevertheless, it has the same learning capabilities as its cousins and costs considerably less than either.