5 Best Nest Thermostat Alternatives in 2019
3D Insider is ad supported and earns money from clicks and other ways.
Who would have thought back in 2011 that the release of the Nest Learning Thermostat would turn out to be the spark that home automation needed to get into full swing? A thermostat was the ideal candidate for people to finally start taking smart homes seriously, and the original Nest exceeded all expectations.
Although the terms "smart thermostat" and "Nest" have become practically synonymous, the competition never sleeps! Today there are dozens of smart thermostat models out there that draw attention either with interesting features Nest doesn't have or a more reasonable price.
We've spent some time adjusting our homes' temperatures and tinkering with electrical wires in order to determine which nest alternatives are the best. In this comprehensive guide, you can discover one which fits your preferences, explore in-depth reviews of the top contenders, and read up on what makes a good smart thermostat all in one place.
Budget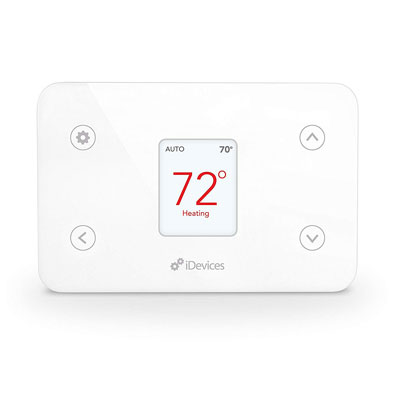 iDevices Thermostat
3.8/5.0
Only has temperature sensors
Simple control scheme. Integrates well with HomeKit.
Check Amazon
Best Value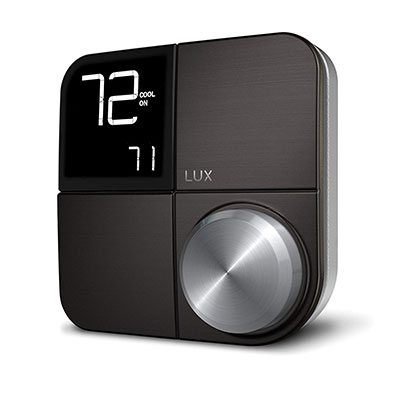 Lux Kono KN-S-MG1
4.6/5.0
Geofencing & away mode
Easy to install and use. Customizable face plate.
Check Amazon
Top Pick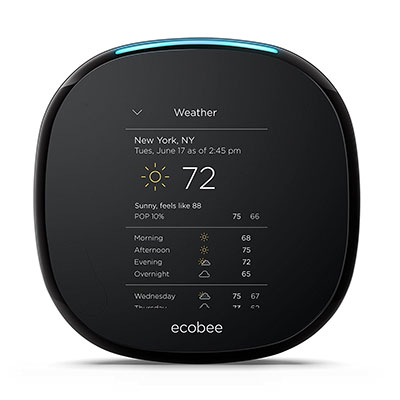 Ecobee4
4.7/5.0
Supports remote sensors
Can control HVAC subsystems. Responsive touchscreen.
Check Amazon
Top 5 Nest Alternatives Comparison Table
1. Ecobee4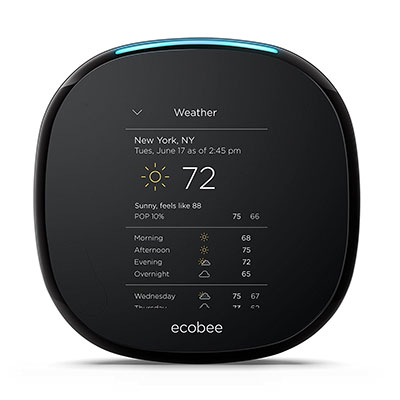 View on Amazon
Editor's Rating: 4.7/5
Ecobee vs. Nest could be considered the PC vs Mac equivalent of the smart thermostat world. Both devices are incredibly sophisticated, look fantastic, and offer a streamlined climate control experience no other models can match. The Ecobee4 is the company's newest model and adds a fully functional Alexa speaker on top of its predecessor's extensive features. It goes toe to toe with the latest Nest, even surpassing it in some areas. It is without question the Nest's most worthy alternative.
A Sense of Superiority
The Ecobee4 integrates completely into almost any HVAC system and even offers support for fans and (de)humidifiers. Older systems lacking a C-wire can be brought into the new millennium as well thanks to a power extender kit which acts as a replacement. The setup is finished once you download the Ecobee app and connect the thermostat to your Wi-Fi, a process which takes only a minute or two on either Android or iOS.
The Ecobee can be controlled directly by manipulating its elegant touchscreen, a mobile or web app, or through voice activation. It doubles as an Alexa speaker as signified by its top LED light, meaning that you can get weather updates, stream music, or listen to corny jokes with a single voice command. It's the smart thermostat with the most varied home automation connectivity options today, supporting not only standards like HomeKit and Google Home, but IFTTT, Wink, and SmartThings too.
One of the things Nest fans were demanding up until recently has been part of the standard Ecobee package for ages– an external sensor. The first one is free, and additional 2-packs can be bought for a reasonable price. They're what gives the Ecobee an edge over practically every other competitor. You can set them up in different rooms and have the thermostat regulate the temperature based on their combined readings. You can even exclude the central unit from the equation if it's in a rarely-used part of the house to create the ideal temperature in the rooms that do matter to you.
Since the Ecobee's remote sensors have motion detection, they can be set up to engage the heating, / AC whenever movement is detected, or start away mode after no one has been active for a while. On top of that, there are standard scheduling features that are easy to get to through the Ecobee's logically laid out apps.
Are There Downsides?
You'll want to pay attention when turning on smart home / away detection. When this mode is active, the sensors will lower the temperature after they haven't detected movement for a while, causing potential discomfort to a family member that's sleeping or working at a computer. If you've already invested in an Ecobee3, the addition of Alexa is definitely not reason enough to upgrade.

Tech Specs
Dimensions: 4.2 x 4.2 x 1 in.
Humidity detection: Yes
Remote sensor support: Yes
Compatible with: Amazon Alexa, Apple HomeKit, Google Home, SmartThings, IFTTT
Geofencing: Yes
Touchscreen: Yes
Shows outside temperature& weather: Yes
The Pros
Supports remote sensors
Has integrated Alexa speaker
Can control HVAC subsystems
Responsive touchscreen
Well-designed app
The Cons
Sensors can act up at times
Little improvement over previous version
2. Lux Kono KN-S-MG1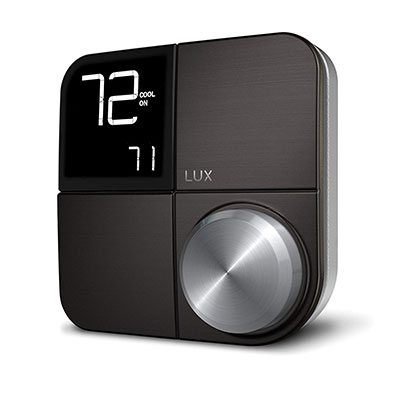 View on Amazon
Editor's Rating: 4.6/5
Kono is a versatile smart thermostat which costs significantly less than a current gen Nest while lacking only some of the more famous device's features you might not be too keen on anyway. Its customizable look, thorough customization options, and straightforward approach to temperature control make the Kono a solid choice, placing it only a step below the Ecobee4 in terms of functionality.
A Thermostat to Make Your Own
The Kono's design is in line with other modern gadgets – functional, clean, and beautiful. Lux has gone a step beyond this by not only offering a number of color options for the faceplate but a blank one you can customize any way you like. In terms of fitting into your home décor, the Kono can't be beaten!
Installing it is a matter of connecting it to various heating and AC wires as well as the C-wire (or using the supplied adapter if your HVAC system doesn't have one) and setting it up to work with the types of pumps and fans you have installed. Once connected, the Kono displays the current and desired temperatures with easy to see white LED numbers. Controlling it on the spot is done by twisting the knob and pressing down on it once you've reached a desired setting.
You can access all of its features either through the Android / iOS app or from a computer. The apps provide an overview of the thermostat(s), allow you to set up geofencing zones or away mode, and give you basic info on how to optimize power saving by keeping rooms at certain temperatures.
HomeKit, Alexa and Google Assistant integrations are there but they're a bit basic. Your system of choice won't be able to tell you the current temperature, but you can still use voice command to lower or raise it.
What We Didn't Like
The Kono does many things right, but it is limited since there are no remote sensors to help you control individual rooms' temperatures with more finesse. Home automation integration is basic, and the device would benefit a lot from supporting IFTTT in the future.

Tech Specs
Dimensions: 4.5 x 4.5 x 1 in.
Humidity detection: Yes
Remote sensor support: No
Compatible with: Amazon Alexa, Apple HomeKit, Google Assistant
Geofencing: Yes
Touchscreen: No
Shows outside temperature& weather: No
The Pros
Great balance of quality and price
Easy to install and use
Customizable faceplate
Geofencing & away mode
The Cons
Mediocre voice activation options
Doesn't support remote sensors
Doesn't support IFTTT
3. Honeywell Lyric T5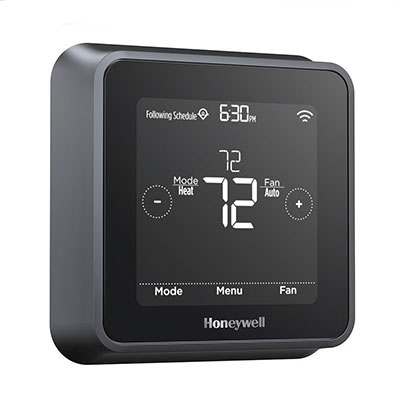 View on Amazon
Editor's Rating: 4.5/5
If you've never had a smart thermostat before for fear of complicated controls and dozens of settings, there are few better than Honeywell's Lyric T5 to ease you into the world of smart home climate control. It gives newcomers the ability to control every aspect of their HVAC system with a few swipes and presses while offering more advanced controls to those willing to learn.
Climate Control Made Easy
What looks like a rounded grayish cube with a large black screen before installation is actually a well-designed thermostat that displays the most important information and settings at a glance. Once you take care of its easy install, the T5 lights up with a monochrome display showing the time and current temperature. Tapping it brings up more detailed info like currently active modes and a menu system that's easy to navigate.
Scheduling operation time is done via the app. You can set the T5 to heat / cool your home depending on the time of day and day in the week. There are vacation and away modes which conserve energy while no one's home as well as a sleep mode that creates a cooler climate during the night. You can use the app to access all of the T5's settings, set up geofencing, get weather reports for your area, and operate any other Honeywell devices you might have bought.
Like the Kono, the T5 supports voice activation and integrates well with HomeKit. Voice commands are limited to adjusting the temperature up or down and setting it to a set value in either Fahrenheit or Celsius.
What's Bad About It?
As ease of use was Honeywell's priority with this device, some more advanced options like detailed usage reports are missing, as are internal humidity sensors. With no remote sensors to draw data from, you're limited to only one temperature setting for your entire home.

Tech Specs
Dimensions: 4 x 4 x 1 in.
Humidity detection: No
Remote sensor support: No
Compatible with: Amazon Alexa, Apple HomeKit, Google Assistant
Geofencing: Yes
Touchscreen: Yes
Shows outside temperature& weather: Yes
The Pros
Big bright display
Easy menu navigation
Comprehensive scheduling options
Good app
The Cons
No humidity or remote sensors
No usage reports or energy-saving tips
4. Emerson Sensi Touch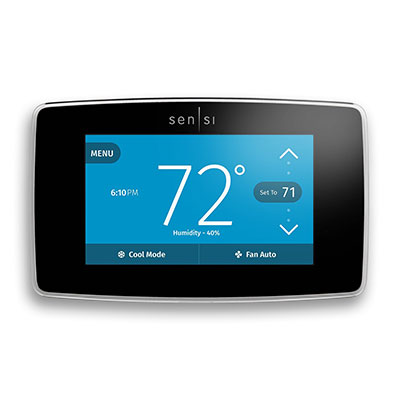 View on Amazon
Editor's Rating: 4.2/5
While Honeywell tries to bring users of traditional thermostats into the modern age, Emerson Thermostats is making smart thermostats for people who want the benefits of having remote access and scheduling options without many visual changes from their traditional device. The Sensi Touch is the perfect first smart thermostat for grandpa and anyone who loves a new take on a classic look.
Retro Done Right
Although black or white instead of the traditional beige, the Sensi touch looks like a plain old thermostat out of the box. This feeling doesn't quite go away when it's been installed either. The interface is very similar to ones seen on thermostats of yore. With a big temperature display, no one should have trouble seeing across the room and two arrows for temperature control. Depending on whether you're using it to heat or cool the air, the Sensi Touch's background is either red or blue, which is smart both practically and aesthetically.
Setting the thermostat up has been made straightforward in multiple ways. Its backplate is lit up so that you can effortlessly connect each wire even in otherwise dimly lit places. If you're still struggling, installing the app beforehand and following the thorough instructions should make things easier.
The app is there to remind you that it's the 21st century after all, and gives you more options to explore. You can set it up so that you receive alerts if the indoor or outdoor temperature reaches a certain threshold, schedule daily or weekly runtimes, and link the thermostat up to your favorite voice control method. Geofencing can be set up manually, and there's an automatic away mode which turns HVAC use down to a minimum when you leave a 3-mile radius around your home.
Are There Drawbacks?
Connecting the Sensi Touch to your Wi-Fi network might not be as straightforward as its physical installation since it sometimes has trouble syncing up with your router. The thermostat comes with a useful night light, but doesn't display any temperature information when the screen is turned off. If you want to know what the temperature is when you wake up at night, you're going to have to either reach for your phone or walk all the way to the thermostat itself.

Tech Specs
Dimensions: 3.4 x 5.6 x 1.2 in.
Humidity detection: Yes
Remote sensor support: No
Compatible with: Amazon Alexa, Apple HomeKit, Google Assistant, Wink
Geofencing: Yes
Touchscreen: Yes
Shows outside temperature& weather: Yes
The Pros
Very easy to install
Bright, clear display
Easy to see app
Has night light
The Cons
Connection issues
Display isn't visible at night
5. iDevices Thermostat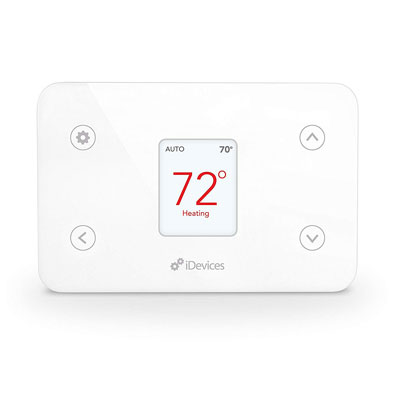 View on Amazon
Editor's Rating: 3.8/5
Buying a smart thermostat for less than $100 was only a pipe dream until iDevices decided to drop the price of theirs down to double digits. Although it may not be as brimming with features as the Nest or Ecobee, this smart thermostat is a clear improvement over an analog model and will perform what it was designed for – letting you control your home's climate remotely – without a hitch.
The Budget-savvy Smart Thermostat
In the contemporary world of bright & shiny touch screens, the iDevices thermostat looks peculiar. Its display is very small and sparse, with the current temperature in blue or red occupying most of it. Touch controls aren't supported, but the buttons located on each edge are responsive and pressing them doesn't obstruct the screen.
The thermostat hooks up to most HVAC systems and requires a C-wire. Everything is screwed in via screwdriver and straightforward if you've ever done basic electrical work. Be sure to inform yourself about the kind of system you're using before starting the setup though since the thermostat needs the data to run properly.
The barebones feeling you get when handling its physical interface continues when you access the iDevices app. There's not much you can do in it since geofencing isn't an option, but luckily scheduling has a few interesting settings. Other than the standard daily and weekly scheduling options, there's the override feature which lets you adjust the current temperature regardless of the schedule for a set amount of time, so you can warm the house up while watching a movie and turn the heat back down once it ends.
Connectivity is limited to Amazon Alexa and Apple HomeKit. You can use HomeKit to set up scenes together with other smart devices to suit the time of day or your family's activities. Both Siri and Alexa will adjust the temperature if asked.
What Should Be Improved?
Although cheaper than other thermostats on the list, the iDevices Thermostat lacks more features than it makes up for with the price difference. There are no humidity sensors, Google Home isn't supported, and you may run into problems if you're setting the device up to work with an Android phone.

Tech Specs
Dimensions: 5 x 3.4 x 0.8 in.
Humidity detection: No
Remote sensor support: No
Compatible with: Amazon Alexa, Apple HomeKit
Geofencing: No
Touchscreen: No
Shows outside temperature& weather: No
The Pros
Affordable
Simple control scheme
Integrates well with HomeKit
The Cons
Only has temperature sensors
No geofencing
No Google Home support
Problems with the Android app
What to Look for in a Smart Thermostat?
Sensors
Power-saving Options
HVAC support