Nest Cam Black Friday 2018 Deals
3D Insider is ad supported and earns money from clicks and other ways.
Nest has released their Black Friday deals for their home camera systems. During the sale, you'll be able to save up to 35% when you upgrade to a smart home security system. These discounts are live right now on Amazon. The company has also discounted their thermostats.
Nest Labs is owned by Google and they introduced their line of Nest cameras in 2015 after their acquisition of Dropcam. It's not known how long these deals will last, but it's likely they'll continue through Cyber Monday.
Nest Cam Indoor
Black Friday Price: $129 Retail Price: $199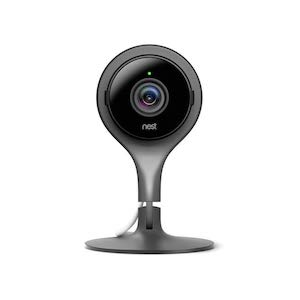 The Nest Cam Indoor has a sleek design with a metal stand that supports the camera eye. The magnetic base provides the camera stability so you place the camera a number of ways, like on the wall, standing on a flat surface, or even stuck to the fridge. The leg of the Cam Indoor rotates 180 degrees and the camera head can rotate a full 360 degrees so you can adjust where your camera points and cover any blind spots.
The Cam Indoor has an excellent camera that streams up to 1080p high-definition video. It also has a 130-degree field of view and 8x zoom. The picture quality is just superb, allowing you to see more details. The camera also has enhanced night vision capabilities that pick up details in the dark. As with most home security cameras, there is still the usual motion delay.
You can set alerts for your Cam Indoor so it notifies you whenever it detects motion. The sensor has been improved to minimize false positives from moving cars and shadows. The camera also has a scheduling feature so you can choose the hours of the day you want your camera to record.
One of the unique features of the Cam Indoor is that you talk and listen through the camera. Think of it as a two-way baby monitor so you can check in on the kids or the pets whenever you're away from home.
The Cam Indoor is compatible with other Nest devices. If you have Nest's Learning Thermostat and set it to "away," the Cam Indoor will automatically turn on. It can also interact with other non-Nest smart devices like the Philips Hue and the SkyBell video doorbell.
The camera also has an app that you can install on your phone. You'll be able to check live video streams of your cameras and listen to the audio as well.
The Nest Cam Indoor is a dependable security camera that's easy to set up and use. It also provides you with clear images so you always know what's happening inside your home. Integration with other Nest and third-party devices provides you with a solid home security system.
Nest Cam Outdoor
Black Friday Price: $149 Retail Price: $199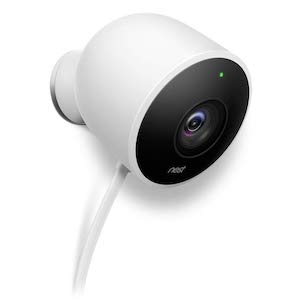 The Nest Cam Outdoor is a weatherproof camera that complements the Nest Cam Indoor. The performance and specifications are similar, which is not a bad thing since the Cam Indoor is a robust piece of equipment.
The Cam Outdoor and the Cam Indoor work seamlessly together and are linked to the Nest app. The two are also integrated with other smart home products from different brands, giving you unique features such as turning on a light bulb if the cameras detect movement.
The design of the Cam Outdoor is similar to its indoor sibling. The major difference is that it's rated IP65 waterproof. That means it can survive downpours and heavy weather. Another difference between the two cameras is that the Cam Outdoor comes with a separate magnetic base rather than a fixed one.
This 1080p high-definition camera is similar to the Cam Indoor and it also has infrared sensors that allow it to see clearly in the dark. A microphone and speaker are also built-in for two-way communication.
The Nest Cam Outdoor is rugged and well-constructed enough so it survives the weather conditions outside.
Nest has chosen not to discounts their newly released IQ camera series this year. Fortunately, the original series still provides excellent value and industry-leading features. Both the Nest Cam Indoor and Cam Outdoor are on sale for Black Friday. You can save up to 35% when you get a Nest Cam for Black Friday.