Nest Hello Video Doorbell Black Friday 2018 Deal
3D Insider is ad supported and earns money from clicks and other ways.
Black Friday is fast approaching and Nest has announced their deals for their Nest Hello smart doorbell system. You can save 20% on one during the sale.
The Nest Hello is a clever door guard designed by Nest Labs so you always know who is knocking. If you're into improving your home security, then you can't go wrong with the Nest Hello. The Nest Hello works perfectly with Nest security cameras too.
Nest Hello
Black Friday Price: $179 Retail Price: $229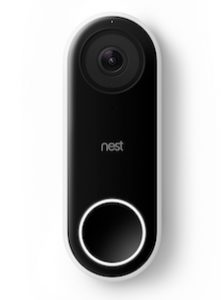 The Nest Hello is a slender and slim video doorbell that you can fit in the frame of your door. The slimmer design allows you to fit the device in tight spaces around your door. It comes in only one color, black with a blue ring light around the button, making it look smart when installed.
The Hello is a little problematic after purchase since you'll need to hard-wire it to your home's electrical system. That means that you'll need expert help from a technician to install it. You can try it yourself too since Nest provides instructions. You will also need to purchase a chime if your house doesn't have one. The advantage of this is that once the Hello is installed you can forget about changing the batteries or charging it as it is always connected.
Once installed, all you need to do is get the Nest app on your smartphone so you can connect the device to your home Wi-Fi network. The whole installation and setup process is easy with step-by-step instructions so you can start using the Nest Hello and view it on your phone.
The Nest Hello is equipped with an HD HDR camera that records video. You will get alerts on your phone whenever someone rings the doorbell. You will then be able to view the live video stream. The stream includes audio so you can hear what's going on and it also comes with a two-way communication feature so that the person at the door can hear you. It also has face recognition so it can notify you who's at the door.
One of the features of the Nest Hello is the ability to set pre-recorded messages. These messages play when you're not available to speak live. The Nest Hello also has a night mode that provides clear footage of people, cars, and other moving objects in the dark.
One of the downsides of the Nest Hello is that it only saves video clips of detected motions from the past 5 days. Older footage will be deleted and replaced unless you get a Nest Aware subscription package. The Nest Aware package gives you 24/7 recordings that are stored on the cloud for 30 days.
The Nest Hello is a good-looking, feature-packed smart video doorbell that can be used as a security camera. It is not the cheapest, but this Black Friday deal lowers its price point significantly and it's a good time to buy one, especially if you're in the market to secure your home.