Nest Thermostat and Doorbell Black Friday 2019 Deals
3D Insider is ad supported and earns money from clicks, commissions from sales, and other ways.
The Nest ecosystem is the perfect foundation for automated living. Nest's innovative products turn your house into a home by providing comfort, protection, and peace of mind. They adapt to your needs and become even more useful the more smart gadgets you add. The only downside is a hefty price tag.
Luckily, Black Friday is upon us, bringing substantial savings on Nest's lineup. Check them out and smarten up your home at a bargain price.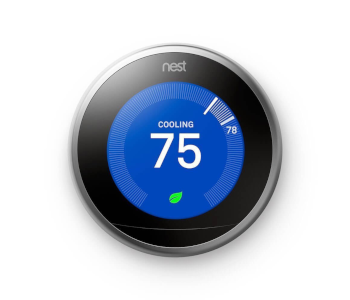 Nest 3rd-Generation Learning Thermostat
Original Price: $225
Black Friday Price: $179.99
The Learning Thermostat is Nest's best-known and most impactful product. It's a puck-shaped device that replaces your old thermostat. It displays all the info you need on room temperature or outside weather conditions. The closer you come to it, the more detailed the info becomes. Controlling it is a breeze, as all you need to do is rotate its dial and press the device.
Intelligent temperature adjustment is its greatest feature, however. Once you install it, the thermostat will observe your temperature preferences for a week. After that, it will set the temperature automatically based on what it learned while making subtle adjustments as the seasons and your habits change.
Nest now ships a separate sensor along with the thermostat. This expands its functionality as it allows you to combine readings from multiple places in your home to create more balanced, comfortable, and less costly schedules. The main unit also has a light sensor. It will assume that the sun has come up if subjected to a gradual increase in brightness and change the temperature accordingly.
Things get even more interesting if you start regulating the temperature through Amazon Alexa or set other smart devices as the thermostat's trigger. You can set it to pre-heat the house before you get home, to turn itself off as part of a nightly routine, or experiment with a myriad of other creative combinations.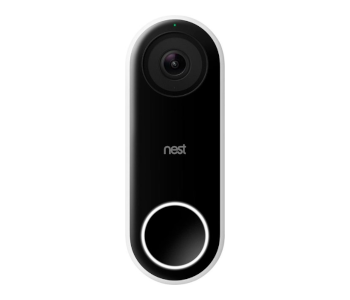 Nest Hello Smart Wi-Fi Video Doorbell
Original Price: $229.99
Black Friday Price: $179
Nest Hello is a smart video doorbell designed to keep you secure while making sure it won't disturb you when it's time to relax. It's thin as video doorbells go, which allows it to be placed on narrow doorways. You can perform the installation yourself or contact a Nest representative to complete it quickly and professionally.
Hello sports excellent video quality enhanced by a wide viewing angle and HDR. Its 160-degree angle captures everything in front and to the side to keep an eye on your entire front yard. HDR increases picture quality by getting rid of overexposure and bringing out more details in the feed. There's also an excellent night vision mode that provides a clear picture of everything that's 20 feet or less in front of the doorbell.
Nest Hello has a sophisticated motion sensor that triggers whenever someone is near. The camera then springs into action, recording even if no one rang the bell. It is able to spot shady characters before they try anything. The doorbell has an excellent intercom system you can use to scare someone off or have a clear conversation with guests and delivery people.
The Hello portion of Nest's app includes in-depth scheduling options you can sync with the Learning Thermostat, as well as a thorough timeline. Nest offers a paid subscription plan. Signing up for it expands the Hello's functionality by letting you establish motion sensor zones. Subscribing also activates a facial recognition feature that identifies people as they come into range and tells you exactly who's at the door.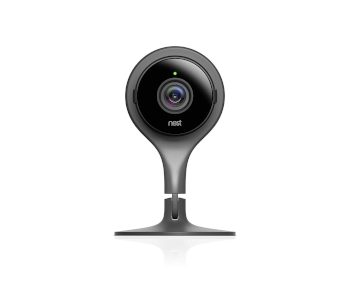 Nest Cam Indoor
Original Price: $199
Black Friday Price: $159
Nest's indoor camera is a security device that captures what's going on 24/7, logs motion and sound events, and can even recognize faces. It is lightweight and sports a modern look. You can place it on any level surface, mount it with screws, or use its magnetic legs to mount the camera on metal surfaces at odd angles.
Excellent video quality is the camera's main draw. It records in 1080p at 30fps, but the footage is downsampled from a 4K sensor. That means it retains more detail while letting you tilt and pan the feed without losing picture quality. There's also 12x digital zoom if you need to take a closer look.
The app has an excellent timeline that you can speed up or navigate by selecting recorded events. Subscribing to Nest Aware opens up facial recognition and gives you access to days of stored recordings via the cloud. Subscriptions start at $5/month and are worth it.
The camera works well with Nest's other products and smart devices in general. For example, you can set it so that motion alerts are triggered automatically when the thermostat is in Away mode. Or, you can have your smart lights turn on if motion is detected after a specified time.