Nest Releases Thermostat Black Friday 2018 Deals
3D Insider is ad supported and earns money from clicks and other ways.
Nest makes the best smart thermostats you can get. The company, which is owned by Google, has released their Black Friday deals. These deals come from leaked flyers. They are not yet live, but you can use them to see what will be available next week.
Nest Learning Thermostat
Black Friday Price: $179 Retail Price: $249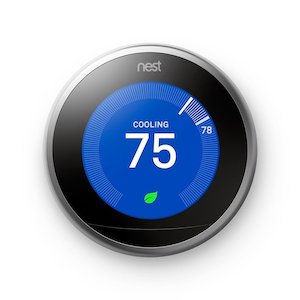 The Nest Learning Thermostat is the company's most well-known product. It learns what time you leave home and it will automatically adjust the heating and cooling to save you money. Nest estimates that it will save you $131 – $145 a year, which means it will pay for itself fast. Multiple independent studies have shown an energy bill reduction of 10 – 12% on heating and 15% on cooling costs. It was the first thermostat to receive an Energy Star certification.
The Learning Thermostat is controllable with all major phone operating systems including Android and Apple iOS. You can simply say "Ok Google, set my temperature to 72 degrees" on Android devices and it will automatically make the adjustment. You can also do something similar with Amazon Alexa. Of course, you can use the app to control everything.
It comes with four colors: black, copper, white, and stainless steel. This means you can find one that matches your home. Installation takes approximately 30 minutes and you can do it yourself if you follow the instructions closely.
This thermostat will on sale at major retailers including Amazon, Target, Best Buy, and more.
Nest Thermostat E
Black Friday Price: $99 Retail Price: $169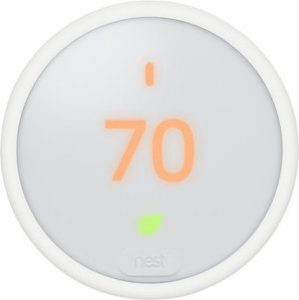 The Nest Thermostat E is a budget version of the Learning Thermostat. It lacks some features, most notable the display. It has a very simple frosted glass screen instead of the full color one in the Learning Thermostat. It's designed to disappear into the wall.
The only other major difference between these two thermostats is that this one lacks Farsight. Farsight is a feature in the Learning Thermostat that automatically lights up the screen as you approach and shows the temperature, time, and weather. It uses a sensor that the Thermostat E is missing. 
The Nest Learning thermostat appears to be more compatible with complicated systems, but this impacts few people. The Thermostat E has all of the smarts of the Nest Learning thermostat and it will result in the same energy savings. It mostly comes down to your taste in aesthetics.