Netgear Arlo Pro 2 vs. Nest Security Cameras – Which Smart Security Camera Should You Get?
3D Insider is ad supported and earns money from clicks and other ways.
Along with thermostats and smoke alarms, security cameras have become some of the earliest and most useful devices to be integrated into the modern smart home. Sophisticated burglar deterrent, sensitive baby monitor and effective way to communicate with your family in one, the smart camera is a potentially life-saving gadget worth much more than its asking price.
Netgear and Nest are the two most popular smart security camera manufacturers today. Netgear is a giant in the networking industry whose foray into smart security cam territory with the Arlo Pro has proved to be a success. Nest is best known for the revolutionary Smart Learning Thermostat and has made a whole range of products for smart home integration, including indoor & outdoor cameras.
How does Arlo's 2nd Pro model stack up against Nest's best-selling Indoor cam and newest IQ lineup? Check the table below and read the detailed section by section comparison to find out.
Quick Comparison
| | Arlo Pro 2 | Nest Cam Indoor | Nest IQ Indoor | Nest IQ Outdoor |
| --- | --- | --- | --- | --- |
| Dimensions | 3.1 x 1.9 x 2.8 in. | 4.5 x 2.9 x 2.9 in. | 4.9 x 2.9 x 2.9 in. | 3.7 x 3.7 x 5 in. |
| Weight | 4.8 oz. | 7.5 oz. | 12.6 oz. | 20 oz. |
| Video output | 1080p / 30fps | 1080p / 30fps | 1080p / 30fps | 1080p / 30fps |
| 4K sensor | No | No | Yes | Yes |
| Zoom | 8x digital | 8x digital | 12x digital | 12x digital |
| Field of view | 130° | 130° | 130° | 130° |
| Weatherproof | Yes | No | No | Yes |
| Powered by | Batteries | Cable | Cable | Cable |
| Amazon Alexa support | Yes | Yes | Yes | Yes |
| Minimum subscription fee | Free | $5/month | $5/month | $5/month |
| Warranty | 1 year | 2 years | 2 years | 2 years |
| Price | $399 (hub + 2 cameras) | $200 (single camera) or $396 (3-pack) | $299 (single camera) | $350 (Single camera) |
Note: Nest's IQ Indoor & Outdoor cameras differ very little in terms of performance, so if it isn't otherwise specified, assume that they perform exactly the same in a given category.
Appearance & Design
While both Nest and Netgear designed their cameras to have contemporary curved bodies and neither looks overly bulky, Nest's newer models have a slight edge. The IQ Indoor sports the same bulbous white look already seen with the Nest Cam Outdoor. It will blend in well with the rest of a modern home's surroundings and actually add to the décor. The Outdoor has received a few tweaks to its design and now looks a little beefier, but by no means less stylish.
Arlo's cameras don't look bad either, but since they come with their own hub, a white box you'll have to find space for next to your router, you'll have to make room for yet another device and have an Ethernet port available.
The Nest Cam Indoor has an older look which isn't as streamlined as its successor. It is more slender and has a smaller base, so it's easier to topple. The power cable is connected to the camera rather than its base and is more exposed.
+1 for Nest IQ cams
Setup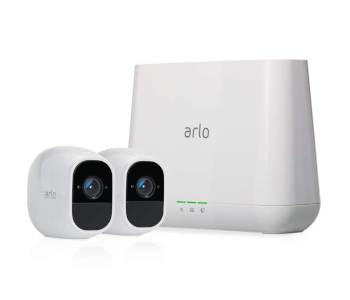 If you happen to have a metal surface on which to place them, setting up either the Arlo or Nest's indoor cameras is a breeze due to strong magnets in their bases. Mounting them to the wall may require some drilling, and in the case of the Nest cameras, cable connection. Once that's taken care of, downloading their respective apps or accessing them from a web browser is all you need to get the cameras running.
The Nest IQ Outdoor and the Arlo 2 Pro are both waterproof and weather-resistant. The former's mounting system has been updated and is tightly secured by Allen screws, giving burglars a much harder time if they think of removing the camera
+1 for Arlo Pro 2
+1 for Nest IQ Outdoor
Power Requirements
Arlo Pro 2 is the clear winner here as each camera comes with a built-in rechargeable li-ion battery. They're designed for an operating time of four to six months per charge. Couple that with a magnet used to fit the camera to its brackets, and you've got a highly mobile device whose vantage point you can change on the fly.
Nest's indoor cams plug into a standard power outlet. This can severely limit placement options as the cameras either need to be close to an outlet or hooked up to one via an extension cable that might be noticed. The IQ Outdoor suffers from the same problem, but its power cable runs directly from the mount into the wall and isn't exposed to weather.
+1 for Arlo Pro 2
Picture Quality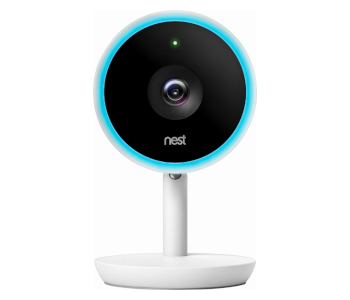 We've come to accept 1080p as today's standard for viewing video of any sort, and the output of the tested cameras matches it as a matter of course. Arlo's earlier Pro model had a resolution of 720p, which has been upgraded to a crisp FullHD with all around good quality.
As you can use the Arlo Pro 2 as either an indoor or outdoor camera, it's important to have different exposure settings so that bright sunlight or dim light don't cause loss of detail. A handy slider you access via its app helps control exposure, or you can let the camera adjust itself. Either way, the results are good, as is the overall picture quality.
While tough to beat, the Pro 2's video quality is outshined by that of the Nest IQ cameras. They put out the same respectable 1080p video at 30 frames per second, but Nest's cameras have a 4K sensor that downsamples footage to FullHD, producing better quality at the same resolution. More importantly, the larger sensor allows the cameras to pan and tilt their smaller 1080p view within the 4K frame and track subjects without having to move.
The Nest Cam Indoor falls a bit behind the rest, mainly due to its weaker sensor. It can produce images with a resolution of 3 megapixels as opposed to the 8-megapixel ones shot by the IQ models.
All tested cameras feature a viewing angle of 130 degrees that is just wide enough to encompass an entire room, but not too wide to warp details on the edges beyond recognition.
+1 for Nest IQ cams
Night Vision
An integral part of any modern surveillance system, good night vision might prove to be the deciding factor in identifying and arresting robbers. It is a feature found on every camera except the Nest Cam Indoor. It doesn't have an infrared LED ring and is of limited use without a nearby light source.
Thankfully, Nest has recognized and remedied the problem for the IQ series. There are 25 powerful LED-s clustered around both camera's lenses. They give off a powerful infrared light that can illuminate an entire room or the better part of your driveway while not being detectable by intruders. Night vision footage is therefore clear and bright, much more so than on the Arlo Pro 2.
+1 for Nest IQ cams
Storage Options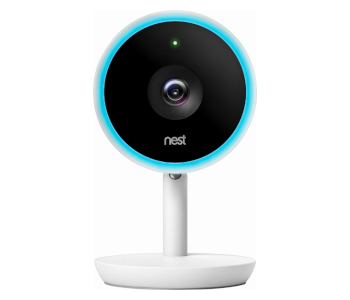 Remember that big white box from earlier? Its primary use is to provide a dedicated Wi-Fi connection to each individual Arlo camera and to allocate enough bandwidth for them to operate normally when they're needed. Another of its useful features are two USB ports used for connecting external storage devices. These can then be filled with hours of recorded footage and viewed on any TV or computer
Apart from local storage, Netgear offers a wide variety of plans to accommodate both homeowners and businesses. One of the best reasons to purchase the Arlo Pro 2 is its basic online storage plan. You can save footage recorded in the last seven days completely free for a maximum of five cameras per account, which is quite generous. Paid plans include 7- or 14-day continuous video recording as well as support for up to 40 cameras and footage from the last two months, making the Arlo Pro 2 a great security solution for businesses too.
You'll find that accessing the Nest cams' footage for free doesn't give you much freedom. Apart from monitoring their live stream, you can view what's been recorded in the last 3 hours. Subscribe to Nest Aware though, and the options become much more interesting.
Plans start off at $5/month and go up to $30 with as many days of footage available for review. Subscribing also unlocks the advanced detection features built into the IQ cameras. Normally they are only limited to picking sound and motion up, but with an active Nest Aware plan detection is refined to capture and recognize faces, distinguish voices from barking or other sounds, and you can opt to get notified each time the cameras detect a person or hear a specific sound.
+1 for Arlo Pro 2
Alarms and Communication
Two-way audio is an essential feature for either talking with your kids from work or informing trespassers that the authorities are on their way. All tested cameras pick sound up reasonably well and function as intercoms, albeit with a slight lag. The nest IQ cams have an array of 3 microphones so the sound's source and nature can be pinpointed more effectively.
Programming alerts and schedules is easily done for each camera. You can set them up to be dormant while you're at home, designate inactive hours, or set up geofencing so that the camera switches itself on whenever your cellphone leaves the home.
The Arlo Pro 2 and Nest IQ Outdoor have an edge over the indoor cams though – a much more powerful alarm and intercom system. The Arlo is capable of waking up the neighborhood with its 100dB siren. The alarm is located within the hub so that you'll get alerted even if the burglars get away with your expensive camera. Nest IQ Outdoor sports a speaker that's fifteen times louder than that of the old Cam Outdoor, allowing you to give unsuspecting trespassers quite the scare.
+1 for Arlo Pro 2
+1 for Nest IQ Outdoor
App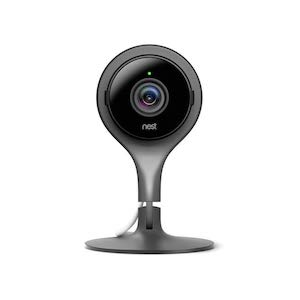 Ever bound to the principles of elegant functionality, Nest has designed its app to be as straightforward as possible while giving you access to a lot of info and customization options. The same app is used to control all Nest devices which can be toggled between quickly. In the camera section, you're treated to an overview of active cams. Tap on one to go to its live feed, or to explore stored footage. You can browse videos by time and date, jump straight to the timestamp when an alert occurred, review all alerts, and more.
Arlo's app isn't less capable, but it definitely is more convoluted. As there are a lot of scheduling, viewing, and alarm options to take into account, the menu system is quite big. Less used options are tucked away and hard to reach, and the overall feel of the app just isn't as streamlined.
+1 for the Nest IQ cams
Connectivity
If you've already got a smart home, all cameras will integrate nicely into it. They all have support for Amazon Alexa while Arlo Pro 2 can be connected to IFTTT and Google Home as well. The Nest cams have the distinction of being compatible with other Nest devices, most notably the Smart Learning Thermostat. This adds an additional layer of customization since the cameras will automatically turn themselves on based on the thermostat's home & away settings.
+1 for the Nest cams
Price
Nest's Indoor cam is clearly the most affordable purchase, provided you don't need an outdoor camera. At the time of writing, a single indoor camera costs $200 while a 3-pack will set you back as much as buying the Arlo would. Since Netgear doesn't offer single camera starter kits, you can either get one Indoor Cam and invest the difference in a better monthly subscription, or spend the same while getting more coverage. On the other hand, buying the Arlo sets you back more at the start, but will even out after a couple of years thanks to their enticing free plan.
At $349.99, the outdoor version of Nest IQ falls in the middle, with some cash left over for a short-term Nest Aware subscription. Since you get a free 30-day trial for Nest Aware and the initial cost is the lowest, the win goes to the Nest Cam Indoor.
+1 for the Nest Cam Indoor
Conclusion
Why choose:
Arlo Pro 2
(4 points)
Nest IQ Indoor
(6 Points)
Nest IQ Outdoor
(7 points)
Nest Cam Indoor
(2 points)
Can be mounted indoors & outdoors
Has better picture quality and digital zoom
Has all the strengths & drawbacks of the Nest IQ Indoor
The least expensive Nest smart camera
Isn't reliant on a power cable
Has superior night vision
Has a secure mounting system
3-pack is an even better deal and gives you the most coverage
Footage can be stored locally & basic cloud storage plan is free
App is more intuitive
Has a loud speaker
Has powerful alarm
Integrates with other Nest devices and smart home solutions
Looks stylish
The Arlo Pro 2 seems like the logical choice for most people – it's easy to set up anywhere, comes with a great cloud storage plan, and can be micromanaged to operate just as you see fit. You'll have to pay for that kind of power and versatility though, and will need to spend some time in the app before mastering it.
Nest's IQ cameras have impeccable face detection and will do a better job in the dark of night. Buying either is the obvious next step to building a Nest out of your home if you've invested in some of their other products already. The buy-in price is cheaper, and with the recent introduction of a $5/month plan the subscription model doesn't look all that scary anymore either. Then again, you only get one camera that is reliant on the proximity of an outlet and limited without a subscription plan.
The Nest Cam Indoor is a model that's beginning to show its age. The newer IQ models surpass it in night vision, picture clarity, and the quality of their intercom systems. Still, it's a worthwhile investment if you need a more budget-friendly smart camera or have a large home to monitor.
If you disregard the subjective point of appearance, you're left with a stalemate between three capable cameras, any of which will do the job of safeguarding your home well. They have different strengths though, and which matter to you the most will end up swaying your decision.