New 3D Printing Materials Source Launched
3D Insider is ad supported and earns money from clicks, commissions from sales, and other ways.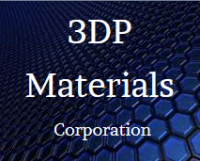 3D Printing Materials Corporation (3DPMC) has launched a new source for for innovative, high quality, high performance 3D printing materials. 3DPMC uses a crowd-sourcing model to find innovative new material solutions and test them with expert users. Once a new material has been submitted, the material is evaluated for safety and then vetted by members of the expert user community, typically a user or expert in 3D printing. For materials that are highly rated the company contracts for high quality formulation and packaging, makes the solution available through 3DPMC.com, and pays a royalty to the individual or group that submitted the material.
"Long time innovators and pioneers in 3D printing have been developing new solutions on a limited basis for some time. The team at 3DPMC has put together a model that enables the whole community to benefit, for quality to be assured and for the innovators to be rewarded for their ideas. The 3D printing users that we have spoken to about this concept are excited to have more options and to see more innovation in the marketplace." said Tom Clay, former CEO of Z Corporation and 3DPMC board member.
Mike Vogel is also an ex-board member from Z corporation and he said "One risk to trying a new material on a 3D printer is being sure of quality and compatibility. 3DPMC's approach and the expertise of those both developing solutions and testing them before release should make any potential user feel comfortable. Some of those developing solutions were the brains behind some of the most important breakthroughs in 3D Printing."
Visitors to the site can purchase vetted solutions, suggest new ideas for products or a new project entirely. These can then be viewed by other interested parties and shared freely among them. 3DPMC can then be contacted by parties with innovative materials and then the process of qualify their solution for the use in the wider community can be started.
About 3DPMC.
3DP Materials Corporation (3DPMC) is focused on providing high performance, affordable consumables for 3D printing. 3DPMC was founded by experienced veterans and founding pioneers of the 3D Printing industry.
Our approach is different. We believe that there is vast untapped potential in the large number of industry veterans and expert users with deep knowledge of 3D Printing. We have partnered with these experts to source, test and manufacture new materials and share in the benefits we create for the user community by paying these innovators a share of the profits.
Many of our products were developed by some of the founding innovators in 3D Printing who pioneered some of the critical breakthroughs in high quality 3D printing materials.
All materials that we ship to customers are professionally blended, packaged and quality tested in an approved facility.
Warning; 3D printers should never be left unattended. They can pose a firesafety hazard.