15 New Drones That Have Been Released in 2018
3D Insider is ad supported and earns money from clicks, commissions from sales, and other ways.
The year is not quite over yet, but this is an excellent time to take stock of everything that has happened in the drone world in 2018. This year was a testament to the huge potential of drone technology for further growth and evolution. Some new releases were upgrades from previous versions, while others showcased technology that has never been integrated with drones before. This year has seen all major names in the drone market come out with their brand-new products, although a few less prominent players showed up as well. As the year comes to an end, it's time to recap everything that happened in the drone industry and try to see what else the future holds.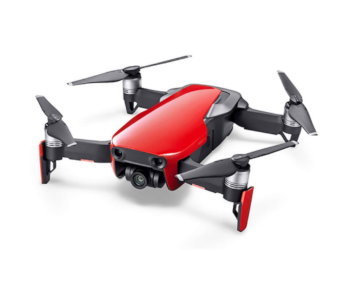 Release Date: January 2018
DJI kicked off 2018 with a bang when they released the DJI Mavic Air. It features the compact and foldable design of the previous iterations in the Mavic product line but it is significantly cheaper than its older counterparts. Being the "budget" Mavic does not mean that the Mavic Air skimps out on features: it has a 12MP camera with 1/2.3" CMOS sensor that can capture 4K video at 100 Mbps. It also has a 3-axis gimbal, an upgraded obstacle avoidance system, and the usual intelligent flight modes that DJI drones are known for.
With its modest price point, the Mavic Air has quickly became one of the most popular drones and will probably close 2018 as the best-selling of the drones that were released this year. Despite compromises made in flight time and transmission range, the Mavic Air is still an impressive mid-market drone. Being the most portable made by DJI, it has forced consumers to reevaluate the features that they have come to expect from ultra-portable drones.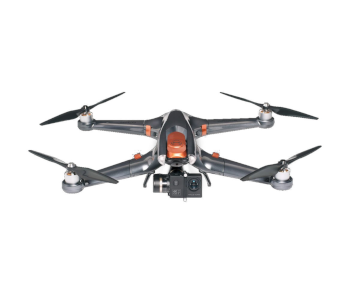 Release date: January 2018
Halo is a company better known for their hoverboards, so it was quite a surprise when they came out with the Halo Stealth Pro. With a price that almost rivals the DJI Phantom 4 Pro, the Stealth Pro has had to ride on very high expectations. The arms of the drone fold inwards for increased portability, although it's not quite as compact as the Mavic Pro.
It features a 12MP camera with a Sony IMX 377 sensor and can record 4K video up to 30fps. Although the camera specs are not bad, adjusting the camera settings can be quite a pain as you need to physically retrieve the camera and make the adjustments using its LCD screen. The silver lining is that the camera can be detached from the drone and used independently as an action camera. It's no GoPro, but its serviceable. The live video feed also has room for improvement, as many users have noted a few seconds' worth of latency.
What the Stealth Pro lacks in ease of camera control, it makes up for in flight performance. It is rated to each a maximum speed of 45 mph, which is more than what we have come to expect from a non-racer drone. Even at this speed, the control response and maneuverability of the Stealth Pro is still top-notch. Its hover is also exceptionally stable. The Stealth Pro has some other tricks up its sleeve, such as a wrist tracker that you can wear to have the drone follow your movements.
Ultimately, the Halo Stealth Pro is a fine piece of technology that is just too expensive for what it offers. Although it's very fun to fly around with the Stealth Pro at maximum speed, it does as densely-packed with features as other drones that are even cheaper, such as the DJI Mavic Pro and Mavic Air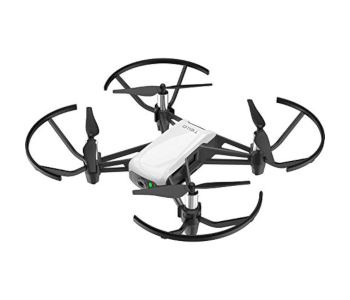 Release Date: March 2018
The Tello is a super affordable drone that came about as the product of a collaboration between Ryze, DJI, and IBM. With such big names involved, it comes as no surprise that the Tello actually turned out to be a decent drone that costs less than $100. The Tello has butter smooth flight characteristics owing to the use of the same flight technology that is used in DJI drones. It also features a 5MP camera that can shoot 720p videos and has live video feed capability to a mobile device or VR headset. It does not come with a dedicated controller so flight was controlled only using a smartphone app.
Although the Tello is very cheap, it comes as a pleasant surprise that it was capable of up to 13 minutes of flight time. Its range limits are nothing impressive: a maximum distance of 100m, a maximum altitude of 10m, and top speed of only 8m/s. Still, the Tello is probably the most advanced drone in its price range. It is best described as a cross between a toy drone and an entry-level drone such as the DJI Spark.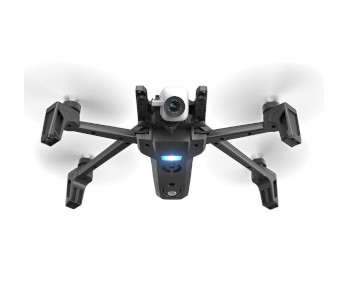 Release Date: July 2018
Not one to get left behind, Parrot came out with the Anafi as their entry to the foldable drone segment. It has a unique camera placement that allows 180° of vertical tilt, augmenting the ability to capture 21MP stills and 4K UHF videos at 30 fps. It has a couple of autonomous camera modes such as Follow Me and Dolly Zoom, which are fun to play with and create unique videos.
While there was not much to complain about in terms of camera specs, the flight experience with the Anafi leaves a lot to be desired. It has no obstacle avoidance technology, automatically rendering it not so friendly for drone beginners. There is also a lot of feedback of the Anafi randomly drifting in different directions while in hover mode.
The Anafi bundle comes with a dedicated Skycontroller 3 which can be connected to a smartphone to display flight data using the Freeflight 6 app. The total flight time with the Anafi is about 23 minutes, and Parrot claims that the Anafi has a range of up to 2.5 miles.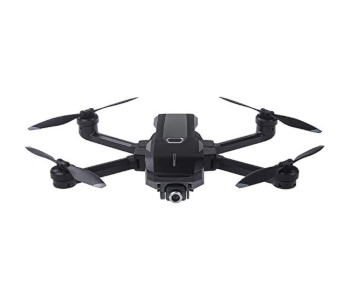 Release date: August 2018
The battle for the best compact drone has continued with the release of the Yuneec Mantis Q. Similar to the DJI Mavic and the Parrot Anafi, the Mantis Q features arms that fold into itself for maximum portability. The Mantis Q sets itself apart from other similar-looking drones with the ability to accept voice commands. Using your smartphone, you can tell the Mantis Q to wake up, take off, take photos, or start recording. It's definitely an interesting feature that will be fun to play around with, but we don't see it as being the next big thing for drones.
The Mantis Q comes with a 12MP camera with a 1/3.06" CMOS sensor that can record 4K videos. It has a 2-axis gimbal that can provide up to 20° of vertical tilt. Although the gimbal does not provide mechanical stabilization, the camera itself can still produce stabilized video at 1080p.
A redeeming feature of the Mantis Q is its total flight time of 33 minutes. At the time of its release, this was the longest flight time of any commercial drone in the market. This is a massive advantage of the Mantis Q over its DJI counterparts. At less than $400, the Mantis Q is also cheaper than the DJI Spark. The Mantis Q is not quite the Mavic-killer that Yuneec was hoping it would be, but it was probably one of the best drones within its price range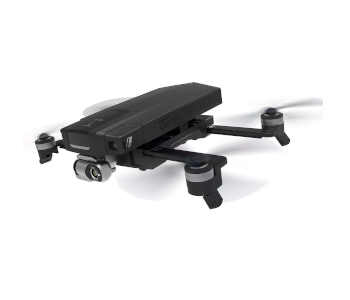 Release date: April 2018
This drone has been dubbed the "Mavic-killer" back when it was announced on September 2017, so it also had a hefty reputation to live up to. The o2 drone from GDU also has both folding arms and propellers. The storage strategy of the o2 is unique in that the drone and its controller clip together into a single package.
Not one to be left behind, the GDU o2 is also equipped with a 13MP camera that can shoot 4k videos at 30 fps. The camera is supported by a 3-axis gimbal that stabilizes the shot and helps make smooth videos. Despite, this 4k and 1080p videos shot using the o2 come out with a little shakiness, especially when the drone is moving.
The flight performance of the o2 is pretty much on par with the best foldable drones. Control response is quick, allowing for good maneuverability even at its maximum speed of 33 mph. The o2 also has obstacle avoidance, although it is only limited to the forward direction. Although useful, keep in mind that obstacle avoidance is automatically turned off when in Sport Mode, which is when you can push the drone to its maximum speed.
The GDU o2 is priced almost equally with the Mavic Air, and only slightly lower than the Mavic Pro. It's not a bad drone for its price range. It's not quite the "Mavic-killer" but it puts up a good fight.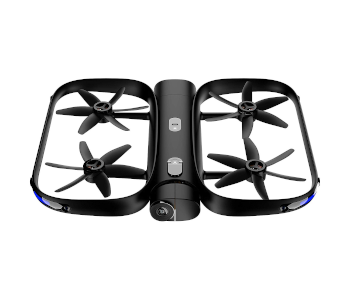 Release date: April 2018
The Skydio R1 totally belongs in league of its own as a totally autonomous follow-me drone. The technology is honestly pretty impressive – it uses 13 onboard cameras and an array of depth and motion sensors to self-pilot, given a subject that it needs to follow and all the obstacles it needs to avoid. It records everything from the moment it takes off, and all you need to do is to move and trust that the Skydio R1's sophisticated suite of technology will be good enough to follow you.
How well does the R1 perform? Pretty impressively from what we have seen. Its multitude of cameras constantly work to map its environment and detect obstacles, determining the best path to avoid them while still keeping track of its subject. It has been demonstrated to follow subjects that are biking and jogging in areas that are thick with trees, and its ability to move around obstacles is nothing short of astounding. It's not perfect, though – there are times when it cannot negotiate around an obstacle and it end up just hovering in place. If this happens, you will be notified right away on the smartphone app, so you don't need to worry about leaving it behind.
It's a great drone for doing solo follow-me videos, but it cannot replace the creative flair of a human pilot. There may be times when it makes some strange navigational decision which don't look very cinematic at all. It also only has a flight time of 15 minutes – not surprising given how many sensors and cameras the battery needs to power. The R1 is also a little more expensive than what the casual drone user might be willing to pay up.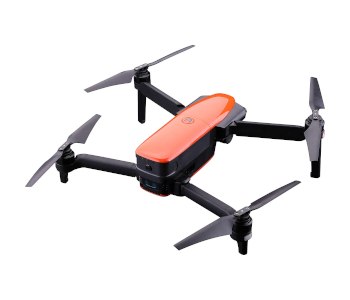 Release date: June 2018
Back when the Autel EVO was announced, it was believed to be the first real threat to the DJI drones. It has lived up the hype in some respects, albeit only temporarily. Much like the Mavic, the Autel has foldable arms to make it super-portable although it still slightly larger and heavier. The impressive feature of the EVO is its camera that can shoot 4K video at 60 fps and 1080p at 120 fps – camera specs that can only be found in the DJI Phantom Pro 4. Thus, the Autel EVO reigned as the portable drone with the best camera until the Mavic 2 came along later to unseat it.
The EVO also has a two-directional obstacle avoidance system that senses obstacles both in the forward and backward direction. This was a good sign that the EVO is going to deliver stellar flight performance, but it has failed to live up to most of its promises. Its maximum flight time, range, and speed are way below what they declared during the announcement, leaving many drone users feeling short-changed.
In the end, despite the EVO's impressive specs, there still remains the fact that it is keeping at par with DJI drones that were released two years prior. The fact that it is too late to the game became more apparent when the Mavic 2 was released after a few months, which proved superior to the EVO in all aspects.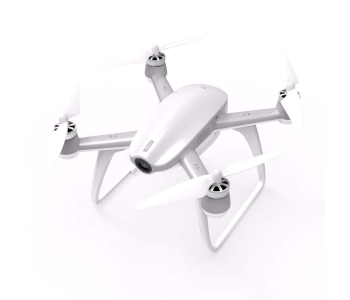 Release date: January 2018
A mere glance at the Walkera Peri and you will know that it's very strongly inspired by the DJI Spark. To a certain degree, that is a valid assumption but don't discount the Peri just yet, as it has taken what the Spark has and improved on it.
Instead of the 1080p videos that the Spark sports, the Peri has upgraded to 4k video at 30 fps and 1080p at 60 fps. The Peri also has a 3-axis gimbal, another improvement to the 2-axis gimbal of the Spark. The battery life of the Peri gives flight time of up to 15 minutes, and it also comes with the usual intelligent flight modes such as Active Track and Gesture control.
The Walkera Peri comes with a flip-up Integrated Remote Control that provides all the usual control mechanisms with a video display that displays live 1080p video from the onboard camera. At about the same price as the DJI Spark, the Walkera Peri is a worthy rival. In a few ways, it's the superior version – after all, it has the advantage of being released half a year later.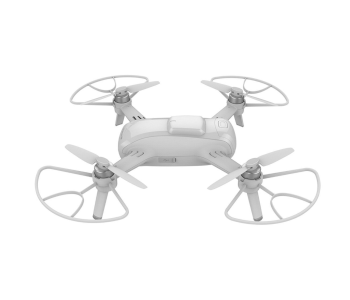 Release date: Unknown
Yuneec made quite a splash when they announced three brand new drones back in January. We'll get to all of them eventually, but let's start with the Yuneec HD Racer. As the name implies, the HD Racer is a small racing drone and is probably the most consumer-level drone out of the new offerings from Yuneec.
The HD Racer is supposed to be Yuneec's entry into the racing drone market. About the size of a palm, the HD Racer is designed to be flown indoors with propeller protection. Piloting the HD Racer is via a low-latency HD video feed, which can also double to record 1080p video at 60 fps.
The HD Racer was supposed to be released 6 months after the January announcement but there seems to be no traces of it until today. It has also mysteriously disappeared from Yuneec's website. It would be a shame if Yuneec decides to not push through with the release of the HD Racer, as it looks like a fun and inexpensive drone.
Release date: August 2018
UVify has previously impressed in the field of small racing drones with the Draco, and it seems that they are trying to outdo themselves this year with the Oori. It's a micro-drone that fits in the palm of your hand but it is loaded with power and speed. With performance-tweaked brushless motors, it can reach speeds of up to 50 mph.
The Oori is designed primarily for amateur drone pilots who want to practice their flying skills or who might even want to fly indoors. On top of the Oori being very small, it comes with propeller guards that are recommended for indoor flight. Controlling the Oori is very easy with its responsive controls. The drone itself has enough agility to navigate small spaces. With a 660 mAh battery, the Oori can fly for about 15 minutes with a single charge, which is quite standard for micro-drones.
The factor that works against the Oori is its price – it's only slightly less expensive than the DJI Spark, and much more expensive than its similar counterparts such as the Parrot Mambo or the Fat Shark 101. Given that it's neither a camera drone nor a professional racing drone, it's hard to identify which market segment it serves at the $300+ price range.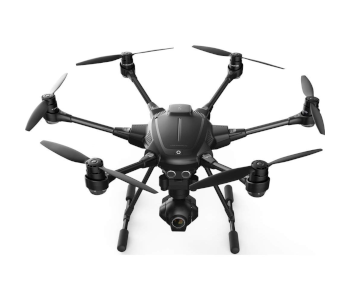 Release date: July 2018
A part of the trinity of drones announced by Yuneec back in January, the Typhoon H Plus is the upgraded version of their professional-grade drone, the Typhoon H. It comes with a new camera, a new set of sensors, and a noise-reducing frame.
Similar to its predecessor, the Typhoon H Plus achieves top-notch stability with its six-rotor design, one of which is redundant. It also still features Intel RealSense technology for identification and avoidance of obstacles. In conjunction with Intelligent Flight modes such as Follow Me, the obstacle avoidance technology helps the Typhoon H Plus achieve near-autonomous flight.
The most significant upgrade made in the Typhoon H Plus is in its camera: a 1" CMOS sensor that can capture 20MP stills and 4K video at 60fps. Combined with a 3-axis gimbal, the camera setup of the Typhoon H Plus truly belongs among the best professional drone cameras. The redesigned controller focuses on improved reliability with its integrated backup and failsafe mechanisms, with the added bonus of an improved display monitor.
The Typhoon H Plus comes with a slightly larger frame, which Yuneec says has resulted in up to 40% noise reduction.
The Typhoon series from Yuneec has always been a big player in the field of professional-grade drones, and the Typhoon H Plus is going to be no exception. With an improved camera that is on par with the best camera drones today, the added stability provided by the hexacopter design of the Typhoon H Plus may be what it takes to stand out from the rest.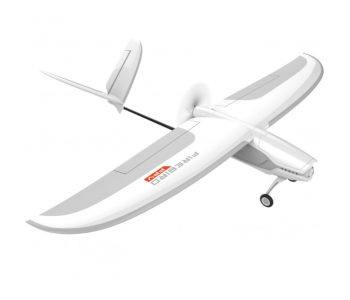 Release date: Unknown
Rounding up the new Yuneec drones is the Firebird FPV, Yuneec's entry into the fixed-wing aircraft market. Fixed-wing drones rely on a completely different flight mechanism that makes them more appropriate for long and distant flights than the usual quadcopter or multicopter. Fixed-wing drones have fewer moving parts, and thus are easier to maintain and repair. However, they have zero hover capabilities so framing and composing still shots can be a challenge.
The Firebird FPV has not yet been released but Yuneec has stated that it will come equipped with a camera that can capture 4K videos. As the name suggests, it will come with a provision for FPV flight. Combined with max speeds of more than 80 mph, FPV flight sounds like it will be amazing with the Firebird.
Since the lift of a fixed-wing aircraft is generated by the wind as it moves past its wings, its propulsion motor's only work is to provide forward movement. This is much less taxing on the drone's 2800 mAh battery, which is enough for around 30 minutes of flight.
When Yuneec originally announced the Firebird on January, they estimated it to be released by April. That date has come and gone, so we're not entirely sure when the Firebird will finally be released. We're very excited for the release of this drone, as it could signal the resurgence in popularity of fixed-wing hobby drones.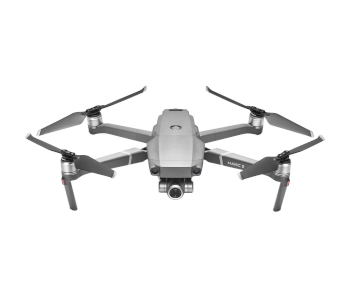 Release date: August 2018
Just a few months after the release of the Mavic Air, DJI gave the drone world a pleasant surprise with the release of the DJI Mavic 2. To top it all off, there were two variants of the Mavic 2: the Mavic 2 Pro and the Mavic 2 Zoom. This was a two-punch that pretty much ended the battle for the best portable drone.
The Mavic 2 Pro is focused on being the portable drone with the best camera setup. Boasting a 1-inch CMOS sensor for 20 MP stills and 4K video at 120 fps, the Hasselblad camera of the Mavic 2 Pro also has the widest ISO range of all Mavic drones. The Mavic 2 Zoom, as its name implies, has a camera that provides both 2x optical zoom and 2x digital zoom. It's no Hasselblad, but the 12MP camera of the Mavic 2 Zoom is nothing to sneeze at.
The gimbals of both Mavic 2 models have been upgraded with a more rugged design for added durability. They were also given the capability to rotate along two axes: in addition to being able to pitch up or down, they can now also rotate left to right. This opens up a lot of photography opportunities without needing to change the flight course of the drone.
Ease of flight has been improved by an omni-directional obstacle avoidance system, allowing drone pilots to fly the Mavic 2 with unprecedented levels of confidence. The upgraded Electronic Speed Controller (ESC), first seen in the Mavic Platinum Pro, was carried over to the Mavic 2, reducing wind drag and noise, and helping the Mavic 2 achieve greater efficiency and flight time.
With the release of the Mavic 2 drones, DJI has cemented their position as having the best portable drones in the market. We don't expect the competition to end, of course. Other drone manufacturers will probably still try to top the Mavic 2. As drone pilots, we love this little back and forth.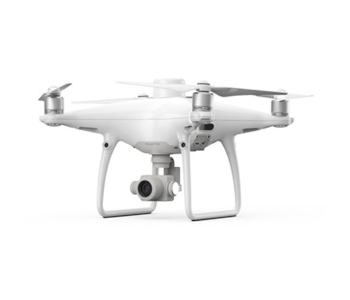 Release date: October 2018
Even with the intense competition over ultra-portable drones, DJI has not forgotten their line of professional drones. Just recently, they came out with the Phantom 4 RTK – a Phantom 4 variant that is made specifically for highly accurate mapping. At the heart of this drone is the integrated real-time kinetic (RTK) positioning system that allows the Phantom 4 RTK to generate positional data with centimeter-level accuracy. At this level of accuracy, the Phantom 4 RTK has the potential of reducing survey times by up to 75%.
The Phantom 4 RTK comes with the same 1-inch CMOs sensor that is found in the Phantom 4 Pro. The high-quality camera combined with the accuracy of locational data acquisition allows for the generation of maps with highly accurate data assigned to very identifiable features.
The Phantom 4 RTK ships with a dedicated controller that comes pre-loaded with the GS RTK app. This app was made for easy planning and execution of mapping tasks. The user only needs to determine the area to be mapped, set a few parameters such as overlap rate and altitude, and allow the drone to take over. The drone will follow along a pre-determined path, continuously taking photos and assigning locational data.
The Phantom 4 RTK represents the level of specialization and perfect execution that DJI aims for in their drones. It fulfills a very specific need and does so very well. Its price range is way beyond what casual drone pilots can afford, but it is clearly a product for mapping professionals or companies. Still, we appreciate the skillful integration of different technologies in a single drone, and we like how DJI continues to find technological solutions to all types of drone applications.
What lies ahead?
Very clearly, 2018 has been the battle of ultra-portable drones. No less than 5 drone manufacturers have come out with their own variants of the foldable drone, but in the end, DJI has reigned supreme with both variants of the Mavic 2. As people who are crazy about drones, we love how this little game of one upping each other has resulted in better and better technologies being packed into smaller and smaller packages. We think the battle is not over yet, and that 2019 will bring even more exciting times.
We still have a little more than 2 months left in 2018. Do we expect any new drones to be released within this period? For a long time, there have been rumors that the DJI Phantom 5 will be released in 2018. There have even been "leaked" photos circulating, showing a Phantom drone with an aluminum finish.
In the first half of 2018, there have been some rumors of a Spark 2 being released by DJI in 2018. Talks about this seemed to have died down recently. Perhaps waiting for an upgraded Spark is nothing more than wishful thinking. After all, the Spark is already the perfect beginner drone. But then, who knows? With the holiday season coming up, this would be a great time to release a brand-new drone that is designed specifically for beginners.
We are still hoping that Yuneec follows through on the drones that they have announced but have yet to release. The Firebird fixed-wing drone is an especially interesting one, as it has the potential of changing the landscape of the hobby drone industry.