Nikon Black Friday 2018 Camera Deals Released
3D Insider is ad supported and earns money from clicks and other ways.
Nikon is one of the largest manufacturers of DSLR cameras in the world. Their cameras offer better value than their Canon counterparts, and with these deals your money will go even farther.
These are the deals you can expect on Nikon Cameras for Black Friday 2018. They have been found in leaked flyers. We will continue to add to this page as more offers become available.
Live deal: The DJI Mavic Air drone is already on sale for Black Friday.
Nikon D3500 Bundle
Black Friday Price: $499 Retail Price: $749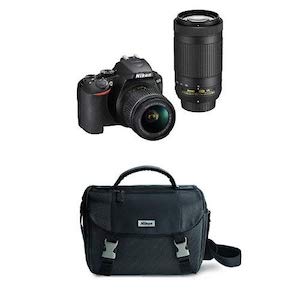 The D3500 is designed as an entry-level DSLR camera. It's for people just starting out in the space or for those who want a better than average camera. It has a 24 MP sensor that can shoot full-HD 1080p video at 60 frames per second. It has a great ISO range of 100 – 25,600, which means that it can perform well in low light conditions.
The image sensor for the D3500 is 15 times larger than ones found in the typical smartphone. This means you will get much better photos that you normally would. It has 11 autofocus points, which means it can focus on items pretty fast. This bundle comes with two lenses, so you can capture things at any distance.
Overall, this camera offers great specs for the price. It will be available at Best Buy and Sam's Club on Black Friday.
Nikon D5600
Black Friday Price: $699 Retail Price: $799
The D5600 is a step up from the D3500 and it's for people who are more serious about photography. It offers a good battery life of up to 960 photos. It has more focus points than the D3500 at 39 compared to only 11. This means that you will be able to capture a lot faster moving objects. This makes it a good camera for sports. It also comes with two lenses. It will be available at Best Buy.
Nikon D7200
Black Friday Price: $999 Retail Price: $1199
The D7200 has 51 autofocus points, which is significantly better than the D5600. It also has significantly better battery life with the ability to take over 1100 photos on a single charge. The shutter speed is double that of the D3500 at 1/8000s. This bundle comes with two lenses as well. Best Buy will be selling this bundle as well.
Nikon D750
Black Friday Price: $1899 Retail Price: $2199
This offer is already live on Amazon (see above). It will also be available at Best Buy for Black Friday. The D750 offers a 24 – 120mm lens, which means you can get the majority of shots without changing out lenses. This is a full frame sensor, which means that the sensor is much larger than the D7200. This lets in more light and results in much better photos.
Overall, Nikon is offering some solid deals for Black Friday. This is the best time to pick up a DSLR and Nikon is offering much better specs at lower prices compared to Canon.