Nikon Black Friday 2019 Deals (D850, D7500, D750)
3D Insider is ad supported and earns money from clicks, commissions from sales, and other ways.
Do you need a dependable new camera? Nikon is the manufacturer to look into this Black Friday as cameras across its extensive repertoire are hitting rock-bottom prices. No matter if you're into landscapes, wildlife, sports, or videos, there's a Nikon bargain you should not pass up.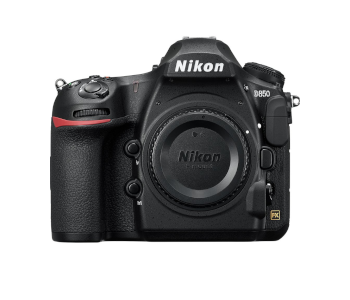 Nikon D850
Original Price: $3,296.95
Black Friday Price: $2,796.95
The D850 is one of Nikon's best cameras to date. It's a professional DSLR with unmatched versatility, excelling at wildlife, portrait, and sports photography while being a capable video shooter too. It's $500 off for Black Friday, and a real bargain. Professionals should jump at the chance to get it.
At 32 ounces, the D850 is among the lighter full-frame DSLRs on the market. Nevertheless, the camera has a magnesium alloy body and is molded to fit well in your hand, thanks to a textured grip. It has a detailed viewfinder with 0.75x magnification and a tillable LCD. Its battery has an enormous capacity and can shoot 1,800 photos before running dry.
The full 35mm frame lets the D850 capture pictures at an awe-inspiring 45.7 megapixels. Better yet, you can crop the image to save space and still get 19MP masterpieces. The large area also means that the sensor is exposed to a lot of light, and the D740's low-light performance is superb.
One hundred fifty-three focus points help you stick to a target and keep them sharp no matter how fast they're moving. Video stability is enhanced, too, thanks to an electronic vibration reduction system. Videos are shot in 4K UHD, and you can create both time-lapse and slow-motion videos if you switch to 1080p for the latter.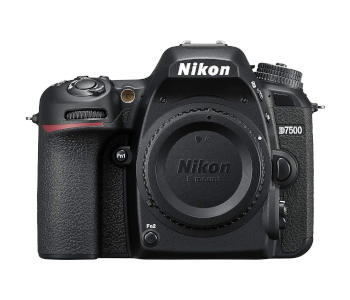 Nikon D7500
Original Price: $1246.95
Black Friday Price: $796.95
The D7500 was an enthusiast-level camera when it came out in 2017. It still holds its own today, and you can have it for an amazing price. It's the perfect mid-range camera for sports and action photographers as it has an 8fps burst mode and a special focusing feature that can hone in on a group. That lets you take breathtaking shots of runners or racecars trying to pass each other in exquisite detail.
This model is slightly lighter than its predecessors yet feels comfortable to hold and handle. It's weatherproof, so you can continue to shoot in a downpour if need. Sudden weather changes aren't a problem for the D7500 in terms of light either as the camera has excellent low-light adaptability. Its upper ISO limit is 52,600. While that won't see much use, it means lower values drastically brighten up images shot in low-light without introducing too much noise.
The EXPEED 5 image processor drives the APS-C sensor used in the D7500. It can shoot JPEG or RAW images at 20.2MP and has a generous buffer that lets you continue using burst mode for several seconds. Its 51 focus points make it easy to find and snap to a target, while the optical viewfinder helps frame the image with 100-percent coverage.
The D7500 is a cable video shooter, as well. You can record 4K at 30fps and create 4K time-lapses. The camera definitely has a place in a filmmaker's arsenal, especially since it has both audio and microphone jacks for superior recording performance.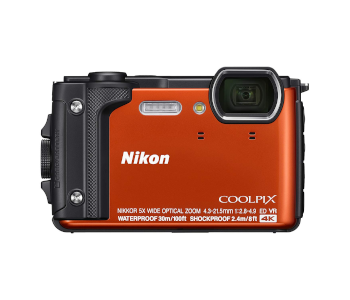 Nikon W300
Original Price: $389
Black Friday Price: $296.95
Want to get your kids into photography or start shooting underwater? Nikon's got you covered with the W300. It's a fun yet durable point-and-shoot camera newcomers and pros alike will find easy to use. The camera's main appeal is its waterproofing – you can take it as deep as 100 feet underwater and create mesmerizing underwater shots or videos.
The W300is lightweight and has a small yet durable frame. It's not as ergonomic as a DSLR but does feel good to hold and has an intuitive control setup. You can reach most settings through the logically-placed controls, but there's a 3-inch touchscreen with a decent menu system too. The SD card and battery slots are protected with a latch system you have to purposefully disengage before accessing them.
The camera has a resolution of 16 megapixels and only shoots JPEG files. You can apply various styles and effects to photos and share them wirelessly. Overall performance is great when there's enough light as the W300 consistently produces lifelike colors and accurate white balance.
Videos look fine too. Their max resolution is 4K at 30fps, and you can make fun time-lapses along with something Nikon calls super-lapse video. These look like regular time-lapses but capture movement better.
Other noteworthy Nikon camera deals