Nikon Cameras On Sale for Black Friday
3D Insider is ad supported and earns money from clicks and other ways.
Nikon has released their Black Friday deals and they are live right now. Nikon offers a lot more value for each dollar than Canon and with these Black Friday deals you'll get even more. They have discounted a range of cameras from entry level to prosumer.
It's not known how long these Nikon camera deals will be for sale. It's possible that they will be available through Cyber Monday, but this is not guaranteed.
Nikon D3500 Bundle
Black Friday Price: $499 Retail Price: $749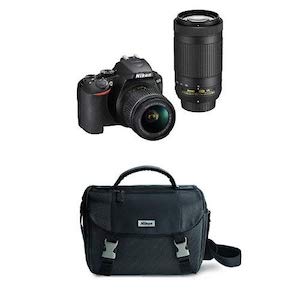 The D3500 is a starter camera bundle that comes with two lenses and a carrying case. One lens is 18-55mm and it's designed for short range photos. A longer distance 70-300mm zoom is also included.
This camera is for beginners who want a camera with a solid sensor. This camera can take 24 MP photos, which is phenomenal for this price range. It can also shoot full 1080p video at 60 frames per second (FPS). The D3500 has a good ISO range of 100 – 25,600. This means that it's capable of low light photos.
The D3500 has a sensor that's 15 times larger than your smartphone camera's. This means that it will pick up a lot more data and results in much higher quality images. This camera only has 11 autofocus points, so it's not good for shooting fast moving objects like in sports.
Nikon D5600
Black Friday Price: $699 Retail Price: $799
The D5600 is great camera for those who want more autofocus points than the D3500. It has 39 compared to only 11 for the cheaper D3500. Having more autofocus points opens up a larger world of photography to you. Much fewer images will turn out blurry and you can have the confidence that photos will happen in a flash.
This camera can take up to 960 photos per battery. It also comes with two lenses to ensure that you can capture everything you want.
Nikon D7200
Black Friday Price: $999 Retail Price: $1199
The D7200 has even more autofocus points than the D5600. It has 51, which means it's perfect for sports photography. It also has a much larger battery capacity. It can take up to 1100 photos on just one battery.
The shutter speed on the D7200 is twice as fast as the D5600. It can take a photo in 1/8 of a second, compared to 1/4 of a second for cheaper models. This means you are much less likely to get a blurry photo when you are tracking a moving object.
Nikon D750
Black Friday Price: $1899 Retail Price: $2199
The D750 is for people who want a full frame camera. The sensor on this camera is several times larger than cheaper options. The sensor on this camera is 36 x 24mm while the APS-C sensors on cameras above are 22 x 15mm. This results in 2.5 times the surface area for a full frame camera. 
Full frame cameras allow a lot more light into the sensor, which means that their low light performance is a lot better. They have a lot more data per photo too, which is important for professionals.
The D750 comes with a 24 – 120mm lens. This lens is long enough that you won't need to change lenses often to get a good photo.
Overall, Nikon has released great DSLR camera deals for Black Friday this year. Getting a 24 MP sensor at these price ranges is phenomenal.