Ninja Foodi Black Friday 2019 Deals (Pressure Cooker, Electric Grill, Convection Oven)
3D Insider is ad supported and earns money from clicks and other ways.
Do you love the taste of deep-fried goodness? If so, why not use this Black Friday to get a device that cooks amazing meals that taste like their fat-ridden alternatives but are much healthier? Ninja's Foodie line consists of diverse kitchen appliances that prepare delicious meals in a variety of air. All of them also come with an air fryer that produces crispy fries or succulent fried chicken without having to dip them in fat. Buy one and start enjoying your favorite meals carefree.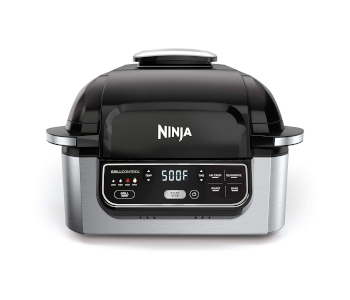 Ninja Foodi 5-in-1 Electric Grill AG301
Original Price: $229.99
Black Friday Price: $169.99
Do you love the taste of grilled food but lack the open space in which to prepare it? Ninja's electric grill is the answer as it delivers succulent, great-tasting results from your countertop. It takes up little space, is easy to disassemble & clean, and can perform five different functions.
You can set four grilling temperatures and need to let the grill preheat for eight minutes before use. The pre-selected temperatures are displayed in Fahrenheit on a large, bright display on the grill's side. They're ideal for varying meats and vegetables and can also be changed manually.
You need to close its top after putting in all the ingredients. This creates a seal and causes the air within to circulate, cooking everything equally. The grill comes with a grate that leaves recognizable grill marks and helps food prepared with the Ninja taste even more delicious.
There are four more things the AG 301 can do, most notably air crisp breaded chicken or French fries to perfection. You get a unique crisping basket that ensures continuous circulation of air and imparts a fried taste without the use of oil. The grill can also be used for baking, roasting, and dehydrating. The AG301 accommodates four quarts of food if you only use the non-stick cooking pot. It, along with the crisper and grill inserts, are dishwasher-safe and easy to remove.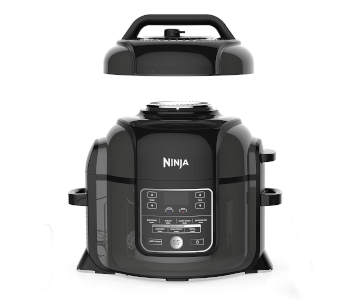 Ninja Foodi Pressure Cooker OP301
Original Price: $249.99
Black Friday Price: $149.99
Air frying and cooking under pressure have become staples of modern cuisine. However, coming up with space for both an air fryer and a pressure cooker is challenging even in spacious kitchens. The Ninja Foodi OB301 combines the two functions in one, quickly delivering pressure-cooked meals and frying potatoes or chicken to perfection.
The appliance is large and heavy but still takes up less space than two. It has a simple and intuitive interface with every function clearly labeled. You can set temperatures and cooking times with two arrows, and can see either on a large display. The OB301 comes with two lids; the slow-cooking one is fixed to the appliance while you can remove the one for air frying.
That's not all the OB301 can do, though. You may use it for baking, broiling, sautéing, slow cooking, and steaming your favorite meals. The pot these cook in is made of ceramic coated with a non-stick material. It's easy to rinse off even after you prepare oily dishes and safe to machine-wash too.
The OB301 performs its duties well. It prepares soups, pasta dishes, and rice in record time. You can air fry all manner of ingredients specifically or engage the TenderCrisp feature to add a finishing crisp to a pressure-cooked meal.
Speaking of pressure cooking, newcomers to the technique don't need to be apprehensive as the OB 301 has a multitude of safety features in place. Its lid won't open before the excess pressure is released, and there's an emergency valve if the primary one malfunctions.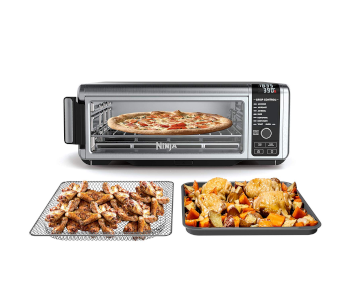 Ninja Foodi 8-in-1 Convection Oven SP101
Original Price: $249.99
Black Friday Price: $179.99
The two Foodi appliances above are great for spacious kitchens, but what if you live in a small apartment or only have a small family to feed? Ninja has you in mind, too, with the SP101 convection oven and air fryer combo. The oven takes up little countertop space and can be placed upright for an even smaller footprint once you're done using it.
Like other Ninja appliances, the SP101 is easy to use. The handle so off to one side, so it's easier to open. The oven's controls are located on the opposite end and clearly labeled. Inside you'll find an adjustable grate you can either take out or use to divide the space in two. There's also a clever tray that collects crumbs and pops out for faster cleaning.
You can use the SP101 to make healthier versions of your favorite fried foods. It also dehydrates, creates up to nine pieces of toast, bakes cookies, and is great at warming up frozen meals. The oven takes little to preheat and cools down quickly after use. Everything you cook with it turns out evenly since hot air circulates around the food. Expect fully-prepared meals in less than 20 minutes while reheating and warming up takes even less time.
Other notable Ninja Foodi deals