6 Best Nintendo Switch Controllers in 2020
3D Insider is ad supported and earns money from clicks, commissions from sales, and other ways.
The Switch is among Nintendo's most well-received gaming systems and has sold over 55 million copies worldwide. While its lineup of games is impressive, not everyone will say the same for the Switch's primary means of control. The Joy-Cons you get with it are small & expensive to replace. They also lack a proper D-pad and aren't suited for complex games.
Fortunately, you can ditch the Joy-Cons for other Nintendo or third-party controllers. Most of them are similar to controllers for other consoles, allowing you to execute moves more precisely while never getting tired of holding them. Some even come with customizable buttons or have an audio input that lets you communicate better with teammates during heated multiplayer matches.
Here are the six best Nintendo Switch controllers available today. They differ considerably in price, design, and capabilities, so read their reviews carefully before making a decision. Whichever you choose, your Switch gaming experience is about to get a whole lot better!
Budget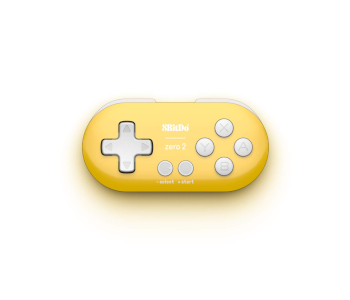 8Bitdo Zero 2
4.1/5.0
HD Rumble: No
NFC: No
D-pad emulates left analog stick well.
Check Amazon
Best Value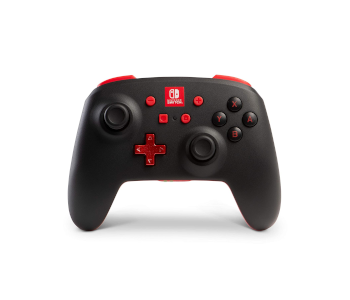 PowerA Enhanced Wireless Controller for Nintendo Switch
4.5/5.0
HD Rumble: No
NFC: No
Sound ergonomics and responsiveness.
Check Amazon
Top Pick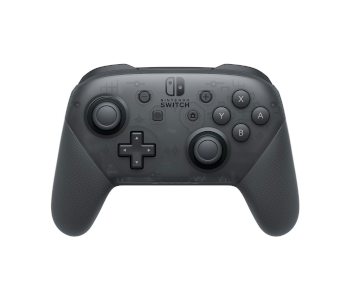 Nintendo Switch Pro Controller
4.8/5.0
HD Rumble: Yes
NFC: Yes
Flawless NFC and Bluetooth integration.
Check Amazon
Nintendo Switch Controllers Comparison Table
1. Best Overall – Nintendo Switch Pro Controller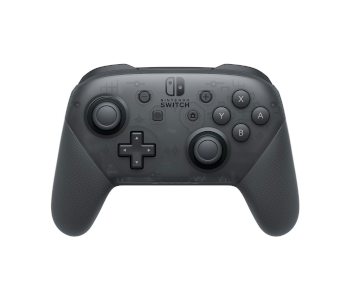 View on Amazon
Editor's Rating: 4.8/5
Nintendo realized that the Joy-Cons aren't everyone's cup of tea and swiftly released their best replacement, the Switch Pro Controller. This pricy upgrade is reminiscent of the controllers you get with other major consoles, so using it will feel right at home if you have one. The controller responds perfectly, has a huge battery capacity, and makes long play sessions much more comfortable.
Overview of Features
The Switch Pro Controller has a beautiful, semi-translucent plastic finish that lets you get a glimpse of its inner components. The ergonomics are on point and most similar to the Xbox 360's controller, if slightly more rounded. The layout is similar two since the analog sticks are offset and the D-pad is on the bottom left.
Everything about the Switch Pro Controller suggests maximum attention to detail. The face buttons are satisfyingly deep and don't click while both analog sticks rotate smoothly without exhibiting dead zones. Nintendo's D-pads were terrific ever since the NES era, and the Pro Controller's is no exception.
The Pro Controller is ideal for hours-long binges with the Switch either docked or placed on your bed or table. Its superb ergonomics will keep your wrists from getting tired while the massive battery ensures the session won't end abruptly. It has a charging time of six hours but keeps the controller going for forty! Replacing the battery is straightforward as you only need to remove a few screws and pop in a new one.
You can connect the Pro Controller through USB-C or Bluetooth, which makes it a great controller for PC gaming. There's also an NFC reader in its middle used to connect to your Amiibo figurines seamlessly.
What We Didn't Like
The Nintendo Switch Pro Controller is by far the most expensive item on our list. It costs almost twice as much as the PowerA Enhanced Wireless Controller and four times more than the 8Bitdo Zero 2. We think it's worth it, but you are paying a premium even PlayStation and Xbox users aren't. The triggers are the only part of the controller that feels underdeveloped. They act like regular buttons instead of allowing for rapid firing. Switch games aren't designed with variably-responding triggers in mind, but not outfitting the Pro Controller with them still feels like an oversight.
Tech Specs
Dimensions: 6.1 x 2.5 x 5.7 in.
Weight: 14.1 oz.
HD Rumble: Yes
NFC: Yes
Connection types: USB-C, Bluetooth
Battery: Rechargeable
The Pros
Exceptional battery life
Superb build quality and responsiveness
Flawless NFC and Bluetooth integration
Great ergonomics
The Cons
Expensive
Underdeveloped triggers
2. Best Value – PowerA Enhanced Wireless Controller for Nintendo Switch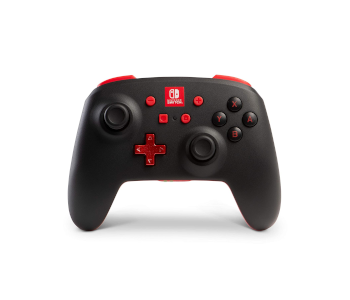 View on Amazon
Editor's Rating: 4.5/5
Are you looking for a controller that rivals Nintendo's but won't cost an arm and a leg? Third-party options are the way to go, and PowerA's Enhanced Wireless Controller is among the best. It sacrifices some aspects of the Pro Controller's usability many gamers won't care for butt retains the excellent responsiveness and motion controls that made the original great. Plus, you get an edge since the controller has two customizable buttons.
Overview of Features
PowerA is licensed by Nintendo to make this controller, so the build quality has to maintain a high standard. It does, as evidenced by the smooth motion of its analog sticks and the flawless execution of motion controls. We found the face buttons to have optimum travel and the right amount of tactile feedback. The controller is light yet doesn't feel cramped, so you can use it comfortably even if you have large hands.
Advanced Gaming Buttons are the controller's stand-out feature. They're located on the underside of its grips and easy to activate with your middle fingers. You can customize their function to mimic that of other controls by holding down a button on the controller's bottom, selecting what control you wish to duplicate, and then choosing the Advanced Gaming Button for the task. The process is intuitive, and the controller will remember your choice. Making use of this feature has the potential to drastically increase your response rate since you can map frequently-used moves to them and won't have to move your thumb as much.
There's an abundance of looks to choose from when buying a PowerA controller. Nintendo's licensing allows for beautiful prints of the company's beloved franchises, but there are ordinary designs as well. The choices area mixed bag since some of them have face buttons that are hard to make out while others' D-pads are gaudy.
The controller doesn't have a rechargeable battery and relies on two AAs instead. PowerA estimates that the batteries have a runtime of 30 hours. Unlike the Pro Controller, this one only uses Bluetooth to connect to the Switch.
What's Bad About It?
The PowerA Enhanced Wireless Controller lacks NFC support and vibration, understandable since other features are comparable in quality to Nintendo's controller. You might not care about this, but you may mind the D-pad's inferior quality. It feels cheaply-made and isn't as responsive as the originals. You may want to look elsewhere if you're into games like Street Fighter for that reason.
Tech Specs
Dimensions: 3.9 x 1.2 x 3.9 in.
Weight: 13.1 oz.
HD Rumble: No
NFC: No
Connection types: Bluetooth
Battery: 2 AAs
The Pros
Excellent value for the money
Has two customizable buttons
Sound ergonomics and responsiveness
Lots of designs to choose from
The Cons
Lacks rumble and NFC support
Mediocre D-pad
3. 8Bitdo Sn30 Pro+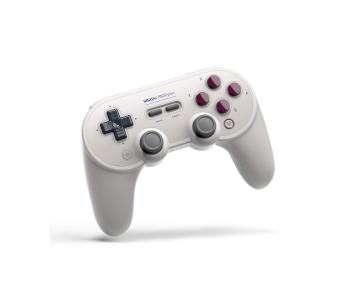 View on Amazon
Editor's Rating: 4.5/5
8bitdo is a company specializing in the creation of controllers for old-school consoles and emulators. The Sn30 Pro+ represents the company's foray into modern switch territory, and a resoundingly successful one at that. It can be minutely customized through PC software, has excellent triggers, and is one of the comfiest models we've tested.
Overview of Features
The Sn30 Pro+ is 8Bitdo's finest controller to date and pays homage to Nintendo systems of old like the original Gameboy and SNES. Its layout resembles that of a PlayStation controller since the analog sticks are parallel. All the buttons respond with a satisfying click and have good travel as mushiness isn't a problem. We particularly like the face buttons on the Gameboy and SNES versions of the Sn30 Pro+. Two are convex while the other two are concave, making it easy to find the right one by touch.
The controller has two additional buttons that bring up the home screen or take a screenshot by default. Unlike the Switch Pro Controller, the Sn30 Pro+ has analog triggers. It's also supported by excellent customization software. You hook it up to PC via USB-C and then remap the controls, adjust stick & trigger sensitivity, and even bind macros to individual buttons. The Sn30 Pro+ doesn't have HD Rumble, but it has two vibration motors whose intensity you can alter individually. You can save a custom profile to the controller, and it will work flawlessly on the Switch!
The Sn30 Pro+ uses both USB-C and Bluetooth to connect. However, the USB cable is short. Bluetooth works fine and is lag-free, so you don't need to resort to a wired connection. You get a 1,000mAh battery pack that powers the Sn30 Pro+ for 18 hours per charge and takes four to fill up. You may also remove the pack and exchange it for 2 AA batteries if you wish.
Are There Drawbacks?
The Sn30 Pro+ can store only one profile locally. You need to plug it into a computer and replace the profile each time you want a new one, which can be tedious if you're accustomed to different layouts for each Switch game. The controller is very light and feels cheaply made. This isn't a problem initially, but the face buttons might start to stick with use.
Tech Specs
Dimensions: 6 x 2.5 x 4 in.
Weight: 7.8 oz.
HD Rumble: No
NFC: No
Connection types: USB-C, Bluetooth
Battery: Rechargeable, 2 AAs
The Pros
Tactile, clicky buttons
Can be customized extensively
Supports both regular batteries and a rechargeable pack
Appealing design with custom buttons and useful textures
The Cons
Loading up more than one profile is a hassle
Mediocre build quality
4. HORI Nintendo Switch Split Pad Pro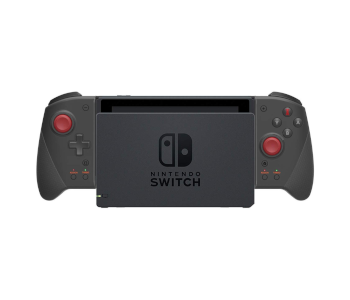 View on Amazon
Editor's Rating: 4.4/5
The controllers we've looked at so far are all standalone and most useful for playing Switch games at home. What if you're an on-the-go gamer and need a better solution than the Joy-Cons? Hori has got you covered with the Split Pad Pro, a set of attachable controllers that couple the Joy-Con's portability with the Pro Controller's ergonomics and additional buttons.
Overview of Features
The first thing you'll notice about the Split Pad Pro is its size. The two halves are broader and deeper than Joy-Cons and give you much more breathing room. Adults with larger hands will finally be able to enjoy action-packed switch titles without needing a separate controller as the Split Pad Pro mimics the Pro Controller's layout and responsiveness well.
The Split Pad Pro is made with quality materials with a lot of attention to details. The red thumbpads are slightly concave and have a matte finish for a better grip. The face buttons are easy to see, and the paddles follow your command instantly. The Split Pad Pro has two paddles on the bottom you can customize. More extra controls can be found on either face in the form of home, plus, minus, and several turbo buttons. You can tell when the turbo is engaged by red & green LEDs that light up next to the associated buttons.
Ordinary Joy-Cons don't have a D-pad, which is why we're pleased that the Split Pad Pro's is so well-made. The pad rivals the Pro Controller's accuracy and feel. It's sure to make fighting and side-scrolling games more enjoyable during commutes.
The Split Pad Pro doesn't have a power supply, relying on the Switch instead. However, it's very economical and doesn't drain its battery more than a regular Joy-Con. Attaching the Split Pad Pro is straightforward; you slide each part onto the Switch and are ready to go in no time. Its weight isn't specified, but the two halves are balanced and hold onto the Switch more securely than Joy-Cons do.
What We Didn't Like
The Split Pad Pro is of non-standard size, which makes finding a carrying case that accommodates both it and the Switch hard. The controller also lacks any kind of vibration and doesn't support NFC.
Tech Specs
Dimensions: 8.7 x 2 x 5.8 in.
Weight: not specified
HD Rumble: No
NFC: No
Connection types: Physical
Battery: From Switch
The Pros
Much better ergonomics than regular Joy-Cons
Excellent D-pad
Lots of extra buttons
Doesn't put a strain on the Switch's battery
The Cons
No vibration or NFC
Finding a carrying case for it and a Switch is tricky
5. PDP Faceoff Deluxe+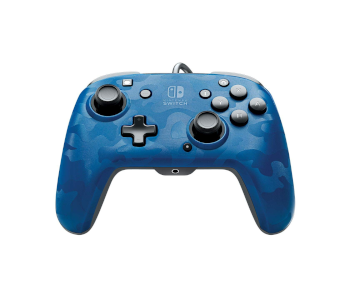 View on Amazon
Editor's Rating: 4.2/5
The Switch is home to popular online competitive games like Warframe and Fortnite that require voice chat if you want to play as a team effectively. Nintendo's chat app is alright for casual use, but the faceoff Deluxe+ by PDP provides something no other controller does – a 3.5mm headphone input jack. You can use it for clear communication with teammates while also getting the benefits of wearing headphones when you need to listen to audio cues.
Overview of Features
The Faceoff Deluxe+ looks strikingly similar to the Pro Controller. Its quality isn't the same, which is unsurprising given the price difference. Even so, the Faceoff Deluxe+ holds its own with snappy face buttons and concave thumbsticks that keep your thumbs from slipping. The controller's surface is made with a camo pattern that looks cool and has a deep texture for a better grip. You can swap out the top plate if you ever get bored of it.
Audio support is the Faceoff Deluxe+'s main feature. A 3.5mm jack on its bottom works with any standard headphones regardless of whether they have a mic. You can control the volume by holding the function button and using the up and down arrows on the D-pad. It's also possible to mute the audio by double-tapping said button. Audio quality isn't stellar, but it's good enough to coordinate an ambush or listen to the frustrated voices of defeated enemies.
Unlike the Pro Controller, the Faceoff Deluxe+ has two side paddles you can set to double as any of its other controls. These react to the slightest touch, so you might even want to turn them off when playing some games if you accidentally keep pressing them.
What's Bad About It?
The Faceoff Deluxe+ has a fixed USB cable. On the one hand, the cable is long and lets you connect the controller to a PC. On the other, you need to connect it to the Switch through an included USB-C adapter and need more place to store it since the cable can't be removed. The Home button has an annoyingly bright LED that might be distracting even in daylight. It's also next to the Pause button, so it's easy to confuse one for the other.
Tech Specs
Dimensions: 8.3 x 1.2 x 3.5 in.
Weight: 14.1 oz.
HD Rumble: No
NFC: No
Connection types: USB
Battery: From Switch
The Pros
Supports voice chat through headphones
Decent build quality
Customizable paddles
Interchangeable faceplates with a grippy texture
The Cons
Home button has annoying bright light
Non-removable USB cable
6. Best Budget Option – 8Bitdo Zero 2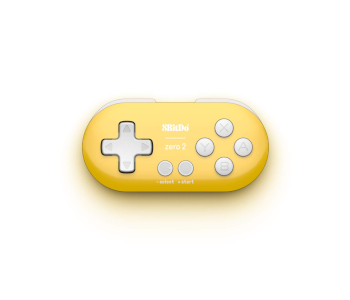 View on Amazon
Editor's Rating: 4.1/5
Regular Joy-Cons are already supremely portable, but 8Bitdo has upped the ante by introducing the Zero 2, a ridiculously small controller that fits on a keychain. Don't knock it 'till you've tried it, though, as the Zero 2 performs surprisingly well for its tiny size. It's perfect for when you want to sneak some retro gaming in between classes, but it works with many contemporary titles.
Overview of Features
You might be thinking that a controller as petite as the Zero 2 would be built poorly. You'd be mistaken as the Zero 2's inputs are robust and on par with those seen on larger, more expensive models. The face buttons leave a strong impression while the D-pad is among the best on review. The side paddles offer more resistance than we'd like, but it's a nuisance you get used to quickly.
The Zero 2 has a severe button shortage and lacks analog sticks. You won't be able to take down the forces of hell in DOOM with it, but the situation isn't as grim as it seems. Additional controls can be accessed by pressing two buttons simultaneously. For example, pressing Select and Start will bring up a menu vital for playing NES and SNES games while holding down on the D-pad while pressing Select brings up the home menu.
You don't need to worry about using the D-pad for newer games, either. It feels like an excellent approximation of the left thumbstick's input despite having digital input instead of analog.
The Zero 2 uses Bluetooth to connect to your Switch. Its connection is stable, and there's no perceptible lag. A rechargeable battery gives you enough juice for eight hours of play and tops up in no time.
Are There Drawbacks?
The Zero 2's size is simultaneously its best and worst feature. There's no escaping the fact that its controls are cramped and unsuitable for large hands. Playing with it gets uncomfortable quickly, which is why the Zero 2 is best for short gaming bursts. The Zero 2 would be an excellent choice as a compact controller for classic game emulation on smartphones, but it has trouble maintaining a Bluetooth connection with devices other than the Switch.
Tech Specs
Dimensions: 4.3 x 1.5 x 2.2 in.
Weight: 0.8 oz.
HD Rumble: No
NFC: No
Connection types: Bluetooth
Battery: Rechargeable
The Pros
Exceptionally portable
Surprisingly good build quality
D-pad emulates left analog stick well
Long-lasting battery considering its size.
The Cons
Cramped and starts to become uncomfortable after a while
Spotty Bluetooth connection to smartphones