The Top Nintendo Switch Deals for Black Friday 2019
3D Insider is ad supported and earns money from clicks and other ways.
If there is a product that is a surefire hit during the holidays, it is the Nintendo Switch. Black Friday is undoubtedly going to be a big day for this hybrid console. Both young and old will fall in line or check out online prices to make sure they get the best deals.
There are a couple of Nintendo Switch bundles available this year, and more may be announced later as Black Friday draws closer. If you are looking for a new console this holiday season and looking for an excellent deal, then this is the perfect time for you to get one.
Here are some of the best Nintendo Switch deals you can enjoy on Black Friday.
BUNDLES
NINTENDO SWITCH WITH MARIO KART 8 DELUXE BUNDLE
Original Price: $359
Black Friday Price: $299
The Nintendo Switch retails at $299, but you only get the console. At first glance, this may not be your usual discount, but if you carefully check it out, you are essentially getting the Mario Kart 8 Deluxe for free. That's a savings of $60, a good 16% off.
If you do not own a Switch and want one of the best games on the platform, then this is the bundle to get. Mario Kart 8 Deluxe is an excellent racing game that is as addictive as its original version. This is the best game in the series so far, and it comes with all the content that you expect from a Mario Kart title. The overhauled Battle mode and additional game types will give you a ton of replay value.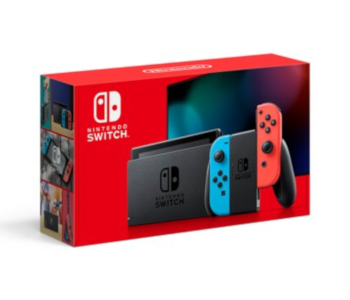 NINTENDO SWITCH WITH MINECRAFT BUNDLE
Original Price: $329
Black Friday Price: $299
This Switch bundle essentially comes with a free bundle of Minecraft. This is one of the best Switch deals right now since it comes with the latest version of the console, which has extended battery life.
If you enjoy creating a world of your own on the go, then this is the bundle for you. You can write your stories and weave your own destiny in this sandbox game. Going on unplanned, unpredictable adventures is what Minecraft is all about. Challenge yourself and teach yourself how to explore the world, whether you are at home or on the road.
GAMES
Black Friday is also one of the best times to score the best Nintendo Switch games. Top titles such as the latest Legend of Zelda, Super Mario Odyssey, and Splatoon 2, are available on sale where you will be able to save $20.
Legend of Zelda: Breath of the Wild is an exciting open-world adventure game that more than remakes the franchise. You can go on a lot of different adventures in Breath of the Wild, and each one has a unique story that will surely pull you in. You can spend 50 hours on this game and still find things you have not come across. They have definitely mastered open-world game design with Breath of the Wild.
In Super Mario Odyssey, our favorite plumber is back. He has evolved yet again and mixes the old with the new. It has redefined platform games, once again, just like what Mario does with every title. The title introduces new game mechanics as you move through the story and levels, which will give you hours of fun.
Here are some of the best Nintendo Switch titles that are on sale this Black Friday:
Watch out for updates as more discounts, bundles, and games may be announced as Black Friday nears.