8 Best Active Noise-Canceling Microphones & Headsets
3D Insider is ad supported and earns money from clicks and other ways.
There are plenty of practical reasons to opt for a noise-canceling microphone. It sounds right, but what does it mean—exactly? Read my short introduction if you don't know the answer to that question. Alternatively, jump to the noise-canceling mic reviews if you don't need an explanation.
Budget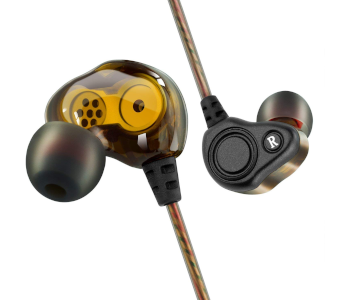 BYGZB In Ear Mic
4.4/5.0
Mic Type: Built-in
Connection: 3.5mm jack
Decent noise canceling, clear mic, fits under helmets, excellent value.
Check Amazon
Best Value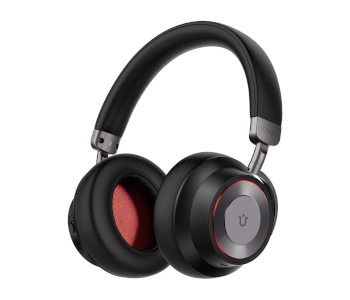 Utaxo Over Ear Headphone Mic
4.9/5.0
Mic Type: Built-in
Connection: Bluetooth
Soft protein ear cups, Bluetooth 5.0, 30+ hrs. playback.
Check Amazon
Top Pick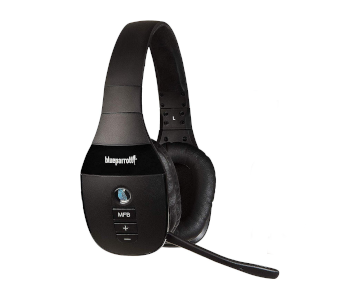 VXI BlueParrott Headset Mic
4.8/5.0
Mic Type: Over-mouth
Connection: Bluetooth
Feature-packed, padded ear cushions, impressive range, voice commands.
Check Amazon
What Is Noise Canceling?
It's a question with a straightforward answer. The pioneering technology improved the audio for the person on the other end of the line—without a headset. Now, fast-forward to 2015. That's when we saw the introduction of 'Active Noise-Canceling' technology for headset wearers.
Nowadays, the one with the headset can also enjoy better quality audio. Active noise-canceling reduces unwanted background sounds and other distractions. These types of earphone and mic headsets are invaluable if you operate in loud environments.
How Noise Canceling Mics Work
The technology is quite simple but incredibly smart. Don't worry—I won't get too technical here.
A microphone with noise-canceling uses two or more mics. Each one picks up sound from a different source. The primary receiver is the one that rests in front of the speaker's mouth. Another mic(s) picks up ambient sounds or background noise. The technology then minimizes all unwanted noise before it transmits the voice to the other end. The result is much cleaner audio.
Benefits of Active Noise Canceling
It's quite usual to crank up the volume when distracting sounds filter through to a headset. That's not good for the ears, though, and it's not the most enjoyable way to hear audio. The best noise-canceling headphones do an excellent job of filtering out unwanted sounds. They do this while preserving the original signal. Ergo, users can enjoy audio at much lower volumes, and that's always a good thing.
Active noise-canceling headphones can bring silence to your world just by wearing them. You don't have to listen to anything but the blissful silence they provide—if that's your thing.
Low-Tech Passive Noise Cancelation
Passive noise cancelation doesn't use any technological wizardry. These are quality over-ear headsets that can block out a lot of unwanted outside noise. That's great news for the wearer. However, this type of noise isolation doesn't benefit headsets with mics for obvious reasons.
Headphones Vs. Earphones
The first noise- cancellation headsets were big and bulky. Like most technological advancements, miniaturization soon followed. Now there's a choice between headphones and in-canal earphones. These impressive little products can accommodate the same kind of circuitry and mics. Which of the two options you choose is down to preference, cost, and expectations.
Where Noise Canceling Fails
Noise-canceling technology targets human speech. The secondary mics reduce any background voices by up to 75% or more, i.e., crowd noise. That makes them ideal for use in a busy office environment. They're not so good at filtering out every sound type, though. Thus, the call recipient may hear things like barking dogs, music radio, or other noise louder than you can.
There's another downside to noise-canceling headphone mics. Most don't sound quite as good as standard headsets. Yes, they filter unwanted noise, but the audio quality may fall short in comparison. Always read the specs and user feedback to get a feel for how each product performs. The idea is to find a microphone/headset that works for you and your type of environment.
About My 'Noise-Canceling Microphone' Guide
There are 8 reviews here. I've included a variety of noise-canceling microphones for all budgets. This shortlist is the outcome of extensive research which looked at dozens of products. I also took the opinions of audio industry experts into consideration and user feedback. My first three reviews are for Best Budget noise-canceling headset, then Best Value, followed by the Editor's Top Pick.
Soundbars Under $200 Comparison Table
1. BYGZB Noise Canceling In-Ear Bass Mic | Best Budget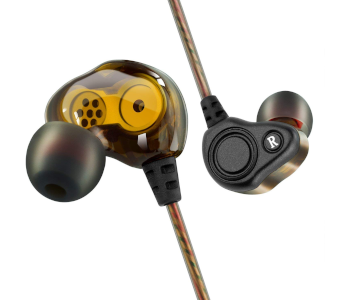 View on Amazon
Editor's Rating: 4.4/5
The Best Budget product goes to a pair of the BYGZB passive noise canceling microphone earphones. It's a wired set that boasts high-resolution audio with a heavy bass.
Best feature 1: Comfortable, lightweight, ergonomic design
Best feature 2: Tonally balanced audio
Plus points: Decent noise canceling, clear mic, fits under helmets, excellent value
Minus points: Very good—rather than great—audio, no volume control
BYGZB in Ear W/ Bass Mic Highlights
The BYGZB noise canceling in-ear buds with mic offer excellent value for a product in its class. They're ultra-lightweight and comfortable to wear for extended periods. The sound is quite nice and tonally balanced, though a true audiophile may disagree. Still, this earphone/mic set is for folks on the go, but how well do they work for reducing unwanted noise?
Well, this product is especially popular among cyclists and motorcyclists. That's because the earbuds fit easily under helmets and cut out the rushing wind caused by speed. That makes them ideal for listening to music or taking and receiving calls. And yes, the tiny HD mic transmits clear, clean audio. It's also an excellent choice for folks who like to listen to audiobooks without outside distractions.
Summing Up
There are much better products available, but not in this price category. Most criticism seems to come from folks who have downgraded. Ergo, they unfairly compare the BYGZB with superior products. The set includes a clip and six (three pairs) of various sized ear tips.
The Not So Good
These noise-canceling earbuds are about as good as they get in this price category. The audio is decent rather than great, but then that reflects the price. A more justifiable gripe is that there's no volume control from the earbuds. It's only a feature people miss if they've been used to it, though.
Tech Specs
Brand: BYGZB
Mic Type: Noise-canceling earbuds
Connection: 3.5mm jack
Polar Pattern: N/A
Power Supply: Plug-in device
Package Dimensions: 6.5 x 3.8 x 1.3″
Product Weight: 0.64 oz.
Warranty: Lifetime
The Pros
Excellent value for money
Comfortable and lightweight
Modern, ergonomic design
Fits under bike helmets
Tonally balanced audio (bass/soprano)
Decent noise canceling
Clear HD sounding mic
Single push-button functions
Cable clip
3 pairs (6) of various size ear tips
The Cons
Good, rather than great audio
No volume control on earbuds
2. Utaxo Noise Canceling Headphone Mic | Best Value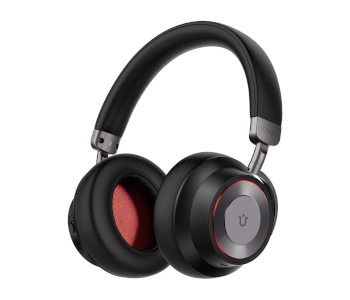 View on Amazon
Editor's Rating: 4.9/5
The popular 'Active Noise Canceling Headphones from Utaxo' makes the Best Value slot. The company markets them as wireless, over-ear hybrid headphones for escaping noise.
Best feature 1: Acoustic noise canceling
Best feature 2: CVC 6.0 noise canceling microphone
Plus points: Soft protein ear cups, Bluetooth 5.0, 30+ hrs. playback, super-fast charging
Minus points: Some wearers experience pressure discomfort
Utaxo Over-Ear Headphone Mic Highlights
Utaxo's over ear headphones meet most of the current demands for a noise-canceling product. They're stylish—to today's standards—and ultra-comfortable. That's thanks to a lightweight construction and feathery-soft protein cushions. They're so comfortable you won't want to take them off. The active noise canceling removes you—figuratively speaking—from your surroundings, wherever you are.
Simple Simplicity Meets Sophistication
These headphones are simple yet sophisticated. They offer Bluetooth 5.0 wireless connectivity, so no awkward wires to contend with. You can expect 30+ hours on a full charge which is insane—in a positive way. Even better is the high-speed 5-minute charge that provides 2 hours of playback. Now that's impressive. Most owners of this product praise its beautiful balanced hi-fi stereo sound.
The built-in CVC 6.0 noise canceling double microphone is another feature highlight. Its interference-reducing technology does an excellent job at suppressing environmental sounds. And answering calls, adjusting volume, etc., is effortless from controls at the side of the headphones.
The Not So Good
A minority of users report some pressure discomfort when wearing these headphones. For the record, that can happen with any active noise canceling (ANC) headset. Some are worse than others, though. Most wearers become immune to the discomfort after a while if they stick it out.
Tech Specs
Brand: Utaxo
Technology: Active Noise Canceling
Mic Type: Built-in noise canceling
Connection: Bluetooth 5.0
Power Supply: Rechargeable battery
Charing Time (Full): 30 hours
Charging Time (Fast): 5 minutes
Charging: USB
Product Dimensions: 7.4 x 6.5 x 3.7"
Product Weight: 3.68 oz.
The Pros
New ergonomic design
Acoustic noise canceling
CVC 6.0 noise canceling mics
Ultra-comfy soft protein ear cups
Hi-Fi stereo sound
Bluetooth 5.0 (no wires)
Full headphone controls
Hassle-free, crystal-clear calls
30+ hrs. playback on a full charge
Super-fast 5 minute charging
Carrying Case
The Cons
Some users may experience pressure discomfort
3. BlueParrott Noise Canceling Mic Headset | Top Pick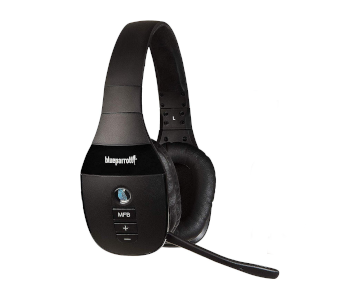 View on Amazon
Editor's Rating: 4.8/5
Our Top Pick goes to the stylish VXI BlueParrott B450-XT bundle. This is a noise-canceling headset/mic with Bluetooth connectivity. It boasts an impressive wireless range and many hours of talk time.
Best feature 1: Blocks out around 95% of unwanted noise
Best feature 2: 24 hours talk time
Plus points: Feature-packed, padded ear cushions, impressive range, voice commands
Minus points: Potential issue answering calls via voice command, expensive
VXI BlueParrott Mic Headset Highlights
Be sure to watch BlueParrott's noise-cancellation demo video with a 112dB chainsaw and other noisy tools. It demonstrates how the headset blocks out around 95% of surrounding ambient noise. The over-ear cushions are ultra-comfy and fully padded, designed for extended wearing. And the Wideband HD voice and audio guarantee exceptional sound for both speech and listening applications.
The built-in microphone also boasts advanced noise-canceling technology. That means your listeners at the other end get to hear a clear voice with little to no background noise. Other highlights include GPS navigation, music streaming, and a walkie-talkie feature using the BlueParrott App.
The Beauty of Bluetooth
This is a handsfree noise-canceling headset that uses Bluetooth technology. Its 300ft wireless range and 24 hours talk time are high selling points, but there's more. A full battery can last up to 20 days on standby mode. Multi-pairing is a snap with the B450-XT using either Bluetooth or NFC (Near Field Communication). Heck, you can even pair 2 devices simultaneously if you need to.
The VoiceControl feature provides 100% handsfree operation with a smartphone's voice command function. They include instructions for answer/reject incoming calls, or to activate Google or Siri Assistants. You can also control the headset using its multi-function buttons.
The Not So Good
There are a few reported issues with the B450-XT Answering Calls function. That could be voice-related, interference from surrounding environments, or a technical fault. It's not a widespread problem. Even so, there are enough testimonies to suggest it occasionally happens with some users. Lastly, the VXI BlueParrott B450-XT is excellent value, but it's still quite an expensive headset.
Tech Specs
Brand: BlueParrott
Mic Type: 2-mic 6mm noise-canceling
Connection: Wireless
Polar Pattern: Bi-directional
Power Supply: 300mA Battery
Ambient Noise Suppression: 96%
Frequency Response: 100Hz to 10kHz
Speaker SPL: 123 dB
Product Dimensions: 7 x 6.6 x 2.5"
Product Weight: 5.22 oz.
Warranty: 1 year
The Pros
100% hands-free headset
Blocks 95% of ambient noise
24 hours talk time
300ft wireless range
Bluetooth connectivity
Near Field Communication (NFC)
Over-mouth mic
Mic windscreen
Ultra-comfy over-ear cushions
Voice commands
One-tap pairing
Stream music
BlueParrott App
USB charging cable
The Cons
Potential issue answering calls via voice command
Quite expensive
4. FIFINE USB Plug-N-Play Home Studio Microphone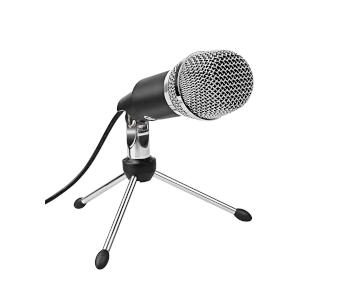 View on Amazon
Editor's Rating: 4.6/5
Meet the FIFINE K668 USB Microphone. It's an affordable plug-and-play home studio mic that's super easy to use. It's ideal for YouTube recordings, Skype Chat, Google's Voice Search, and so on.
Best feature 1: Noise-canceling omni pick-up pattern
Best feature 2: Plug-n-play simplicity
Plus points: Rugged build, tripod stand, adjustable angle, versatile use, excellent value
Minus points: Average noise cancelation, non-removable cable, no mute button
FIFINE K668 USB Home Studio Mic Highlights
The K668 has a metal build and comes with an aluminum tripod. The mic has a 90° adjustment so you can find the perfect angle. It uses an omni pickup pattern that works well at isolating the primary sound source (voice). It cancels ambient noise outside of its pickup range quite good, so the voice stands out for the listener. The background noise-cancelation impresses many of its owners.
Fifine's K668 USB mic provides much better-quality audio than the built-in mics of modern devices. It's a versatile recording tool that works with Windows PCs and Mac operating systems (OS). This mic is an excellent choice for entry-level voice-over artists and podcasters. More generally, it's a superior alternative to fixed mics and provides users with a clean, rich, and transparent sound.
The Not So Good
The noise-cancelation is impressive for a low-budget mic, but it's not exceptional or guaranteed. Some louder ambient sounds may still get through. Thus, look to operate in quieter spaces when possible. The mic's cable is built-in and non-removable. That means a broken wire is a broken mic, so users must treat it with care. The mic doesn't have any onboard controls, not even a mute button.
Tech Specs
Brand: FIFINE
Mic Type: Desktop condenser
Connection: USB
Polar Pattern: Omnidirectional
Power Supply: Plug-in device
Sensitivity: -55dB, 2dB
Impedance:
Frequency Response: 50Hz–16kHz
S/N Ratio: More than 36dB
Product Dimensions: 4.88 x 2.6 x 7.28"
Product Weight: 10.6 oz.
Warranty: 2 years
The Pros
Noise-canceling pick-up pattern
Plug-n-play simplicity
Rugged build
Clean, transparent sound
Aluminum tripod stand
Adjustable 90° angle
Extended frequency response
Versatile use
Mac and Windows compatible
Excellent value
The Cons
Average noise cancelation
Non-removable cable
No mute button
5. Mpow USB Noise-Canceling Skype Headphones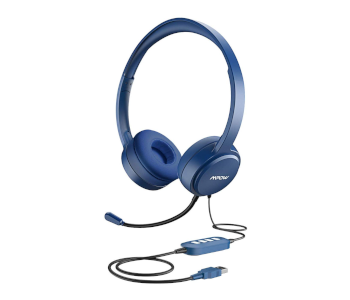 View on Amazon
Editor's Rating: 4.4/5
Whoever said noise-canceling microphone headsets cost the earth got that wrong. The Mpow USB Stereo Headset with Microphone has a lot to offer for little outlay. Let's take a closer look.
Best feature 1: Advanced noise-reduction soundcard
Best feature 2: Wide compatibility
Plus points: Bendable headband, unidirectional mic, 3.5mm plug, 5 colors, affordable
Minus points: Small size, potential issues with mute
Mpow USB Skype Mic Headphones Highlights
Headset/Mic Compatibility: Windows, 2000, XP, Vista, Win 7, 8, 10, Mac OS X, iOS, Android, tablets, and other compatible smart devices.
Mpow's USB headset doesn't use conventional noise reduction technology. Instead, it achieves its impressive acoustic enhancement from a built-in premium sound card. It works by reducing static noise and echo that many cheaper headsets suffer from. At the voice end, audio quality is enhanced by the adjustable unidirectional pickup microphone. Many users praise the mic for its clear audio.
Design and Functions
The design of this mic headset is loved and loathed in equal measures. Uses appreciate the audio quality and functionality. They're not so keen on the construction, especially the small size (see below). The headset band is incredibly bendable and most likely unbreakable. The earmuffs and plastic parts are less respected. Still, it's an inexpensive headset, so something always has to give.
This Mpow USB headset comes in a choice of 5 colors, which is always nice to have. There's a 3.5mm jack that allows you to attach the headset to a smartphone. It's also compatible with Mac and Windows PCs and Android/iOS tablets. The small panel attached to the wire has buttons for volume control, mic mute, and speaker ON/OFF. You can also listen to your own voice if that's of interest.
The Not So Good
This headset is smaller than the sales images suggest. It can cause discomfort or even hurt for some wearers after a while. Think about that if you have large ears, a significant head, or big hair. A mute button is always a welcome feature on headset/mics, but some users report issues. They say it stops working for no apparent reason. It's not a problem for everyone, but it is a potential concern.
Tech Specs
Brand: Mpow
Mic Type: Noise-canceling
Connection: USB/3.5mm audio jack
Polar Pattern: Unidirectional
Power Supply: Plug-in device
Dimensions: 6.9 x 7.9 x 2.2"
Product Weight: 13.6 oz.
Warranty: 1 year
The Pros
Advanced Noise-Reduction Soundcard
Wide compatibility
Bendable, indestructible headband
Unidirectional mic
USB + 3.5mm plug
5 colors available
Affordable
The Cons
Small size, tight fit
Potential issues with mute
6. Antlion Audio ModMic Boom Noise-Canceling Mic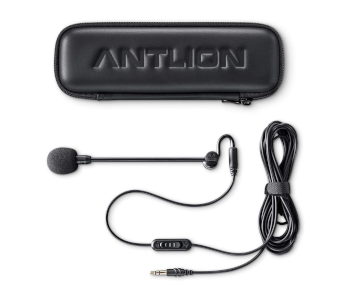 View on Amazon
Editor's Rating: 4.3/5
This product is the popular Antlion Audio ModMic—a fasten-on boom microphone. It adopts effective noise-canceling technology and has a handy mute switch.
Best feature 1: Noise-canceling add-on boom microphone
Best feature 2: Fits onto any headphones
Plus points: Easy to set up, removable, adjustable, mute switch, smart case, affordable
Minus points: Average magnet, overly long cord, plasticky
Keep Your Headset; Add a ModMic
ModMic is easy to set up and use. This removable, high-sensitivity boom mic should work with most headphones. It comes with a two-part, low-profile magnetic clasp. The 1/2" adhesive base fixes to the outside part of an earmuff. That includes plastic, metal, and even mesh surfaces. The ModMic then grips to the base while allowing full adjustment of its boom arm. It takes only seconds to install.
Best of all is that you can remove the mic and store it in the protective case when not needed. People's heads and headsets come in all shapes and sizes, and Antlion Audio have covered that too. You can adjust both the length and shape of the ModMic to attain the perfect position.
Antlion Audio ModMic Highlights
Mic Compatibility: Use a Y adapter for PS4, Xbox 1, Wii-U, and modern smartphones. Use a USB adapter for Mac OS, and Windows PCs, etc.
This flexible mic focuses its cardioid pick up on the speaker's voice and rejects ambient noise well. Another welcome feature is the in-line mute switch. Consider the ModMic if you're into multiplayer gaming or work in noisy environments. It's an effective solution for those who need to provide coherent VOIP calls. The mic is so light and unobtrusive that you soon forget it's even there.
ModMic may sound a bit like a DIY project, but everything about it is straightforward. The sound quality is a huge leap forward from built-in mics. It's also more comfortable to speak into a headset mic than a computer or other device. And it costs less than 40 dollars (at the time of review).
The Not So Good
The magnet seems to hold its own, but one can't help but think it should be stronger. It just seems a tad weak, that's all. The fixed 10ft cord is overly long and prone to tangling. That makes cord management an unnecessary hassle. The entire ModeMic feels cheap and plasticky, which loses it a few points. But then, superior materials would have also increased the price.
Tech Specs
Brand: Antlion Audio
Mic Type: Noise-canceling boom
Connection: 3.5mm jack/USB
Polar Pattern: Uni­directional
Power Supply: Plug-in device
Response: 100Hz–10kHz
Sensitivity: -38 ±3dB
SNR: >50+ dB
Impedance: 2.2K ohms
Max SPL: 110dB
Product Dimensions: 7.6 x 4.7 x 1.6"
Product Weight: 4 oz.
Warranty: 1 year
The Pros
Noise-canceling microphone
Fits onto any headphones
Magnetic clasp system
Easy to set up
Broad device compatibility
Quick to remove
Adjustable length and shape
Handy in-line mute switch
Smart storage case
Mic pop filter
Extras
Value for money
The Cons
Average magnet
Overly long cord
Plasticky
7. COWIN E7 Noise Canceling Headphones W/ Mic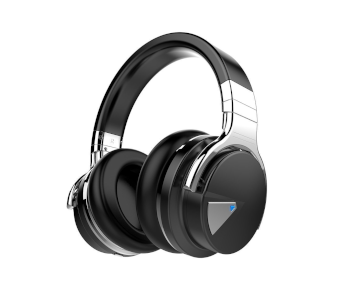 View on Amazon
Editor's Rating: 4.5/5
The penultimate review is for the COWIN E7 headphones. It's an active noise-canceling Bluetooth product for hands-free work and entertainment use—whatever the environment.
Best feature 1: Professional, active noise-canceling technology
Best feature 2: Lightweight, comfortable skin-like texture
Plus points: Bluetooth and NFC, stretchable earcups, rechargeable, 30hrs use, 6 colors
Minus points: Average mic, awkward physical controls
COWIN E7 Wireless Mic Headset Highlights
Not all active noise-canceling headphones are equal. If they were, there wouldn't be a need for product reviews. The COWIN E7 sells in the tens of thousands, and that tells us lots about the popularity of this product. It sits comfortably between budget-end and high-mid-range mic headsets with an attractive price tag. The E7 is available in 6 vibrant colors to meet personal styles and preferences.
This mic/headset connects via Bluetooth or Near-field communication (NFC). Wearers can leave home with confidence, knowing there's 30 hours of play and talk time on a single charge. And it takes a reasonable 4 hours to recharge the built-in 750mAh battery. The sound quality is also impressive. Music comes across as deep, balanced, powerful, and void of unwanted ambient sounds.
Advanced Active Noise-Reduction Technology
The E7's advanced sound-canceling function distances everyday noise headaches. It gives commuters a private space, whether on the ground or in the air. It's your zone where you get to enjoy silence. Or, you can listen to some favorite tunes, watch a video, or chat without distractions. The stretchable protein earcups are pillowy soft and ultra-comfortable—ideal for extended wear.
The Not So Good
I didn't mention the mic quality above because it belongs down here in the cons section. Your voice is audible, and the person on the other end should hear everything you say. However, it's not high-quality, and thus the headset's weakest feature. I'd have chosen the E7 for the Best Value pick if its mic had made the grade. The other negative is that the physical controls are unintuitive and awkward.
Tech Specs
Brand: COWIN
Mic Type: Built-in
Connection: Bluetooth, NFC
Polar Pattern: Not specified
Power Supply: Built-in battery
Battery Type: 600mAh
Charging Time: 4 hours
Impedance: 16Ω
S/N Ratio: ≥85dB
Frequency Response: 20Hz-20kHz
Product Dimensions: 6.5 x 3.6 x 7.1"
Product Weight: 13.6 oz.
Warranty: 18 months
The Pros
Hands-free affordable headphones
Active noise-canceling technology
Large 40mm speakers
Lightweight, comfortable design
Available in 6 vibrant colors
Bluetooth and NFC connectivity
Stretchable, ultra-soft ear cups
Onboard controls
Built-in rechargeable battery
30hrs play time
30 hours talk time
Reasonable charging time
Value for money
The Cons
Average microphone (don't buy the E7 for its mic feature)
Awkward physical controls
8. Cowin SE7 Noise Canceling Mic Headphones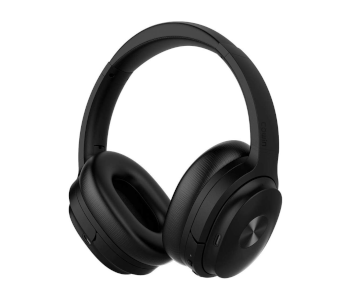 View on Amazon
Editor's Rating: 4.6/5
The last review goes to another Cowin active noise-canceling headset, this time the SE7. It costs about twice as much as the E7 above, but does it provide double the value? Let's take a look.
Best feature 1: Unique foldable design
Best feature 2: Soft, comfortable, swiveling ear cups
Plus points: Noise cancelation, high-quality sound, clear calls, wireless, headphone controls
Minus points: Awkward controls, dull design
SE7 Over-Ear Mic Headphones Highlights
Consider the SE7 if you want superb sound above all else. These headphones excel with impressive audio at the high and low frequencies. The 90dB provides a beautiful deep base without being too boomy. Cowin's SE7 delivers low noise technology, pure sound, and clear calls. And the advanced mic system with enhanced sidetone keeps voice calls clear even in noisy settings.
One of the setbacks with a lot of over-ear headphones is their bulk, but not with the SE7. Cowin has given them a foldable headband, which saves space and makes them truly portable. There's no skimping on comfort levels either. You get a pillowy-soft headband, ultra-comfortable protein earpads, and swiveling earcups. Seriously, the SE7 feels so restful you may be reluctant to take them off.
The Not So Good
Headphone controls are welcome and necessary. However, the awkwardness of the SE7 controls seems to be a design flaw with Cowin headsets. Let's hope they're listening. They're just not smooth or intuitive as they should be for users. Lastly, the design of the SE7 is not a fashion statement. Quality and functionality should always come first, but people still like their accessories to look hip.
Tech Specs
Brand: COWIN
Mic Type: Built-in
Connection: Bluetooth
Polar Pattern: Not specified
Power Supply: Battery
Battery: Built-in 800mAh
Playtime (Bluetooth): 50 hrs.
Charging Time: 3.5 hrs.
Transmission Range: >49ft (15m)
Frequency Response: 20Hz-20kHz
Noise Reduction Depth: -32dB
S/N Ratio: ≥90dB
Product Dimensions: 6.5 x 3.6 x 7.1"
Product Weight: 22.72 oz.
Warranty: 18 month
The Pros
Handsfree Bluetooth 5.0
Long play time
Unique foldable design
Soft and comfortable to wear
Swiveling ear cups
Effective noise cancelation
Sound aptX technology
Clear calls even in noisy settings
Headphone case
Value for money
The Cons
Awkward physical controls
Dull design