Oculus Rift Face Pad Replacements and Accessories
3D Insider is ad supported and earns money from clicks, commissions from sales, and other ways.
VR headsets are a great way to combine video games and physical exercise. Anyone who's ever played Beat Saber knows the feeling – two songs in, and you could end up sweating like you ran a mile. Unfortunately, this also means that the face pad of your VR headset could end up soaked in sweat.
A sweaty face pad is unhygienic, both for you and for other friends you may be playing with. A couple of spare face pads and face pad covers will help keep your VR headset fresh and uncontaminated. If you have an Oculus Rift headset, then check out our recommendations on the best face pad replacements and accessories.
Why bother with face pad accessories?
An accessory for your Oculus Rift that is made specifically for the face pad seems like a very superficial addition to your VR toolkit. Why can't you just play your VR games every day without getting any of these accessories? Well, you can, but these accessories are a quality of life improvement that you will never know you needed until you try them out.
1. The Oculus Rift face pad isn't very comfortable
For all the merits of the Oculus Rift VR headsets, you probably won't find a lot of users who will testify to the comfort of its face pad. The cushion just seems a little too hard, especially on the nose and temples. Luckily, there are third-party alternatives that are much more comfortable. Believe us – you're never going back to the standard Oculus Rift face pad once you've made the switch.
2. Gives you time to wash your sweaty face pads
Having even just one spare face pad means that you can switch out a sweat-soaked face pad, wash it and wait for it to dry and still continue your VR gaming escapades. Take note that a foam face pad has to be air-dried for best results, and this can take a couple of hours to a day.
3. Keeps your face pad from getting soaked with sweat
The best way to avoid any hygiene problems with your Oculus Rift face pad is to prevent it from getting soaked with sweat in the first place. Having a couple of waterproof face pad covers is a useful tool to this end. It's also a good idea to have a handful of these ready to go in case you'd like to have friends over for a VR gaming session. Just switch out the cover when it's time for a new player to go.
The top 5 best face pad accessories for the Oculus Rift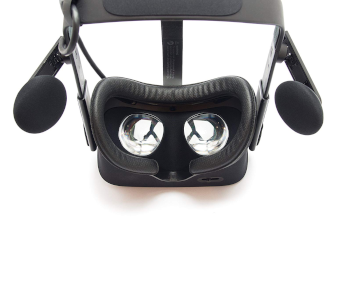 VR Cover is a company that specialized in developing alternative face covers for VR headsets, so it's hardly a surprise that they show up at the top of this list. This set for the Oculus Rift comes with two replacement foam cushions (one thin and one thick) and a facial interface. The interface acts as a Velcro connector for the foam attachments.
Compared to the stock foam, the level of comfort that this replacement foam from VR cover offers is downright luxurious. The thick foam should fit perfectly with almost all sizes, but the thin option is also great if you want to use glasses while wearing an Oculus Rift. The foam replacements can be easily removed and are machine-washable, so you can just throw in with the rest of the laundry should they get soaked with sweat.
The VR Cover replacement foam does have a bigger notch for the nose, which results in a bit of light leakage. Letting any amount of light into your VR headset is always a frustrating experience, but in the case of the VR Cover, you can treat it as a kind of compromise. The small opening allows a bit of air circulation into the headset, so you don't end up sweating as much.
The VR Cover replacement foam for the Oculus Rift is one of the more expensive options, but that's not really saying much because this set only costs around $50. Not a bad deal, and we bet that you'd end up satisfied enough to buy another set.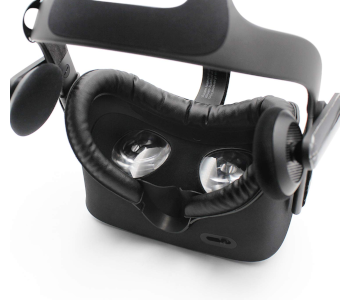 This set is a lot cheaper than the one from VR Cover and has more pieces, making it an excellent value-for-money option. The set includes a custom interface, two foam replacement with varying thickness, and a removable nose pad to address any light leakage issues.
The foam replacements are made of PU leather that can be wiped down after a sweaty VR gaming session. They are designed to be sweatproof, so you no longer need to worry about the foam material getting soaked with sweat. The different thickness options should work with any size and allows the foam replacements to be used while wearing glasses.
The optional nose pad is a great addition for those who'd rather plug up any light leakage. While not having any air circulation will make the headset heat up faster than usual, it's still nice to have this option on hand.
The AMV VR face pad accessories for the Oculus Rift only cost half as much as the VR Cover alternative. It's still not cheap, and you can probably find options that cost less, but the added comfort is well worth the price. We certainly recommend spending a bit more for a better-quality product, such as this foam pad accessory set.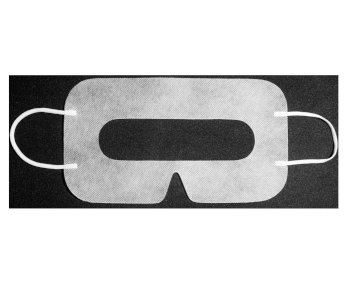 If you're working with a tight budget but want to keep the VR gaming experience with your friends hygienic, then this bundle of 100 pieces of disposable face covers from INKECI is perfect for you.
You've probably seen these face covers in action if you've ever been to a VR arcade. Made from nonwoven fabric, these face covers basically provide a barrier between the headset's face cover and your face, absorbing any sweat and oil, so you don't end up sharing bodily fluids with other people. The fabric is soft, smooth, and remains comfortable even after wearing the face cover for a few hours.
Being a cheap product, the biggest downside of these face covers is that they are disposable. They are not meant to be washed and re-used, and doing so will result in a drastic decrease in quality. Thus, these aren't exactly the most environmentally friendly accessories you can get for your Oculus Rift.
Still, if you're not willing to spend more than $20 for a face cover for your Oculus Rift, then these disposable covers are a good option. While they aren't flattering, wearing them is still better than having to wipe down your headset's face cushion every time – often in a futile effort to keep it clean.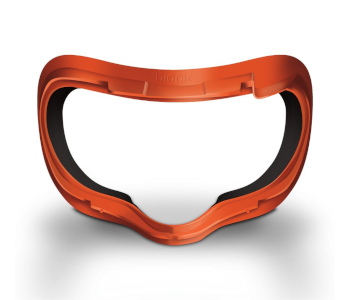 This bright orange replacement face pad and interface from Bionik isn't nearly as popular as the top picks in this list but still might be worth a try considering how inexpensive it is. Instead of the multi-piece sets from other brands, this face pad replacement is just a single piece that slots right into your Oculus Rift.
The Bionik Face Pad wins a few points on style. The orange color just pops out and makes a great accent to the all-black Oculus Rift headset. If looking cool while playing your VR game matters to you, then you should certainly consider this face pad replacement.
However, the orange plastic of the Bionik Face Pad also introduces a few unique problems. The plastic isn't thick enough to prevent light from coming in, resulting in a bit of translucent light leakage. The light, however, comes with a distinctive orange hue. It's possible to get used to it after a while, and it's not something you're bound to notice when the VR displays are on at full brightness.
The Bionik Face Pad does not come with size options, but we find that it's large enough to be used with glasses on. The foam material is a lot denser and thinner than the stock cushion of the Oculus Rift, so it's not going to feel "light" on your face. It's not entirely uncomfortable, but you can expect the face pad to make a mark on your face after about an hour or so of use.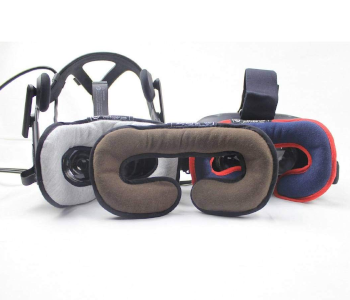 The Oculus Eye Pillow looks like a great concept, but its actual performance doesn't quite live up to the expectations that it sets. Made with organic bamboo cotton, the Oculus Eye Pillow looks like it's the most comfortable face pad replacement that you can get for your Oculus Rift.
Unfortunately, the Oculus Eye Pillow isn't nearly thick or puffy enough to afford this level of comfort. The material is great – soft on the skin, hypoallergenic, and benefits from the supposed antimicrobial properties of bamboo cotton. You can even have several of these and swap them out as needed because they are machine-washable.
The issue with this Eye Pillow is how thin, and insufficient the padding feels. We have to give it credit for being more comfortable than the stock face pad of the Oculus Rift, but there are certainly much more comfortable options out there. The face pad also tends to block the sensor of the Oculus Rift which detects if the headset is being used or not. If you want to keep your headset from staying activated even while you're not using it, you are going to have to remove this face pad from the headset after every use.
Despite the imperfections, the superior material of the Oculus Eye Pillow still makes it worthy of consideration. If you find your skin getting irritated by the various foam and leatherette face pads out there, then you might want to give this one a try. It's not the thickest and most comfortable cushion, but it does come with built-in microbial resistance for a more hygienic VR experience.
Final thoughts
There's no need to keep using a sweat-soaked headset when you play physically intensive VR games like Beat Saber – there's a bunch of perfectly fine face pad replacements that you can buy for the Oculus Rift. Aside from the advantage of protecting your skin from breakouts due to a dirty face pad, some of these face pad accessories and replacements are much more comfortable than the stock face pad that comes with your headset. There's really no reason not to get one, especially if you want to make the most out of your Oculus Rift.