Best Off Road Electric Skateboard of 2019
3D Insider is ad supported and earns money from clicks, commissions from sales, and other ways.
Experiencing the countryside can be fun and exhilarating with an excellent off-road electric skateboard. Off-road electric skateboards work great on all types of terrain. You can use them both on the tarmac and on dirt. They have not taken off as quickly as hoverboards, so only a few models are available on the market. Fortunately, there are still very good off-road boards that you can buy right now.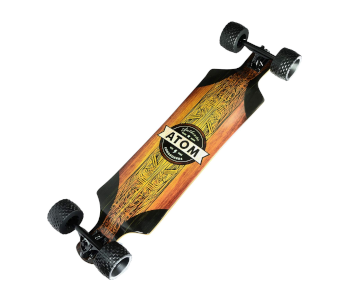 Approximate Retail Price: $180
The Atom Longboard is one of the fastest all-terrain electric skateboards on the market. It is extremely well-built with 100mm x 65mm wheels cast with super-high-rebound urethane to allow it to run over both smooth and rough surfaces. It also features an aluminum deck to ensure a steadier and safer ride. The super coarse 46 grit off-road grip and 14-inch width provide a larger and more stable surface for you to ride on.
The Atom Longboard is a high-quality board that comes with powerful motors that offer a top speed of 24 mph.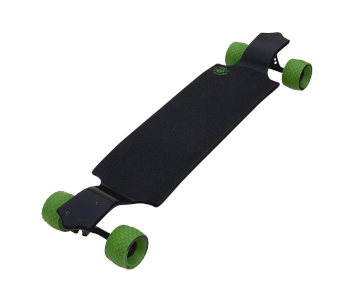 Approximate Retail Price: $150
The MBS All-Terrain Longboard opens a new world for skateboarders with its super high-rebound 100 mm treaded wheels. It can roll over anything, including pavement, grass, and dirt. It also turns heads with its eye-catching design and unique green wheels.
The deck is a stiff 10-ply maple with 46 grit aluminum oxide grip tape. The deck helps you keep your center of gravity low for optimum off-road performance. It is lightweight at 10 pounds so you can carry it around with you awaiting your next off-road adventure.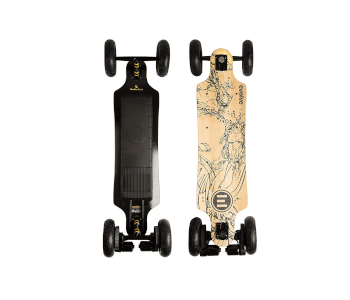 Approximate Retail Price: $1,489
The Bamboo GT is a 2-in-1 model by Evolve Skateboards. It is both portable and powerful enough to take on all off-road adventures, including climbing a 25% grade hill. It uses custom-made 3000W dual motors that help the board reach speeds of up to 26 mph. Coupled with a powerful lithium-ion battery, it can give you a range of 12 miles per charge.
The Bamboo GT has solid construction, starting with a deck of 7-ply maple hardwood and 2-ply bamboo. It offers a medium flex that ensures a smooth ride. It also comes with 306 mm and 12 inches wide trucks for a stable foundation for cruising and carving on just about any surface.
Out of the box is the all-new Evolve remote with a built-in digital LCD screen to give you instantaneous feedback on speed, trip function, speed settings, battery, wheel and gear settings. The remote will also help you diagnose problems with the board so you know exactly what is not working.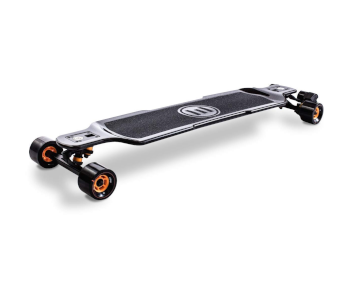 Approximate Retail Price: $2,160
The Carbon GT All Terrain is also a 2-in-1 model by Evolve Skateboards. It consists of the same features of the Bamboo GT, from the 3000W high-performance motors to the digital LCD screen remote. The most prominent difference with the Bamboo GT is the high-grade custom-molded carbon fiber deck, which offers better flexibility for a smoother off-road ride.
You can also cruise down the streets and climb hills with the Carbon GT up to 31 miles on a single charge, thanks to its lithium-ion battery. Its custom-made motors help the board reach speeds up to 26 mph and climb inclines with a 25% gradient. Portable and powerful, the Carbon GT can cruise on any type of terrain, including grass and dirt.
Off-road electric skateboards can get you anywhere you want. They come with enough power to operate on smooth tracks and excel even on the roughest surfaces. They are also durable and made with sturdy materials to prevent them from breaking when used off-road.