11 Best Off-Road Hoverboards
3D Insider is ad supported and earns money from clicks, commissions from sales, and other ways.
Hoverboards are fast and compact devices that make great toys for both kids and adults. Most commercial hoverboards are designed to be used over flat and even surfaces with their small wheels and very little clearance between the ground and the chassis. However, there are also hoverboards that are made to ride over uneven terrain such as grass, dirt, or any uneven terrain. These off-road hoverboards are made with larger and tougher tires and are have more powerful motors.
If off-road hoverboards sounds like they're just right up your alley, then you're in luck. In this article, we have compiled a list of the very best off-road hoverboards available today.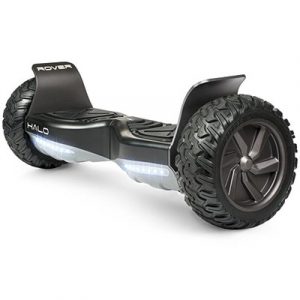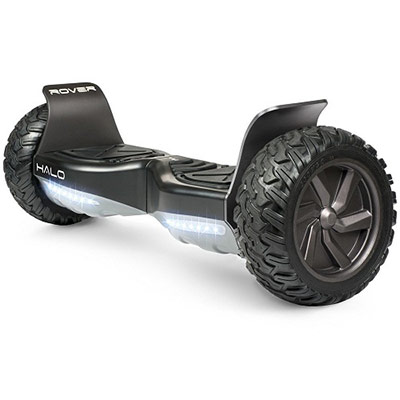 We start off the list with one of the best-selling off-road and casual hoverboards today, the Halo Rover. This hoverboard comes with powerful 400W dual motors, allowing to move up to a maximum speed of 10 mph and to climb up slopes inclined up to 20°. The Halo Rover is a great hoverboard model even for larger adults because of its 265-lb weight limit. A single battery cycle of the Halo Rover has enough juice for up to 10 miles of continuous operation.
Its solid 8.5-inch tires are maintenance-free and are built for rugged conditions. With outstanding treads and an anti-slip surface, the Halo Rover can travel over challenging terrain such as gravel, sand, grass, or mud. It's the perfect hoverboard for when you want to cruise along the beach or in your backyard. The Halo Rover was also built to withstand the elements. Its high-grade aluminum construction makes the Halo Rover virtually indestructible.
The Halo Rover can connect via Bluetooth to the Halo Rover app on your mobile phone. Through the app, you can adjust the speed settings and steering sensitivity of your Halo Rover to suit your level of skill. The Halo Rover can also act as an intuitive display for relevant information such as your hoverboard's GPS location, current speed, mileage, and remaining battery power. With all this information in your fingertips, you never have to keep guessing when you ride the Halo Rover.
With an intelligent and rugged design, the Halo Rover deserves the top spot in this list, as with many other lists of the best hoverboards. As an off-road hoverboard, it is sufficiently versatile, durable, and reliable. If you're on the market for an off-road hoverboard, then you cannot possibly go wrong with the Halo Rover.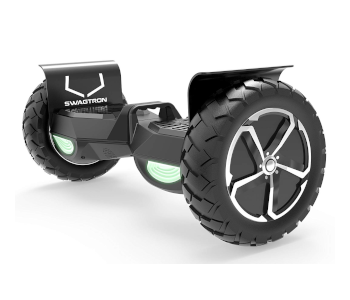 The Swagtron T6 is our second best pick for off-road hoverboards because it goes beyond just offering off-road capabilities. With a weight limit of 420 lbs, the Swagtron T6 can carry a person of literally any shape or size. In fact, you would be hard-pressed to find a hoverboard that has a higher weight limit than the Swagtron T6.
Powerful dual motors capable of 300W of output each allow the Swagtron T6 to move at an impressive maximum speed of 12 mph. This hoverboard can also move up bumps and inclines up to 30°. The superior SentryShield lithium-ion batteries of the Swagtron T6 can be charged to full capacity in just 2 to 3 hours, which is enough juice for about 12 miles of travel.
Whether in grassy plains or muddy terrain, the 10-inch tubeless tires with their rugged tread pattern give enough traction for continuous movement. Each Swagtron T6 has an external frame made with aluminum and ABS that protect the internal electronics even in rugged and wet conditions. With an array of mud guards and splash guards, you won't even need to worry about getting your feet dirty when traversing across muddy ground.
The Swagtron T6 is not just all about power and ruggedness. With Bluetooth connectivity to the Swagtron mobile app, you can view real-time information such as the remaining battery level, mileage, speed, and riding modes. Easy access to this information means you never have to guess whether or not you have enough battery to complete your trip.
The Swagtron T6 is a real heavyweight, even compared to other off-road hoverboards. More than offering one of the highest weight limits of any commercial hoverboard, it provides an excellent off-road experience.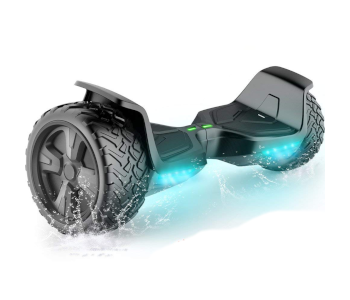 The TOMOLOO Hoverboard puts a little more focus on the aesthetics and fun factor without compromising on off-road capabilities. With its dual 350W motors, the TOMOLOO can carry a passenger with a weight of up to 300 lbs and travel at a maximum speed of 12 mph. Although not as much of a heavy lifter as the Swagtron T6, the TOMOLOO is strong enough to carry huge adults. It's also powerful enough to climb inclines of up to 20°.
The lithium-ion batteries provide a maximum travel distance of up to 12 miles in a single battery charge. Although these batteries have been certified under UL 2272, the TOMOLOO has still been designed with a fire-retardant shell made of ABS and polycarbonate. The 8.5-inch solid rubber tires allow the TOMOLOO to travel over grass, sand, puddles, mud, and dirt. The entire frame has been designed to be waterproof, right down to the sealed charging port.
More than just having off-road capabilities, the TOMOLOO has a lot of flair going for it. It is equipped with Bluetooth 4.2 Stereo Speaker Technology that provides stereo surround sound, so you can jam out to your favorite tunes while riding. The front panel of the hoverboard has an awesome LED light panel that can switch colors between red, yellow, green, and blue.
The TOMOLOO also connects to a mobile app via Bluetooth which shows information such as travel time, mileage, and current speed. It can even be used to track your GPS location and to see how much battery power you have left. Using the mobile app, you can choose any of the up to 16 million different headlight color combinations.
The TOMOLOO hoverboard is an excellent off-road model that is simultaneously powerful and fun. With this hoverboard, you can travel with style on any kind of terrain.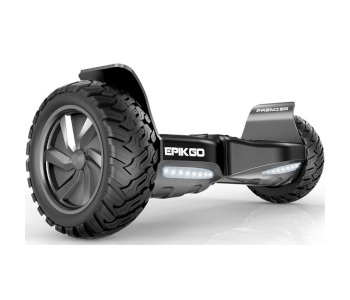 The Premiere hoverboard from EPIKGO is their most powerful product. It is equipped with dual 400W motors that allow it to carry a passenger with a weight of up to 240 lbs. With unmatched torque and acceleration, the EPIKGO Premiere can travel at an impressive max speed of 12 mph and can climb up to 30° of steep inclines.
The onboard LG Smart Battery has undergone 159 tests to verify its safety and road worthiness. With the EPIKGO Premiere, you never have to worry about your hoverboard battery being potential fire hazards. The batteries of this hoverboard provide a maximum range of up to 12 miles.
The EPIKGO Premiere was designed to withstand the toughest conditions. It is constructed with a durable ABS body and chassis, and indestructible aluminum fender, and solid rubber tires. The tires treads are made to allow the EPIKGO Premiere to move smoothly and confidently over mud, sand, grass, dirt, and pavement.
The front panel of the EPIKGO Premiere has an array of super-bright LED highlights that keep the hoverboard highly visible at night. LED indicators near the foot pads provide an intuitive visual indicator of the hoverboard's remaining battery power. The EPIKGO Premiere also has built-in powerful Bluetooth 4.0 speakers so you can stream your favorite music while riding around.
EPIKGO has a solid lineup of hoverboards with varying specs, but we are partial to the Premiere. It combines all the strengths of the previous models to come up with an all-terrain hoverboard that is both rugged and classy.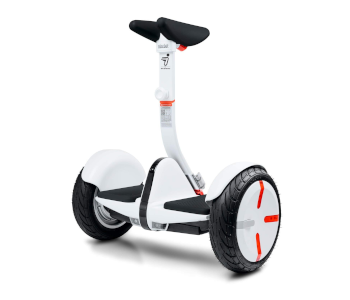 The Segway hoverboards have a unique form factor that differentiates them from other hoverboards in the market. The miniPRO, the premiere hoverboard from Segway, is no different. With extremely powerful 800W dual motors, the miniPRO can move at a maximum speed of 10 mph and carry a 220-lb passenger. 10 mph does not seem to impressive, and we believe this is a limit that was set by Segway in the interest of safety. At 14 miles per battery cycle, the Segway miniPRO has one of the largest ranges of any hoverboard in the market.
The distinguishing feature of the Segway miniPRO is the innovative knee control mechanism that makes it much easier to maneuver the hoverboard. The padded surface of the knee control bar and the extra support it provides to the rider makes riding the miniPRO more comfortable in the long run. With an adjustable height, the knee control bar can be customized to fit the size of any rider.
The huge 10.5-inch pneumatic air-filled tires of the miniPRO allow it to smoothly negotiate uneven terrain and other rugged conditions. It has been engineered to adapt to overcome humps, slopes, and other obstacles without compromising safety ands stability. With LED headlights and tail lights, the miniPRO can be safely used even at night.
The mobile app that can be connected to the miniPRO via Bluetooth offers more than the usual functions. In addition to the ability to control and adjust light colors, the mobile app can be used to lock the wheels of the miniPRO or to remotely command the miniPRO to move. This is a welcome safety feature that we have not seen in most hoverboards.
The Segway miniPRO does not seem to have as rugged a design as other off-road hoverboards but makes up for it with better maneuverability and comfort. The knee control bar is a welcome innovation that makes the miniPRO more of a personal mobility device than a toy.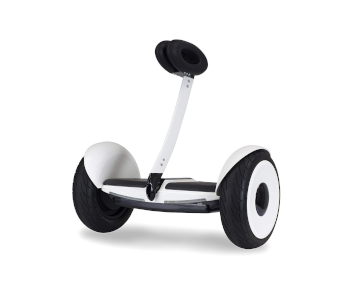 The miniLITE is simply a scaled down version of the Segway miniPRO which retains most of the same features that have made it a popular hoverboard brand. Despite being scaled down, the miniLITE is still a very powerful hoverboard with dual 700W motors. The max speed of the miniLITE is similarly capped at 10 mph, although the weight capacity is at a slightly lower 176 lbs. On a fully charged battery, the miniLITE can travel a maximum of 11 miles.
True to the Segway name, the miniLITE also includes a knee control bar that makes it intuitively easier to maneuver the hoverboard. With a padded cushion, the knee control bar can make it more comfortable to ride the miniLITE for long trips. One drawback of the miniLITE is that its knee control bar is no longer adjustable, so tough luck for you if you're too big or too small.
The extra big 10.5-inch air-filled tires of the miniLITE makes it adaptive to different road conditions. Potholes, slopes, debris, and other everyday obtacles are not a problem when you are riding the miniLITE. Customizable LED tail lights make the miniLITE a safe ride even when used at night.
The miniLITE features mobile app connectivity that can be used to adjust the LED tail lights, adjust speed controls, and display vehicle diagnostics. A notable downgrade from the miniPRO is the absence of security controls and automated movement using the miniLITE mobile app. These were some of our favorite features in the Segway miniPRO mobile app, so it's a shame that they did not make the cut when designing the miniLITE.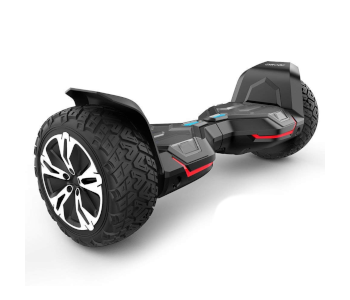 The Gyroor Warrior is one of the best-selling off-road hoverboards, thanks in no small part to its robust design that screams strength and power. This hoverboard is not all about the looks – it is equipped with dual 350W motors that allow it to travel at speeds of up to 10 mph. It also has an impressive weight limit of up to 265 pounds, enough for larger than average adults. As further proof of its power, it can climb up inclined surfaces of up to 30°.
The 36V lithium-ion batteries of the Gyroor Warrior allow it to travel a maximum of 9.5 miles on a single charge. Charging the batteries of this hoverboard only takes about 1.5 to 2 hours.
The 8.5-inch solid rubber tires of the Gyroor Warrior give it durability against all types of rough terrain. With its anti-slip treads, this all-terrain hoverboard can smoothly travel over dirt, mud, grass, gravel, or wet surfaces. With a rating of IP54, the metal and aluminum enclosure of the Gyroor Warrior is resistant to dust and small sprays of water.
The Pro Music Speaker pre-installed into the Gyroor Warrior can be controlled via Bluetooth so you can play your favorite tunes while riding. Flair and style are added by the array of colorful LED lights located in the front and rear of the hoverboard. The Gyroor Warrior offers no mobile app connectivity.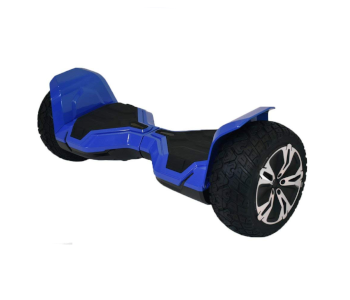 The CHO Electric Hoverboard has dual 350W motors that allow it to travel a modest 8.5 mph. This off-road hoverboard makes up for a somewhat low maximum speed with a higher than usual weight capacity of 264.5 lbs. It can also climb an incline of up to 17°. The 36V batteries of the CHO Hoverboard can be fully charged in about 1.5 to 2 hours, with a full charge able to deliver about 13 miles of continuous operation.
The 8.5-inch solid rubber tires of the CHO Hoverboard allow it to travel over rugged terrain such as gravel, grass, sand, or mud without problems. With well-designed treads and an anti-slip finish, these tires have good grip even on soft or slippery surfaces.
The hoverboard does not come with a mobile app connectivity, but it does have Bluetooth speakers that you can control from your mobile phone. You can cruise along with your favorite music with the onboard stereo speaker with premium sound quality. The LED headlights and battery indicators are super-bright, making the CHO Hoverboard highly visible when used at night.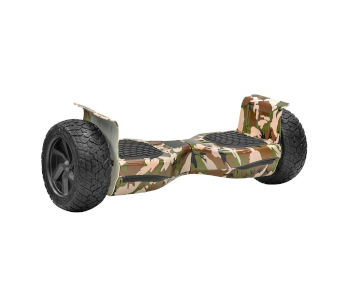 The NHT All-Terrain Hoverboard is very conspicuous with its camo design that implies ruggedness and strength. The 350W dual motors give it a maximum speed of 9 mph and a weight limit of 264.5 lbs. This hoverboard can also climb slopes as steep as 18°. With its high-capacity lithium-ion batteries, the NHT All-Terrain can travel as far as 10 miles on a single battery charge.
The 8.5-inch solid rubber all-terrain tires on aluminum wheels allow the NHT All-Terrain travel to places where no board has gone to before. Its well-designed treads give it good traction and grip on loose gravel or slipper mud.
With LED panels on the front and rear panels and even near the footpads, the NHT All-Terrain looks great at night. A sensor-activated light activates the moment the hoverboard starts to move, a nice little added feature. The footpads of the NHT All-Terrain are a little larger than usual, making it easier to stay on the hoverboard and easier to maneuver. Built-in Bluetooth speakers can connect to your mobile phone or any Bluetooth device to play your favorite soundtrack while you ride.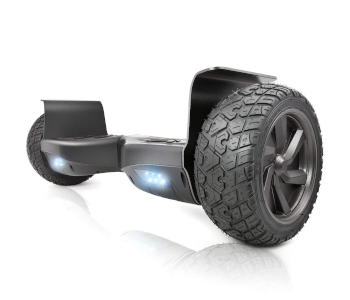 The off-road hoverboard from XtremepowerUS is a no-frills model that offers all the features expected of an off-road hoverboard. It has a weigh capacity of 220 lbs and travels up to a modest maximum speed of 6.2 mph. There is no reliable information on how long the battery of the XtremepowerUS lasts, but many riders have used it for more than hour of continuous operations without a problem.
With its 8.5-inch solid rubber tires with all-terrain treads, the XtremepowerUS can travel on just about any surface such as gravel, sand, mud, or grass. The combination of all-terrain tires and powerful motors allow it to climb up to 15° inclines.
This off-road hoverboard offers Bluetooth connectivity to its onboard speakers so you can stream your favorite music while your ride it. It offers no mobile app connectivity for any other advanced functions. Riding at night is not a problem with the XtremepowerUS, as it is equipped with ultra-bright LED lights at both the front and rear sides. A low battery indicator near the foot pads lets you know if you need to start making your way home to charge the hoverboard's batteries.
Overall, the XtremepowerUS is a solid and reliable off-road hoverboard that performs only slightly above the minimum level. The 6.2-mph top speed seems a little underwhelming, so adventurous riders may end up dissatisfied with it.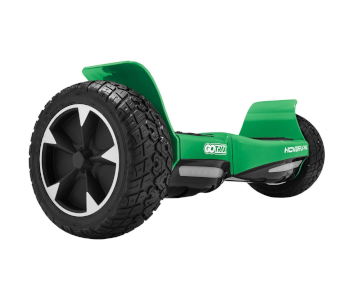 The Hoverfly XL is the entry of the super-popular GOTRAX brand in the off-road hoverboard market. With dual 350W motors, the Hoverlfy XL is capable of moving at speeds of up to 7.4 mph and has a weight limit of 220 lbs. A 12-mile range on a single battery cycle means you can have around 1.5 hours of uninterrupted fun with the Hoverfly XL. Charging the battery to full capacity only takes about an hour.
8.5-inch rugged solid rubber tires allow the Hoverfly XL to travel on any kind of terrain. The all-terrain treads on these tires provide sufficient grip and traction even when moving on muddy or sandy surfaces. With premium rubber construction, these tires are built to last.
One drawback to this model is the fact the GOTRAX seems to have discontinued Bluetooth connectivity in their new hoverboard models. This means that you can no longer play music using the Bluetooth speakers, and that you can no longer adjust the hoverboard's speed and sensitivity using the GOTRAX mobile app. This is a major limitation to an otherwise excellent off-road hoverboard.
Final thoughts
A cursory look at the popular hoverboard brands in the market today will show you that not all hoverboard are made equal. There are hoverboards for kids, hoverboards for adults, and hoverboards made specifically for off-road travel. Off-road hoverboards are the ultimate in power and durability. They have bigger tires, harder frames, and more powerful motors – all designed to handle the ruggedness of mud, sand, gravel, or grass.
The added power and ruggedness of off-road hoverboards generally make them bigger, heavier, and more expensive. They are far from being toys – they are the product of a sophisticated engineering design process. If you're planning on riding your hoverboard beyond just plain paved roads, then go ahead and pick any of the best off-road hoverboards we have listed above.