12 Best Online Training Courses for Drone Pilots
3D Insider is ad supported and earns money from clicks, commissions from sales, and other ways.
Although it's certainly possible for a drone pilot to improve by experience alone, there's no harm in taking training courses so you can graduate from being a good drone pilot to a great one. The right training course can streamline the learning process, so you won't need to waste time doing things the wrong way or having to commit mistakes to learn the right lessons.
The good news is that there are a lot of online courses out there for drone pilots. Choosing the best one for you can be a bit overwhelming, so we went ahead and shortlisted the best courses that you can take depending on your experience, profession, or interests.
For beginners and Part 107 test takers
These courses cover all the basics that drone pilots need to learn before they start flying commercially. Even if you only intend to fly for fun, the stuff you will learn in these courses will still make you a much better drone pilot.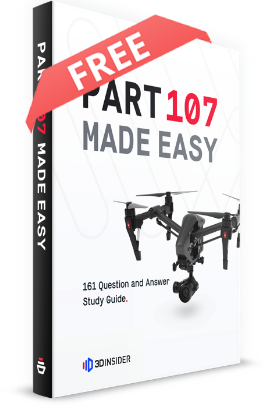 PART 107 Made Easy
161 Question and Answer Study Guide
105 pages of illustrated content
Covers all parts of the Part 107 test
$97 of value for free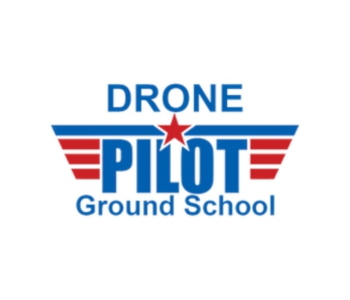 Price: $299
The Part 107 training course by the Drone Pilot Ground School is considered by many as the gold standard when it comes to Part 107 test preparation. All the topics needed to pass the knowledge test are integrated into a curriculum that was designed by a team composed of highly experienced and qualified professionals.
The course includes more than 60 video-based lectures, more than 300 sample questions, and a 12-page cram sheet. Getting through the entire course should take you between 15 to 20 hours. On top of the more than 100 knowledge concepts needed for the Part 107 knowledge test, the course even includes some bonus content focusing on business operations. If you're planning on starting a drone-based business, then the additional legal, marketing, and insurance knowledge will be invaluable to you.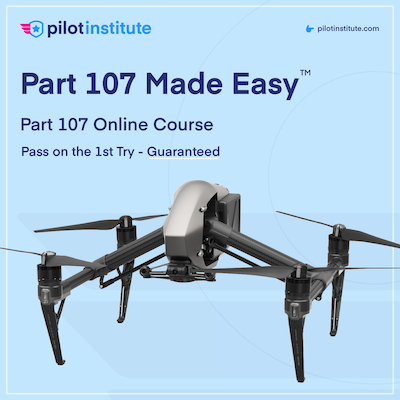 One of the best things about the Drone Pilot Ground School is that you get lifetime access to their content once you've paid the one-time fee. This could prove useful to you during your career as a commercial drone pilot. Once the time to take the recurrent knowledge test comes around, you won't need to spend on any other training course to get a refresher.
The team behind the Drone Pilot Ground School is so confident that you will pass the Part 107 knowledge test as long as you finish their course that they provide a money-back guarantee. If you fail the knowledge test on your first try, then they will pay you back the $150 testing fee.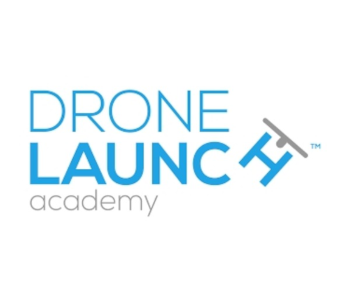 Price: $199
If you're wary about the possibility of wasting money for a paid training course and then failing the Part 107 knowledge test, then the Part 107 test preparation course by Drone Launch Academy may be just the thing for you. As long as you have completed the course and scored at least 80% on one of the final exams, Drone Launch Academy will grant you a money back guarantee should you fail on the actual knowledge test. Not only will Drone Launch Academy pay for the $150 testing fee but will even refund you the whole price for the training course. Taking this course is essentially a zero-risk option!
On top of the extremely customer-friendly terms, the Part 107 test preparation course is also deemed as one of the best available online. Drone Launch Academy uses a combination of video lectures, over 200 practice questions, and a printable e-book to cover all the important topics and to appeal to any learning preference. You can even check out a small preview of the course on their site, in case you need any more convincing.
Drone Launch Academy boasts of a more than 99% passing rate for the drone pilots who have taken their test preparation course. With such a solid track record and a risk-free money back guarantee, there's really no reason why you wouldn't sign up for this course by Drone Launch Academy.
3. Part 107 Drone Pilot Test Prep by DARTDrones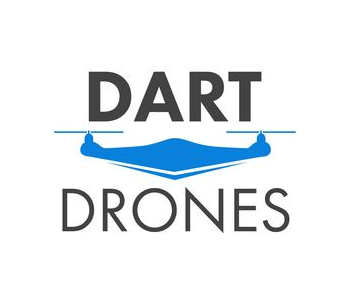 Price: $250
DARTDrones' purely online Part 107 test preparation course was designed for busy professionals who have no time for in-person training. The scope of the course is large and comprehensive, but each module is kept engaging with a lot of interaction. On top of the interactive training course, this package also includes a 45-page student guide and 300 sample questions.
The Part 107 test preparation course from DARTDrones falls in the middle in terms of price. It has a few things going for it, such as allowing you to consult a chief pilot or a navy helicopter pilot should you have questions or clarifications. DARTDrones also makes a deliberate effort the update their training course, so you'll know if there were any recent changes to the relevant regulations. The training course can be finished anywhere between 8 to 15 hours, although you can spend a few more hours answering the sample questions.
Another strength of the DARTDrones Part 107 training course is the fact that it was developed by more than 40 highly experienced flight instructors. Can you imagine condensing all that knowledge into a single course? However, you're going to have to rush through the course once you start it because you will only have access to it for six months.
4. Drones for Beginners by DARTDrones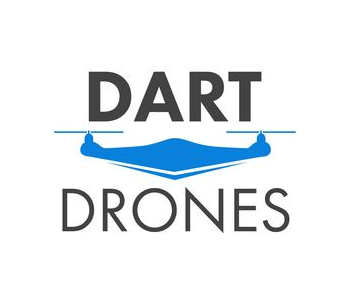 Price: $19.99
If you're really new to the drone scene and don't want to spend a lot on a training course that feels too advanced for you, then this Drones for Beginners course by DARTDrones is a very affordable way for you to get your toes wet. For just about $20, you can sign up for this beginner course made up of eight comprehensive lessons with instructional videos that you can watch anywhere – even in your smartphone while you are on your daily commute. The course was designed by top UAV experts and a US Navy pilot, so DARTDrones isn't exactly short-changing you when it comes to expertise.
As its name implies, this course covers all the basics that beginners need to learn. It even includes a buying guide that showcases the different drone types and the various accessories that you can get. The course covers all the legal ground that you'll need to navigate as a first-time drone pilot, including how to register your drone and which FAA regulations you need to follow.
It also outlines a basic pre-flight checklist plus any other safety measures you'll need to make avoid drone-related accidents. Lastly, the course provides a glimpse of what the drone industry looks like and what it entails to be a commercial drone pilot.
With such a modest price tag, this course is something we highly recommend for people who are considering getting into drone flight or have already bought their first drone.
Aerial photography and videography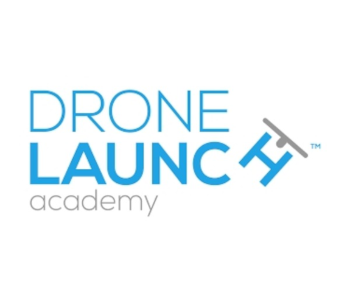 Price: $249
Drone photography is the easiest drone-based gig to get into, but with so many drone photographers out there, how can you stand out? To get you started, you can sign up for the Aerial Photo Pro course by Drone Launch Academy that teaches not just how to capture drone photos, but also how to post-process them to bring out their best qualities.
The course touches on basic photography elements such as lighting, framing, and basic do's and don'ts. If you're an experienced photographer, you should feel right at home with this course while also appreciating how photography concepts are slightly tweaked to make them fit with drone flight. You will need Adobe Lightroom to maximize the learnings from this course, as it is the primary software that the courses uses to teach about post-processing of the aerial images.
As with other Drone Launch Academy courses, signing up for Aerial Photo Pro gives you lifetime access to the course and all its resources. Drone Launch Academy has even thrown in a 30-day money back guarantee, should you find that this training course is not the right one for you.
6. Night Photography Using a Drone by Drone U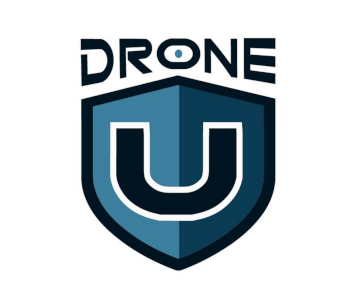 Price: $47 per month subscription
Taking drone photos may require a waiver if you are doing it commercially, but there is no doubt that night photography has a unique appeal. It also requires different camera settings and editing techniques, which are the areas of focus of this Night Photography training course by Drone U. In a single instructional video, night flight pro Vic Moss will all the nuances of night drone photography.
Aside from picking the best camera settings, the course will also walk you through the measures you need to take to keep drone flight safe when done at night. There are various restrictions in place, after all, and you might have to augment your drone with additional lighting accessories. Once you've taken your night photos, the course will take you through how to edit them using Adobe Photoshop CC and how to reduce noise using Noiseless CK.
Drone U has a unique pricing system that you can take advantage of if you can finish several training courses on after the other. Instead of charging customers per course, Drone U instead has a subscription fee which will give you access to all of their courses. How much value you can get out of the amount you are paying for your subscription will depend entirely on how many courses you can manage to finish within a given time.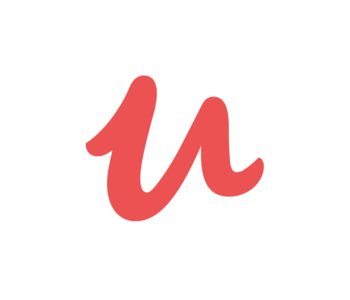 Price: $94.99
If you're looking for a budget option for your drone photo and video training needs, then this online course from Udemy is one of the most comprehensive, yet affordable, choices. The course has it all – safety tips, legal considerations, what flight skills you need to develop, flight plan management, the flight patterns that make dramatic footage, and tips on how to edit your photos and videos. It's also a really long course with more than 6 hours of instructional videos plus a few reading materials.
The course was designed by Bruce Geddes, a popular aerial videographer and photographer with years of experience capturing drone footage from across the globe. The course is very well-designed, with each module building on the learnings from the previous modules. The language of the course is quite technical, so we recommend it for drone pilots who have already had some experience with drone photography.
Despite the title of the course, it focuses a lot on drone videography. If you're looking for a training course that puts a lot of emphasis on static aerial photography, then you can probably find something better than this one.
Drone-based 3D mapping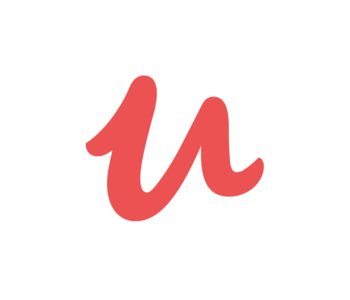 Price: $99.99
3D mapping is one of the applications that have best benefitted from drone technology. Although it's a very lucrative industry, getting into it can be difficult because of the technical knowledge demands. With this online course, you can gain all the knowledge you're going to need to create your very first 3D model using a drone survey.
This course focuses on the technology and techniques for photogrammetry. Compared to other drone-based mapping methods, photogrammetry is much cheaper and more accessible since it does not require special sensors. Since the course is meant for beginners in the field, it spends ample time discussing the theory and technology behind photogrammetry. The course will also help you pick out the equipment and software that you will be needing. Throughout the training, tips on safe drone flight, and battery and payload management will also be given.
Most of the course is done through instructional videos, but practice exercises using a sample dataset is provided towards the end. That being said, this training course will only be enough to get you started. You won't be an expert by the end of it.
Thermal imaging
9. Intro to Drone Thermography by Drone U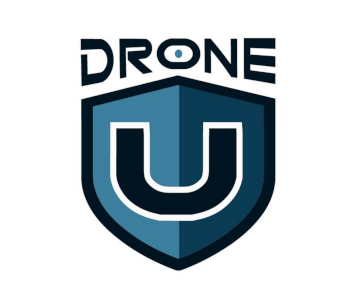 Price: $47 per month subscription
This course takes you through all the basics of drone-based thermal imaging, and then some. Drone thermography is a process by which drones are equipped with infrared sensors that can capture images using their emitted infrared radiation. This allows the capture of images that show the contrast between different temperatures, which is very useful for a variety of industrial applications such as infrastructure inspection and surveillance.
This course is a good choice for beginners, as it even starts with a short discussion on the different types of drones and how they have unique strengths and disadvantages. It then moves on to discuss the concepts behind thermal imaging, heat transfer, and how thermal cameras work. Finally, it moves on to more practical lessons, such as how to calibrate a thermal camera, the ideal contrast to get high-quality thermal images, and a few troubleshooting tips.
The course makes an effort to discuss in detail as many thermal camera models as it can, given its limited length. Practically all popular models are included in the discussion, including the DJI Zenmuse-XT M600, the FLIR Vue camera, and the FLIR Vue PRO.
Since this is a Drone U course, you don't need to pay anything for the Intro to Drone Thermography training course if you already have an active subscription. If you're really feeling up to it, you can take several training courses in a single month and just pay the $47 per month subscription fee.
Precision Agriculture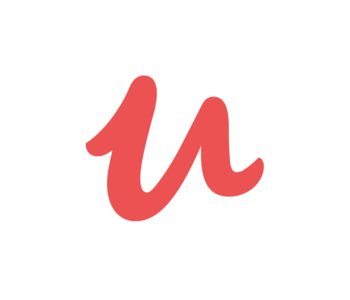 Price: $199.99
Precision agriculture is merely a branch of drone-based surveys that rely on the use of special sensors to assess the health of crops. With this technology, accurate and comprehensive on crop health can be collected in a matter of a few hours even for vast farmlands. This is one of the frontiers for drone technology that has huge potential for development, making it an attractive option for commercial drone pilots.
This introductory course will take you through the basic of precision agriculture: its applications, opportunities, and the hardware that you will be needing. It also shows how you can expand your potential workflow by using software to process the survey data and present your potential clients with complete precision agriculture solutions.
The course doesn't stop at the basics, though. You can also learn about 3-band and 5-band NDVI and how NDVI data can be processed in QGIS, a freeware GIS program. At the end of the training course, you will be given sample data for processing exercises.
The lecture videos are detailed enough to provide a good introduction for= beginners interested in the technology of precision agriculture. The course will not train you enough to get an agriculture survey career off the ground – you'll need much more training for that. However, as an introductory course, it fulfills its purpose well enough.
Starting a drone business
11. Launching a Drone Business Under Part 107 by DARTDrones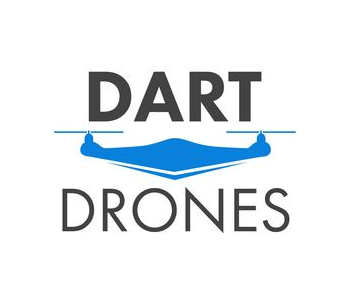 Price: $300
As with any kind of business, starting your own drone-based enterprise involves a lot more than just buying a drone and offering your services to people. There are various legal and liability issues you'll need to navigate around. This drone business introductory course being offered by DARTDrones will guide you along this labyrinth of regulations.
Before you can even start a business, you'll need to decide if it will be under sole proprietorship, a limited liability company (LLC), or a C-corp. You'll also need to get the proper certifications and get an appropriate insurance policy, a detail that most commercial drone pilots tend to overlook.
More than compliance with regulations, this training course will also help you make your business succeed. From naming your company to coming up with a business plan and marketing your services, the course will give you a lot of advice on how to successfully launch your drone-based business. If you don't want your hard-earned capital and all those hours of training to go to waste, then this course will at least improve your chances of success in your business venture.
12. Business Courses by Drone U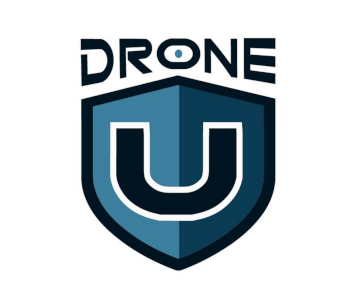 Price: $47 per month subscription
Concise and compressed training courses are great for people without the luxury of time, but we know there are others who are more careful about looking before they leap. If you're willing to go the extra mile in learning how to run your future drone-based business, then we recommend this series of business courses from Drone U. Instead of a single training course, this gauntlet is composed of more than ten courses that go deeper into the aspects of running a successful business.
Right now, the business series covers the legalities of starting your own drone-based business including the taxes you will eventually pay and how to get your assets properly insured. It then moves on to how to name your future company and the equipment you'll need to get initially. There are even courses on how to manage your finances and how to market your services.
Other courses under this series are still under development, namely those that focus on pricing, risk management, time management, and networking. In any case, you can get started with the courses that Drone U has already launched.
The great thing about all these business courses is that you can access them with your monthly Drone U subscription. Perhaps you'd like to hold out until all the business courses are available before you sign up so you can finish all of them in one go. There probably isn't a more detailed training course for running a drone-based business out there.
Final thoughts
Nowadays, technology has evolved to the point that accessing new knowledge only takes a couple of clicks on your computer. You don't even need to leave the comforts of your home to become a near-expert on something. With such a wealth of online training courses, drone pilots are pretty much spoiled in terms of opportunities for learning.
We have selected the courses above to give our readers a diverse and comprehensive set of choices for advancing their drone skills. Whether you are a beginner who is considering taking the Part 107 knowledge test, or a skilled drone pilot looking to start your own drone-based business, there is a training course out there that is made just for you.