6 Best Outdoor Motion Sensor Lights of 2019
3D Insider is ad supported and earns money from clicks and other ways.
The most effective way of not getting burgled is to give unsavory types no reason to try and break into your home in the first place. Security cameras are a good start, but they don't have as much of an effect on a criminal's psyche as the lack of a dark hiding place. If you get a quality motion-activated outdoor light, your property will suddenly become uninviting to thieves while looking more appealing at night.
Outdoor motion sensor lights can be placed anywhere on your property. They light up only when they detect motion at a set distance and won't waste energy when they're not needed. Even better, some are solar-powered, meaning that their asking price is the only investment you'll need to make!
Below you'll find comprehensive reviews of the six best outdoor motion sensor lights available today. They feature varying brightness levels, power sources, and price points, so there's really something for every homeowner's needs. Get a few and sleep more easily knowing that your home is always protected.
Budget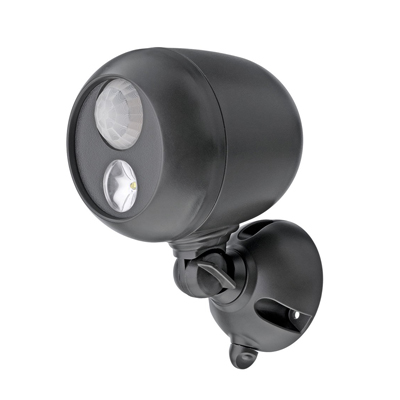 Mr Beams MB360
4.0/5.0
Sensor distance: 30 feet
Light source: Single LED
Power source: 3 D-cell batteries
Affordable, adjustable both horizontally and vertically.
Check Amazon
Best Value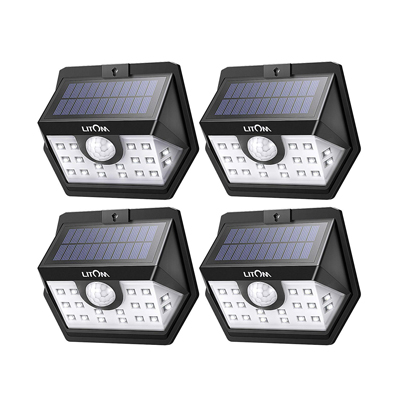 LITOM Classic Solar Lights
4.5/5.0
Sensor distance: 25 feet
Sensor range: 270°
Power source: Solar-battery
Solar powered, very bright considering their size.
Check Amazon
Top Pick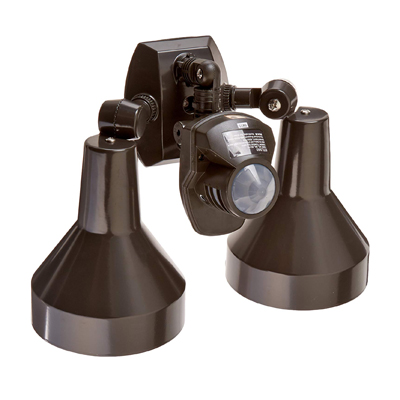 RAB Lighting STL360H
4.6/5.0
Sensor distance: 60 / 15 feet
Sensor range: 180° / 360°
Power source: Wired
360-degree coverage, excellent motion sensors, waterproof.
Check Amazon
What to Look for in a Motion-activated Outdoor Light
Power Source
Brightness and Coverage
Sensor Distance and Range
6 Best Outdoor Motion Sensor Lights Comparison Table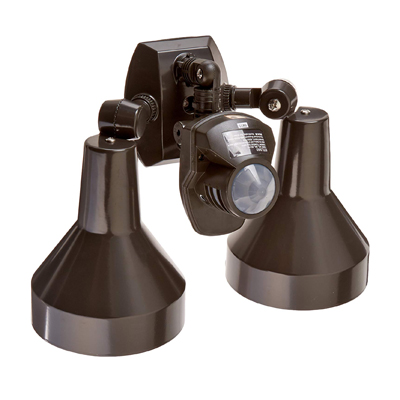 View on Amazon
Editor's Rating: 4.6/5.0
Some outdoor lights have a big flaw – they detect movement only from the front, letting a burglar sneak up on them from behind. Not so with RAB Lighting's 360 Super Stealth! These lights feature two sensors with 360-degree coverage that extends downward as well. This forms a perimeter which no one can breach without triggering the lights. The Super Stealth is easy to install, comes with a wealth of settings, and looks sophisticated. It is a comprehensive yard security solution that ticks all the boxes.
360 Degrees of Illumination
The first thing that separates the Super stealth 360 from other models is its superior build quality. The body and light bells are made from die-cast bronze that's both tasteful and weather-resistant. The electronics are weatherproof allowing you to set the light up anywhere without fearing that rain will damage it. Everything comes pre-assembled and wiring the light up is easy thanks to straightforward instructions.
The 360 in its name comes from the coverage of the light's two motion sensors. Its main sensor covers 180 degrees in front of the light and has a detection distance of 60 feet. It is highly sensitive and will even pick up small animals or cars passing your yard. Both its sensitivity and range can be toned down if you need to cover a smaller area. The second sensor covers the Super Stealth's underside and back at a distance of 15 feet.
Some outdoor motion sensors are sluggish on cold days. The Super Stealth 360 has built-in temperature controls which compensate for outside conditions and ensure the lights are triggered quickly every time. Motion detection is on 24/7 by default, but you can also program it to be active only at a certain time. Protection from tampering is also included. The light is immune to radio frequencies and has 6,000-volt surge protection.
What We Didn't Like
The Super Stealth 360 isn't reliable in windy conditions. It can mistake strong gusts of wind or a fluttering flag for intruders and turn itself on needlessly. The light's operational height limit is 15 feet. Placing it higher than that will make it less effective.

Tech Specs
Dimensions: 6.4 x 13.2 x 10.2 in
Sensor distance: 60 feet / 15 feet
Sensor range: 180° / 360°
Light source: 2 incandescent light bulbs
Power source: Wired
The Pros
Easy installation
360-degree coverage
Excellent motion sensors
Waterproof
The Cons
Prone to turning on during strong wind
Sensors become unreliable if light is placed higher than 15 feet up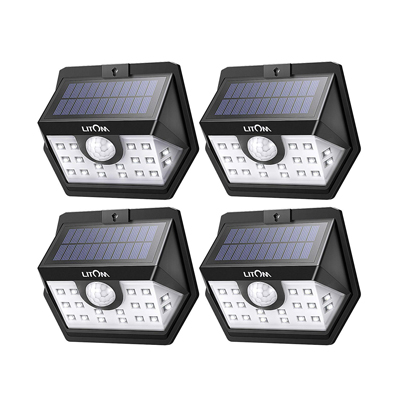 View on Amazon
Editor's Rating: 4.5/5.0
Do you have a smaller backyard you'd like to be safe and look nice at night? Do you prefer many weaker, strategically-placed lights to a single bright outdoor light source? If so, then Litom's solar lights are just the thing! These compact lights are easy to install, emit a pleasant powerful glow, and are solar-powered so you don't need to worry about outages or recharging the batteries. A single light isn't all that bright, but you're getting four at an excellent price.
Set It and Forget It
In this pack you get four lights, each with 20 LEDs that fan out in a wide arc and produce 130 lumens of light. Their motion sensors are developed in-house by Litom and cover a 25-foot distance at an angle of 270 degrees. In sensor mode, the lights turn on for 30 seconds when triggered to save energy.
These lights are great because they require no maintenance year-round. Set them up in direct sunlight and you're good to go. The emitted light is bluish and cold which is ideal for identifying any intruders. There's no way of limiting the sensor sensitivity or range, so you may experience frequent activation if there are squirrels or rodents about. Luckily, you can set the lights to photo sensor mode which will arm them at night and disarm them at sunrise.
Power is supplied by a 1,800mAh battery with enough juice for 3-4 hours of uptime. Since recharging takes only 4 hours, the lights will be ready to shine even in winter. Even though they're small and unobtrusive, Litom's solar lights are built to last. They can withstand temperature extremes and are completely waterproof. Litom claims that their lifespan is 30,000 hours or three years of continuous use. Not bad considering you don't ever have to take care of recharging their batteries.
Are There Drawbacks?
The solar panels used to power these lights aren't dependable. Even though the manufacturer claims they're 20 percent more efficient than others, the panels require precise positioning and long exposure to sunlight. If it's cloudy, they may not gather enough power during the day to keep the lights going all night.

Tech Specs
Dimensions: 4.9 x 4 x 1.9 in
Sensor distance: 25 feet
Sensor range: 270°
Light source: 20 LEDs at 130 lumens
Power source: Solar-powered battery
The Pros
Solar powered
Four lights for an excellent price
Very bright considering their size
Easy to mount
The Cons
Unreliable solar panels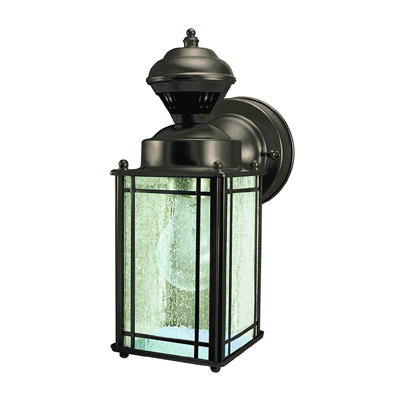 View on Amazon
Editor's Rating: 4.5/5.0
Most motion-triggered outdoor lights look bland, which is something you'll want to avoid when shopping for a porch light. If you want your porch to be lit up in style when someone approaches, invest in the HZ-4133-OR! This beautiful lamp features a mission-style waterproof casing and elegant seeded glass. Underneath the classic veneer there's also a powerful motion sensor that isn't prone to false positives thanks to Heath/Zenith's unique approach to motion detection.
Classic Design Meets Modern Security
This is hands down the most beautiful light on our list. Its exterior comes in either oil-rubbed bronze or silver and fits well with the décor of both modern and more traditional properties. You get everything you need to wire it plus comprehensive instructions on how to do so. Installation is straightforward and can be performed by anyone with some electrical knowledge.
The motion sensor has a distance of 30 feet at a 150-degree angle. The detection distance and sensitivity can be toned down in increments. Rather than relying on movement alone, this sensor uses infrared beams to detect changes in temperature. That way it will trigger only if a human or animal moves while disregarding passing cars, swinging branches etc. Once the light is triggered, it will stay on for 1, 5, or 10 minutes.
The motion sensor can act as a trigger for other lights if you wire the lamp to them. This lets you turn on an additional 450 watts of light, enough to illuminate a whole patio and some garden lights. The lamp itself takes 60-watt incandescent light bulbs. LED and fluorescent bulbs will work too, as will dimmable ones even though there's no way of adjusting their brightness.
What's Bad About It?
The lamp's finish is poor quality. It will start to flake off if it is exposed to wind and sunlight. The sensor has a plastic cover which gets cloudy. You'll need to wipe it clean often for the sensor to work properly.

Tech Specs
Dimensions: 4.4 x 6.6 x 11.1 in
Sensor distance: 30 feet
Sensor range: 150°
Light source: 60-watt incandescent bulb
Power source: Wired
The Pros
Elegant design
Accurate motion sensor
Adjustable uptime
Can activate other connected lights
The Cons
Paint starts to flake after a while
Sensor cover needs constant cleaning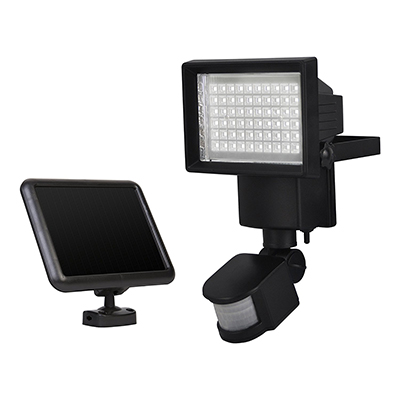 View on Amazon
Editor's Rating: 4.2/5.0
A brightly-lit yard is a secure yard. That's the design philosophy behind the 82156 from Sunforce. This light offers the best price to power ratio in the solar-powered category. Its 60 LEDs put out a massive 850 lumens of light, enough to completely light up a 30-foot area. Installing it is a breeze since there are no wires involved, and a host of adjustment options gives you complete control of how the light and its motion sensor perform.
The Customizable Outdoor Motion Sensor Light
The Sunforce 82156 consists of a 6-volt solar panel, a compatible battery, and 60 LEDs. The panel comes with a 15-foot cable so the light's placement isn't limited to an area with lots of sunlight. It mounts onto garages, porches etc. easily with included screws. The light's components are made from plastic and aluminum. They're water-resistant but not completely waterproof, so you'll want to install it under a roof.
There are three dials on the light's back. They control the motion sensor's detection distance, how long the light will shine once triggered, and the light level needed for it to be armed. The sensor's maximum distance is 30 feet. It is adjustable independently of the LED sand rarely reports false positives. Light duration can be set between 8 seconds and 2 minutes. To save power, the light can be set to trigger only at night.
What We Didn't Like
The 82156 itself is of decent quality, the mounting hardware you get with it isn't. The screws are especially bad – they strip easily and are prone to rusting. You'll want to either cover them up or get different ones. The light's internal components may stop working if they get exposed to water. Attention needs to be paid during placement so that the light doesn't get splashed.

Tech Specs
Dimensions: 5.4 x 5.3 x 11.2 in
Sensor distance: 30 feet
Sensor range: 180°
Light source: 60 LEDs at 850 lumens
Power source: Solar-powered battery
The Pros
Bright light
In-depth adjustment options
Solar panel is placed independently
Affordable
The Cons
Poorly-made mounting hardware
Needs to be installed away from any moisture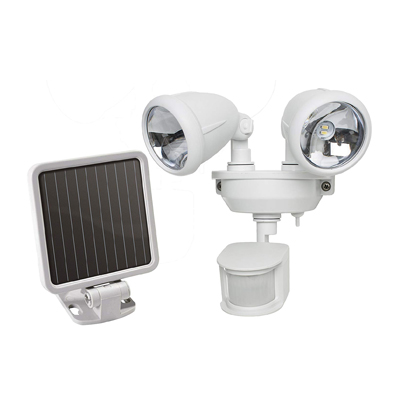 View on Amazon
Editor's Rating: 4.0/5.0
No matter how bright and sensitive an outdoor light is, a single one covers only a small area. If you need a wider coverage and the ability to easily adjust the light's settings, the 40218 from Maxsa Innovations has two LED light sources that you can position independently. It also boasts in-depth adjustment options similar to the Sunforce 82156 and has an excellent solar panel.
Double Coverage for Extra Security
The 40218 is an outdoor light made from durable HDPE plastic. It can withstand fall damage and still work like a charm. With a water resistance rating of IP44, it will resist water splashes but should be placed away from the elements. It comes with an excellent amorphous solar panel that attaches to the main unit with a long cable. The panel stores energy even on cloudy or rainy days and isn't as dependent on good placement as some others we've tested.
Adjustability is the best thing about this lamp. There are two sets of two LEDs which you can aim precisely and independently, covering two specific areas of the yard. 160 lumens is weaker than what the Sunforce 82156 puts out but bright enough to light up the area directly in front of a garage or front door. The motion sensor detects movement 40 feet away at a 180-degree angle. Its sensitivity is adjustable in 10-foot increments.
A full charge gives the 40218 enough power for 90 1-minute bursts. The duration of a burst ranges from 15 seconds to 4 minutes and is adjustable via a dial on the light's back. There's also the option of regulating the light sensitivity level at which the motion sensor will be armed. At its highest setting, the sensor will be active in broad daylight. The lowest lets it work only in full darkness.
What's Bad About It?
Since the total output of the 40218's LEDs is split, each area is lit up weakly. This forces you to either mount the lights closer to the ground. The motion sensors won't activate immediately if it is raining due to high dampness in the air.

Tech Specs
Dimensions: 10 x 9 x 8 in
Sensor distance: 40 feet
Sensor range: 180°
Light source: 4 LEDs at 160 lumens
Power source: 3 solar-powered batteries
The Pros
Excellent solar panel
Two independently adjustable lights
Sturdy build
The Cons
Lights aren't bright enough
Motion sensor is sluggish on rainy days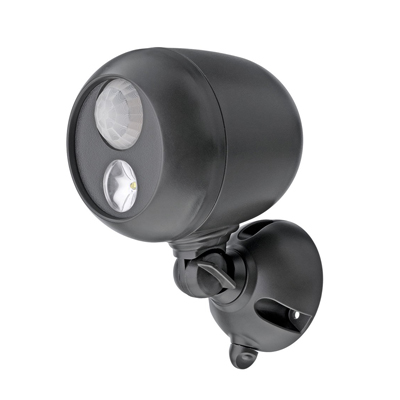 View on Amazon
Editor's Rating: 4.0/5.0
Mr Beams has the perfect inexpensive solution for concentrated, motion-activated outdoor lighting – the MB360. This versatile light is best used to illuminate entrances, walkways, and other smaller areas you need monitored. It boasts a long battery life, turns on reliably only when motion is detected, and is easy to mount anywhere. Get a single one to cover an area you're most concerned about, or invest in more and cheaply light up your home's entire surroundings.
An Affordable Solution to Outdoor Lighting
The MB360 is a small outdoor light made from plastic. It is available in either black or white and has a simple design reminiscent of modern security cameras. Mounting it takes only a drill, screwdriver, and five minutes of your time. A set of D-cell batteries powers it for a year, less if the sensor is triggered frequently each day. You'll know when it's time to replace them as the light won't turn off at one point until the batteries die completely.
Many outdoor lights come at a fixed angle. The MB360 stands out since you can adjust it both horizontally and vertically via two knobs. This lets you determine the shape of the light beam and place the light at a tricky angle while maintaining good coverage. A large photosensitive sensor ensures that the MB360 activates only at night. It will glow for 30 seconds once triggered.
Are There Drawbacks?
This light isn't waterproof. Even worse, water will build up inside if it ever gets splashed. This may cause its internal components to rust and make the light unusable. There's also a weak spot on the part which connects the light's base to its housing. This will degrade over time and may break when you remove the light to replace dead batteries.

Tech Specs
Dimensions: 4.3 x 4.4 x 6.5 in
Sensor distance: 30 feet
Sensor range: Not specified
Light source: Single LED at 140 lumens
Power source: 3 D-cell batteries
The Pros
Affordable
Long-lasting batteries
Adjustable both horizontally and vertically
The Cons
Prone to corrosion if it comes in contact with water
May break at a specific point after long use