Parrot Black Friday Deals Released
3D Insider is ad supported and earns money from clicks and other ways.
Parrot is one of the largest drone manufacturers in the world. It's based in France and they are known for high-quality equipment. People have been eagerly awaiting their Black Friday deals to get their hands on quality at discount prices.
We're excited to announce that Parrot has dropped some great Black Friday deals that you can buy right now. Parrot will have their sale from 11/20/2017 to 11/28/2017. You can save up to $300 on a drone during the sale.
Parrot Bebop 2 FPV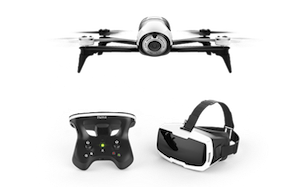 The Parrot Bebop 2 is the company's most popular drone. At $449, the FPV package lets you fly using the camera as your eyes with a pair of goggles. This immersive experience is phenomenal and its so much fun flying like a bird through the air. Amazon has the drone listed for $250.99 (36%) off its retail price for Black Friday. If you want just the drone you can get it for $100 less at $349.
For comparison, if you wanted to get a DJI drone like the Spark with FPV (it's also for sale during Black Friday) you would be looking at close to $900. This is because DJI's FPV goggles are more than $400 (granted these are much higher quality).
The Parrot Bebop 2 is popular for a reason. It's very light-weight and compact at just 1.1 pounds. It can be controlled with a range of up to 1.2 miles. It also shoots 1080p HD video and 14 MP stills. Best of all is its fantastic flight time of up to 25 minutes. This is great compared to the DJI Spark with only about 16 minutes of battery life. The DJI Spark also only has a 2-axis gimbal compared to a 3-axis one in the Bebop 2. This gives the Bebop 2 a significant edge in camera quality.
Parrot Mambo FPV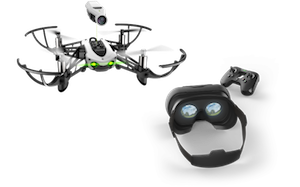 If you want a cheaper drone, then the Parrot Mambo FPV is well-priced for Black Friday. You can get it for just $139 and still have a very similar goggle flight experience as the Bebop 2. This means that you can use the quadcopter in drone races. This is a great Black Friday drone deal if you want to get your feet wet with drones before jumping in with a more expensive model.
The battery life on this drone is around 10 minutes. It can record 720p HD at 30 FPS and it has about a 100 meter range.
Other Black Friday Deals
The Parrot Bebop 2 and the Mambo are the two main drones that will go on sale during Black Friday. The Parrot Disco Adventurer is $300 off if you want a unique fixed wing drone. The cheapest drone from Parrot is the Parrot Airborne Night Maclane, which is selling for $49 at some retail outlets. They are also offering discounts across a variety of packages, so be sure to browse their Amazon.
Parrot drones are known for their reliability. We are happy with their 2017 Black Friday deals and think they compare nicely with DJI (see a list of drones for sale here). Their sale is open through Cyber Monday so you have some time to decide which one to buy.