How to Become an FAA-Certified Drone Pilot
3D Insider is ad supported and earns money from clicks, commissions from sales, and other ways.
Far from being recreational devices, consumer drones are now sophisticated enough to be valuable across a variety of industries. Whether we're talking about aerial photography, real estate advertising, land surveying, or industrial inspection, drones have managed the change the way things are done.
However, the FAA doesn't just let any drone pilot take the reins of a drone-based business and start earning a profit. To fly your drone for profit legally, one of the first requirements you'll need to get is FAA certification. The certification process and requirements are detailed under Part 107 of Chapter 14 of the Code of Federal Regulations, which provides a legal framework for all commercial drone flight operations. What does it take to get FAA-certified? What are the benefits and limitations of getting the certification?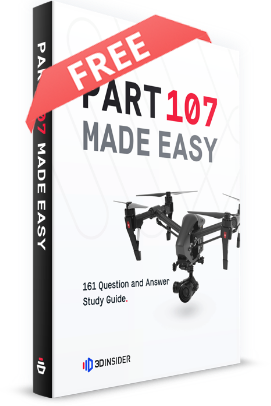 PART 107 Made Easy
161 Question and Answer Study Guide
105 pages of illustrated content
Covers all parts of the Part 107 test
$97 of value for free
Why is FAA certification needed?
Before the Part 107 rules were formulated, commercial drone pilots had to apply for a Section 333 exemption to fly their drones for profit. Getting this exemption was a long and tedious process and had much stricter requirements. On 2016, the FAA implemented Part 107 as a faster and easier alternative for commercial drone pilot certification.
There are a couple of good reasons for why the FAA required certification for commercial drone pilots. At the most basic level, it provides a way to keep tabs on all commercial drone pilots in the US. This database is indicative of the commercial drone industry in the country and can also be accessed publicly by potential clients looking for drone service providers.
The important reason behind the certification requirements is that it assures the FAA that all commercial drone pilots satisfy a baseline level of knowledge and proficiency on drone operational limitations, aviation basics, and flight theory. All FAA-certified drone pilots are required to comply with the flight, incident reporting, and documentation rules under Part 107. The ultimate goal is to keep national airspace safe for drones and manned aircraft alike.
Qualifying for FAA certification
The bare minimum requirements to qualify for FAA certification are as follows:
Be at least 16 years of age
Be physically and mentally fit to fly a drone
Be able to read, write, speak, and understand English
If you pass the basic requirements, then you can move on to tackling the biggest hurdle to getting FAA certification: the Part 107 knowledge test. This is a test given to all aspiring drone pilots to affirm their level of knowledge on the Part 107 rules, operational limits, and other drone flight fundamentals.
What is the Part 107 knowledge test?
The Part 107 knowledge test is a 60-item multiple choice test designed to test the level of proficiency of drone pilots on the fundamentals of commercial drone flight before being granted FAA certification. It seems simple on the surface but let us warn you: this is much more complicated than the test you need to take to get a driver's license. The Part 107 knowledge test covers subjects that we won't consider common knowledge such as interpreting METARs (weather reports), reading sectional charts, understanding radio communications language, and knowing how loading and weather affect drone performance.
Although the knowledge test only has 60 questions, they are randomly pulled from a much larger pool of questions. According to sources, the FAA maintains about 400 questions, although we expect the pool to be altered every now and then. This randomness ensures that each knowledge test is unique.
How do I pass the Part 107 knowledge test?
To pass the knowledge test, you need to answer at least 70% of the questions properly. That is equivalent to 42 out of 60 questions.
However, if you're asking what you need to do to get these answers correctly, then the short answer is to dedicate time to some serious studying. There are a lot of resources available online – free or otherwise – that can help you prepare for the knowledge test. Determining which one works for you depends on your learning style, your comfortable pace, and how much budget you have.
If you're settling for free resources, then you're really not making a bad choice. There are dozens of free study guides (the FAA even offers their own), sample questions, instructional videos, and podcasts floating around online. You'll need to do a bit of work organizing them into something coherent, but there's enough material to prepare you for the knowledge test.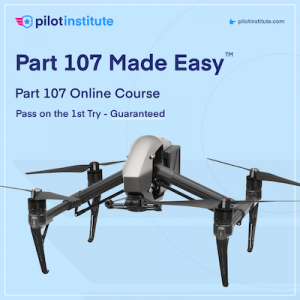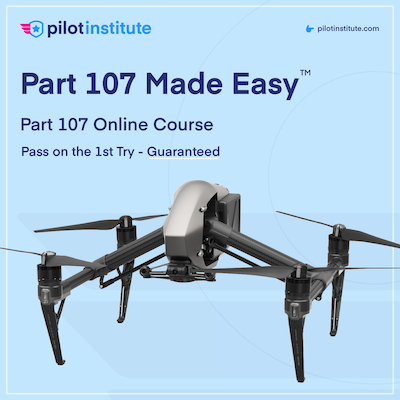 However, if you're willing to spend a bit more, then you can sign up for a paid Part 107 training course. There are a lot of excellent courses out there, such as the one offered by Pilot Institute. With a paid training course, you can expect the material to be more organized and systematic. Many of these courses are even compatible with mobile devices so you can continue studying even during your morning commute to work. Best of all, some training courses offer a money-back guarantee should you not pass the Part 107 knowledge test on your first take.
Whichever path you take, what's important is that you commit to the task. Studying for the knowledge test isn't something you can cram over one to two days. We recommend spending anywhere between 15 to 20 hours over a week or two to go through all the training materials and answering as many sample questions as you can.
How do I sign up for the knowledge test?
The easiest way to sign up for the Part 107 knowledge test is to get in touch with Computer Assisted Training Service, Inc (CATS), the company that administers the knowledge test for the FAA. They will help you pick a schedule and testing location that works best for you. There are over 700 authorized testing centers all around the US, so there's a good chance that there's one near you. You can use the site search tool in the CATS website to look for the nearest testing center.
You'll need to pay a $150 testing fee when you sign up for the knowledge test. Take note that the testing fee does not go to the FAA, but instead to the test administration company. You'll also need to have a valid government-issued ID.
What happens after I pass?
Once you've taken the test, your test results should get uploaded to the FAA website within 48 to 72 hours. If you passed, just take note of the unique code for your exam results as you'll be needing it later.
Applications for FAA certification are made through the Integrated Airman Certification and Rating Application (IACRA) portal. Just sign up for an account on the website and provide the code for your exam results. After inputting your personal details, your application will be put on a queue pending a background check to be done by the TSA.
The TSA vetting process can take some time depending on how much backlog they have on pending Part 107 applications. Some pilots got their approval after a few days, while others had to wait two or three weeks. In any case, all you can do once you've reached this point is to wait.
Once the TSA has approved your application, you should receive your temporary certificate by email. You can fly your drone for profit legally at this point, although the temporary certificate is only valid for 120 days. Don't worry, though, because your permanent certificate should already be making its way to you by regular mail.
Do I need a medical certificate or a manned aircraft pilot license?
As we've mentioned, the FAA came up with the Part 107 certification requirements as a means to simplify the old Section 333 exemption. Although a Section 333 exemption has its advantages (like being able to fly drones that weigh more than 55 lbs.), its list of requirements includes a pilot license and a medical certificate issued by the FAA.
Part 107 certification does away with these requirements. There is no need for a prior pilot license, and the level of physical and mental fitness of the pilot is merely self-assessed.
What are the advantages of being FAA-certified?
It takes a considerable amount of time and effort to get FAA certification, but it's certainly worth it. In a drone market that continues to grow and become more competitive, an FAA certification can be what makes you stand out from the rest of the drone pilots.
1. Better marketing
Being officially certified by the FAA provides a big boost to your drone business. It's a testament to your reliability, knowledge of best safety practices, and commitment to doing things the right way. Naturally, clients will not want to work with a drone pilot who is conducting commercial drone flight illegally. An even better marketing ploy is to have a certification that you completed an official drone training course.
2. No legal problems
For commercial drone pilots, an FAA certification isn't just a cosmetic luxury for attracting clients. It's a legal requirement. Drone pilots who fly commercially without the proper certification risk being fined up to $30,000 per violation.
3. Better knowledge foundation
The biggest benefit of having FAA certification is an intangible one: the knowledge and expertise that you develop during the certification process. The Part 107 knowledge test is pretty demanding and will force you to read up on things you would otherwise never have learned such as radio communications lingo and METAR weather reports. With more knowledge, you become better armed to handle problems that will inevitably come up throughout your career as a commercial drone pilot.
If you have ambitions of getting a more advanced pilot license, then your expertise as an FAA-certified drone pilot can be an excellent foundation for more advanced knowledge. There will still be a lot of work to be done, but at least you've already started on the path.
What are the drawbacks?
Part 107 certification is not without its detractors. Over the course of Part 107 implementation, there have been several controversial issues that have been the subjects of clamor from professional drone pilots.
1. More flight restrictions
One of the biggest issues for FAA-certified drone pilots is that they are subject to much more restrictive rules than recreational drone pilots. Licensed drone pilots need to request for a waiver from the FAA if they want to fly their drones at night or from a moving vehicle. Recreational drone pilots are not subject to such rules. This puts FAA-certified drone pilots at an absurd disadvantage compared to drone pilots who have not under any sort of regulation.
2. Costs money, time, and effort
Getting FAA certification isn't easy. On top of the effort you'll need to study for the knowledge test, you'll need to spend at least $150 to sign up for the test and another $5 to register your drone. If you decide to take a paid training course, you'll be spending at least an additional $180. There are significantly long waiting periods at some parts of the process, which can add up to around two months before you can get the drone license.
3. Poor enforcement
Commercial drone pilots probably won't be complaining about the cash and effort investment made towards FAA certification if it's worth it in the end. Ideally, FAA-certified drone pilots should have a huge advantage over amateur drone pilots by the mere fact that they have legal support to provide commercial drone operations. However, it appears that this advantage has not been fully realized due to weak enforcement of the Part 107 rules.
So far, there has only been a single documented incident of a person being cited for flying a drone commercially without a drone license. Even then, the penalty was nothing more than a slap on the wrist. The problem with weak implementation is that drone pilots without the proper license can offer their services at lower rates, thereby undercutting the FAA-certified drone pilots.
The problem lies in the fact that the FAA has mostly delegated the enforcement of the Part 107 rules to local law enforcement, who are either unequipped or not knowledgeable enough about drone-related matters. Without any active complaints, police officers aren't likely to be asking every drone pilot they encounter to show their drone license.
Final thoughts
With FAA records showing that more than a hundred thousand drone pilots have applied for Part 107 drone licenses, there is no doubt that the market for commercial drone services continues to grow. Drone technology has already advanced by leaps and bounds in the last couple of years, making them more capable than ever to solve modern problems with modern solutions. With a growing industry, the FAA has deemed it fit to enforce certification standards for drone pilots.
Being FAA-certified is still a pretty big deal in the drone community even more than three years after the initial implementation of Part 107. Aside from opening up a lot of drone-based job opportunities, the certification process produces better and smarter drone pilots.
Although the process seems long and demanding, you can take solace in the fact that hundreds of thousands of people have gone through and made it to the other side successful. It's not a perfect system. Up to now, the advantages of being FAA-certified have not been fully realized. However, much like drone technology, we expect drone legislation to continue to evolve in the next couple of years.