Part 107 Coupons and Discounts
3D Insider is ad supported and earns money from clicks and other ways.
The best time to start a drone-based business is now. Advancement of drone technology has not only increased their capabilities, but also made them easier to operate and more affordable. If this trend continues, then it is only a matter of time before drone services hit the mainstream.
One of the most important requirements in operating a drone business legally is having a licensed drone operator. A drone operator who is licensed under Part 107 has successfully demonstrated a level of knowledge that the FAA requires for commercial drone pilots. It's not enough to rely on practical knowledge to pass the Part 107 knowledge test – you might even consider paying for a training course to increase your chances of passing.
The Part 107 test costs $150 to take. There's no way around this fee, but you can save on your practice materials to make sure you pass on the first try so you don't have to pay twice.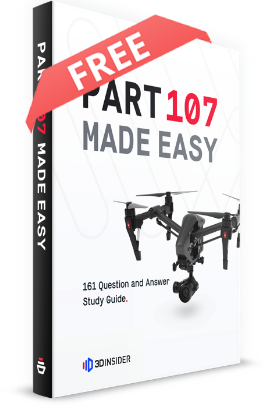 PART 107 Made Easy
161 Question and Answer Study Guide
105 pages of illustrated content
Covers all parts of the Part 107 test
$97 of value for free
Why take a paid training course?
While there are plenty of free study materials and resources online that you can use to prepare for the Part 107 knowledge test, paid training courses offer a more comprehensive coverage and a more systematic method of study. You may need to consult several free resources to have a complete picture of all the topics you need to know, but paid training courses provide a single source for all of your training needs.
In terms of flexibility, most paid training courses can be accessed thru a smartphone or any mobile device, allowing you to continue studying while you are on the go. They also provide lifetime access to their resources, which has been very useful for drone pilots in the last couple of months to prepare for the recurrent knowledge test needed for license renewal.
Objectively speaking, the study materials of paid training courses are just better. All the contents are carefully curated, the material is sensibly organized, and the videos have a higher level of production. They can even offer a money back guarantee should you fail the knowledge test on your first try. Despite the price involved, you are not likely to feel short-changed when you sign up for a paid training course.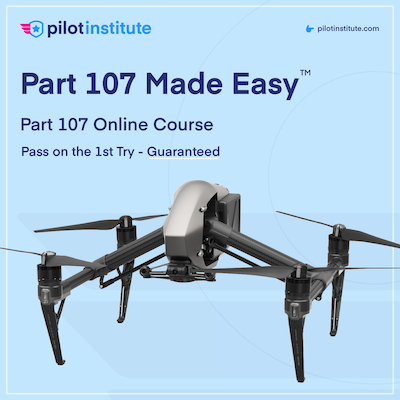 Drone Launch Academy
The training course offered by the Drone Launch Academy has been one of the most popular ones through the years. The fee for the course is already on the more affordable side at $179, but they are still offering our readers a coupon code for $50 off. At a rate of $129, you would be hard-pressed to find a training course that gives you more bang for your buck. You can get this discount instantly by using this link.
The Drone Launch Academy provides about 4 hours of HD training videos, more than 75 pages of written review materials, and more than 200 practice questions. The course was designed by a faculty comprised of FAA-certified ground instructor, a lawyer, and a meteorologist, ensuring that all essential topics are covered.
At the discounted price of $129, you get lifetime access to these training resources. This feature can be particularly useful when it's time to renew your drone license and you need to take the recurrent knowledge test. Lifetime access also means having all of the knowledge included in the training course at your immediate disposal, especially with the mobile access that the Drone Launch Academy provides.
To make this deal even sweeter, Drone Launch Academy provides a money back guarantee should you fail the Part 107 knowledge test on your first take. As a testament to how confident they are about the quality of their material, Drone Launch Academy will reimburse the full amount of the training course. This guarantee comes with just a few conditions: you should have gone through all the training material and scored 75% or higher on their practice tests before you took the actual knowledge test.
Drone Pilot Ground School
Another company has offered a discount on their similarly popular training course just for our readers. Drone Pilot Ground School normally offers their Part 107 training course for a regular price of $299, but the readers of this site can get a $50 off by following this link. At the discounted prince of $249, there is no reason not to sign up for the Drone Pilot Ground School training course.
This training course is given through 65 distinct lessons, with each one including a video lecture, a detailed text lecture, and a quiz. It is much more systematic and streamlined, allowing for maximum knowledge retention. The course also provides a 12-page "cram" sheet which you can use for quick reference if you forgot a particular tidbit of knowledge right before the knowledge test.
Drone Pilot Ground School has just released Version 2.0 of their training course, proving that they stay true to their word periodically reviewing and revising their training materials to keep them relevant. This fact works really well with the lifetime access that they provide when you sign up for their training course. This is an assurance that you have access to up-to-date training materials even years down the road.
The added value in taking the Drone Pilot Ground School is the extra content that they provide Aside from providing training on all the essential topics that you will need to pass the Part 107 knowledge test, this training course also provides lectures on how to best run your drone business. These bonus lectures tackle practical issues such as how to price your drone-based services, and how to market your business.
Drone Pilot Ground School boasts of a more than 99% passing rate for their Part 107 training course. If you are not convinced enough, they also offer a money back guarantee for the cost of the knowledge test should you fail on your first take. This is essentially Drone Pilot Ground School telling you that you will pass on the first take, or it's free!
At the discounted price of $249, the Part 107 training course of Drone Pilot Ground School is a wise investment towards developing business intelligence. Beyond just learning the basics to pass the knowledge test, this training course provides the knowledge to help you run your business. The lifetime access also means that you have a chance to keep your knowledge relevant and up to date, no matter how many years have passed since you first signed up.
Final thoughts
Paid training courses are not cheap, but neither is starting up your own drone business. Between the costs of buying the drone and accessories, for marketing of your services, and the fee for taking the Part 107 test, you can easily spend more than $2000 on startup costs. However, developing your knowledge is also an investment – perhaps the best investment you can make.
The training courses offered by Drone Launch Academy and Drone Pilot Ground School are both intelligently designed and systematic to give you the best chances to pass the Part 107 knowledge test. They can both be accessed using mobile devices and offer lifetime access to their constantly evolving training materials. Best of all, both companies are so confident in the quality of their training materials that they offer money back guarantees should you fail the knowledge test on your first take.
Even at their original prices, both training courses are worth more than their respective fees. With the coupons they are offering for our readers, there should no longer be any question that these training courses are wise investments.