6 Best Controllers for PC Computers in 2020
3D Insider is ad supported and earns money from clicks, commissions from sales, and other ways.
A quality mouse & keyboard combo is the cornerstone of the PC gaming experience, but that doesn't mean controllers don't have a place too. Platformers, fighting games, and console ports are clunky to play if you don't have a controller, which only leads to frustration and you not reaching your full potential.
Luckily, PC gamers are spoiled for choice when it comes to controllers. The platform supports every current console controllers either out of the box or with simple workarounds, not to mention aftermarket models with much more sophisticated features.
This article covers the six best controllers for PC you can buy today. Some of them have developed simplicity and ergonomics to perfection, while others intrigue with interchangeable components and meticulous customization software. Pick one of them up and experience some of the greatest games of all time the way they were meant to be played.
Budget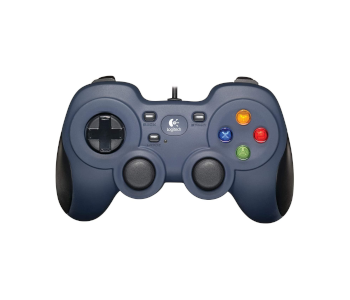 Logitech Gamepad F310
4.0/5.0
Headphone jack: No
Swappable controls: No
This has responsive and accurate controls.
Check Amazon
Best Value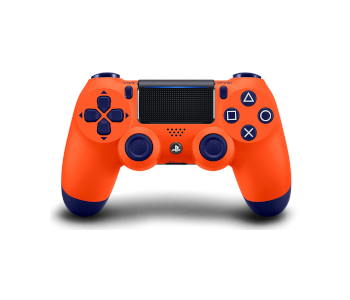 DualShock 4 Wireless Controller
4.5/5.0
Headphone jack: Yes
Swappable controls: No
Top-notch ergonomics and tactile controls.
Check Amazon
Top Pick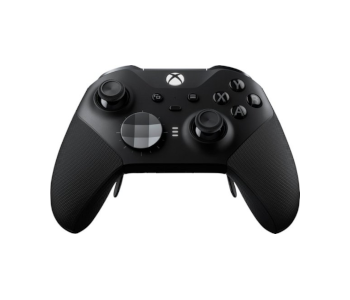 Xbox Elite Wireless Controller Series 2
4.8/5.0
Headphone jack: Yes
Swappable controls: Yes
It has excellent build quality and grip.
Check Best Buy
Controllers for PC Comparison Table
1. Best Overall – Xbox Elite Wireless Controller Series 2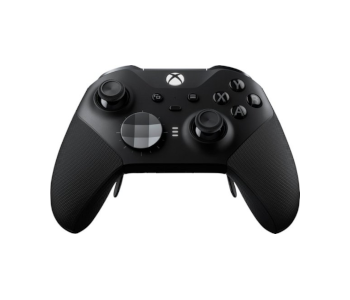 View on Best Buy
Editor's Rating: 4.8/5
The best controller is one that you can adapt and transform to fit your needs, and nothing comes close to the new Elite Series 2 in the customization department. Microsoft's premium controller has gotten an upgrade in every conceivable way, including better grip, tension and trigger adjustment, more profiles, and an internal battery. Plus, it's guaranteed to work with the Xbox Scarlet, so you can look forward to years of hardcore gaming, whether on PC or console.
Overview of Features
The Elite Series 2 looks and feels like a premium controller right off the bat. Its grips are now completely textured, so your hands won't slip regardless of how you hold it. The controller is weighty and feels natural to hold during long play sessions. It has an internal battery with 40 hours of juice per charge. You can recharge directly via USB-C, through a charging dock, or inside the handy carrying case the Elite Series 2 arrives in.
An absurdly detailed level of customization is this controller's main selling point. It comes with interchangeable D-pads, thumbsticks, and paddles that are a breeze to swap out since they're held in place by magnets. The paddles come in several lengths while the sticks are either standard or concave, and one is longer for more precise aiming. One D-pad is standard while the other is faceted.
After you've picked out the perfect component configuration, it's time for fine-tuning the sticks and triggers. You get a tool that sets the sticks to one of three adjustment levels, the tightest being reminiscent of the original Xbox 360 controller's feel. The triggers have three actuation levels and work marvelously to give you an advantage when you're rapidly firing off a weapon in single-shot mode.
As if all of that wasn't enough, the customization extends to the Xbox accessories app. There you can customize the controller's layout and save three profiles to its internal memory. You can also designate a shift key, effectively doubling the number of controls at your disposal by holding the key down and pressing another.
What We Didn't Like
The Elite Series 2 is an expensive controller. Its superior build quality and futureproofing make this a minor issue, though. Microsoft took a risk by making the battery internal since the controller becomes useless if the battery fails. It's too early in its lifespan to tell if this will become an issue down the road.
Tech Specs
Dimensions: 6.9 x 2.9 x 7 in.
Weight: 12.2 oz.
Headphone jack: Yes
Swappable controls: Yes
Connection types: Xbox wireless, Bluetooth, USB-C
Battery: Internal
The Pros
Excellent build quality and grip
Interchangeable components
Adjustable thumbstick tension and trigger actuation
Intuitive and robust configuration app
The Cons
Expensive
Internal battery
2. Best Value – DualShock 4 Wireless Controller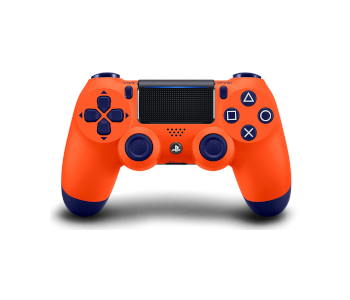 View on Amazon
Editor's Rating: 4.5/5
The release of the PlayStation 4 brought a new and improved version of its venerable DualShock controller. More importantly for PC gamers, the controller can finally be used seamlessly either through Steam or third-party programs. The fourth DualShock has a bold new design, brings unique features, and isn't expensive for what you get.
Overview of Features
Sony had made minimal adjustments to its DualShock controllers since the PSX era, so the fourth gen's redesign came as a welcome change. A larger, sturdier body is its most welcome improvement as the controller is now a pleasure to hold for people with different hand sizes. Many of its buttons have lost variable pressure sensitivity, and that's for the better since games rarely took advantage of the feature anyway. The triggers retain this feature, letting you perform actions faster the harder you press.
The D-pad remains largely unchanged since the 3rd-gen controller's version was excellent. However, the joysticks have been revamped. They're recessed so your thumbs can find better purchase and respond more readily to input. The new design gives the sticks a more tactile feel and helps with precise movements.
The touchpad is the most radical and contentious departure from the original DualShock's design. It is divided into two areas so that both Start and Select can be registered simultaneously. An LED light strip above that pad glows different colors based on the game you're playing and informs you when the battery is about to die. You can connect the DualShock 4 either via a Bluetooth dongle or wired through micro USB.
What's Bad About It?
Several of the DualShock 4's features aren't available on PC, but that might not be a problem for you. The controller has a small speaker that puts out sounds when you play some PS4 games for extra immersion, and there's a headphone jack. Neither of these features is supported on PC. Poor battery life is a more serious issue. The controller can run for four to eight hours based on your vibration and LED settings.
Tech Specs
Dimensions: 6.3 x 2.2 x 4 in.
Weight: 12 oz.
Headphone jack: Yes
Swappable controls: No
Connection types: Micro USB, Bluetooth
Battery: Internal
The Pros
Excellent value for the money
Top-notch ergonomics and tactile controls
Versatile LED strip
Intuitive touchpad
The Cons
Poor battery life
Some PS4 features don't work
3. Razer Wolverine Ultimate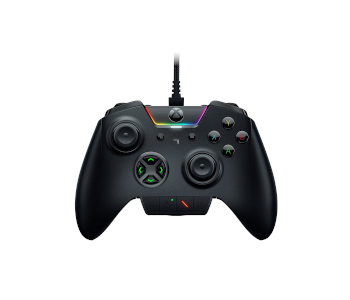 View on Amazon
Editor's Rating: 4.7/5
Do you like the Elite Series 2's customizable buttons and interchangeable components but balk at its price? In that case, Razer's Wolverine ultimate is a controller you have to get. It offers a similar degree of freedom, has convenient volume buttons, and comes with a strip of LED lighting powered by Razer's excellent Chroma technology.
Overview of Features
The Wildcat was Razer's last premium controller, and it never took off due to its flashy colors and mediocre grips. Razer has listened to fans and critics and has improved the Wolverine's fit & finish considerably. Its grips are now fully textured and feel neither slippery nor rough. The face buttons are pleasingly clicky, while the triggers have actuation switches that make them more or less responsive as you play.
The Wolverine has six customizable buttons. You'll find two of them on its shoulders while four are sets of paddles on the bottom. All extra buttons are easy to reach and work well to expand your moves list. The Wolverine's Pro version also has a row of four buttons between the grips. Two of them help you configure the extra controls while the other two affect the balance between game & chat volume and mute the mic.
Razer hasn't included as many interchangeable parts as Microsoft, but its offering is welcome even so. You get a D-pad that's not segmented and works better than the standard for fighting games. You get two more thumbsticks. One is broad to help you move more smoothly while the other is tall and built for precision. All accessories have magnets to keep them in place.
Lastly, Razer has added Chroma lighting you control via the Synapse software. You can sync it with other Razer peripherals, have the Wolverine glow a single color, or go through the rainbow specter in a variety of ways. Vibration or button presses can also trigger color changes and add to your immersion.
Are There Drawbacks?
The Wolverine Ultimate is a wired controller, which is puzzling given its steep price. The cable is well-made and means you don't have to worry about batteries or lag, but a wireless option alongside it would have been better. Synapse forces you to fill out account details and add a valid email, which is intrusive and unnecessary.
Tech Specs
Dimensions: 6.1 x 2.6 x 4.2 in.
Weight: 13.7 oz.
Headphone jack: Yes
Swappable controls: Yes
Connection types: USB
Battery: No
The Pros
Outstanding build quality and handling
Useful volume buttons
Well-made interchangeable components
Fun lighting
The Cons
No wireless connection
Intrusive configuration software
4. Astro Gaming C40 TR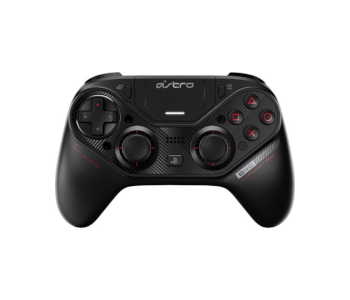 View on Best Buy
Editor's Rating: 4.5/5
Most high-end controllers let you swap thumbsticks and D-pads for different ones. Astro Gaming's C40 TR is the only one that supports changing their positions as well. It's a geared-up PS4 controller PC users will love for its responsiveness and outstanding companion software. A high price keeps the C40 TR from topping our list, but it's a worthy alternative to Microsoft's controller nevertheless.
Overview of Features
We love the C40 TR's understated design. It's matte black with only cool-looking red markings to break up the pleasant monotony. The controller is lighter than the Elite Series 2 but built with equal attention to detail. It's wider than usual, so people with small hands might have a tough time reaching all the controls. The C40 TR is comfortable and perfectly balanced otherwise.
Movable control sections are the best thing about the C40 TR's extensive customization options. The D-pad and sticks are screwed into the C40 TR instead of held by magnets, and you get a special tool that makes removing the controls easier. You may then rearrange them as you wish, creating a setup that looks more like an Xbox controller or even placing the D-pad on the right.
Physical customization doesn't end there since the C40 TR has an extra D-pad for fighting games and several more joysticks of varying sizes. There are also two more paddles on the C40 TR's back useful for mapping frequently-used controls so you don't have to move your hand towards the face buttons during heated boss fights.
Astro Gaming's configuration software is the most feature-rich and comprehensive on review. Unlike with the Wolverine ultimate, you can remap every button on the C40 TR and save the result to an infinite number of profiles on your PC. The controller itself has enough memory for two, but these are easily replaced. You may also fine-tune trigger and thumbstick sensitivity, the brightness of the LED light, and how much each side of the controller rumbles.
What We Didn't Like
The C40 TR is even more expensive than the Elite Series 2 while having fewer customizable physical elements. The joysticks can develop dead areas over time, making them inaccurate. You can order separate spares from Astro, but these will set you back another $20 apiece.
Tech Specs
Dimensions: 6 x 3.7 x 8.1 in.
Weight: 10.9 oz.
Headphone jack: Yes
Swappable controls: Yes
Connection types: Micro USB, 2.4GHz wireless
Battery: Internal
The Pros
Appealing minimalistic design and great ergonomics
Outstanding companion software
D-pad and thumbsticks can be moved around
Infinite configuration profiles and two profile memory slots
The Cons
Very expensive
Thumbsticks may develop dead zones with use
5. Nintendo Switch Pro Controller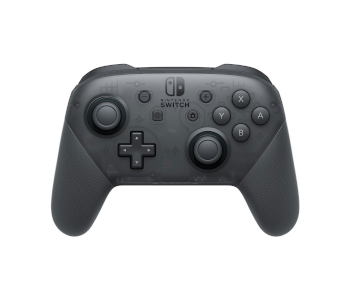 View on Amazon
Editor's Rating: 4.3/5
The Switch Pro Controller is another console peripheral steam has seamlessly integrated to work with PC games. It's barebones as pro controllers go since there's no fiddling with interchangeable buttons. However, Nintendo's model makes up for this with excellent build quality, motion controls, and an exceptional battery. It works better than Joycons with the Switch, and it certainly outshines no-name controllers for the PC.
Overview of Features
The design of the Switch Pro Controller is subtle and unobtrusive. Its basic version is black with tiny silver button markings, but you can get more vibrant options if you wish. The textured handles are the controller's stand-out build quality feature. They're ergonomically sound and have extra padding to keep the controller from slipping out of sweaty hands.
Nintendo's controller takes a page from Xbox's book in its button layout since the D-pad is at the bottom left and parallel with one thumbstick while the other is above it. The controller's middle is reserved for plus, minus, share, and home buttons it takes some getting used to since they're almost flush with the controller's shell. There are no triggers on top as they've been replaced with a second set of shoulder buttons.
The Pro Controller brings motion controls to your PC via a built-in gyroscope. You have to configure the setting for each game from your Steam library, but the freedom this gives you makes the hassle worthwhile. The gyro effectively turns the controller's motion into a second mouse, allowing you to navigate menus, or look around less rigidly than with joysticks. It's no substitute for a real mouse for FPS games, but this novel control method adds another layer of immersion if you wish.
Finally, the Switch Pro Controller also stands out due to its generous runtime. Its battery takes six hours to recharge but offers forty hours of gameplay in return if you connect the controller through Bluetooth.
What's Bad About It?
The controller's left analog stick is cause for the most grief. It tends to drift, and many users report it stops working altogether after a while. You can send the controller back to Nintendo, but the problems start happening after the warranty runs out more often than not. You have to apply considerable pressure to the L and R buttons for them to register.
Tech Specs
Dimensions: 6.1 x 2.5 x 5.7 in.
Weight: 14.1 oz.
Headphone jack: No
Swappable controls: No
Connection types: USB-C, Bluetooth
Battery: Internal
The Pros
Solid ergonomics and grippy texture
Long battery life
Motion controls work well through Steam
The Cons
Problematic left joystick
Shoulder buttons require force to press
6. Best Budget Option – Logitech Gamepad F310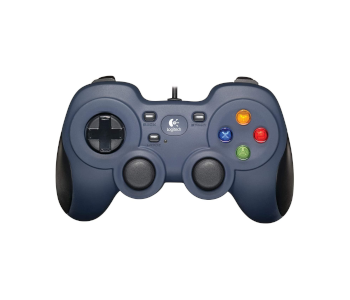 View on Amazon
Editor's Rating: 4/5
Are you skeptical about using a gamepad for PC games or need a cheap yet reliable second controller? Logitech has had a controller with your name on it for a decade, the F310. It's a no-frills peripheral with a simple plug & play philosophy. So why spend more than $30 on it when there are cheaper alternatives that look equally promising? Because its responsiveness and reliability rival much more expensive alternative.
Overview of Features
The F310 is the least attractive controller of the bunch. Its blue & black body contrasts with the vibrant set of face buttons, and the entire ensemble looks like it won't survive yet another defeat from a boss in Sekiro. There's no wireless option as the controller comes with a fixed USB cable. You can't remap its controls unless you're using third-party software, and there are no vibration motors.
An input switch is another telltale sign of the F310's age. You use it to toggle between xInput and the now archaic DirectInput mapping schemes. This is actually a point in the F310's favor, especially if you're into retro gaming since some old games can't recognize modern controllers. Switching from one input type to another is easy, and the F310 has no trouble adapting to current titles.
Playing with the F310 feels stiff at first due to its build quality not being the best, but you quickly get used to it. We were impressed with how well the controller's accuracy and responsiveness hold up. The face buttons and joysticks work flawlessly whether you're correcting a landing mid-jump in a platformer or dodging away from an enemy in an action game. There's just enough give for consistent handling, and the keys have a satisfying travel distance.
Are There Drawbacks?
The F310's build quality isn't great, unsurprising considering its price. Its D-pad is the worst offender as it takes little effort for it to stop working or snap off. This controller won't be a good fit if you share a room with someone since its buttons are quite loud.
Tech Specs
Dimensions: 6.8 x 3 x 8.1 in.
Weight: 10.4 oz.
Headphone jack: No
Swappable controls: No
Connection types: USB
Battery: No
The Pros
Responsive and accurate controls
Great for old and new games alike thanks to DirectInput
Inexpensive
The Cons
Mediocre build quality
Loud buttons