The Best Smart Lighting Alternatives that are NOT Philips Hue
3D Insider is ad supported and earns money from clicks, commissions from sales, and other ways.
In the era of smart homes, you can look at who's at your door, check the outdoor cameras, and regulate your home's heating without having to get up from the bed. Naturally, these capabilities have also extended to indoor and outdoor lighting. Smart lighting technology lets you adjust the brightness and color of your lights, call up pre-defined settings with a touch of the button, schedule when the lights will turn on and off, and even control them using verbal commands.
In the field of smart home lighting solutions, there is no product line more popular than Philips Hue. However, the premium quality of Philips Hue products also comes at a premium price. If you're not so keen on spending too much for smart lighting, then here are some of the best alternatives available in the market today.
Setting the baseline: what Philips Hue products are capable of
It has to be said: the Philips Hue product line of smart lighting solutions is excellent. The lightbulbs, lightstrips, and lamps are all well-built and look great in any home, whether you're going for a modern or traditional aesthetic.
While this article isn't intended to talk about the Philips Hue, looking for the best Philips Hue alternatives demands that we base our selection on the features of the Philips Hue. A worthwhile alternative should offer all or most of the following features:
1. Adjustable brightness, color temperature, and color
Philips Hue offers a lot of smart lighting products, but their flagship line (the Hue White and Color Ambiance) allows you to adjust the intensity of the lights, its color temperature, and its hue. In fact, Philips is incredibly proud of the 16 million distinct colors that they claim their lightbulbs and lightstrips can reproduce.
2. App control
What's the point of smart lights if you can't control them using your phone? Through the Philips Hue mobile app, you can turn on and off the lights, adjust their settings, and save pre-defined settings as "scenes." These scenes can then be called up in an instant, so you don't have to spend time manually adjusting your lights repeatedly.
3. WiFi connectivity
Each Philips Hue product uses the Zigbee standards to connect to the Philips Hue Bridge, which is then connected to your local Wi-Fi network. It is through this Wi-Fi connection that the Bridge can receive commands from your mobile app.
4. Compatibility with smart home platforms
One of the most useful features of the Philips Hue product line is that it's compatible with the usual smart home systems such as Google Home, Alexa, or Siri. This allows you to control your smart lights using just verbal commands. Nothing says "smart home" more than arriving at your hose and telling Alexa to turn off the lights.
Philips Hue sells a whole ecosystem of indoor lights, outdoor lights, and accessories that all work together for a cohesive smart lighting platform. It's considered the most well-developed smart lighting technology available today. This only means that the competitors to the Philips Hue have their work cut out for them.
The best Philips Hue alternatives
Tech Specs
Wattage: 4.5 W
Intensity: 350 lumens
Color temperature: 2000K to 6500K
Colors: 16 million
The Pros
Cheap
Does not require a WiFi connection
Controllable via the mobile app
Support multiple colors and color temperatures
The Cons
Hub sold separately
Hub is required for compatibility with Google, Alexa, etc.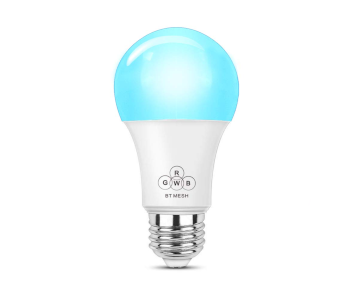 The MagicConnect multicolor light bulb is proof that you don't need to spend a fortune – or even have an internet connection – to install a smart lighting system installed in your home. This lightbulb offers the same range of colors as the Philips Hue Color and White Ambiance at less than a third of the price.
A very unique characteristic of the MagicConnect line is that you don't need a Wi-Fi connection to control these lightbulbs. Instead, all you need is a Bluetooth connection and the MagicConnect mobile app on your phone. If you have a large office or industrial space, you can build a network of up to 64 lightbulbs. Since the lightbulbs don't use a Wi-Fi connection, each lightbulb acts as its own network node. This means that you're not bound by the usual physical limitations of Wi-Fi routers.
The standard MagicConnect lightbulb does not come with a hub because it's not a required accessory. However, you will need the hub if you want to control the lights via a virtual assistant like Alexa. In this case, a Wi-Fi connection will be necessary.
The MagicConnect mobile app offers a lot of fun and customizable controls for the smart light, such as several lighting patterns, music sync, sunlight, timer mode, and group control. The MagicConnect brand may not have the same impact as Philips, but this alternative smart lighting solution definitely packs a punch.
Tech Specs
Wattage: 11 W
Intensity: 350 lumens
Color temperature: 2500K to 9000K
Colors: 16 million
The Pros
No hub needed
Easy to install
Supports multiple colors
Wide color temperature range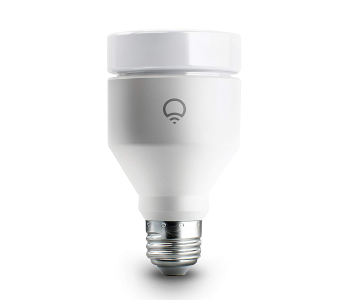 The LIFX is another smart lighting solution that requires no hub. Instead, it uses a built-in WiFi connection to receive commands from the LIFX mobile app. It's also possible to control the LIFX smart lights via Alexa, but you'll need an Alexa-compatible device such as the Echo Dot. This is also one of the pricier alternatives, although it is still slightly cheaper than the equivalent Philips Hue product.
One of the best advantages of the LIFX is that it greatly simplifies the installation process by not relying on a hub connection. All you need is the bulb itself, and you're good to go. You can add more lightbulbs to the existing network, all of which you can easily control using the mobile app. The app itself offers all the usual control functions like group controls, lighting patterns, and scheduled lighting, among others.
The LIFX Smart LED lightbulb has this unique look that replaces the usual dome-shaped bulb with a flat edge. This helps the LIFX stand out from all the other lightbulbs and can also give your space a more modern look.
The color temperature range of the LIFX is wider – reaching up to 9000K when the usual smart lightbulb can only reach 6500K. The 9000K color temperature does a better job of simulating daylight. This is perfect for encouraging alertness in offices and workspaces. Of course, you can still shift to a more relaxing mood at the end of the day.
Tech Specs
Wattage: 11.5 W
Intensity: 815 lumens
Color temperature: 2700K
Colors: Warm white
The Pros
Cheap
Very bright
Easy to install
The Cons
No color warmth or color options
For indoor use only
Requires Wi-Fi connection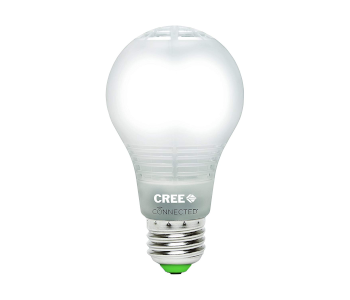 The cheapest worthy alternative to the Philips Hue, a single Cree Connected only costs a little more than $10. This is a great deal considering the ease of installation of this Cree smart lightbulb and the usual mobile control and connectivity that it offers. It does not feature an adjustable color warmth or multiple colors, so it's more similar to the Philips Hue White line. If you have to work with a tight budget, then you should consider the Cree brand.
The Cree Connected lightbulb relies on your local Wi-Fi connection so it can be controlled via a mobile app. It supports voice functions via Alexa, but you'll need a Zigbee-compatible hub as an interface.
What the Cree Connected lacks in colors, it makes up for with sheer power. The 815-lumens maximum brightness makes it one of the brightest warm white lightbulbs among this selection of Philips Hue alternatives. This means that you won't be needing a lot of these lightbulbs to illuminate any size of space. Not that buying several of these lightbulbs is a problem, because they are really cheap.
Tech Specs
Wattage: 9 W
Intensity: 800 lumens
Color temperature: 2700K
Colors: Warm white
The Pros
Cheap
Comes bundled with hub
Provides power consumption monitoring
The Cons
No color warmth or color adjustment
Requires a Wi-Fi connection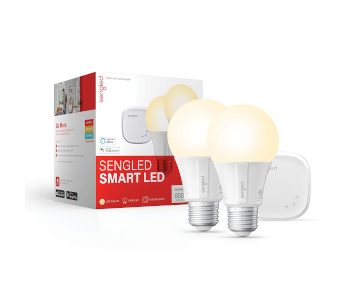 Despite not being as much of a household name as Philips, the Sengled smart lighting system has become one of the best-selling in Amazon. These smart lightbulbs look great, are slightly cheaper than their Philips Hue counterparts, and have consistently received great reviews.
Similar to Philips Hue, Sengled offers starter kits for their products. This kit comes with two Soft White lightbulbs and the Sengled Smart Hub. You can also get starter kits that come with either four or eight of the same lightbulbs.
Using a 2.4 GHz connection, the Sengled Smart Hub acts as the bridge between the lightbulbs and the Sengled Home mobile app on your phone. Each Smart Hub can support up to 64 lightbulbs from the Senged line. The Smart Hub can also connect to an Alexa or Google Assistant account for voice commands.
Aside from the usual control functions, the Sengled Home mobile app also allows you to monitor the power consumption of your smart lighting system. This is great if you're a stickler for conserving power. The Sengled bulbs are extremely energy-efficient, though, so you're not likely to have many problems on this front. Much like Philips Hue, you can set "scenes" , schedules, and routine through the Sengled Home mobile app.
Tech Specs
Wattage: 7.5 W
Intensity: 550 lumens
Color temperature: 3200K
Colors: 16 million
The Pros
Supports multiple colors
Does not require Wi-Fi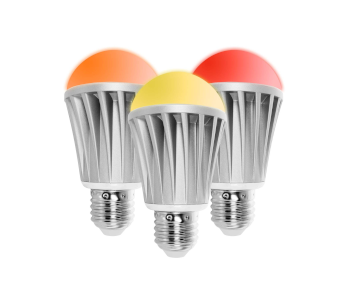 Lastly, the Flux Bluetooth Smart Bulb is another high-selling alternative to the Philips Hue. It has the benefit of being a much cheaper option if you really want to go for a lightbulb that can display a full range of 16 million colors. Being fully Bluetooth-controlled, the Flux Smart Bulb does not need a Wi-Fi connection to work. All you need is your trusty phone with the Flux Bluetooth app.
Despite the absence of a hub or a Wi-Fi connection, it is still possible to control multiple Flux lightbulbs using the mobile app. For easier management, you can create custom groups for the various lightbulbs in a single household. The app also features a few nifty controls such as timers, pre-set scenarios, and Sunrise and Sunset functions that simulate the gradual change in brightness as the day starts and ends.
If there's a critique of the Flux smart bulb, it's the fact that it can feel underpowered. Its low brightness may be fine for living rooms or bedrooms but it just doesn't feel bright enough to get any useful work done. If you're looking for smart lighting solutions for an office or a garage workshop, you may want to consider other options.
Final thoughts
There's no question that the Philips Hue line of products is at the king of the hill of smart lighting technology. The Philip Hue lights look elegant, offer a lot of customized controls, and are compatible with almost all major smart home platforms. However, they are also expensive. If your goal is to build a complete smart lighting system for both your indoor and outdoor home space, then the costs of several Philips Hue products can quickly add up.
If you're not comfortable spending several hundreds of dollars for lightbulbs, then the alternatives we have listed above are worth your consideration. Each one is cheaper than the Philips Hue counterpart while offering a competitive set of features.