Philips Hue Black Friday 2018 Deals
3D Insider is ad supported and earns money from clicks and other ways.
Philips makes the best smart lightbulbs you can buy. The company has released a bunch of Black Friday deals on Hue light bulbs this year. You can save 20% on Philips Hue products during the sale.
It has not been announced when the Philips Hue sale will end, but it's like to continue online until Cyber Monday. Sales at major retailers like Target and Best Buy will end on Black Friday.
Philips Hue White and Color Ambiance A19
Black Friday Price: $39 Retail Price: $49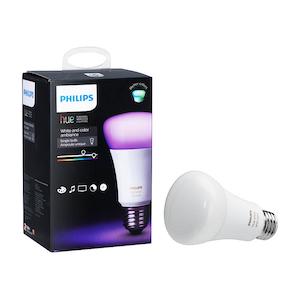 This 60 watt LED light bulb will be on sale for 20% off at Home Depot. You can adjust the color on this bulb. There are over 16 million colors you can choose from and 50,000 shades of white. This means you'll always be able to find the right color for every occasion. This lightbulb is also dimmable.
There are dozens of ways to connect to this smart light bulb. For starters, you can use the app, Alexa, or Google Assistant. You can even control it with IFTT and pair it with a Fitbit. You can set schedules for the lights to automatically turn on or off. For example, you can have the light in your bedroom automatically turn on when your alarm goes off. This will help you get up and going.
The Philips Hue light bulb gives you 800 lumens of light. You can pair up to 50 bulbs using a single Hue bridge. It comes with a two year warranty.
Target will be giving people a $50 gift card with the purchase of an A19 starter kit. The starter kit costs $199 and it comes with four light bulbs and a Hue bridge. This is probably the best deal you can get.
Philips Hue 6.6′ LightStrip Plus
Black Friday Price: $59 Retail Price: $89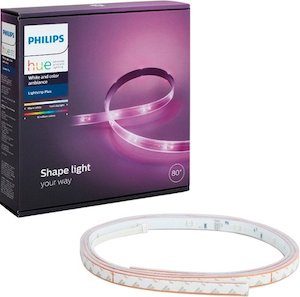 Target has the best deal on the Philips Hue LightStrip. They have it for $30 off plus you will get a $10 gift card.
The Philips Hue LightStrip can be used for atmospheric lighting. It is super flexible and you can use it to light up cabinets, coves, and furniture. It has adhesive tape on the back that makes it easy to attach anywhere and you can cut it to size. It can plug into a standard outlet for power.
The LightStrip has all of the smart features of other Hue products. You can connect it to Alexa or Google Assistant and set it to turn on to a schedule.
Overall, Black Friday is the best day of the year to get a Philips Hue light bulb. These are an expensive smart home item, but they last for years. Getting 20% off makes the math work out better for a lot of people.