Philips Hue Smart Lightbulbs Cyber Monday 2018 Deals
3D Insider is ad supported and earns money from clicks and other ways.
Philips makes the best smart light bulbs by far. The competition isn't even close. The only major drawback of their products is the high cost. Fortunately, you can save quite a bit of money on Cyber Monday. This is one of the only times all year you can get Hue lightbulbs at a more affordable price.
The best deals on Hue lights come as a bundle with Amazon Echo speakers. This is perfect because an Echo device can be used to control the Philips Hue.
Philips Hue Features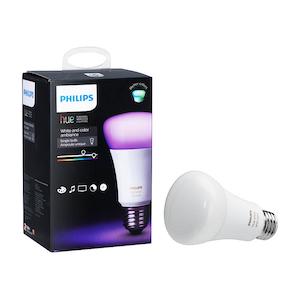 Philips makes two major products. One of their lightbulbs can be programmed to have over 16 million colors. This allows you to achieve whatever ambiance you want in your house for different times of day. If you want to save money, you can get a white lightbulb. In fact, non-color lightbulbs are four times cheap than the color version.
Connecting to Philips Hue lightbulbs is easy. You can do so using a dedicated app, Alexa, Apple HomeKit, or Google Assistant. You can even pair it with your Fitbit or program how it responds using IFTT. This is a versatile product and the only limit is your imagination.
You can create schedules for the Hue lightbulb to automatically turn off. Additionally, you can even have it turn on the lights as soon as your alarm goes off. There are a lot of accessories such as motion sensors that will automatically trigger lights too.
You will need a Hue bridge to be able to control the lightbulbs. One bridge can connect to 50 lightbulbs. It is the heart of the Hue system and it's what enabled the app to function. We recommend getting a bundle because the bridge comes with for a much cheaper price.
Overall, the Hue is a fantastic and versatile product. The price is usually the only reason people don't get it and Cyber Monday offers the best deals you can get.