Philips Hue Black Friday 2019 Smart Lightbulb Deals
3D Insider is ad supported and earns money from clicks, commissions from sales, and other ways.
The Philips Hue lightbulbs may have redefined how easy it is to set up a smart lighting system, but they are also pretty expensive. Philips Hue is deeply discounting their smart lights for Black Friday 2019.
Philips redefined the market for lightbulbs when they released the Philips Hue line – a series of lightbulbs that can be controlled either via Bluetooth or Wi-Fi. Depending on how you set up your Philips Hue lightbulbs, you can have them turn on when you arrive, dim or brighten according to a schedule, or simply adjust the light's hue and brightness from your smartphone.
Philips Hue White and Color Ambiance A19 LED Smart Bulb Starter Kit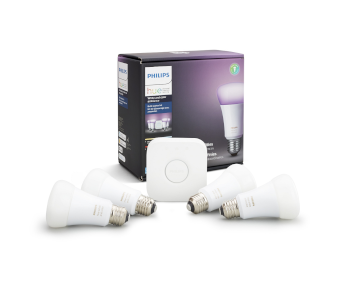 This is the starter kit that launched the Philips Hue line to popularity. The starter kit comes with four smart lightbulbs and the Philips Hue Bridge add-on that lets you control the lightbulbs remotely. Not only can you adjust the brightness of these lightbulbs, but they also offer 16 million colors that you can choose from. This starter kit has everything you need to have a fully functioning setup.
Normally priced at $199, Target is offering a $55 gift card when you buy the Starter Kit this coming Black Friday.
Amazon is also offering a discount for a 2-pack variant of this starter kit. This kit only comes with two lightbulbs instead of four. The 2-pack White and Color Ambiance starter kit normally sells for $149.99, but it's available on Amazon for approximately $113.49 – a 24% discount.
Philips Hue White Ambiance Smart Bulb Starter Kit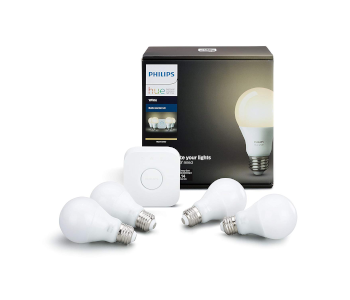 If you're looking for a starter kit that's a whole lot cheaper, then this might be a good alternative for you. The Philips Hue White Ambiance Starter Kit comes with four A19 smart lightbulbs and the Philips Hue Bridge accessory. The only difference of this kit with the previous one is that the lightbulbs can only switch between 50,000 shades of white light. You may not have the advantage of 16 million colors, but these bulbs can still easily set the mood for your home.
With the Hue Bridge accessory, you can set your bulbs on a schedule and even control them remotely through your smartphone.
The White Ambiance Starter Kit normally retails for $149.99, but Amazon is selling it now for roughly $107.00.
Philips Hue White and Color Ambiance Smart Lightstrip Plus 2m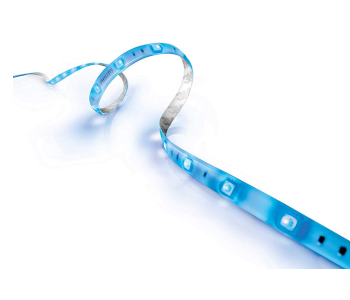 The Philips Hue line isn't just about plain old lightbulbs. They also sell fun and elegant lighting accents such as this light strip made with a series of super-bright LEDs. The light strip comes from the White and Color Ambiance line, meaning that it can also cycle through 16 million different colors. This is the perfect lighting accent for any house or for any occasion. Set these up in your house, and you never have to worry about installing any more lights to liven up the place.
The base kit for the White and Color Ambiance Lightstrip retails at $89.99, but Walmart is selling it right now for only $79.97. If you're going to need more than 2 meters of lighting, then you'll be glad to know that Walmart is also offering a discount for Philips Hue light strip extensions.
The extension's standard price is at $43.99 but is now available at Walmart for about $35.14. The 40-inch extension is also available at Amazon for approximately $24.97, down from the usual $29.99 price tag.
For Black Friday, the 80-inch Philips Hue White and Color Ambiance Lighstrip will come with a $35 gift card when you buy it from Target, although it will retain the original retail price of $79.99
Other deals on Philips Hue light fixtures
Product
Retail Price
Discounted Price
Available at
Philips Hue White
Ambiance 5/6″ Retrofit
Recessed Smart
Downlight
$63.99
$51.78
Walmart
Philips Hue White
Ambiance 4″ Retrofit
Recessed Smart
Downlight
$54.99
$46.34
Walmart
Philips Hue White Smart
PAR38 Light Bulb, 100W
Equivalent
$43.96
$48.99
Walmart
Philips Hue White
Ambiance GU10 2-Pack
$44.98
$49.99
Amazon
Philips Hue Calla White
& Color Ambiance
Outdoor Pathway Light
Base Kit
$127.99
$149.99
Amazon
Philips Hue Personal
Wireless Lighting Single
Bulb
$59.97
$39.00
Amazon
Philips Hue White
Ambiance Wellness
Dimmable LED Smart
Table Lamp
$84.97
$99.00
Amazon
The Philips Hue lightbulbs are simply some of the best smart lighting solutions. They are fun to use, come with a lot of smart capabilities, and remarkably easy to setup.
This year's Black Friday is the perfect time to switch out the plain old lightbulbs in your house. Smart lightbulbs are the future but that doesn't mean that you need to spend a fortune on them.