Philips Hue vs. C by GE: Which is the Better Smart Lighting System?
3D Insider is ad supported and earns money from clicks, commissions from sales, and other ways.
If you've done any research on smart lighting technologies, then you've probably noticed that there's a brand that almost always ends up being considered the best – Philips Hue. While it's true that Philips has created an entire ecosystem of excellent smart lighting products under the Hue line, it's natural for a buyer to still look for other options.
In this article, we're pitting one tech giant against another – the Philips Hue line versus the C by GE line. Which brand comes up at the top in terms of price, convenience, ease of use, and quality? Read on for our detailed comparison.
Philips Hue – the king of versatility
We have already written a detailed guide on all the products under the Philips Hue, and one thing we can say is that there are a lot of them. Between the different lightbulbs, lamps, lightstrips, and outdoor lights that fall under the Philips Hue umbrella, you can literally deck out your whole house with smart lighting products from Philips.
1. Variety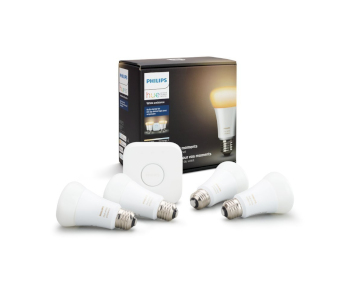 There are three major variants to the Philips Hue line, with each one offering different degrees of control and customization. The Hue White variant is the most basic. It comes with a warm white light that can be dimmed via the mobile app or using a wireless dimmer switch. The Hue White Ambiance line takes things a step further by offering different shades of white. You can set the lights to a warm, relaxing white light up to bluish-white shade that more resembles daylight. Between the two extremes, Philips claims that there are 50,000 distinct shades of white.
The third variant is the most complex and is also one of the major reasons for the popularity of the Philips Hue product line. The Hue White and Color Ambiance line offer a range of 16 million different colors on top of adjustable color warmth and brightness. These highly versatile lights are perfect for setting the mood for any occasion and are excellent when synced to your TV or a game console. You can even have lightstrips installed over your fireplace which can turn into instant Christmas lights.
In terms of sheer variety, no other brand comes close to Philips Hue. They have different shaped lightbulbs, lightstrips that can either be cut short or extended, outdoor lights, floodlights, bollard lights, ceiling lamps, bedside lamps, and even a lighted vanity mirror.
2. Control options
Philips Hue isn't all about the numbers, though. They also offer great user experience. Their smart lightbulbs are consistently some of the best-reviewed in the market, with many customers attesting to how easy they are to use. To make the most of your Philips Hue system, you'll need to get the Hue Bridge central hub.
The Hue lights communicate with the Hue Bridge via Zigbee. The hub itself requires a wired LAN connection to your local Wi-Fi network. Through your Wi-Fi, the lights can be controlled through the Philips Hue mobile app.
If you have a virtual assistant device such as Alexa-enabled speakers or a Google Home platform, it's also possible to pair it with the Hue Bridge. This allows you to control your light using simple verbal commands. This is a pretty nifty feature that really drives home the smart home concept.
Lastly, some Philips Hue lights can be directly controlled via Bluetooth. If your space isn't covered by a Wi-Fi network, then this is a good backup option.
3. Smart functions
What's a smart lighting system without a couple of smart functions? The Philips Hue mobile app wasn't designed just to turn down the brightness of your lights or to change its colors manually. Through the app, you can design "scenes" – predefined settings of brightness, warmth, and color that you can call up instantly. The scenes can also be set to a timer to activate when you wake up, when you go to sleep, or when you get home.
If you feel like timers can't reliably reflect your schedule, then you can also activate a geofencing feature on your Philips Hue lights. This activates the lights as soon as you get home – or at least when your mobile device does.
4. Good accessories
You can further enhance the Philips Hue experience with a wide array of useful and practical accessories. If you can't be bothered controlling your lights via your phone, then you can opt for the more traditional looking wall switches and dimmers. The best thing about these physical switches is that they work wirelessly, so all you need to do is to mount them on your wall.
Philips Hue also sells an indoor motion sensor that also doubles as an ambient light sensor. This can be triggered to activate your lights when it detects someone moving, which can make night trips to the toilet much safer. During the day, the sensor can regulate the brightness of your indoor lights depending on how much daylight this is, ultimately saving on electricity costs.
Lastly, Philips Hue sells a weatherproof and super-durable outdoor motion sensor. If you intend to install outdoor lights from the Philips Hue line, then this outdoor motion sensor is a must-buy accessory. If the detector senses movement on your front yard, it can prompt both indoor and outdoor lights to turn on. There probably isn't a more effective deterrent to thieves.
5. Price
Philips Hue smart lights aren't exactly cheap. A Hue White starter kit that comes with Hue Bridge, the most basic setup you could get, costs around $70. You can also get a four-pack with the same lights and the central hub for close to $100.
On the more expensive end of the spectrum, the starter kit that comes with four Hue White and Color Ambiance lightbulbs and a Hue Bridge costs around $200. Standalone lamps and outdoor lights have varying price tags – some of them could cost around $70 per piece while fancier options can also cost close to $200.
There are certainly much cheaper alternatives to the Philips Hue that can prove a comparable smart home experience. None of them comes close to the variety of products that Philips Hue offers, though.
C by GE – Modern smart lighting
The founder of GE was the man who invented lightbulbs, so it's going to be quite uncharacteristic for them to get left out of the smart lighting tech market. Their smart lighting line, called "C by GE," looks really good. But how does it compare to the Philips Hue?
1. Leaner and more focused selection
In contrast to the overwhelmingly numerous options offered by Philips Hue, the C by GE line has a much leaner selection. Despite having much fewer offerings, we like how the C by GE products aren't all just typical smart lightbulbs – they are distinct enough from each other to keep each variant interesting.
The C-Life line is equivalent to the Philips Hue White – simple lightbulbs that give off a warm, white light and can be dimmed. They also have a variant with an adjustable color warmth, called the C-Sleep. Recently, C by GE has also offered a full-color smart lightbulb which can change between millions of different colors.
The unique offering from the C by GE line has to be the Sol, a smart desktop ring lamp that would look great in any living room or bedroom. It has the same color warmth adjustment feature that the C-Sleep line offers in a much more elegant form factor. GE has also come up with very innovative ways to make use of the Sol's circular shape, allowing you to use it as a visual timer or a visual clock.
The best thing about the Sol is that it's already Alexa-enabled. You don't need a hub to make use of its virtual assistant capabilities. It's a lamp that you can control with voice commands right out of the box. You can use the Sol to set an alarm, play music, or check for the weather. If you already have an Alexa smart home platform, you can easily integrate the Sol into it to extend the range of your voice commands.
2. Wireless hub
The C by GE lightbulbs are best used with the C-Reach central hub, much like the Hue Bridge. What sets the C-Reach apart is that it does not need a wired connection with your Wi-Fi network. It still needs to be within the coverage of the network so you can't just place it anywhere if you have a big home, but it can be much easier to set up.
3. Can form a Bluetooth mesh
Another difference between C by GE and Philips Hue is that the C by GE lightbulbs can work well enough on their own. The C-Reach hub isn't necessary, even if you have several C-Life or C-Sleep lightbulbs in your home. This is possible because the lightbulbs can communicate with each other and form their own Bluetooth mesh. This means that, as long as you are within Bluetooth range of a single lightbulb, you can control all the lightbulbs in your house using just your phone.
Of course, having no hub means that you cannot control the lights when you aren't home. You will also not be able to control the lights through Alexa. Still, this ability greatly simplifies the process of having to set up a smart lighting system for spaces without a Wi-Fi connection.
4. Smart features
Like any good smart lighting system, the C by GE lightbulbs can be programmed according to a timer and can have pre-defined scenes which can be called up instantly. Depending on the model you get, the C by GE lightbulbs has completely tunable color and warmth settings. If you have a C-Reach hub installed, you can control the lights even if you aren't home. The hub also allows you to pair the system with Alexa.
What C by GE lacks is geofencing, which is arguably one of the nicer features of Philips Hue. This means that you'll need to either pull out your phone when you get home, tell Alexa to turn on the lights, or set your lights to turn on at prescribed times. Any of those three methods are still pretty convenient, but nothing beats lights that automatically turn on when you arrive home.
5. No accessories
One of the most palpable differences of the C by GE line with Philips Hue is the lack of an accessory ecosystem. Where Philips Hue has more than a dozen standalone lamps, outdoor lights, wall switches, and motion detectors, C by GE is yet to develop any sort of supporting device for their smart lighting platform.
This may not matter for all people. You might be looking for nothing more than a basic smart lighting setup without all the bells and whistles that Philips Hue has to offer.
6. Price
A 2-piece C-Life starter kit that comes with the C-Reach hub costs a bit less than $50. This is a significant discount to its Philips Hue counterpart, which costs around $70.
The same conclusions can be drawn by comparing the price of the C-Sleep Starter Kit (around $75) and the Philips Hue White Ambiance Starter Kit (around $118).
It's pretty clear that C by GE is a much cheaper alternative. A price difference of $20 to $30 for these starter kits can turn out huge if you are installing a smart lighting system for a large home or a large office space.
Which one should you get?
Philips Hue – more features but more expensive
In terms of variety, the richness of features, and the extent of an accessory ecosystem, the Philips Hue stands way above all the other competitors in the smart lighting market. This includes the pedigreed C by GE line. The Philips Hue line really captures the essence of what smart home should look like by offering not just lightbulbs, but also a whole range of lighting solutions.
If you have this vision in mind of a smart lighting platform that integrates desktop lamps, garage floodlights, outdoor lights, ceiling lights, and lightstrip, then the Philips Hue line is the only product line that will offer you all of these solutions. There's no smart lighting ecosystem quite like it.
However, Philips Hue is also the most expensive smart lighting platform. Ask yourself: are you willing to pay $200 for a fancy smart ceiling light? If your answer is yes, then Philips Hue is perfect for you. If you have a more limited budget, you can save a lot by buying cheaper alternatives, such as the C by GE.
C by GE – simpler setup and cheaper but has no ecosystem
The C by GE line is a lot more basic. They don't have a huge product line and literally have no accessories outside for the C-Reach hub. What works for C by GE is that they have taken this basic approach and applied it to how these smart lighting products are supposed to function.
The first thing we like about the C by GE line is that you can control it and access almost all its functions even without a Wi-Fi connection. If you do get the C-Reach hub, we also like that you can install it anywhere in your space. This makes installation of C by GE smart lights much less complex.
The difference in price between C by GE and Philips Hue is large enough to deserve a mention. If you're planning an installation that will involve ten or more smart lightbulbs, you can easily save a few hundred dollars by choosing C by GE. If you are on a budget, can make do with simple Bluetooth controls, and will not miss the geofencing feature, then C by GE is a much more practical option.
Final thoughts
Smart lighting is still a young and developing market, but we've already seen a few brands coming out at the top. Philips Hue is undoubtedly the king of the hill for now, but there's no reason why another huge brand, like C by GE, cannot be a rival for this position. Lesser known brands, such as MagicConnect and Sengled, are even making a buzz. Who knows? These smaller brands might give Philips Hue a run for their money.
Philips Hue has become very popular on the strength of the variety of their products. They have a lot of lightbulb variants, lightstrips, outdoor lights, and lamps. This is further supported by an excellent set of accessories. There are, however, much cheaper alternatives. If you can live without the fancy features offered by Philips Hue, then C by GE is certainly worth considering.