Philips Sonicare Black Friday 2019 Electric Toothbrush Deals
3D Insider is ad supported and earns money from clicks, commissions from sales, and other ways.
Black Friday is the perfect opportunity to pamper your teeth with an electric toothbrush by Phillips. Models from the Sonicare line have been battling plaque, bad breath, and sore gums for decades. Now it's time you grab one for yourself or a loved one and take brushing your teeth into the 21st century.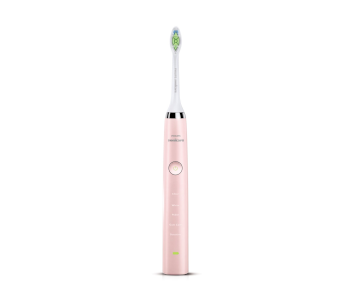 Philips Sonicare DiamondClean
Original Price: $199.95
Black Friday Price: $81.24
DiamondClean so Phillips' premium line of electric toothbrushes. While it's the most expensive of our featured products, it's also the best-made and most versatile with two brush heads, five brushing modes, and excellent accessories. You'll love using it whether you clean your teeth religiously or just want to get it over with effectively.
The DiamondClean comes with an attractive carrying case, two different brush heads, and a twofold charger. Its battery lasts for forty brushings, so three weeks on average. You can recharge it by placing the brush on the base or inside the traveling case. The case has an external USB port, making it easy to charge the toothbrush while keeping it protected.
The handle is simple yet ergonomic. It's made entirely from non-slip material and feather-light in spite of the battery. There's only an on/off button on it that doubles as the setting selector. You attach the brush heads by snapping them onto a metal shaft on the handle's tip. They have three kinds of bristles. Blue are the longest and reach in between your teeth. White bristles handle surface cleaning while the green ones are recessed and harder to tackle plaque buildup. You get one standard and one compact brush head, their size being the only difference.
You can choose between five brushing modes. Some modes clean your teeth normally while others add extra time for a more thorough cleaning or relaxing gum massages. There's even a gentle setting for people with sensitive teeth.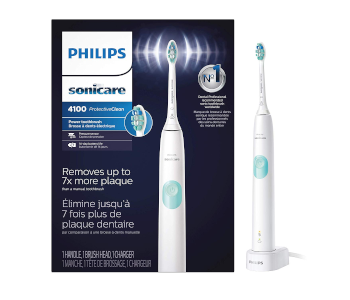 Philips Sonicare ProtectiveClean 4100
Original Price: $39.95
Black Friday Price: $29.99
Looking for a less expensive toothbrush that still packs an impressive set of features? Ten the ProtectiveClean 4100 is the right one for you. Phillips claims that using it is seven times more effective at getting rid of plaque than brushing manually. The toothbrush is easy to use, comes in multiple colors, and will remind you when it's time to get a replacement head.
The handle is designed similarly to the DiamondClean's with a single button and a slip-resistant material. The difference lies in the power button, which is now prominent, and a set of LEDs that light up when the battery is low or the head needs changing. The brush comes with a compact travel case with room for two heads, and a charging station with a small footprint.
There's only one brush mode; a motor causes the bristles to move at 31,000 vibrations per minute. The default speed is High, but you can adjust it to Low if your gums are sensitive. There's a timer function that causes you to brush the required two minutes each time. A session can be split up into four, so you clean each quadrant of your mouth equally.
The brush heads come with a unique microchip. The chip activates once you attach the head and monitors use. Regular brushing will wear the head out after three months, at which point an orange LED starts signaling the need for a replacement. The chip is smart enough to detect when you're applying too much force and will warn you about it. Force and more frequent use will shorten a brush head's life, while the reverse is true for prolonging it.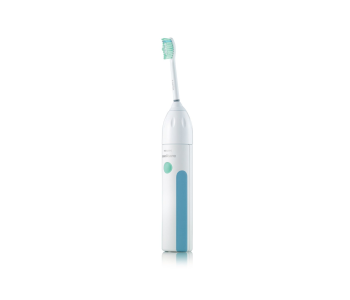 Philips Sonicare Essence
Original Price: $49.99
Black Friday Price: $19.95
The cheapest Sonicare toothbrush in Phillips' Black Friday lineup is also the oldest. That doesn't mean the Essence is bad, though, as it regularly tops best-seller charts despite being more than a decade old. It just goes to show that great design is timeless.
Some features are missing from this toothbrush. Its handle only has two-non-slip strips and there's no travel case. However, it has a small charging base with a handy cord shortener to keep it safe in the bathroom. The brush heads have an older design and screw into place rather than snapping. They fit the handle snugly, though, and accomplish a thorough cleaning.
The Essence doesn't have a motor, relying on powerful magnets and their electromagnetic field for vibration instead. Brushing with the Essence feels weird at first, especially if it's your first electric toothbrush. Phillips implemented a system called Easy Start to counteract this. Turning it on gradually increases brushing intensity over twelve uses, letting you easily grow accustomed to the action.