10 Best Solar Chargers for Phones
3D Insider is ad supported and earns money from clicks, commissions from sales, and other ways.
As the world strives to go green in 2019 and beyond, it's time we tap into the powerful and clean solar energy technologies. This includes using solar chargers for phones; an ultimate accessory for hikers, campers, travelers, or any other outdoor enthusiast. These essential products keep your mobile devices going during an emergency or when off the grid. However, given the large number of options and brands on the market, it can be overwhelming to choose the best option for your needs.
As always, we have put together ten of the best solar chargers for mobile devices. But before diving into more details, here's a refresher on the most important features to check when making a buying decision.
Budget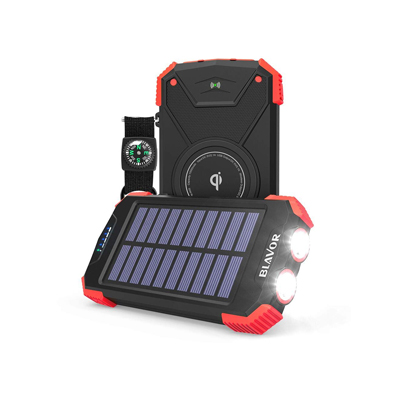 Blavor Qi Solar Charger
4.4/5.0
Cost: $26.99
Weight: 685g / 24.2 Oz
Extremely versatile, solid wireless charger with good capacity.
Check Amazon
Best Value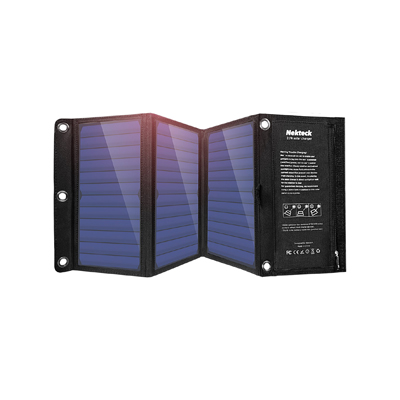 Nekteck21 W Solar charger
4.65/5.0
Cost: $49.99
Weight: 510 g / 17.99 Oz
Reliable, durable and highly efficient and solar charger.
Check Amazon
Top Pick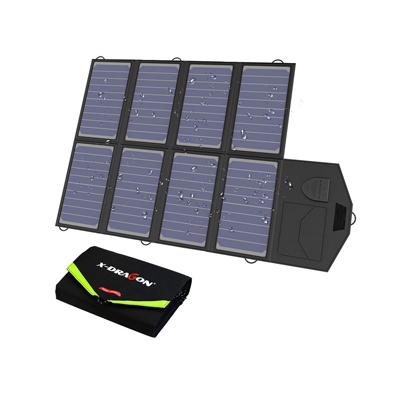 X-Dragon 40W Solar Charger
4.6/5.0
Cost: $114.99
Weight: 1157g/40.80 Oz
Widely compatible and ultra-powerful solar charger for quick charging.
Check Amazon
Buying Considerations
No two solar chargers for phones are built the same; so every model offers something different. This section will provide a glimpse into the main features you should consider to get the most out of your money when buying a solar charger.
Power
Different mobile devices require different wattage and amperage to charge properly. You should, therefore, pay close attention to the charger's output power to ensure it can charge your device effectively. Android smartphones will require around 5 watts, while iPhones need at least 7 watts. If you're looking to charge multiple devices or more power-consuming ones like tablets and iPads, then you will need a higher wattage. Increasing the wattage means you'll enjoy a faster charge rate, but so does the price tag go higher.
Connections
Solar chargers can come with either one or multiple ports which let you charge several devices. Other than the number of ports, ensure their output rating can supply the required voltage depending on your device. The bottom line is checking whether the USB connections will sufficiently provide the desired functionalities.
Integrated Batteries
One important feature you cannot afford to ignore is whether the charger comes with integrated batteries or not. A charger without a backup battery simply plugs directly into the device and sits in the sun until your device is fully charged. However, integrated batteries allow the charger to store power that can be used when you're not exposed to the sun, like at night or when it's overly cloudy. Integrated batteries are, therefore, a valuable addition you don't want to miss. When checking the battery quality, remember to pick the highest capacity (usually shown in mAh). This allows your device to store more power.
Portability
Everybody likes something light and portable, especially if you're be carrying it along when travelling. Every little bit of weight counts, so you may want to consider a lighter charger. However, if you don't mind additional bulk, a foldable solar panel, though a little heavier, provides a large surface area compared to a single panel.
Durability
If you're looking for a solar charger, then pick one that will serve you longer. You want something that is durable that will not break even if it drops accidentally. Although not an absolute necessity, you also need to check whether the charger is waterproof. There's a chance that you might leave it outside then it rains, or something spills on it, so waterproof chargers are a great idea.
Price
Finally, everything comes down to price when buying any product. With solar chargers for phones ranging from $20 to $150, you can be sure to find a great product within your budget. However, remember cheap is not always the best. Take the features above into consideration to get the most value for your money.
Our Selection Criteria
Hopefully, you now have a better idea of the features you should be looking for in a solar charger. There are tons of options in the market, so before we get to our model recommendations, it's important you understand how we narrowed down our options. Our experts primarily looked to strike a good balance between tech specs and prices. After a careful review, here are our top 10 picks.
10 Best Solar Chargers for phones Comparison Table
10 Best Solar Chargers for phones: Detailed Reviews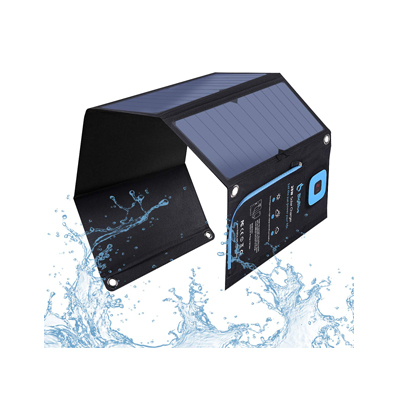 View on Amazon
Editors Rating: 4.4/5
The BigBlue four-fold solar charger is a 28-watt charger that comes with a digital ammeter and dual USB port. The digital ammeter is a wonderful feature that displays how many amps your devices are getting when charging. With two USB ports that are compatible with most devices, the charger can provide a maximum individual output of 5V/2.4A. It is also equipped with Exclusive SmartIC Technology, a smart circuit technology that allows BigBlue to detect your devices and deliver a stable charge rate to a maximum total of 5V/4A.
We likethat the BigBlue charger weighs only 21.94 ounces and has a robust design that makes it highly portable. The foldable solar charger model has soft hooks that give the user more flexibility for attaching it to a tent, vehicle, backpack or tree. It is also waterproof to water splashes, fog and intermittent water showers. This feature comes in handy if you want to strap the charger to a backpack while on the move. Another great addition is the built-in pocket with zip that keeps your devices safe while charging.
However, there are a few downsides about the Bigblue charger. First, the charge rate is a bit slower compared to other solar chargers. Another concern is that the charger lacks an integrated battery for storing energy. Additionally, it does not have a flashlight, which could be a valuable addition.
Overall, the BigBlue 28W solar charger speaks for itself. It is a great choice for campers, bikers, and hikers who want to keep their phones, tablets, cameras, GPS or any other portable accessory charged. If you enjoy camping, trekking, picnics, boat riding, fishing or any other outdoor activity, this solar charger will serve you best.
The Big Blue 5V 28W solar charger is up for sale on Amazon at around $59.99 and comes with a 24-month warranty.
Tech Specs
Dimensions: 11.2 x 6.3 x 0.7 in
Charging Ports: 2 USB ports
Individual USB Output: Max 5V/2.4A
Output: Max 5V/4A
Weight: 622g/ 20.6 Ounces
Actual maximum USB output power: 20W Total
Water Resistant: IPX5
The Pros
Highly portable
Compatible with multiple devices
Built-in ammeter
Built-in intelligent chip
The Cons
Slower Charge
No backup battery
Lacks flashlight
View on Amazon
Editors Rating: 4.3/5
Are you looking to make a fine addition to your emergency pack? The RAVPower 16W solar charger is an excellent option. This device leads the pack in innovative technology and will perfectly serve anyone who needs a portable back-up device. However, RAVPower's unique design and features make the solar charger particularly beneficial for adventurers and outdoor enthusiasts.
The Solar RAVPower Panel is sturdily built with a waterproof exterior. No matter how careful you are, RAVPower understands that it is almost impossible to avoid quick rainstorms, so they added this feature for your outdoor convenience. The charger is extremely portable and ideal for transit. It has four hooks that allow the user to attach it to a tent, bag, car or any other random fixture. What's more? You can fold up the charger when you're done and tuck it in your backpack safely for future use.
Other than boasting one of the best designs in the market, RAVPower has a high energy conversion rate of up to 23.5 percent; a rate that is usually seen in panels of a substantially bigger size. It has three USB ports that allow you to power multiple devices simultaneously. Better yet, these plugins are equipped with iSmart technology that detects the type of device you're charging. The RAVPower 16W Panel uses this information to determine the charging requirements for your devices and adjust the power levels so you can get a better charge rate.
RAVPower's impressive LED flashlight is another feature you'll love. It's bright enough and stays on for longer compared to other devices. The flashlight takes up little power, so it works well even when the battery is almost fully drained.
Despite its awesomeness, RAVPower's solar-only charging does not perform so well. It's a bit slow compared to a multi-paneled solar charger like X-Dragon, but they made up for this with a large 15000mAh battery capacity, making it a worthy accessory. So, if you enjoy hiking, camping, backpacking or any other outdoor adventure, the RAVPower 16W solar charger is for you.
Tech Specs
Efficiency: 21.5 – 23.5%
USB Ports: 2
Output: 5V/2.4 A (Max)
Size: 9.41 × 6.3 × 0.2 inches
Weight: 442g/ 15.6 oz
Integrated battery capacity: 15000mAh
The Pros
The flashlight works even when the battery is running low
Easy to pack solar charger
Highly portable
Smart IC Technology
LED flashlight
The Cons
Solar charging is relatively slow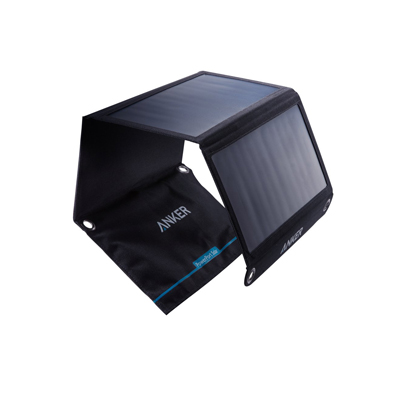 View on Amazon
Editors Rating: 4.2/5
This Anker PowerPort 21 W Solar Charger is one of the most popular devices in the market. For one, it is perfectly designed to give you the most value for your money. With high voltage, great amperage, and 3 USB ports, this charger is ideal for any iPhone and Android device. The powering capabilities are good enough to charge even the most power-hungry devices. Additionally, Anker's PowerIQ tech ensures a faster charge rate. Another fine addition to this solar charger is the short circuit and power surge protection to shield your electronics from damage.
The Anker Powerport is an excellent, portable option. You only have to lay the versatile mat anywhere depending on the sun's position, and your devices will charge comfortably. Alternatively, you can use the elastic loops to attach the charger on your tent, backpack or any other surface. With its compact design, you can fold the charger into a smaller size and store it securely. If it rains, there's no need to worry; Anker already equipped this charger with a durable, waterproof polyester cover. For roughly $140, the package comes with a 3ft USB cable, user guide and a stellar warranty that covers your charger for up to 18 months.
The Anker PowerPort delivers an incredible performance but has its limits as well. You can only charge your device in direct sunlight as the solar charger lacks an integrated battery. However, the super-fast charging capability gives Anker Powerport an edge over other solar chargers.
Tech Specs
Wattage: 21 watts
Amperage: 2.4 amps per port
Efficiency: Approximately. 22%
LED Power Indicator: 1 Blue LED
Weight: 458 grams (14.7 ounces)
Number of Ports: 2
Integrated Battery: No
Size: 11.1 x 6.3 x 1.1 inches
The Pros
Includes 18-month warranty and excellent customer service
Highly portable
High efficiency
Higher charge rate
Smart IC technology
The Cons
Lacks an integrated battery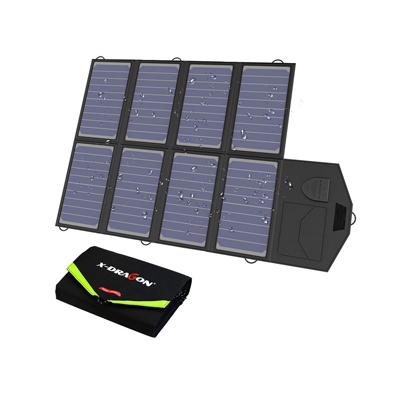 View on Amazon
Editors Rating: 4.6/5
Alright, we've got one of the big guns around- the X-Dragon. It is undoubtedly one of the most powerful solar chargers you'll ever come across. So if you're looking for enough solar power that will keep the entire camping crew connected, look no further than the X-Dragon. This large eight-panel charger brings you a thumping 40 watts power, enough to charge the most power-hungry devices, including laptops.
As you know, solar vitality gathering is directly proportional to the accessible solar panel surface. More and bigger boards, like those in the X-Dragon, gives the solar charger an edge over single-paneled chargers like the Dizaul. The X-Dragon SUNPOWER solar cells have a higher efficiency ranging between 22%-25%. Its circuit is integrated with smart technology, so you also get protection against power-surge, short-circuit or overcharging.
The X-Dragon body is rugged and highly durable thanks to the superior-quality base material. Just like the Bigblue, this charger has an extra Velcro-lined flap that secures it when folded. It also have a zip-up mesh pocket that protects the USB ports from damage when they're not in use.
Despite its large size, the panels can fold up into a smaller, portable pouch. The panels also come with hooks so you can easily attach it on your backpack or tent to catch the sun. Weighing 1167g, the X-Dragon is heavier than most power banks. So unless you're looking for the 40 watts power, it is not a viable option for carrying along wherever you go.
All this great power and amazing features come at a price. Going for roughly $115 on Amazon, the X-Dragon solar charger is the second most expensive item on our list. The solar charger comes with USB cables, a DC cable, ten laptop connectors, carabiners, user guide, and an 18-month warranty. Coupling this to X-Dragon's brilliant customer service, this package is well-worth the deal.
Tech Specs
Solar panels peak power: 40W
Efficiency: 22%-25%
OutPut: USB 5V2.8A /DC18V 1.6A (Maximum)
Size: 10.43×6.30×2.76 inches
Weight: 1157g/40.80oz
Integrated Battery Capacity: 300,000mAh
The Pros
It is incredibly durable
It charges devices more quickly
It has an 18-month warranty and money-back guarantee
It has water resistance and safety protection
Dual Super bright light
SolarIQ technology
The Cons
Notably heavier than other chargers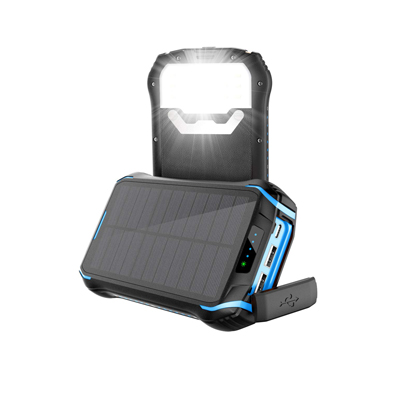 View on Amazon
Editors Rating: 4.5/5
The Aonidi Solar Charger is currently one of the finest inventions in the market. With a 26800mAh capacity integrated battery, you have sufficient backup power to charge your devices whenever you need. When fully charged, the Aonidi back up battery can power Samsung Galaxy S10 eight times, iPhone 7 up to thirteen times or the iPad Air2 three times. Simply put, this charger a great power resource when off the grid or in the absence of Solar power.
Designed for compatibility with a wide range of mobile devices, this solar charger has three 3.1A output ports and two 2A input ports. Its efficient smart IC technology identifies the type of inputs for the connected device and assigns a corresponding output current. The Aonidi Solar Charger and battery pack is also equipped with a super bright LED flashlight. This valuable addition comes in handy especially when camping, hiking, mountain climbing, fishing or doing other outdoor activities. The main limit about this Aonidi product is that solar charging isn't that much efficient, but within a few hours of charging, you will have enough power to keep you moving.
Overall, this solar charger is of excellent quality, pretty versatile in its uses, and well worth the price. You can get the amazing Aonidi Solar charger for around $47 on Amazon, so feel free to check it out.
Tech Specs
Integrated Battery: Rechargeable Li-polymer battery
Battery Capacity: 26800mAh
Size: 7.9 x 5.1 x 1.3 inches
Water resistance: 1PX6
Weight: 564g
Output: 3.1A Outputs
Inputs: Dual 2A Inputs compatible for all smartphones
The Pros
Extremely portable
Supports AC charging
IPX6 rainproof, dustproof, and shockproof
Allows fast charging and recharging
Allows fast charging and recharging
Features smart IC technology and power surge/short circuit protection
The Cons
Solar charging is relatively slow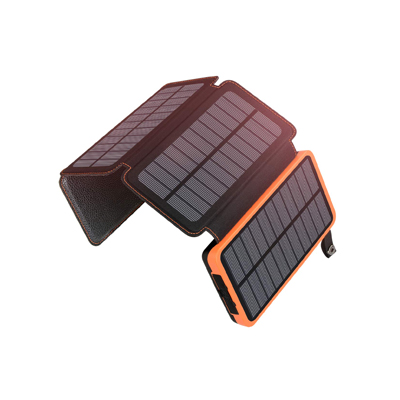 View on Amazon
Editors Rating: 4.35/5
This four-panel solar charger from ADDTOP is a must-have accessory if you are looking for a good-sized solar charger and power bank. With an integrated battery capacity of 25,000mAh, this charger provides great value for around $40. It has dual USB output ports that can quickly charge two devices simultaneously up to a maximum of 5V/2.1 A. This charger also has an auto-stop feature that detects when your device is fully charged to protect against over-charging and over-heating situations.
Built with a sense of portability, the four solar panels can be folded up into a small size (slightly larger than iPhone X) and tucked into your bag safely. If you're an outdoor enthusiast, this solar panel and battery pack will keep you on the go. It can charge any smartphone, tablet, iPad, camera, kindle, or any other 5V device with a USB port.
Another great thing you'll love about this ADDTOP charger is that it comes with an emergency LED flashlight that is very helpful in the woods or during general power outages. Furthermore, the solar panels are built using high-quality, waterproof material; so you can use it in the rain, but we do not advise submerging it in water. ADDTOP also offers a 12-month refund or replacement warranty on the solar bank, making it an even better, secure deal. You can find this solar charger and power bank on Amazon.
Tech Specs
Integrated Battery: Li-polymer battery
Battery capacity: 25000mAh
USB Output ports: 2
Maximum Input: 5V 1.8A
Weight: 538g/18.98 Oz
Maximum Output: 5V 2.1 A
Size: 6.1*3.35*1.37 inch
The Pros
High battery capacity
High battery capacity
Supports Quick charging
Highly portable
Comes with a one-year warranty
Auto-stop feature for protection when charging
The Cons
Solar charging is relatively slow compared to other multi-panel solar chargers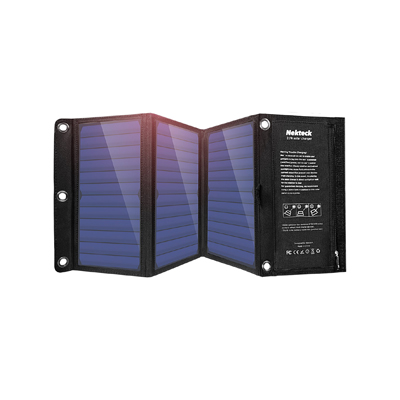 View on Amazon
Editors Rating: 4.65/5
The 21W Nekteck solar charger is another smart yet highly portable solution designed to provide solar power to charge your phone. It features three highly-efficient solar panels built using SunPower Maxeon technology. This gives the panels a conversion efficiency of between 21 to 24 % while providing sufficient power to charge two devices simultaneously using its dual 5V USB output. Moreover, each panel produces between 800-1000mA under direct sunlight, which can charge iPhones, smartphones, tablets, iPads, cameras, GPS and other USB devices.
The Nekteck triple panel charger is embedded with smart IC technology that detects connected devices and maximizes charging speed up to 2A per USB port or 3A total. The chip also serves as a protection against overheating or short circuit.
On the flipside, this Nekteck charger lacks many extras. It has no LED's to indicate charge levels or use as flashlights. Although the canvas backing is durable, the panels aren't completely waterproof, so you will have to be careful when outside. All in all, the Nekteck solar charger is a great choice if you're on a budget or looking for a lightweight option for outdoor use.
The Nekteck 21W Solar Panel Charger is up for sale on Amazon at around $50. The package comes with a free 2.6ft micro USB cable, user guide and 18-month warranty. Check it here.
Tech Specs
Amperage: 2A per port, Total max 3A
Power Output: 21W
Conversion Efficiency: 21-24%
USB Ports: 2
Weight: 510grams/ 17.99 oz
Size: 6.3x11x1 inches
Integrated battery: No
The Pros
Good power
Relatively lightweight
Durable and tough
A great 18-month worry-free warranty
Smart IC technology
The Cons
No LED flashlight
Lacks backup battery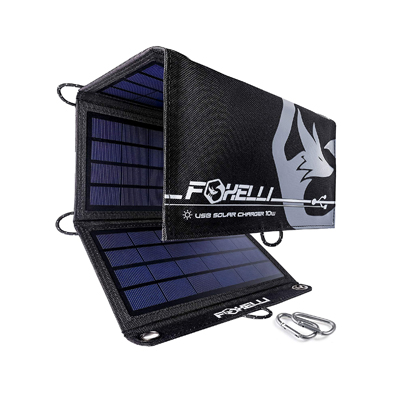 View on Amazon
Editors Rating: 4.5/5
The 10W Foxelli is a fast, well made and efficient charger, a must-have accessory for every hiker, camper or outdoors person. It is made using SunPower cells that give the charger a high conversion rate of up to 24 %. As with most solar chargers, Foxelli has dual USB output ports that can charge multiple devices simultaneously including iPhones, Android smartphones, Go Pro cameras, kindles and a host of other electronics. Additionally, it is integrated with smart IC technology that detects the input for connected devices and adjusts the output accordingly up to 1.85 A in total.
Foxelli solar panels are made using highly durable material and further guarded with PET polymer. For this reason, the charger is water-resistant and dustproof, making it suitable for extreme outdoor activities such as boating or kayaking. Additionally, Foxelli has a lightweight and ultra-thin design with built-in loops and carabiners to attach it your tent, trees or backpack.
On the flipside, Foxelli lacks an integrated flashlight or battery. But since it perfectly charges power banks, you can get a separate back-up battery. Overall, it's a dependable and convenient charging resource whenever power is not available. For around $35, you can order the Foxelli Dual USB Solar Charger charger on Amazon. It comes with a one-year warranty and 120-day return window if you don't like the product.
Tech Specs
Conversion efficiency: 24%
Power Output: 10W
Size: 10.6 x 6.5 x 1.6 inches
USB ports: 2
Weight: 472g/ 16.66 ounces
Integrated battery: No
The Pros
Extremely lightweight and portable
Faster charge rate compared to other devices
Completely risk-free purchase backed with a one-year warranty
Weatherproof and durable charger
Smart IC technology
The Cons
Requires a separate battery for back up
No LED flashlight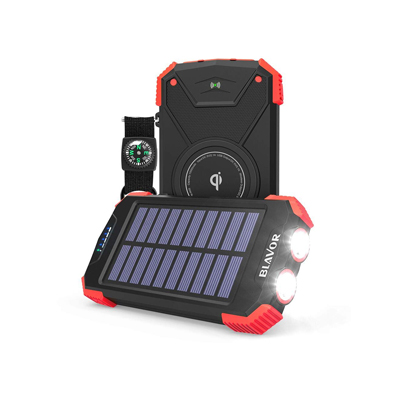 View on Amazon
Editors Rating: 4.4/5
We now get to one of the unique products from Blavor- a startup brand committed to wireless and solar charging solutions. The Blavor Qi Solar Charger is a wonderful product that is compatible with a wide range of phones including iPhones, Galaxy phones and all Qi-enabled devices. Although slower, wireless charging capability is a great idea if you're already using all USB ports or you probably forgot your USB cord. Its battery capacity is enough to power a host of devices several times.
You can fully charge Blavor's 10000 mAh battery pack using micro USB or Type C USB within 6 hours. However, if you want to use direct sunlight, it will take up to forty hours to full charge. At this rate, you might require a couple of days to fully charge your battery using the solar option. But despite the slow charging rate, the Blavor Qi Solar Charger going at around $26 is one of the best bargains considering its impressive line of features and positive reviews by customers.
This solar charger and power bank is an extremely durable, lightweight option that is small enough to fit in your pocket comfortably. The power bank is rated IPX4 waterproof, meaning it can withstand small rains but not a heavy downpour. With two bright flashlights, this solar charger a great option for just going anywhere. Get the Blavor Qi Wireless charger on Amazon to keep you powered during your next camping trip
Tech Specs
Integrated battery: Yes
Battery Capacity: 10000mAh
USB output ports: 2
Maximum output: 9V/2A or 12V/1.5A (18W)
Weight: 685.0g/ 24.2oz
Wireless output: 10W/7.5W/5W
Size: 6.9 x 3.5 x1.1 inches
Water resistance: IPX4
The Pros
IPX4 splashproof, shockproof and dustproof
Supports wireless charging for a host of devices
Back up battery can charge your device a couple of times
Has a wide range of features for enhanced outdoor use
The dual flashlight can serve as torch
Qi-Wireless technology
Dual flashlights
Compass kit
The Cons
Solar charging the battery takes longer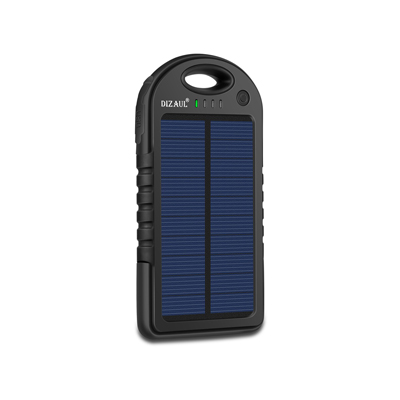 View on Amazon
Editors Rating: 4.0/5
Here's one of the most cost-effective solar chargers on the market- the Dizaul 5000mAh portable solar charger and power bank. Made using eco-friendly silicone rubber and coated with rubber paint, this device is water-resistant to ensure it functions properly when it's raining. It's compact, shockproof design allows the charger to work fine even when it drops or crashes accidentally. Dizaul is made with the camper and hiker in mind. You can easily hang the charger on your backpack using the integrated hooks.
Dizaul Solar Charger has two USB ports which protected with rubber caps to aid in waterproofing. It can charge smartphones, tablets, cameras, or any other device with 5V USB-input.
Worth a mention is that the Dizaul charger comparatively takes longer to recharge via solar due to the limited panel surface. Logically, you do not expect a single panel charger like Dizaul to charge in the same rate as multi-paneled chargers like the X-Dragon, BigBlue or Anker. However, with the 5000mAh battery, we're confident that Dizaul will keep your devices powered when away from the grid. For around $20 on Amazon, you can add this super-helpful accessory to your emergency pack.
Tech Specs
Integrated battery: Li-Polymer Battery
Battery Capacity: 5000mAh
Input: 5V/1A
Output: 5V/2X1A
Weight: 146g/ 5.3 ounces
USB ports: 2
Size: 5.6 x 2.8 x 0.6 inches
AC charging time: About 6-7 hours
The Pros
Extremely lightweight
Highly affordable
Compatible with most devices
Waterproof, dustproof and shockproof
The Cons
Relatively slow solar charging