PLA Pellets – Where to Buy and How They Are Used
3D Insider is ad supported and earns money from clicks, commissions from sales, and other ways.
Filaments are the weapon of choice for most people who are into FDM-based 3D printing. They are convenient, easy to handle, and very easy to buy, especially considering how 3D printing suddenly became popular in the last couple of years.
However, filaments aren't the only form in which 3D printing thermoplastics are available. Although not quite as common, these thermoplastics are still sold nowadays as pellets. In this article, we will be turning our focus on the PLA version of these pellets. How are pellets used in 3D printing and is it a good idea to get your own?
Why is PLA sold in pellets?
Selling or using any plastic in pellets really isn't uncommon in the plastics manufacturing world. In fact, it is the base form that plastics typically take once they are produced from their constituent raw materials. For reference, plastics are typically made from a polymerization process that converts monomers (commonly petroleum-based) into a fluid slurry. This slurry then solidifies as it cools and is extruded into very small and regular sized pellets.
Plastic manufacturers prefer producing pellets simply because they are much easier to handle and pack more densely. This cuts down on the expenses related to storage and transportation, as more product can be shipped at smaller volumes.
Pellets are also a very versatile form of plastics, especially if they are used to manufacture a wide range of plastic products. The filaments used in 3D printing are simply a product of these plastic pellets getting re-melted and re-extruded into another shape. Plastic pellets can also be used to create products from hard-shell containers to very thin films.
Nowadays, PLA sold in pellet form is no longer as common, mostly because filaments are so much more convenient for 3D printing. However, there is still a market out there for PLA in pellet form, especially for those who manufacture a large number of 3D printed products regularly.
Which 3D printers can print with PLA pellets?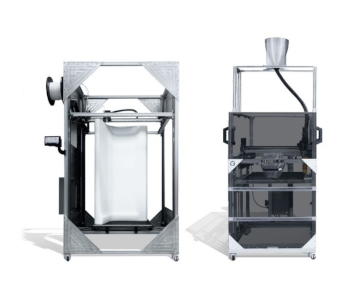 Pellet-based 3D printers are so rare nowadays that they always make a huge deal when a similar product is introduced. What this unfortunately implies is that they will almost certainly be more expensive than the usual desktop-scale FDM 3D printers that have become very popular.
If you're interested in 3D printing directly from PLA pellets, the bad news is that buying one right now isn't as straightforward as searching for it on Amazon. Over the last couple of years, crowdfunding campaigns have been run to raise money for the development of pellet-based 3D printers and to gauge interest in the product.
Out of all the efforts to develop pellet-based 3D printers, the Gigabot X by re:3D is probably the one that has received the most media mileage. Back in 2018, a Kickstarter campaign was able to raise $55,000 of funding for the Gigabot X, which was described as a large-scale direct pellet extrusion 3D printer. The company intended for the crowdfunded amount to add to their earnings from global pitch competitions, which amount to more than $225,000.
According to an update by the team in August 2018, the prototype of the Gigabot X had already been manufactured and was undergoing testing. Although the team still wanted to do a few tweaks, the tests confirmed that the concept indeed works and could be a viable alternative to 3D printing with thermoplastics. Right now, the Gigabot X is available to buy from the re:3D website and costs $16,950.
There are also a few other brands involved in this trend, including the Pam Series P and Pam Series M printers from French brand Pollen. This is another intriguing concept that uses pellet-based raw materials but there's an added twist here – the Pam Series M printer uses metal pellets. Even the design of the Pollen 3D printers is interesting because they use a delta-style system and a print bed that moves, which allows the pellet-loaded extruder/hot end system to remain stationary.
Pollen sells an array of different thermoplastics in pellet form including PLA, ABS, HIPS, PP, PE, and even composite materials like Woodfill with PLA. They also have metal feedstock pellets for the Pam Series M printers.
Yet another interesting concept from Italy-based Direct3D. Instead of an entire 3D printer specially designed to work with pellets, Direct3D sells technology to modify popular 3D printers so that they can accept pellet-based feedstocks. Their modification takes the form of a single-piece attachment to the print head which contains a nozzle, extrusion system, and a hopper to feed the pellets.
According to Direct3D, their pellet extruder has already been tested with several 3D printers from Creality and Prusa. It can work with most of the standard 3D printing materials including PLA, ABS, TPU, TPE, PP, and PE. Obviously, you'll need a high level of technical and DIY skills to get this modification to work with a standard FDM 3D printer.
For both Pollen and Direct3D, the prices of the respective pellet-based 3D printing technology are only available upon request. This is a practice that is commonly seen only in high-end and expensive products.
Make your own filament with PLA pellets
An alternative way to use PLA pellets is to make your own filament with it, rather than print with it directly. This mimics how filament manufacturers use PLA pellets. By doing it yourself, you get more control over the quality and appearance of the product and save on material costs over time.
The most popular way to do this is to use the Filabot Extruder, a product initially marketed as a way to recycle scrap 3D prints. It works by melting small pieces of plastic which are then pushed by an extrusion screw through a nozzle. The Filabot Extruded can be augmented with Airpath cooler and spooler add-ons to streamline the operations and improve the spool quality.
Although initially intended to make recycled filaments, the Filabot Extruder also works perfectly well for creating your own filament using pelletized raw materials. This can even be a method for making customized filaments with your own combination of additives and colors.
Pros and cons of using PLA pellets for 3D printing
While there are certainly several compelling reasons for developing pellet-based 3D printers, there's still a huge mountain to climb before this technology becomes adopted widely by both industrial and recreational users.
PROS
Cheaper materials
As we've mentioned, plastic filaments are a product of reprocessing plastic pellets. By gaining the ability to work with pellets, the cost of 3D printing materials can be reduced by a huge margin. Based on the price of PLA pellets and filaments that are available today, filaments can cost up to 4 to 5 times more expensive.
Customization opportunities
If you have the equipment to make your own filaments from pellets, then you can also create filaments based exactly on what you need. This will make producing colored filament a lot like mixing paint, in that slightly different ratios can result in different colors. The technology isn't quite mature enough for a good number of these customization options to be available, but we are thrilled with the possibilities.
Increased throughput
Most manufacturers that develop pellet-driven 3D printers have deliberately designed them to have faster throughputs than filament-based 3D printers. This is easy because pellets melt faster on account of their much larger surface area, and the screw delivery system can be made to rotate as quickly as necessary.
More ideal for large-scale 3D printing
The benefits of pellet-based 3D printing when it comes to reduced operation costs, faster throughput, and better customization are benefits that will only be realized after a long time. If you only use your 3D printer to create one or two prototypes every month or so, then printing with pellets may not be worth it. However, 3D printers that continuously operate as an element of a manufacturing process may benefit much more quickly with this technology.
CONS
Will require special hardware
By far the biggest hurdle to the more widespread use of pellets for 3D printing is the lack of hardware options. As one would expect, this lack of options also makes these special pellet-driven 3D printers very expensive.
The Gigabot X costs nearly $17,000. This price tag is likely indicative of how much this technology is going for nowadays. In an age when you can buy desktop filament-based 3D printers for less than $500, even moderately sized companies might not even consider spending the huge capital for a pellet-based 3D printer.
If you prefer going the route of making your own filament from pellets, then the Filabot Extruder will still set you back around $10,000 even without the cooling and spooling accessories.
PLA pellets are hard to find
3D printing has become so popular that you can probably buy PLA filaments in any color imaginable. You can find them in most hobby shops and art shops and looking for them online hardly takes any time. PLA pellets, on the other hand, are only sold by a few select brands. It's not exceptionally difficult to look for them, but you'll have to live with the fact that there aren't a lot of options.
Consistency is problematic
Consistency is one of the strongest suits of 3D printing using a filament. A plastic filament has a virtually constant diameter and density throughout, ensuring that the same amount of material flows into the printer's extruder and nozzle at all times. This helps filament-based 3D printers create highly refined details and worry-free print quality.
Printing with pellets makes consistency a little more challenging. No matter how well packed pellets, there will always be random pockets of empty air that will inevitably go into the extrusion screws. This means that a fully consistent flow of material into the melt chamber is virtually impossible. For this reason, pellet-based 3D printers are usually intended for large-format projects where refined details are less important.
Where to buy PLA pellets
The peculiar thing about PLA pellets is that you just can't find them on Amazon or other online retailers. Instead, you'll have to buy them straight from the brands that manufacture them. This is probably another indicator of how little demand there is for 3D printing pellets.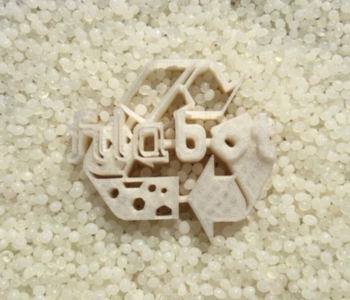 Unsurprisingly, the brand that manufactures the equipment for DIY filaments also sells PLA pellets. Filabot sells these pellets at a minimum order of 5 kilograms for a little less than $10 per kilogram. They also sell PLA color additives in various colors.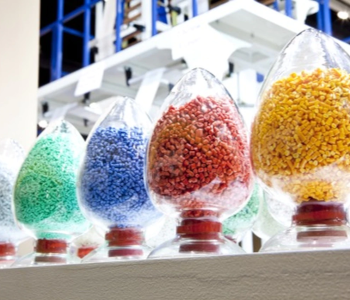 3DXTech sells a wide array of 3D printing pellets including PLA, ABS, HIPS, PVA, and PETG. Again, these are meant to be used to create your own filament in machines like the Filabot Extruder. If you want to add colors to your filaments, then 3DXTech also sells a fully customizable 3-color pack.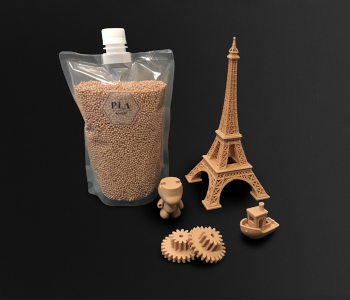 The Pollen brand has been very prolific in developing and promoting pellet-based 3D printing, so it's only expected that they sell their very own lineup of 3D printing pellets. On top of their natural PLA pellets, they also sell a Woodfill version, as well as other materials like ABS, HIPS, ASA, PET, and PMMA. Pollen is also open to engaging with customers who need materials that are beyond what they offer currently.
Final thoughts
3D printing with pellets might seem like a step backward technologically. After all, filaments were specifically designed to make 3D printing easier and more fuss-free. However, it also cannot be argued that the additional processing step makes 3D printing filaments a lot more expensive than their pellet counterparts.
The unfortunate news is that jumping into pellet-based 3D printing isn't for everyone. With equipment that costs at least $10,000, printing with pellets simply isn't worth the investment for those who want to get into 3D printing for fun or for those who only use 3D printer for one-off pieces. The technology is already available – it's now just a question of creating a demand for it.
Warning; 3D printers should never be left unattended. They can pose a firesafety hazard.