6 Best Polaroid Camera Picks for 2020
3D Insider is ad supported and earns money from clicks, commissions from sales, and other ways.
Being a shutterbug was an exercise in patience for the longest time. While exposure times in the 20th century became short, you still had to either have an expensive laboratory to develop the film or take it to a professional. Then the first Polaroid cameras were introduced in the 60s and took the world by storm. Suddenly anyone could snap a picture and see it develop in minutes. The fad faded with the arrival of digital cameras, but we're pleased to see it's making a comeback!
Shooting with a Polaroid camera is both gratifying and challenging. On the one hand, it takes only a few minutes to create a physical reminder of the good times you've had and pin it up on your fridge. On the other, working with film and the cameras' inherent limitations takes skill to produce gorgeous photos. You'll have to pay for every mistake, but the imperfect and unpredictable results are also a major part of the charm.
These are the six best Polaroid camera picks on the market today. Don't expect any of them to rival digital cameras in quality. However, features like multiple exposures and beginner-friendly controls make them appealing, not to mention their nostalgia. Choose among our favorites and start appreciating photography from a different perspective.
Budget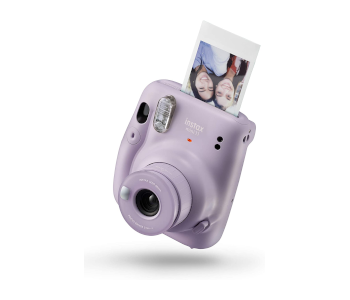 Fujifilm Instax Mini 11
4.1/5.0
Dimensions: 4.3 x 5.7 x 4.3"
Weight: 15.5 oz
Image quality is comparable to more expensive models.
Check Amazon
Best Value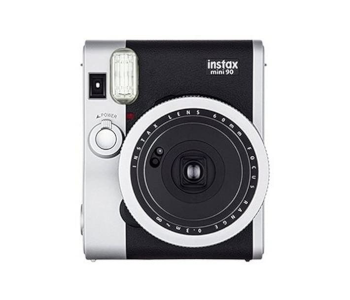 Fujifilm Instax Mini 90 Neo Classic
4.4/5.0
Dimensions: 4.5 x 3.6 x 2.3"
Weight: 10.4 oz
Easy to handle and charming appearance.
Check Amazon
Top Pick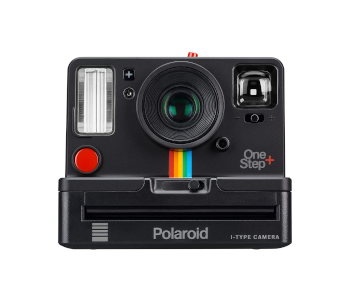 Polaroid Originals OneStep+
4.6/5.0
Dimensions: 5.9 x 4.3 x 3.8"
Weight: 1.1 lbs
Close-focus lens makes it ideal for portraits.
Check Amazon
Polaroid Cameras Comparison Table
1. Best Overall – Polaroid Originals OneStep+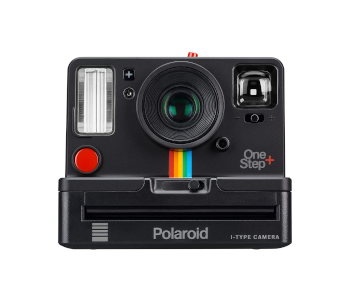 View on Amazon
Editor's Rating: 4.6/5
The Polaroid name is synonymous with the instant cameras of times past, and the resurrected company is successfully spearheading their revival with the OneStep+. It's a blend of traditional aesthetics, physical film that develops before your eyes, and modern-day connectivity features combined into a charming camera new and nostalgic users will both enjoy.
Overview of Features
You'll recognize the OneStep+ instantly if you were around in Polaroid's heyday. It's a tribute to the original OneStep, from the iconic rainbow stripes and red shutter button to the optical viewfinder positioned to your left. Improvements to the camera consist of a better lens that supports close focusing mode, onboard EV adjustment, and a series of LEDs that tell you how many photos are left in the film pack.
All of the above could exist on an analog camera, but a black button with the Bluetooth symbol betrays the OneStep+'s modern origins. Pressing it will light up a blue LED and establish a connection to your smartphone if you're running the OneStep+ app.
It's intuitive and designed to improve your user experience in every way. You can turn your phone into a remote shutter, manually set aperture and shutter speed, or set up a timer that's ideal for group photos. It supports double exposure and a mode that leaves the shutter open so you can draw light paths. The app even lets you turn on a noise-sensitive mode that will trigger the camera as people cheer or clap.
The OneStep+ is compatible with old Polaroid 600 films as well as the new I-type available in color or black & white. The older film type has a battery that drives the ejection mechanism, but the OneStep+ doesn't take advantage of that. Rather, it has a rechargeable Li-ion battery you can top up using micro USB good for dozens of snaps.
What's Bad About It?
The OneStep+ isn't expensive, but Polaroid Originals needs to rethink their film pricing. A pack contains only eight exposures and doesn't come cheap, so the value per image is low. On the other hand, you get square black & white photos and quality a step above most other instant cameras. The film is also delicate, requiring dark and warm conditions to develop correctly.
Tech Specs
Dimensions: 5.9 x 4.3 x 3.8"
Weight: 1.1 lbs
Film format: Polaroid Originals i-Type, Polaroid 600
Lens: 106mm f/14 – f/64
Minimum focus distance: 1'
Batteries: Internal, rechargeable
Pros
As stylish and user-friendly as old Polaroid cameras
Has excellent companion app
Close-focus lens makes it ideal for portraits
Remote shutter, timer, and full manual adjustment
Cons
Expensive film packs
Images need dark and warm environment to develop as intended
2. Best Value – Fujifilm Instax Mini 90 Neo Classic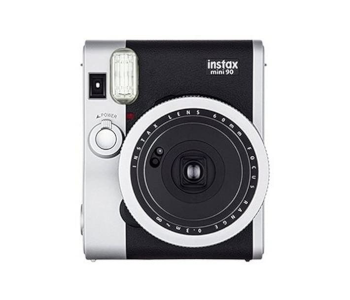 View on Amazon
Editor's Rating: 4.4/5
Fujifilm is Polaroid's closest competitor in the world of instant cameras, and the Instax Mini 90 Neo Classic is its most balanced offering. It combines lower-cost Instax Mini film with an abundance of photo modes and a retro style. The result is a well-rounded camera that's neither expensive to acquire nor maintain.
If you're not a fan of the Mini format, consider the Instax Square SQ6 or Wide 300 instead.
Overview of Features
The Instax Mini 90 Neo Classic is among the best-designed cameras on review. The square shape isn't as ergonomic as modern digital cameras. However, you can still grip it firmly thanks to a leatherette texture available in tan or black. Novice users will get their bearings quickly as the controls are few & straightforward. While the camera is analog, it does have two LCD screens showing the remaining shots in a film pack and the photo mode that's currently in use.
We love how the Instax Mini 90 Neo Classic is intuitive yet versatile. For example, it has two shutter releases. One is in front while another is on top, so it's equally easy to take photos in landscape and portrait orientations. Mode selection is another example as you can cycle through them either by pressing a button or rotating a ring around the lens.
The Instax Mini 90 Neo Classic adapts to various situations thanks to its diverse modes. Engaging Macro mode lets you focus closer and snap pictures of small objects like bugs. Kid and Party modes up the shutter speed to a maximum of 1/400 sec to ensure that exciting moments at a party or kids' shenanigans are free from blur. On the opposite end, you've got Bulb and Double exposure modes that let you pull off cool-looking light trails or artistic photos.
The Mini film arrives in packs of ten exposures. It's as small as its name suggests, but the image quality is decent. Colors are vivid for instant film, while white balance is generally fine yet leans towards cool when you're shooting in bright light. The battery is rechargeable, adding to the camera's value.
What We Didn't Like
The Instax Mini 90 Neo Classic tends to overexpose images. Fortunately, it has an EV comp toggle with three brightness settings, and you can turn the flash off if it's causing too much contrast. You have to remove the battery to charge it, which is a hassle.
Tech Specs
Dimensions: 4.5 x 3.6 x 2.3"
Weight: 10.4 oz
Film format: Instax Mini
Lens: 60mm f/12.7
Minimum focus distance: 1'
Batteries: Rechargeable
Pros
Excellent value for the money
Lots of different photo modes for varying situations
Easy to handle
Charming appearance
Cons
Tends to overexpose shots at default values
Batteries can't be charged internally
3. Lomography Lomo'Instant Automat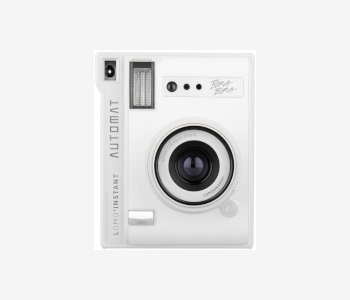 View on Amazon
Editor's Rating: 4.5/5
Lomography's Lomo'Instant Automat is the result of a successful Kickstarter campaign, and a worthy alternative to anything Polaroid Originals or Fujifilm can muster. It's easy to use since the camera takes care of aperture & exposure, letting you focus on taking the perfect shot instead. It also comes with several unique lens attachments that increase the versatility of your images.
Overview of Features
The Lomo'Instant Automat is sure to attract attention with its retro style and instant film capabilities. It's available in either black, white, or a mix of cream and red. Rather than using a switch, you turn it on by twisting the lens. Holding a button down and twisting in the opposite direction will turn it off. This prevents you from turning it off accidentally. The shutter release is placed conveniently and colored a reflective silver for easier selfie framing.
The back features square buttons that operate the flash, exposure compensation, multiple exposures, and bulb mode. Each is accompanied by either a single or two green LEDs, depending on whether they have one setting or two. Ten more lights on the side signify the remaining shots. The Lomo'Instant Automat takes Instax Mini packs, which are easy to install by aligning two yellow lines.
The camera excels at picking the right shutter speed and aperture settings for a given situation, leading to images that are exposed well and rich in detail. The colors are punchy, and you can produce lots of photos cheaply since the price goes down the larger the Instax Mini package you get. However, that applies only to color photos; black & white ones are sold exclusively in packs of ten and are more expensive.
Interchangeable lenses are the Lomo'Instant Automat's unique feature. They screw on to the lens proper and are easy to remove. You get a macro lens, one for wide-angle shots, and a fish-eye lens for even weirder results. The Lomo'Instant Automat has a Bulb mode that will keep the shutter open for 30 seconds and is useful for light painting. It also has double exposure, a mode for which the Splitzer will come in handy. This attachment covers part of the lens, allowing you to merge two distinct exposures into one seamlessly.
Are There Drawbacks?
Two CR2 batteries power the Lomo'Instant Automat. They'll get you through more than a hundred snaps, but the format is uncommon. Buy extra replacements when getting the camera for peace of mind. The lens attachments can introduce issues like lens flare. Some users might argue that this is part of the camera's charm, while others will avoid the optics-altering accessories because of it.
Tech Specs
Dimensions: 4.5 x 3.5 x 2.5"
Weight: 12.5 oz
Film format: Instax Mini
Lens: 60mm f/8-22
Minimum focus distance: 2'
Batteries: 2 x CR2
Pros
Handles automatic adjustments well
Clean and comprehensive interface
Lens add-ons improve versatility
Great image quality
Cons
CR2 is an uncommon battery format
Accessories can introduce lens flare
4. Leica Sofort
View on Amazon
Editor's Rating: 4.3/5
Most people associate Leica with quality rangefinder cameras from the past and top-tier digital offerings in the present, so seeing they also made an instant film camera is refreshing. The Sofort or Right Away, when translated into English, seeks to dominate the competition with superior style and ease of use. It's straightforward to operate, has several specific photo modes, and makes some of the best-looking pictures the Instax Mini format is capable of producing.
Overview of Features
The Sofort is nothing if not attractive. Square shaped and thin, it's among the most portable cameras on our list. You can get it in a variety of colors, all marked with the instantly recognizable red dot. Leica also sells straps and protectors that turn the Sofort into a powerful fashion statement.
Everything about the Sofort was built with ease of access in mind. Its shutter release is conveniently placed, and the mirror above the lens is invaluable for framing selfies. This is another camera whose viewfinder is all the way to the left, so expect some parallax issues and an adjustment period.
We were impressed with the Sofort's clean and accessible rear controls. They're located on the film flap and flanked by an LCD strip packed with information on battery life, shot count, and currently active settings. Speaking of which, you may choose between different modes similar to the ones present on the Mini 90 Neo Classic. These include special modes for parties and kids, macro & selfie modes, and ones designed for double exposure or light trails.
Photos taken with the Sofort show a great deal of color fidelity. Best of all, the camera's automatic exposure is accurate. The Sofort isn't trigger-happy with the flash either, so you'll end up with many more usable photos than you'd have gotten with less sophisticated cameras. It can shoot 100 of them on one charge of its Li-ion battery.
What's Bad About It?
The Sofort is the most expensive camera on review. That's partly due to its excellent build quality and automatic settings. However, you're mostly paying for the Leica brand since its results aren't that much better than others'.
Tech Specs
Dimensions: 4.8 x 3.7 x 2.3"
Weight: 10.8 oz
Film format: Instax Mini
Lens: 60mm f/12.7
Minimum focus distance: 1'
Batteries: Internal, rechargeable
Pros
Excellent image quality, especially in low light
Intuitive interface
Eight photo modes to choose from
Appealing look distinctive to Leica products
Cons
Very expensive without proper justification
5. Impossible I-1
View on Amazon
Editor's Rating: 4.3/5
Polaroid Originals was known as Impossible before they sorted out the defunct company's legal issues. The I-1 was their first new camera. It's fine in its own right, but the camera also introduced many of the features that would later successfully appear in the OneStep+. It has a foolproof user interface, an excellent companion app, and a clever way of displaying the status by using the large ring flash.
Overview of Features
The I-1 wins our award for weirdest design as it looks nothing like a modern camera, Polaroid or otherwise. It has a large square base that handle s film storage and ejection. On top of that is a pyramid shape with a cylinder containing the ring flash in front. There's no real viewfinder; you get one that attaches with magnets and is useful for roughly lining up a shot without parallax issues, but it's not the real deal.
There are few physical controls, all of them minimalistic and easy to grasp. The large dial on the right is your main control hub, as it has the most functions. It acts as a shutter release you half-press to acquire focus and press fully to take a photo. It also powers the I-1 on and off or switches to Bluetooth mode.
The ring is home to two more toggles. One adjusts exposure in single full stops while the other enables or disables the flash. The ring flash consists of eight large and four small LED lights. Switching the I-1 on causes the ring's larger lights to flash, indicating how many of the eight I-type or Polaroid 600 exposures are left. You may also use the lights to gauge the battery level. It's time to recharge if three or less blink as you won't be able to use the flash otherwise.
The I-1 works with the same app as the OneStep+, meaning it has more options than its simple appearance would have you believe. Setting up a remote shutter or timer is easy, as is playing around with light trails or clapping to activate the shutter. A scanner function is used to take digital images of snapped photos and share them with other users.
What We Didn't Like
The I-1 uses the same film types as the OneStep+ and has the same related drawbacks. Additionally, the viewfinder is unpractical. Being held by magnets means it's easy to lose it accidentally. You frame a shot by aligning a silver dot in one of the finder's frames with the center of another. The dot takes up a lot of space and can obstruct crucial details.
Tech Specs
Dimensions: 4.2 x 4.8 x 2.7"
Weight: 13.9 oz
Film format: Polaroid Originals i-Type, Polaroid 600
Lens: 82-109mm f/10-67
Minimum focus distance: 10.3"
Batteries: Internal, rechargeable
Pros
Straightforward controls anyone can use
Excellent app
Intuitive status reports via ring flash
Has rechargeable battery
Cons
Poorly –executed viewfinder
Film is expensive & needs specific conditions to develop as intended
6. Best Budget Option – Fujifilm Instax Mini 11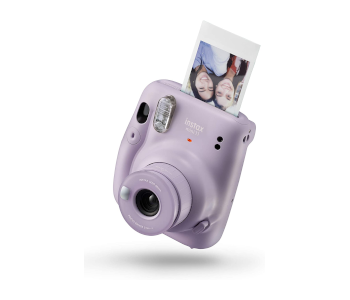 View on Amazon
Editor's Rating: 4.1/5
The Instax Mini 11 succeeds the Mini 9, an affordable and simple camera that's long been a favorite gift idea for novices interested in Polaroid photography. The newer version is easier to use, handles everything automatically, and captures much more detail than its predecessor. It uses Instax Mini film and widely-available AA batteries, so continued usage isn't too expensive either.
Overview of Features
The newest Instax Mini camera looks like a toy more than a photographer's tool. It's full of soft round curves and available in a range of pastel colors. There are no manual controls to confuse newcomers and kids – even the flash is always on and can't be disabled. Unlike other models, the Instax Mini 11 is designed to work in portrait mode most of the time and has a thick enough base to make the absence of a tripod mount a non-issue.
Shooting with the Instax Mini 11 boils down to finding a subject and pressing the shatter. You'll have to turn it on first by pressing a button that causes the lens barrel to extend. Tugging on the barrel's front will cause it to pop out one step further and decrease the close focusing distance for selfies. This is a much better solution than the 9's tedious clip-on attachment. A mirror helps with framing as well.
There are no controls in the back, but the film compartment has a pair of holes that tell you whether there's film inside, along with the number of remaining images. The viewfinder is positioned in the top right corner, so photographers used to framing through the right eye will have to undergo an adjustment period. Some parallax is present, but it's controlled better than on many more expensive models.
Image quality is the Instax Mini 11 strong suit. There's little difference between it and even the prohibitively expensive Leica Sofort due to the film's limitations. The camera has a variable shutter speed between 2 and 1/250 of a second, so it can get away with using the flash even in conditions where other cameras might not need it.
Are There Drawbacks?
The Instax Mini 11 is a great choice for parties and other indoor events but struggles with outdoor images. It tends to overexpose the sky and produces bright outdoor photos you can do nothing about since there's no exposure control. The lack of control options and features like multiple exposure or bulb mode is limiting.
Tech Specs
Dimensions: 4.3 x 5.7 x 4.3"
Weight: 15.5 oz
Film format:
Lens: 60mm f/12.7
Minimum focus distance: 10.3"
Batteries: 2 x AA
Pros
Image quality is comparable to more expensive models
Exceptionally easy to use
Several features perfect for selfie lovers
Cheap to purchase and maintain
Cons
Lack of advanced Polaroid camera features limits growth
Overexposes outdoor photos