Polaroid Instant Camera: The Best in 2020
3D Insider is ad supported and earns money from clicks, commissions from sales, and other ways.
Even though this is clearly the era of digital photography, there is one camera type that will instantly take you back to a time when you can physically hold prints in your hand. Instant film and cameras are certainly making a comeback. There are many new devices from a variety of manufacturers.
There are a lot of reasons why instant cameras are getting a lot of attention. One of them is undoubtedly the idea of handing someone a photo right after you took it. No other technology can top that. It is a great way to take and share moments that are different from a smartphone picture.
Instant cameras also produce this distinctive style of image quality, which can be nostalgic or simply different than the rest. If you want to stand out from the crowd, an instant print will surely make you pop out.
Instant Camera Comparison
Instant cameras are not just about the Polaroid brand. Although they pioneered it, lots of new players have jumped in and produced their own devices. Now, there are quite a few to choose from so let's take a look at the best ones so you can choose the right one for you.
Polaroid
Originals
OneStep+
Fujifilm
Instax
Mini 11
Leica
Sofort
Instax
Square
SQ6
Polaroid
Now
Lomo
Instant
Automat
Fujifilm
Instax
Wide 300
Type
Instant
Camera
Instant
Camera
Instant
Camera
Instant
Camera
Instant
Camera
Instant
Camera
Instant
Camera
Film Type
Polaroid
600 & I-
Type
Fujifilm
Instax Mini
Fujifilm
Instax Mini
Fujifilm
Instax
Square
Polaroid
600 & I-
Type
Fujifilm
Instax Mini
Fujifilm
Instax
Wide
Image Size
108 x 88
mm
62 x 46
mm
62 x 46
mm
62 x 62
mm
108 x 88
mm
62 x 46
mm
99 x 62
mm
Lens
103 mm /
89 mm
60 mm
f/12.7
60 mm
f/12.7
65.75 mm
f/12.6
94.96 mm /
102.35 mm
38 mm
f/4.5
95mm f/14
Minimum
Shooting
Distance
60 cm
35 cm
60 cm
30 cm
60 cm
30 cm
40 cm
Modes
Macro,
Normal,
Landscape
Sunny,
Cloudy,
Indoor and
Hi-key
Macro,
People,
Sports,
Selfie
Automatic,
Macro,
Normal,
Landscape
Auto
Auto,
Bulb
Dark,
Normal,
Light
Flash
Built-in
Built-in
Built-in
Built-in
Built-in
Built-in
Built-in
Timer
YES
NO
YES
YES
YES
NO
NO
Viewfinder
Optical
Optical
Optical
Optical
Optical
Optical
Optical
User Level
Pros,
Enthusiasts
Beginners
Pros,
Enthusiasts
Beginners,
Enthusiasts
Beginners
Enthusiasts
Beginners
Best Polaroid Instant Cameras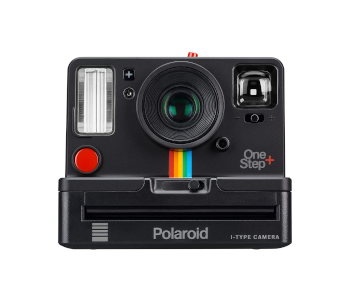 Retail Price: $139
You might think that the Polaroid Originals OneStep Plus is from another decade, but it's actually pretty recent. Since the retro design trend is getting a lot of attention, Polaroid decided to join in with a brand new camera that looks just like their old ones.
Design
If you are looking for the ultimate throwback tool, the OneStep Plus is it. At first glance, it looks nothing like modern cameras. It's classic shape, design, colors, and rainbow detail screams retro. It is undoubtedly not the camera that you keep in a drawer inside your room, but on a shelf in your living room for everyone to see.
An exciting feature of the OneStep Plus is the different shooting options that it gives you. Polaroid released a lot of new film styles that go well with this instant camera. You can shoot in traditional colors or black and white. They also offer exotic film options like a blue ombre pack or one that highlights bright colors.
Performance and Features
The instant camera itself is also packed with modern features. It comes with zoom, self-timer, and flash, that will improve your shots. You can also choose between automatic or manual modes, which comes in handy if you want more control of your pictures. The OneStep Plus also comes with two lenses that will allow you to quickly switch for depth of field so you can take portraits or landscape photos with ease.
The remarkable thing about the OneStep Plus is that it is incredibly easy to use. Even though it does come with these added features, it still is, in essence, a point and shoot Polaroid with the capability to give you a few more options if you want to get creative.
What the OneStep Plus has that the original Polaroids do not is its connectivity features. You can connect the instant camera to the Polaroid app on your smartphone via Bluetooth. With the app, you get access to more customization options that you would not be able to access on the camera. You can change settings like the shutter speed, aperture, and ISO, which is excellent for serious photographers.
The Polaroid OneStep Plus is an outstanding device. It is more than your usual instant camera. It is packed with customization options that you would only usually find on a mirrorless or DSLR. You still get that nostalgia and instant satisfaction of getting the prints after you press the shutter.
PROS
Elegant and durable design
ScreenPad is an innovative addition
Comfortable keyboard
Excellent audio thanks to the ErgoLift hinge
CONS
The display is on the dim side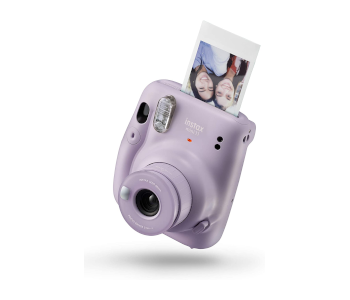 Retail Price: $69
Fujifilm has got their instant camera down to perfection with the launch of their Instax Mini 9. They have refined their proven formula, taking their cameras to the next level with the Instax Mini 11. If you are looking for the ideal starter device to try out instant photography, this is the camera for you. Its pricing even makes it an excellent gift idea for your friends and loved ones.
Design
The Instax Mini 11 comes with a familiar design as it shares a similar rounded appearance as its predecessor. It is significantly slimmer, but you will still have a hard time putting it in your pocket. It is still portable, though. You just need to contend stashing it inside a bag.
One of the interesting new features of the Instax Mini 11 is its auto exposure system. It is now capable of capturing the right amount of light in just about any shooting scenario. However, there is a downside to this since you will not be able to manually disable the flash. It is not really much of a problem, but if you are someone who wants more control over your camera, this might be something you wish you can do.
Performance and Features
The Instax Mini 11 also comes with a selfie mode. The barrel has an extra pull that extends the lens for close-up shots. This is a significant upgrade from the Instax Mini 9's clip-on selfie attachment that is easy to misplace or forget.
As for image quality, the Instax film produces pastel colors with soft focus details. This gives your photos that instant camera feel, something you should be after when getting the Instax Mini 11. There is a learning curve when it comes to shooting with instant cameras, and you will have to deal with that with this one. You can get shots washed out with overblown highlights, but it is simply what you have to contend with most instant cameras on the market.
The Fujifilm Instax Mini 11 is a significant improvement to their instant camera line. The price also makes instant photography accessible to beginners. Also, add the accurate auto-exposure system that allows you to use the camera as a point and shoot with an instant twist. The Instax Mini 11 is undoubtedly a fun and affordable way to get into instant photography.
PROS
Elegant and durable design
ScreenPad is an innovative addition
Comfortable keyboard
Excellent audio thanks to the ErgoLift hinge
CONS
The display is on the dim side
Retail Price: $479
Leica is known for its quality but incredibly expensive cameras. In fact, the Leica Sofort instant camera is one of their more affordable devices even though it costs just under $500. So, if you are looking to own a Leica, this is one of those cameras to get as it is relatively reasonable compared to their other models.
Design
The Sofort looks absolutely stunning. The boxy retro design looks just like the old Instagram logo, which says a lot about this camera. It fits nicely in your hand and portable enough to bring along on photoshoots, but it will not fit inside your pocket.
As for the design of the camera, the Sofort is unmistakable with the large lens, viewfinder window, flash, and the Leica red dot. It also comes with a small mirror for selfies, since you will undoubtedly take a few with this camera.
The rear of the camera looks just like any digital camera with a large LCD that shows you camera settings and remaining shots. You will also find a hatch where you can refill the film and replace the rechargeable batteries.
Performance and Features
What makes the Sofort significantly different from other instant cameras out there are its many shooting settings. It has three focus steps, namely, Macro, Standard, and Landscape, and eight modes that allow you to maximize your shots.
Since it is an instant camera, it uses film. The good news is that it uses ISO 800 Instax film, which is affordable and readily available. You can get it from both Fuji or Leica, so you do get a choice on what film to get. This gives it excellent image quality, giving you that unmistakable instant film look.
The Leica Sofort is a fun and excellent camera to use. It is stylish and eye-catching that will grab the attention of whoever you are with. However, its shots will look like most instant cameras, including more affordable ones like the Fujifilm Instax Mini 11. This is not a camera you buy for its image quality, though.
PROS
Eye-catching retro design
Simple to operate
An affordable entry to the Leica brand
CONS
A bit pricey compared to other instant cameras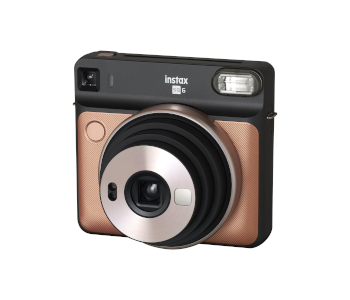 Retail Price: $129
The Fujifilm Instax Square SQ6 is a quirky instant camera that is fun to use and delivers the results that you expect. The various shooting modes that it comes with is most certainly welcome, and the ability to use it with another is exciting to try out.
Design
If you are familiar with the Instagram logo, then the Instax Square SQ6 will look awfully similar. It could be a design choice since both of these brands are all about fun and making memories. The camera is all about the large lens that has a focal length of 66mm. It retracts when not in use to save space, and there is also a small mirror that you can use to compose selfies.
The camera has a lot of different shooting options. Of course, you get normal mode, but aside from that, it allows you quick access to selfies, macros, landscapes, and even double exposures. There is also a tripod mount on the base, allowing you to use the camera with its self-timer feature so you can join the shot.
Performance and Features
The Instax Square SQ6 is incredibly straightforward to use. You can use it as a point and shoot with the Auto mode, but it does give you more control compared to other instant cameras. This camera is on the bulky side, but it is still incredibly portable. It comes with straps that you can wear to make it easy for you to move around and shoot when a scene presents itself.
Images that you take using the Instax Square SQ6 will have that instant camera quality. The colors are slightly desaturated with dense shadows, but this is precisely one reason you will get the camera. It is not really a problem since this is the perfect aesthetic for instant cameras.
It helps to know how the camera reacts in certain conditions, so you don't have to waste precious film paper. Although it takes a while to understand how a particular scene will print, it helps to know when to use different modes to get the perfect shot every time.
The Fujifilm Instax Square SQ6 is more like a physical Instagram. The square developed images make great keepsakes for just about any occasion.
PROS
Square prints are handy
Gives you more control than other instant cameras
Incredibly easy to use
Excellent build quality
CONS
Takes time to learn different modes and exposure levels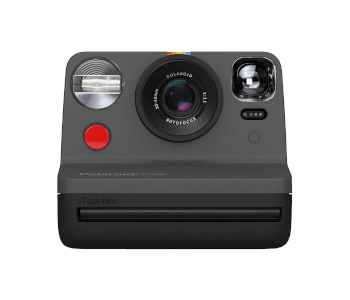 Retail Price: $119
If there is an instant camera that looks like one from decades ago, it's the Polaroid Now. Even though it seems like one of the original Polaroids, they have put in many upgrades and improvements to make shooting on instant film significantly easier.
Design
The classic Polaroid instant cameras have a very distinctive look. The Now takes that design language and takes it to a new level that's simpler and intuitive. It is more streamlined with the viewfinder in a more user-friendly position and a shot counter that shows you how many prints you have left.
If there's one thing about the Now's design that might not sit well with users is its boxy shape. It can get a little challenging to use, but it does come with a neck start that makes it portable whenever you are shooting.
Performance and Features
The Now is more or less a point and shoot instant camera. It comes with an impressive autofocus feature that delivers consistent results. An advantage of this is that it does not have any shooting modes, so you can simply take shots and enjoy your prints. You will not need to get familiar with different settings since there are not, which makes your life a lot easier.
One thing to note with the Now is that the flash automatically turns on with the camera. So, if you are shooting brightly lit scenes, make sure to turn it off to not overexpose your shots. As with most instant cameras, perfecting your shot exposures can be a bit tricky. This is one factor to really remember, so you know when to deploy your flash or not.
Prints have muted colors with delicate details, while the darker elements such as shadows are usually more prominent. It is what you expect from an instant film camera.
The Polaroid Now's autofocus is an absolute step up from most instant cameras. It becomes quite useful in a lot of different scenarios. Even though it comes with an autofocus feature, it does take a bit of experimentation to get your shots right. This is an instant camera that's a lot easier to use compared to other models.
PROS
Shoots in classic polaroid-sized paper
Autofocus makes shooting easier
Incredible battery life and USB charging feature
CONS
The bulky shape that's not easy to carry around
Retail Price: $99
Lomo cameras are getting a lot of attention these past years with its retro and analog look and feel. The Lomo'Instant Automat is their first instant camera that takes its core beliefs as inspiration for their device.
Design
As with most cameras that use instant film, the Automat is boxy and quite large. It takes up a significant amount of space in your bag. It can get bulky, but it is not heavy, allowing you to carry it around with you whenever you go for shoots.
Loading the film on the Automat is simple. There is a dedicated compartment at the rear of the camera where the Fujifilm Instax film can slot. There are three operating modes to choose from when shooting with the camera. Automatic, marked with an A, is for everyday all-purpose situations that call for quick shots. Then there is the creative with flash mode, which allows you to take more artsy photos with added lighting. Finally, there's creative without flash mode, for when there is enough light, you do not overexpose your shots.
The camera also comes with advanced shooting settings such as multiple exposures, focus range, and exposure compensation. These come in handy if you want more control of how you want your shots to look like.
Performance and Features
One of the more exciting features of the camera is its lens. It does come with a built-in lens with a focal length of 27mm, and to top it off, there are three attachable ones to allow you to shoot fisheye, portrait, and close-up.
The Automat is also a more advanced camera with added settings like multiple and long exposures to give you more control of your shots. However, as an instant camera, it can be tricky to get used to, especially if you are a beginner.
Your best shots are going to be outdoors in bright and sunny conditions as it lessens the guesswork. Although you will still need to extra careful since you will quickly get overexposed shots when your subjects are close to bright light sources. Indoors are more challenging, but you can always rely on the flash for extraordinary images.
It does take some experimentation to get the settings down for perfect shots. It is also a good thing that the Automat uses Fujifilm instant paper since it is more affordable, allowing you to make some mistakes.
The Lomo'Instant Automat is one of those fun instant cameras that focuses more on analog photography. If you are a fan of that, it is definitely something to consider.
PROS
Fun instant camera to use
Instant prints
Manual modes for getting the right shot
CONS
Still needs some experimentation to get settings right for the perfect shot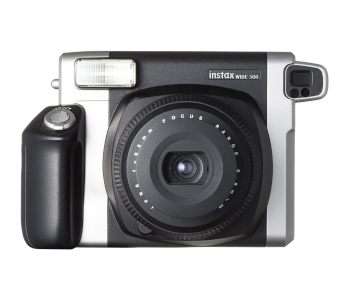 Retail Price: $89
The Fujifilm Instax Wide 300 is a large format instant camera that offers excellent exposure, color saturation, and clarity. If you are looking for one that will closely resemble the output of the classic Polaroid, this is the camera for you.
Design
Since it is a large format camera, it needs to be big to accommodate the larger size of its instant film. An advantage of its size, though, is that it is a lot easier to shoot with because of its handgrip with the shutter button.
As with most instant cameras, there is an optical viewfinder and a lens for shooting. One thing to note about the Instax Wide 300 is that it is powered by four AA batteries, so you can always have some reserves lying around during a long shoot. It also uses the Instax Wide film, which is affordable, allowing you to make some mistakes during shoots.
Performance and Features
The Instax Wide 300 is a simple, instant camera. It does not have the creative modes of other models, but it makes up for it in user-friendliness. The main option you get with this camera is light and dark modes, giving you control of exposure levels depending on the situation. It has focal ranges for both portrait or landscape so you can have variety in the subjects that you shoot.
If you are looking for a way to shoot close up or selfies, it does come with an attachable lens that will allow you to get those. The camera has a flash bulb, but you are not able to turn it on or off manually.
These are definitely basic settings, and the camera does not offer more ways to adjust your shots. However, it feels like these features are enough to fully enjoy the Instax Wide 300.
Even though you might think that you will not get quality shots from this camera, it will prove otherwise. The colors are incredibly vibrant, with excellent saturation for a more striking image. Exposure is also not a problem with the camera since it can tone down bright areas for it to appear clear. Shooting under the bright sun with this is not going to be much of a challenge.
The Fujifilm Instax Wide 300 is a simple yet reliable camera that can consistently produce good shots without the guesswork. It is incredibly dependable, especially when you are shooting subjects under the bright midday sun.
PROS
Large format prints
Consistent photo quality
Easy to use
Consideration in Choosing a Polaroid Instant Camera
Ease of Use
One of the things that you should consider when getting an instant camera is how user friendly it is. In most cases, most instant cameras are pretty basic, so getting the shot you want should not take a lot of time.
You have to remember that the characteristics of instant cameras are different than traditional cameras. Exposures and color saturation are other, so you will have to try out a few shots to see how it develops your photo. They can be easy to use physically, but if you take this into account, some can be inconsistent.
If you are a beginner, it is best to stick to consistent and reliable instant cameras when it comes to image quality, allowing you to save money on film costs.
Film and Print Size
If you are concerned about size, then you should understand that the eventual film and print size plays a part in how large an instant camera gets. Unlike its digital counterparts, the film needs to be loaded into the camera before you take a shot. If the film size is large, your camera needs to big to fit it.
Fujifilm's Instax Mini line has a smaller print size, so their cameras that use that film are usually more compact. They also have the Instax Wide line, which is quite hefty because they print much larger pictures.
Printing Time
Polaroid instant cameras are known for their quick image and print processing. The camera and the film have a significant role in developing the photos. For the most part, the print processing time is all about how fast does the film dry up after taking the picture.
This number varies a lot between cameras. Some can take ten minutes while others can take as long as thirty for their images to fully process. You must stick to the number that the manufacturer has stated since how the picture on the film dries up affects the quality.
So, if you are looking for quick turnaround time for prints so you can share them with your friends and family, make sure to get one that offers it.
Additional Features
Different instant cameras also come with varied features. Some are simple with basic features, while others can offer you advanced shooting modes and adjust settings to give you more control over your shots.
This will all depend on your skill level with an instant camera since being adept at it allows you to produce photos that are quite different compared to other types.
Which is the Polaroid Instant Camera for You
Whether you are a serious or even a casual shooter with instant cameras, if you are looking for the best, this is the one to get. It is packed with features that rival digital cameras, only you get the novelty of being able to print in instant film. It does come with Bluetooth capabilities, which is a plus for instant cameras, giving you more control so you can achieve the shots that you want.
It is a bit on the expensive side. Still, with the features and capabilities that it has, it is the camera that will produce one of the best images you will get on instant film.
If you are looking for the perfect instant camera for beginners, this is the one to pick up. It also makes a lovely gift to family or a friend who loves photography. One of its hallmarks is its ease of use. One-button operation with this camera is certainly possible, so it is near impossible to go wrong by getting this camera.
The price of the Instax Mini 11 is incredibly affordable. Couple that with the Fujifilm instant film, which is equally reasonable, allowing you to get it out of your bag and start shooting at just about anything.
This is Instagram in its physical form. The Fujifilm Instax Square SQ6 is an excellent camera for casual users and enthusiasts that want a different look in their prints. It is more about capturing moments and memories rather than professional photos.
This camera is straightforward to use. It can even be considered a point and shoot since that's essentially what you do. Selfies are also possible with the Instax Square SQ6, which is definitely going to be a hit with its much younger users.
Wrap Up
Polaroid instant cameras are certainly a different take on photography. Professionally, they are used by photographers to get a feel for their shots before making the proper adjustments with their digital cameras. For casual users, though, they are mostly for fun and capturing the moment.
The social media trend might have helped the resurgence of instant cameras. Still, they surely give you a new perspective on photography. Even though they are based on old technology, the innovations make these quirky and fun cameras what they are.
Whether you are a casual user or a photography enthusiast who wants to explore this field more, instant cameras are one of the ways to expand your hobby or simply make a lot of fun memories from moments with friends and family.