6 Best Portable Camera Flashes of 2019
3D Insider is ad supported and earns money from clicks and other ways.
Every photographer has made some photos they'd rather not exhibit. Sometimes the composition is wrong, or the depth of field is too shallow, but a lot of the time the scene looks bad because of poor lighting. One solution is to buy a better camera – DSLRs, in particular, perform well in low light. However, it's wiser to invest in a portable flash instead.
Portable flashes are stand-alone lighting tools that provide a burst of light as you're about to shoot. They can connect directly to your camera and receive a signal as you press the shutter button. You may also arrange them into a complex array of lights that completely transform a scene and illuminate it from different angles. Flashes aren't only suitable for low-light situations, though. They can act as fill or backlights and add depth to a shot, or they can add that extra oomph to outdoor photos that would look drab otherwise.
This in-depth guide goes over the six best portable flashes you can buy today. Our top picks will appeal to photographers of all skill levels and budgets. Some are expensive and camera-specific while others offer incredible value and work with all major camera brands. Pick the flash that suits your needs and start taking better-quality photos today!
Budget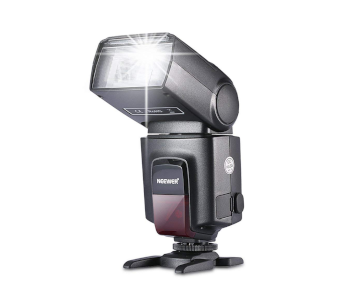 Neewer TT560
4.2/5.0
Coverage: 24 to 105 mm
Guide distance: 125 ft.
Works well as a slave to more advanced flashes.
Check Amazon
Best Value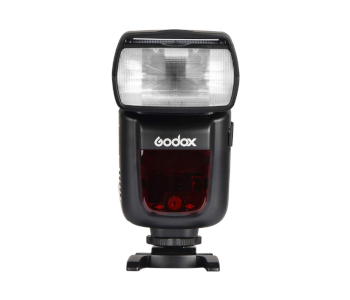 Godox V860II-C
4.6/5.0
Coverage: 20 to 200 mm
Guide distance: 197 ft.
This can match high shutter speeds.
Check Amazon
Top Pick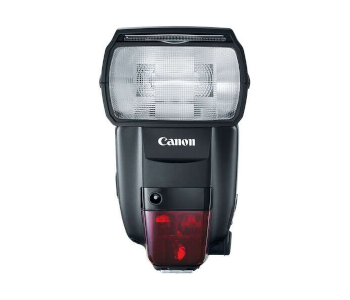 Canon Speedlite 600EX II-RT
4.8/5.0
Coverage: 20 to 200 mm
Guide distance: 197 ft.
Can communicate with other flashes wirelessly.
Check BH
Portable Flashes Comparison Table
1. Best Overall – Canon Speedlite 600EX II-RT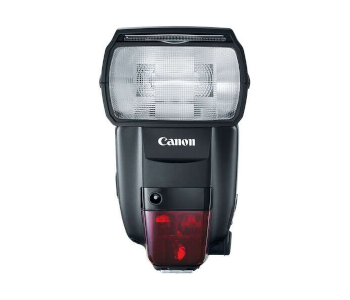 View on BH
Editor's Rating: 4.8/5
Are you a wedding photographer or often create elaborate shots that require a precise lighting choreography? If so, you shouldn't hesitate to go all out and buy the Canon Speedlite 600EX II-RT! This durable light seamlessly communicates with others either via optical cues or radio waves. It features excellent recycling times, gets a lot of flashes out of a battery pack, and is easy to customize. There's a hefty price tag to consider, but other options can't compare.
Overview of Features
The 600EX II-RT is a portable flash that fits onto the hotshoe mount of any Canon EOS camera. It is made from premium-grade materials and resistant to both dust and water. That makes the 600EX II-RT fantastic for outdoor photography and working in less than ideal conditions. The flash rotates 90 degrees upwards and swivels 180 degrees in either side. It even rotates 7 degrees downwards if you need to shoot from above and up close.
The best thing about the 600EX II-RT is how versatile it is when communicating with other flashes. On the one hand, you can set it either as a master or slave if it is in visual range of other flashes within 60 feet. You won't always set flashes up so they shine on one another. That's why the 600EX II-RT uses 2.4GHz radio waves to communicate with other flashes wirelessly regardless of their position. This lets you create complex lighting setups and bring out the best in your subjects!
The flash emits a natural white glow whose color temperature is 5,600 Kelvin. Its maximum guide distance is 197 feet, allowing you to shoot from far away yet produce perfectly-lit photos. It's also speedier than the original 600EX RT since it has improved heat dissipation. The flash runs on four AA batteries which are good for 100 to 700 uses depending on the settings.
The 600EX II-RT's LCD and intuitive control scheme give you access to the flash's considerable options. The menus are easy to navigate, and the screen displays information like flash readiness or master & slave settings in an easy-to-read format.
What We Didn't Like
The 600EX II-RT is expensive. Buying one isn't a problem, but photographers who need this kind of power and versatility require multiple units for the best results. The flash comes with a sparse instruction guide that doesn't explain its advanced features in detail.
Tech Specs
Dimensions: 3.1 x 5.6 x 4.9 in.
Weight: 13 oz.
Compatible with: Canon EOS
Coverage: 20 to 200 mm
Guide distance: 197 ft.
Flash duration: 1/430 to 1/550 second
Recycle time: 0.1 to 5.5 seconds
Power range: 1/1 to 1/128
Flash color temperature: 5,600K
The Pros
Excellent guide distance
Can communicate with other flashes wirelessly
Informative LCD
Good battery use
The Cons
Expensive
Comes with poor instruction manual
2. Best Value – Godox V860II-C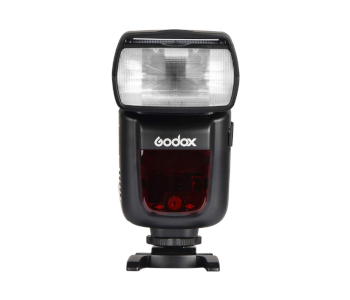 View on Amazon
Editor's Rating: 4.6/5
Godox isn't a widely-known name in the business, but the V860II-C is reason enough to have it roll off your tongue along with the greats. The off-brand company's flash is compatible with cameras from Sony, Nikon, and Canon. It offers fantastic value since it comes with premium features at a middling price. These include a long guide distance, wireless configuration, and quick recycling times. Best of all, it has a rechargeable battery.
Overview of Features
The V860II-C looks and acts similar to our overall winner. The build feels equally sturdy, although Godox doesn't guarantee water and dust resistance. The flash is free to move 180 degrees left or right and has the same up and down angles as Sony's model. Similarities continue with the accessible control scheme and an LCD that displays relevant information in a bold font.
The greatest difference between the two flashes is the V860II-C's power source. It comes with a rechargeable 2,000mAh Li-ion battery. A full charge is enough for 650 shots, so you can work all through a wedding and not run out of juice. Even if you do, Godox backup batteries are inexpensive and easy to replace.
The V860II-C is another flash that connects both optically and wirelessly. Unlike Sony's model, it doesn't use a proprietary wireless connection and can communicate with flashes of different brands. The link is stable and has a maximum range of 300 feet when shooting outdoors. Speaking of which, the V860II-C is ideal for outdoor photography due to its power and response times.
A max guide distance of 197 feet allows the V860II-C to illuminate far-away subjects at wide angles. You can also use the flash in conjunction with a fast shutter speed if you turn on HSS or High-Speed Sync. This feature syncs the flash with your camera's shutter, letting you take photos that have a blurry background while keeping split-second action sharp.
What's Bad About It?
There's a reason Canon uses a proprietary communication technology – less interference from nearby sources. You'll want to keep the number of connected flashes low and not put the V860II-C close to cellphones to avoid connection issues. Although exceptional at first, the V860II-C's recycle time increases drastically with excessive use. You can rely on speedy recovery when shooting in small bursts but have to let the flash catch a breather to avoid long recycle times.
Tech Specs
Dimensions: 2.5 x 3 x 7.5 in.
Weight: 15.2 oz.
Compatible with: Canon, Nikon, Sony
Coverage: 20 to 200 mm
Guide distance: 197 ft.
Flash duration: 1/300 to 1/20,000 second
Recycle time: 0.1 to 1.5 seconds
Power range: 1/1 to 1/128
Flash color temperature: 5,600K
The Pros
Exceptional value for the money
Wireless connection
Can match high shutter speeds
Excellent rechargeable battery
The Cons
Unreliable wireless connection
Increase in recycle times with intensive use
3. Metz Mecablitz 64 AF-1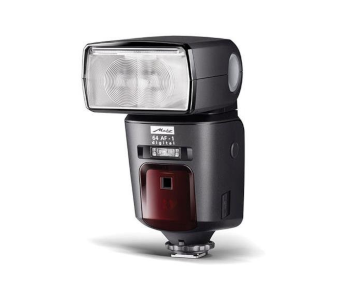 View on Amazon
Editor's Rating: 4.5/5
Do you need a powerful flash that can light up an entire wedding venue? Does your work often involve filming in the dark outdoors? The Metz Mecablitz 64 AF-1 is ideal for both situations and more thanks to its power output and remarkably long guide distance. The Mecablitz 64 AF-1 is actually two flashes in one, has an intuitive touchscreen interface, and retains good color balance in all lighting conditions.
Overview of Features
The Mecablitz 64 AF-1 is by far the heaviest model on review. That's not surprising considering its output as well as the fact that it has a secondary flash. When the primary's swivel head is moved up to expose it, the smaller flash can act as a fill light. This is particularly useful when you're shooting high-contrast scenes where you want to retain the details of subjects exposed to a bright outside light source. When you're not using it like a flash, the Mecablitz 64 AF-1 can also act as a model light.
Unlike other flashes we've tested, the Mecablitz 64 AF-1 has a responsive touchscreen. All of its advanced options are tucked away inside logically structured menus and reachable with a few taps. That's why the flash's physical interface consists of only three buttons. Some photographers might prefer a full set of physical controls, but we found that adjusting exposure settings or cycling between modes was just as accessible by touch.
Reliability is the Mecablitz 64 AF-1's finest feature. It puts out the same amount of light whether you've inserted four fresh AAs or are about to run dry. Standard batteries are good for 130 flashes while switching to a Metz power pack raises that number to 300.
The combination of variable angle and a 210-foot guide distance mean that a single Mecablitz 64 AF-1 can light up a vast space. Think a large part of a park or an entire alley at night! Subjects that are too close to it will be overexposed, but everything 10 feet away and more is bathed in white light yet retains all of its details. Photos shot this way turn out fantastic as colors are true to life and the scene is evenly lit regardless of distance.
Are There Drawbacks?
The Mecablitz 64 AF-1 isn't suited for long, rapid-fire shooting sessions because it overheats quickly. Not letting it cool down in time results in freezing and even damage if you're careless. The power button sits to the right of the screen. It is located on the edge and easy to press accidentally when packing up the flash. You'll need to check and see it's off before storing it to avoid draining the batteries.
Tech Specs
Dimensions: 3.1 x 5.8 x 4.4 in.
Weight: 31.5 oz.
Compatible with: Canon, Nikon, Olympus, Sony, Panasonic, Pentax
Coverage: 24 to 200 mm
Guide distance: 210 ft.
Flash duration: 1/180 to 1/18,000 second
Recycle time: 0.1 to 4.4 seconds
Power range: 1/1 to 1/256
The Pros
Long guide distance
Has fill light and doubles as model light
Covers wide area without compromising color balance
Responsive touchscreen
The Cons
Prone to overheating
On/off button is awkwardly placed
4. Nissin Di700A Air Flash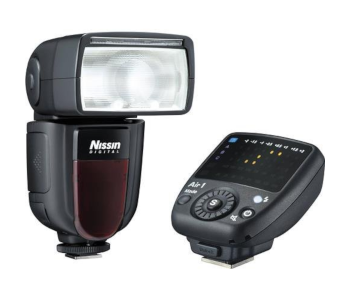 View on Amazon
Editor's Rating: 4.3/5
The portable flashes reviewed so far are all sophisticated and come with lots of features. What if you want one that's approachable for beginners yet helps you make professional photos? In that case, you should pick up Nissim's Di700A Air Flash. It's a no-frills workhorse that's easy to master and use in either everyday situations or for special occasions. You can get it for a wide array of leading camera brands, and there's also a wireless commander unit for brands that don't support radio communication natively.
Overview of Features
The first thing you'll notice about the Air Flash is its clean appearance and excellent build quality. Its plastic body feels sturdy and won't crack if the flash falls accidentally. There's a simple physical interface on the back consisting of a function dial, on/off and set buttons, and an indicator light. The flash has a range of motion equal to Sony's and Godox's. The difference is that you need to hold down a button to rotate it. Releasing the button locks the flash in place.
The Air flash shoots in a handful of modes. TTL is the standard while Manual, Optical Slave, and Wireless modes are also supported. You toggle between them using the dial. Once you have the desired settings, pressing the power button will lock them, preventing accidental changes. You release the lock by holding the set button, so the whole process is straightforward. You can view the current setup on the Air Flash's display. It lights up with LEDs as settings are selected and shows levels with a yellow progress bar. The visuals are simple, and you'll understand them right away.
This model comes with the Air Commander, a separate controller that connects to the flash through radio waves. It has a range of 98 feet and lets you fire the flash remotely in TTL mode. You can connect the Commander to multiple flashes and organize them into three groups. You're then able to tweak exposure settings for each group.
Another thing you'll like about the Air Flash is the way it handles batteries. You get a separate battery cartridge that needs to be preloaded with four AAs. It takes seconds to replace the compartment and more than 200 shots to deplete the batteries.
What We Didn't Like
The A1 Commander's connection isn't reliable, especially on the fringes of its 98-foot range. The manual doesn't explain pairing the flash and Air Commander properly. You have to turn both off, hold the on and set buttons for three seconds on the flash, and then do the same on the Air Commander to sync them.
Tech Specs
Dimensions: 5.5 x 3 x 4.5 in.
Weight: 13.4 oz.
Compatible with: Canon, Fujifilm, Nikon, Olympus, Sony, Panasonic
Coverage: 24 to 200 mm
Guide distance: 177 ft.
Flash duration: 1/800 to 1/30,000 second
Recycle time: 0.1 to 4 seconds
Power range: 1/1 to 1/128
The Pros
Great for beginners
Supports wireless communication with wide range of cameras
Interface is informative and easy to navigate
Battery cartridge speeds up replacement
The Cons
Unreliable connection to the Air Commander
Unclear connection procedure explanation
5. YONGNUO YN560 IV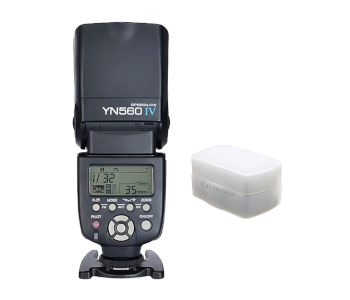 View on Amazon
Editor's Rating: 4/5
The Speedlite 600EX II-RT works only with Canon cameras and becomes prohibitively expensive if you need more than one. What if you could get a flash that costs a fraction of its price but lets you pull off equally elaborate lighting setups? That's when you turn to Yongnuo and their latest YN560 flash! Its fourth iteration is perfect for manual shooters that need to coordinate multiple flight sources. The flash has a straightforward setup, works well indoors, and costs so little that buying a few extra will barely put a dent in your wallet.
Overview of Features
You'd think that an inexpensive flash such as this would be made poorly, but that's not the case! The YN560 IV's build quality is on par with Godox and Nissin. Its only limitation is constrained horizontal rotation – the flash can move left and right for a total of 270 degrees instead of the usual 360. Other intriguing physical features include a spring-loaded battery compartment and a physical interface with the most buttons we've seen so far.
The YN560 IV performs consistently, even during prolonged sessions. Recycling times hover around 3 seconds when using the flash at full power regardless of battery levels. Decreasing the output reduces recycling times even more, allowing you to take successive shots. Overheating isn't a problem either unless you've been at it for a while.
Indoor photographers will appreciate the YN560 IV's flexibility in communicating with other flashes. One YN560 IV can act as a master to models from the same and previous generations. You can assign flashes to three groups and control the power as well as the exposure settings for each one. Unlike some entries on our list, controlling multiple YN560 IVs isn't hindered by breaks in communication.
What's Bad About It?
The YN560 IV has two drawbacks; one is situational while the other affects any user. The first is that the flash only has a manual mode and doesn't come with TTL or HSS. TTL is useful when you're learning or don't have time for manual adjustments. It uses infrared to gauge a subject's light exposure and calculate needed flash power. The exclusion of HSS makes shooting portraits on location impractical since you can't sync the flash with your camera's shutter speed.
The second major thing to consider are the YN560 IV's convoluted controls. The buttons are labeled with images and letters you'll have a hard time getting used to if you've used different flashes before. That's because they don't mean what they usually do. For instance, the button labeled M is used to change between manual and multi strobe modes instead of shifting between trigger sources. You perform some actions by pressing two buttons at once, which only adds to the confusion.
Tech Specs
Dimensions: 2.4 x 7.5 x 3.1 in.
Weight: 12.8 oz.
Compatible with: Canon, Nikon, Olympus, Panasonic, Pentax
Coverage: 24 to 105 mm
Guide distance: 190 ft.
Flash duration: 1/200 to 1/20,000 second
Recycle time: 3 seconds
Power range: 1/1 to 1/128
The Pros
Good build quality
Excels in multiple light setups
Consistent recycle times
Good heat dissipation
The Cons
Lacks TTL and HSS
Convoluted control scheme
6. Best Budget Option – Neewer TT560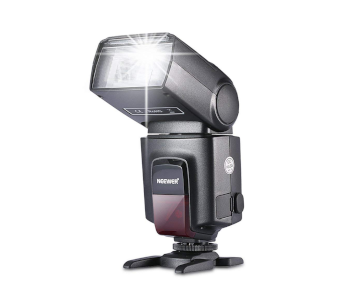 View on Amazon
Editor's Rating: 4.2/5
Our final portable flash delivers professional-level lighting at a price that's hard to beat! The Neewer TT560 is ideal as a hobbyist or part-time photographer's first flash. Better yet, it won't outlive its usefulness once you get a more advanced model since you can slave it as a secondary light source. The TT560 is basic yet reliable, requires no complicated setup, and works well in controlled studio environments.
Overview of Features
Its low price reflects on the TT560's build quality. While it isn't terrible, the thinner plastic used in its construction means you'll need to handle the flash with care. Like Yongnuo's model, it can rotate 270 degrees, but the TT560 can't face downwards. It doesn't have an LCD either but makes up for that with logical controls and a series of indicator LEDs. The flash has a universal hotshoe mount that makes it compatible with many camera brands.
You won't get wireless control with this model, but the TT560 does have two responsive slave modes which rely on optical pulses. One goes off along with your primary flash while a second flash triggers the other. That means you can use the TT560 with other flash's TTL modes. Neewer expects you'll be using the slave function a lot and has outfitted the TT560 with a tripod mount too.
The TT560 performs best in a controlled environment where you have ample time to set up your shots. It has eight power levels which give off natural-looking light at a maximum of 120 feet. You control the flash using a modest set of buttons on its back. There's an on/off switch, plus and minus buttons for light intensity control, and two buttons for changing its working mode and testing current light levels. LEDs represent the different control modes as well as brightness, so it's easy to see the status of the flash even in dark conditions.
Are There Drawbacks?
There's little to complain about, especially at this price point. It doesn't have TTL or HSS, but that's understandable. Slow recovery times are another issue that cements the TT560 as a studio flash. At full power, it takes 5 seconds or more for it to be ready again.
Tech Specs
Dimensions: 2.2 x 7.4 x 3 in.
Weight: 10.1 oz.
Compatible with: Canon, Nikon, Olympus, Panasonic, Pentax
Coverage: 24 to 105 mm
Guide distance: 125 ft.
Flash duration: 1/300 to 1/20,000 second
Recycle time: 0.1 to 3 seconds
Power range: 1/1 to 1/128
The Pros
Great quality at an unbeatable price
Easy to control
Works well as a slave to more advanced flashes
Good choice for studio photography
The Cons
No TTL and HSS
Long recycling times